Today's post about tips for painting interior doors and trim is sponsored by Lowe's.
Want to freshen up a room in an affordable and easy way? Paint the doors and trim. It's that simple! Such a small change makes such a big impact in a room for very little money. Look at the before and after photos below of the doors in my master bedroom.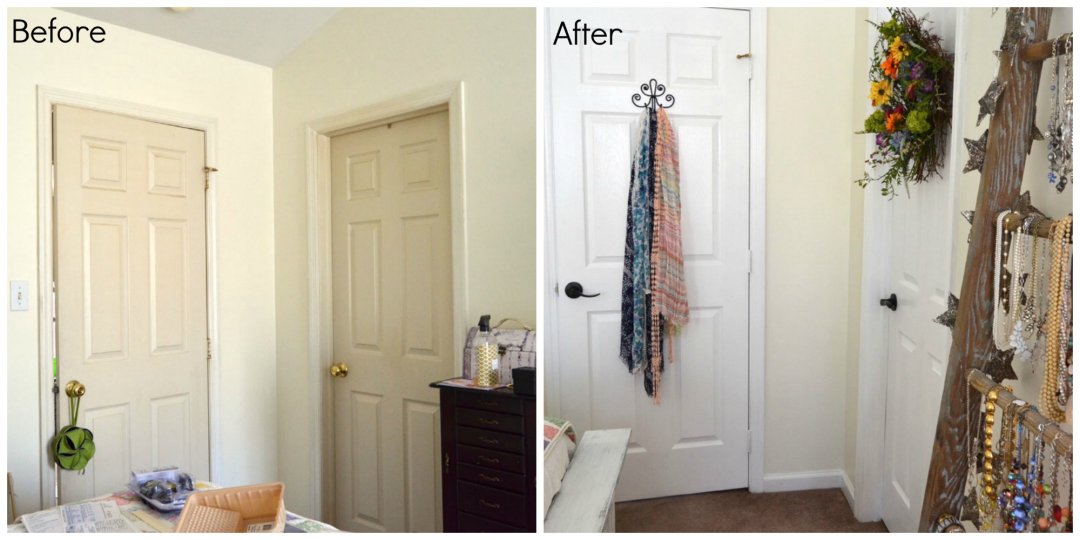 Isn't the difference amazing? The whole room looks so much cleaner and brighter. Ahhh, the magic of paint! And since Lowe's has paint and primer at new low prices (starting at $17.98) everyone can give their homes a little Spring refresh! And since Lowe's says: "Love your paint, it's guaranteed", you've got nothing to lose!*
*Paint Guarantee: If you are not completely satisfied with your interior or exterior liquid paint purchase, simply return the unused portion in the original container within 30 days of purchase. We will replace it with a comparable can of paint or refund your money based on our return policy (Lowes.com/return). We reserve the right to limit guarantee in our discretion in the event of suspected fraud or abuse. US only.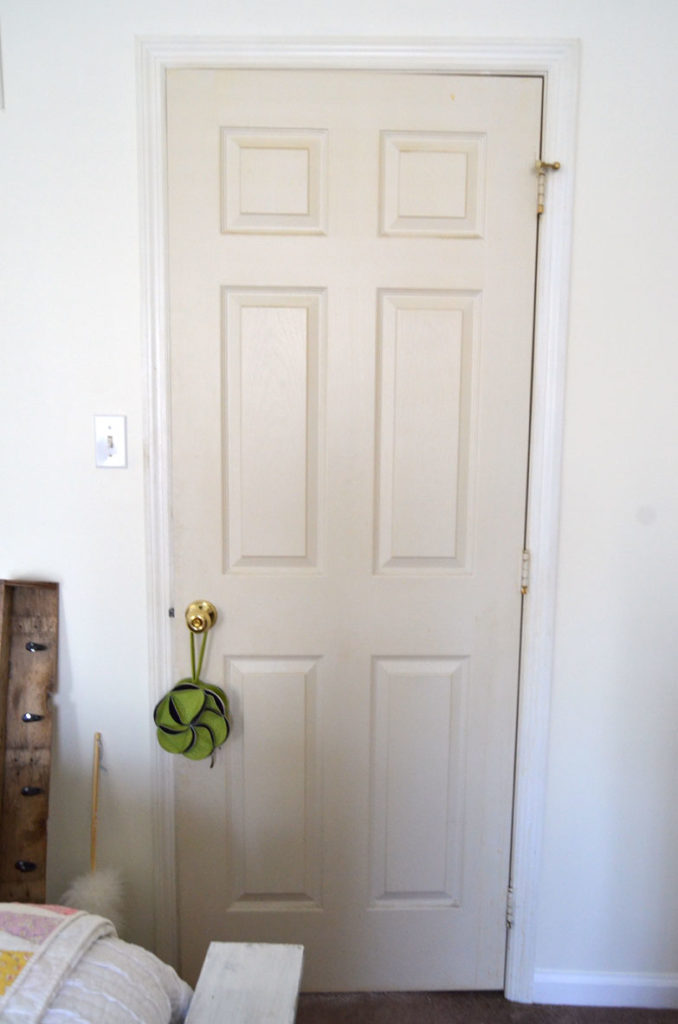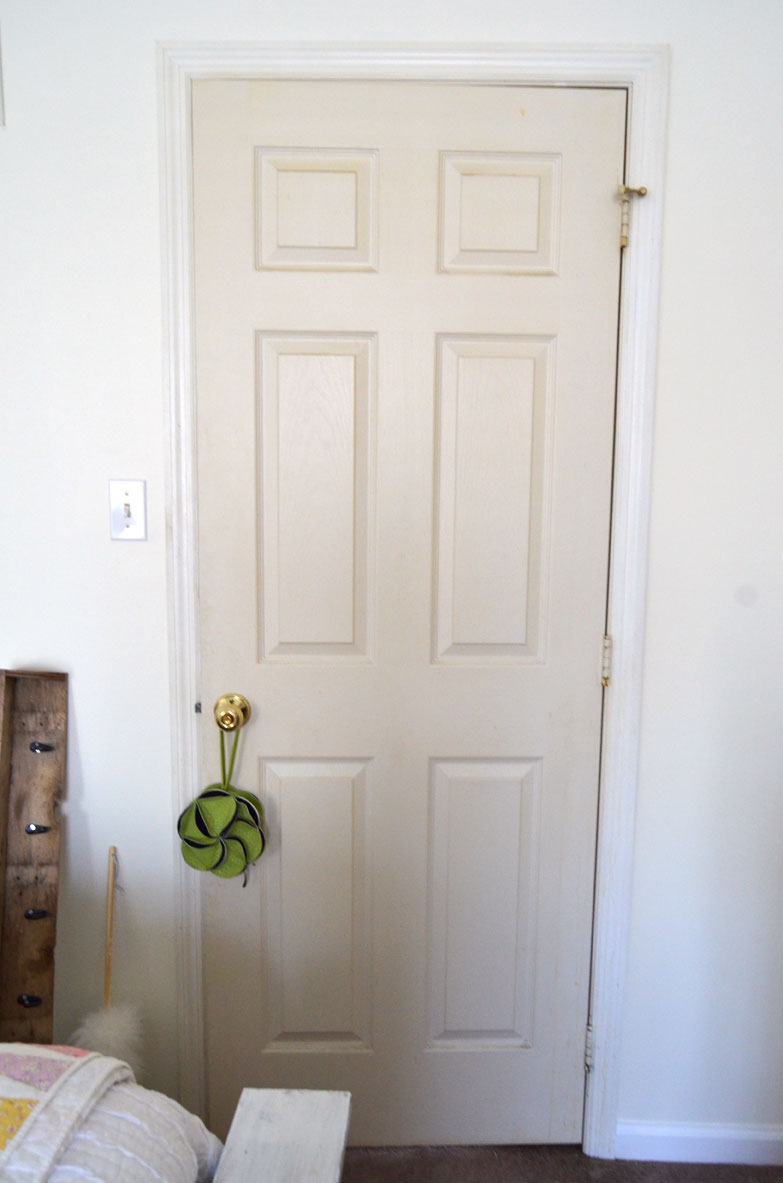 Take another look at the door to the hallway from my bedroom before I painted it. I bet that paint is the original paint on this 20-something year old house.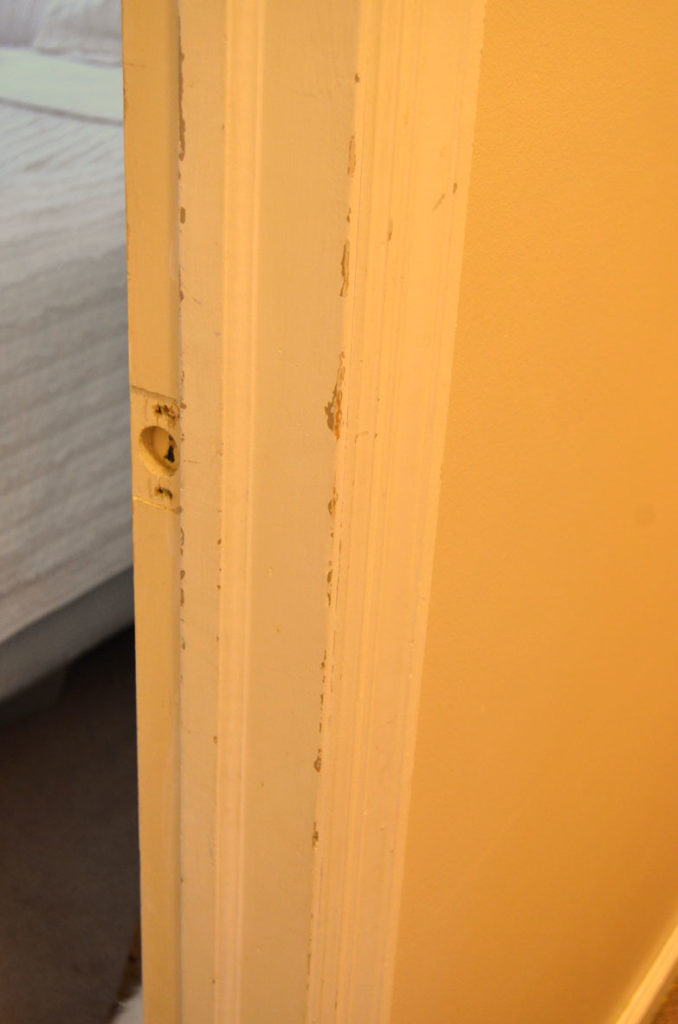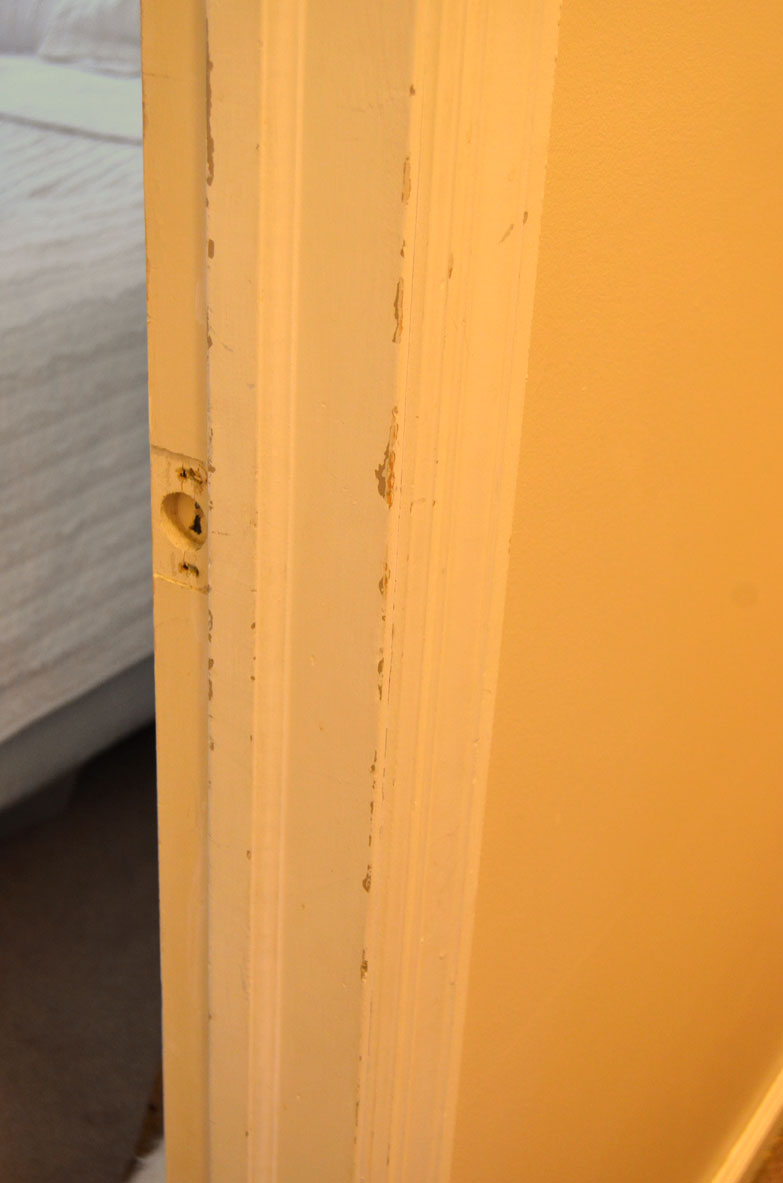 And the trim! Oh my! It's looking pretty rugged. But nothing a coat or two of paint can't fix. I chose Valspar High Gloss Enamel Interior/Exterior Paint + Primer in Ultra White. I wanted a durable, glossy finish in a white color that would contrast nicely with the recently painted walls. (The walls in the bedroom have recently been painted with Valspar Reserve Paint in Ivory Dust.)
Once you go to Lowe's and get your paint, let's get to work. Here are my tips to painting interior doors and trim.
Tip #1 – Clean the doors and trim first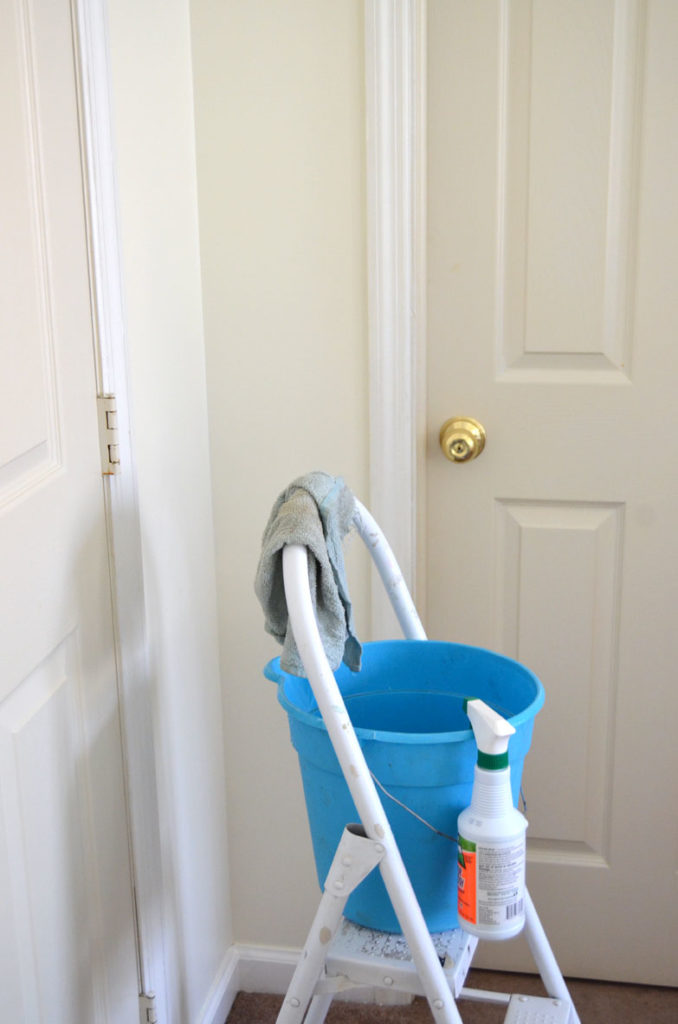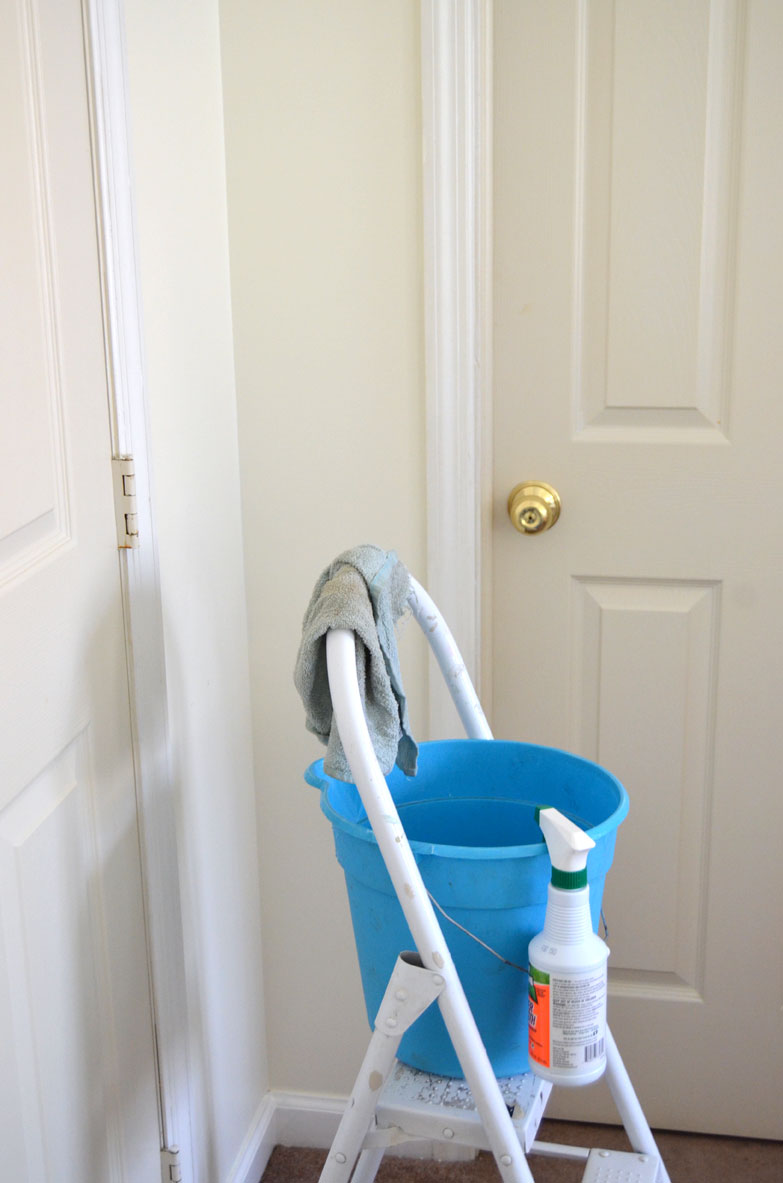 It's tempting to skip this step but don't. It's important to apply paint to a clean and dry surface. I scrubbed my doors and trim with a multi-purpose cleaner and scrub brush – they were pretty dirty. I also wiped them down with a damp rag to remove any soap residue. Be sure the surface is dry before painting.
Tip #2 – Remove doors and place them on a flat surface (like saw horses) for painting.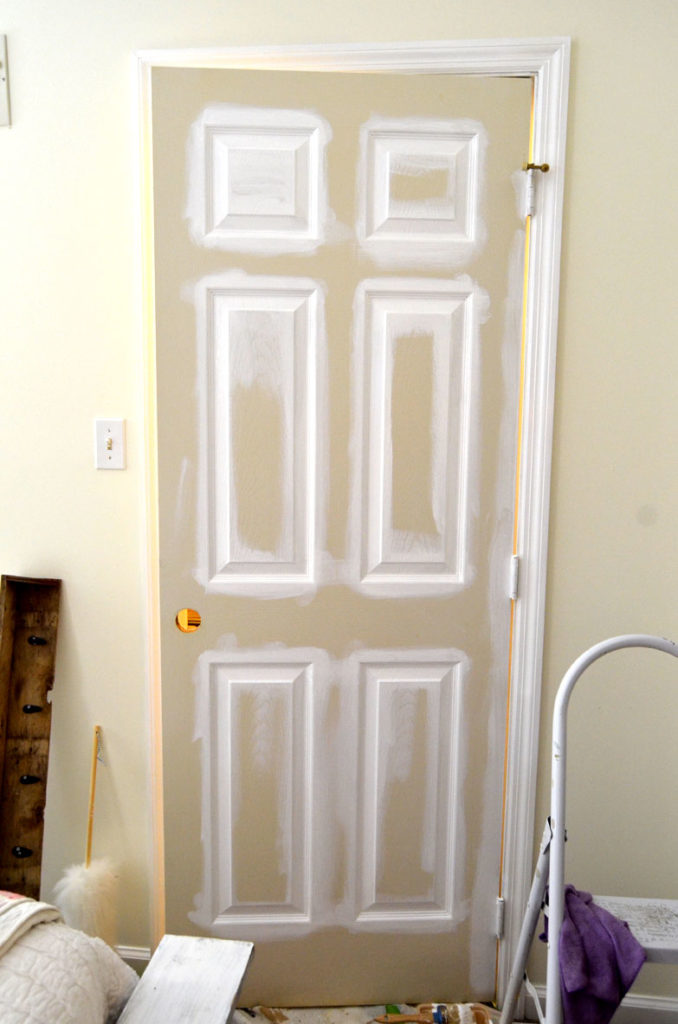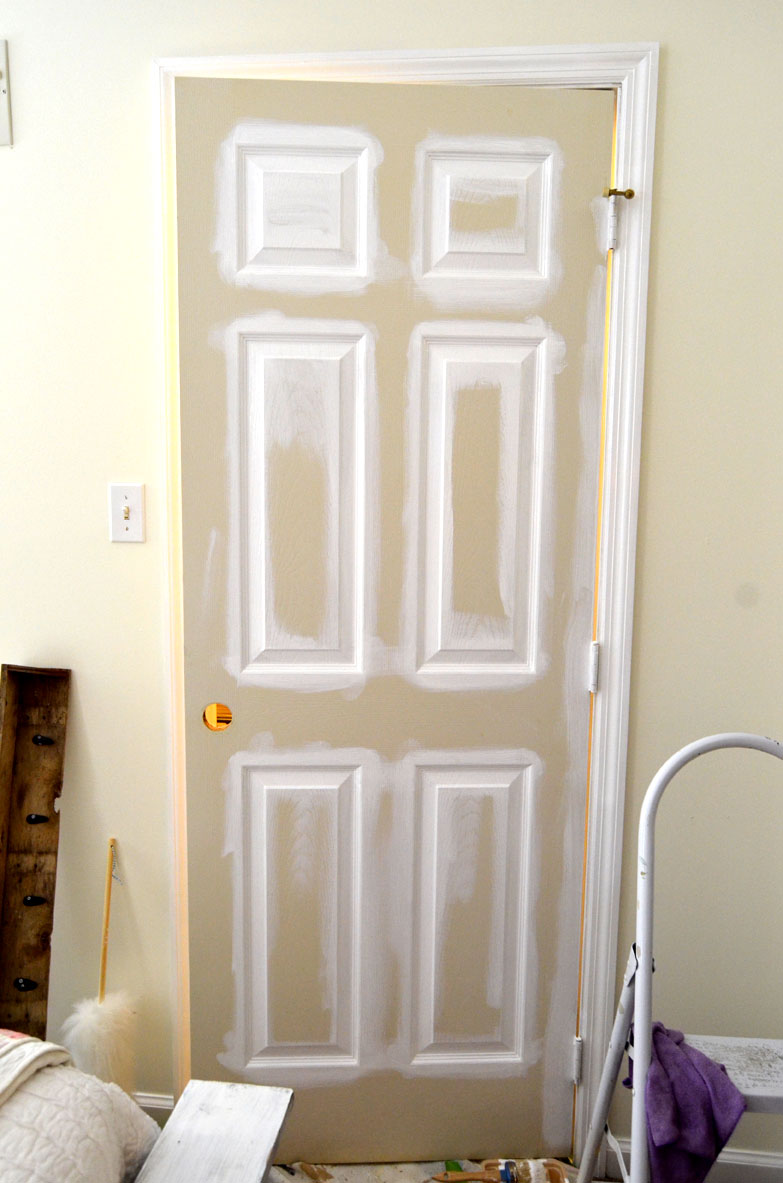 Since there are three doors in my bedroom I did not heed my own advice here. I live in a condo and don't have the space to lay out three doors for painting.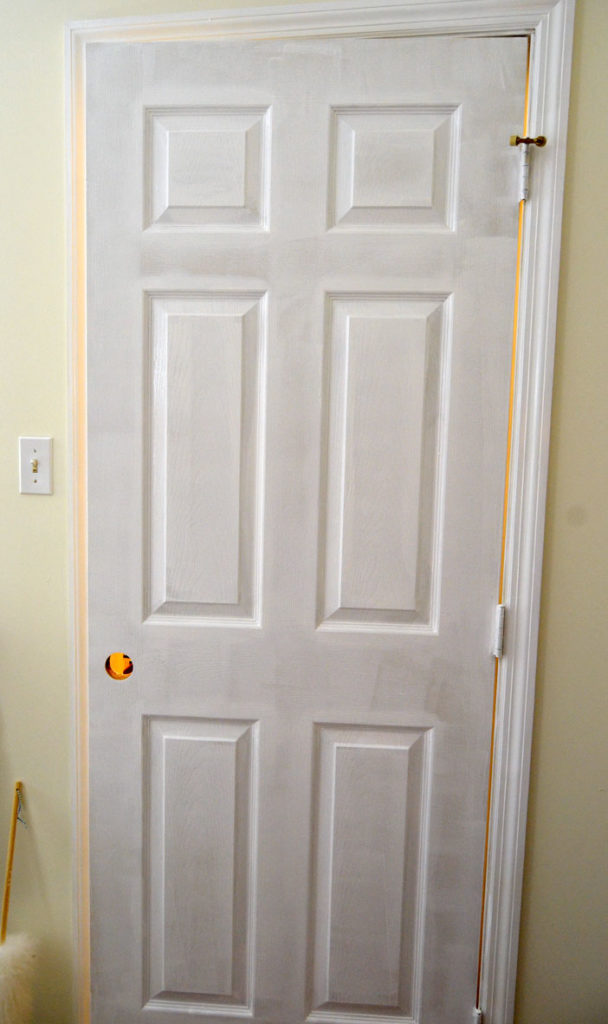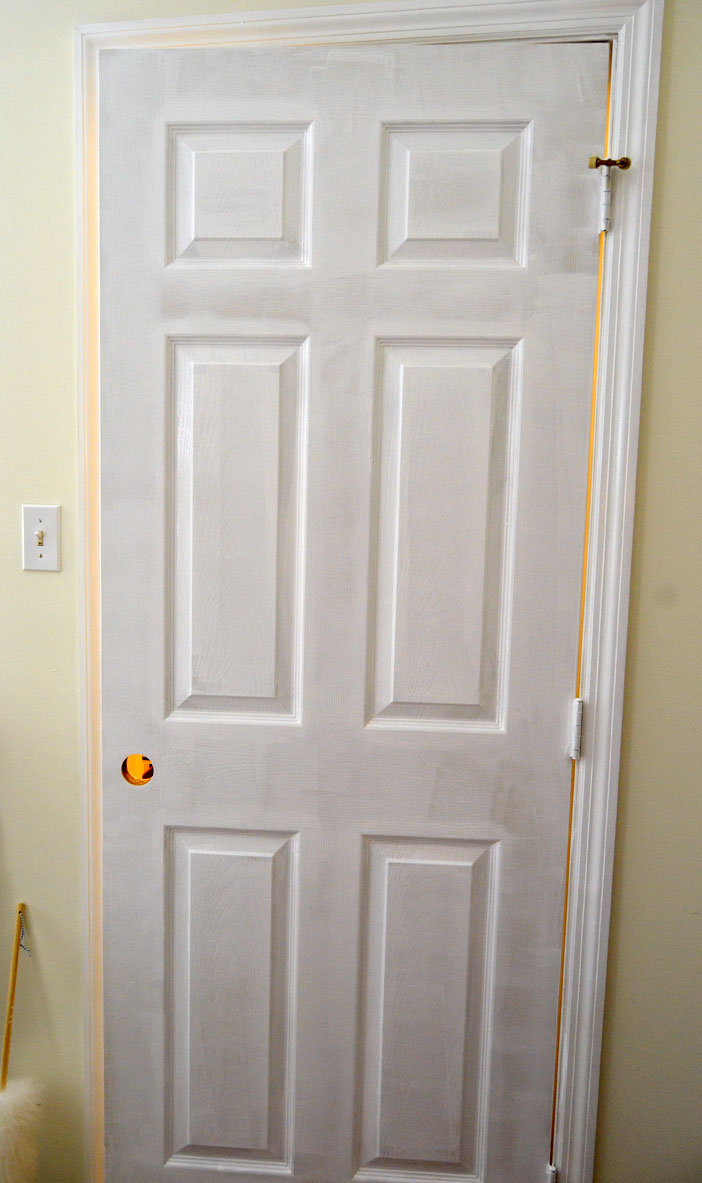 So instead, I opted to paint them in place.  I was careful to paint on several very thin coats to avoid drips and runs.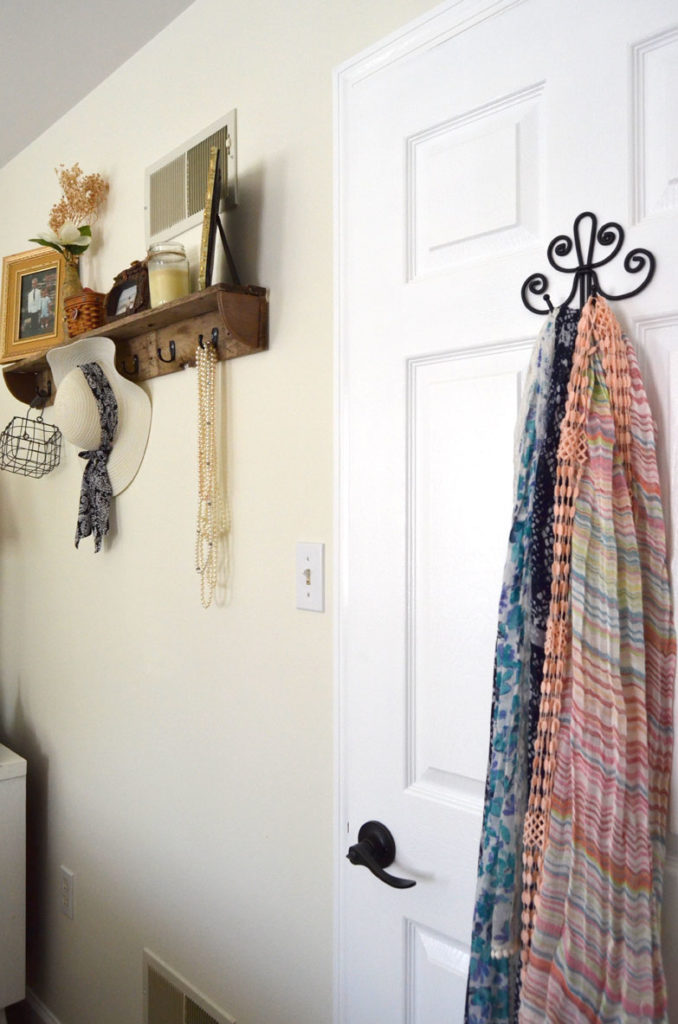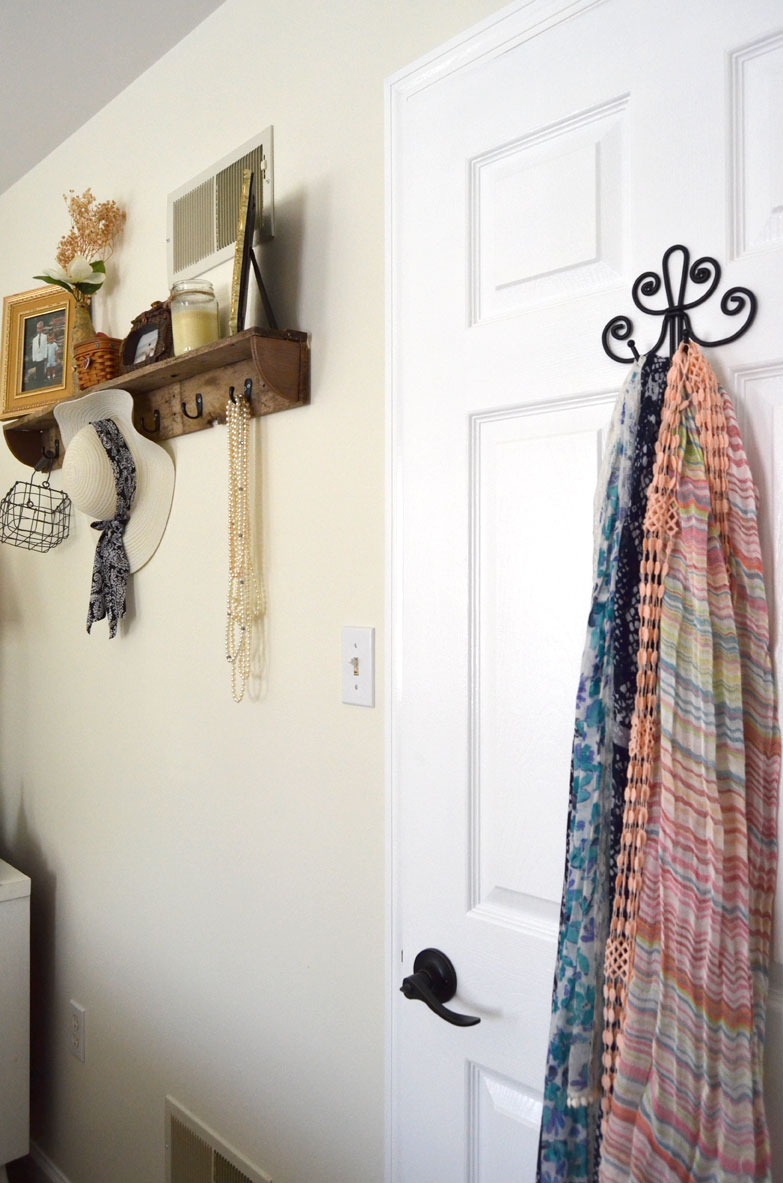 Tip #3 – Use a small door/cabinet roller and a tapered brush to apply the paint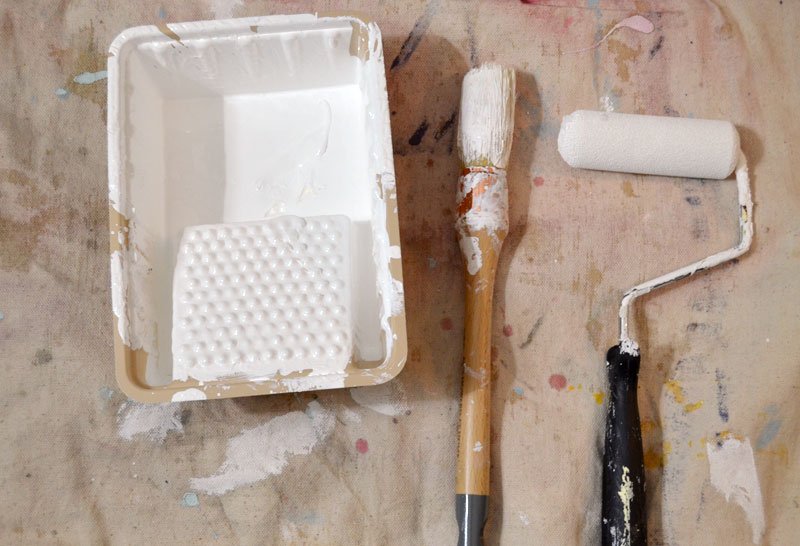 Having the right painting tools makes the job go so much smoother. For six-panel doors I like to use a tapered paint brush to paint in the grooves first. Then I come back with a 4″ foam roller to paint the stiles and rails of the door.
Again, several light coats is best.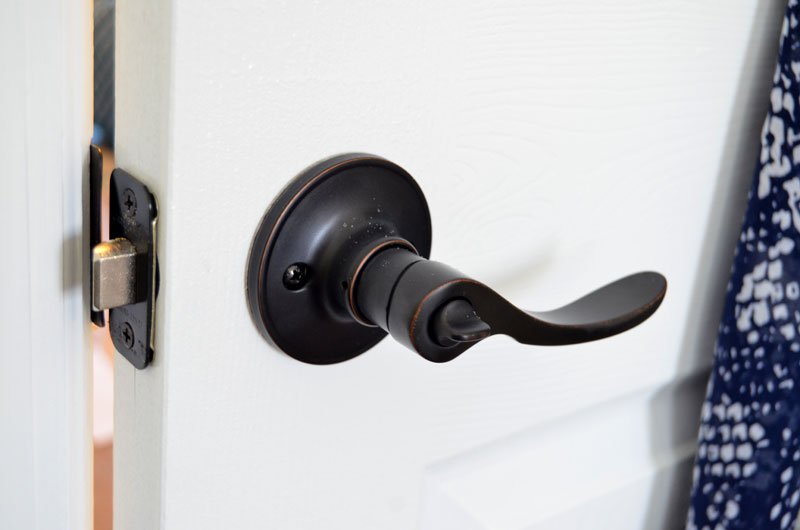 Once I was finished painting and was admiring my freshly painted doors I knew I didn't want to put on the same dingy old door knobs. So back to Lowe's I went to pick up some pretty new door handles. Much better!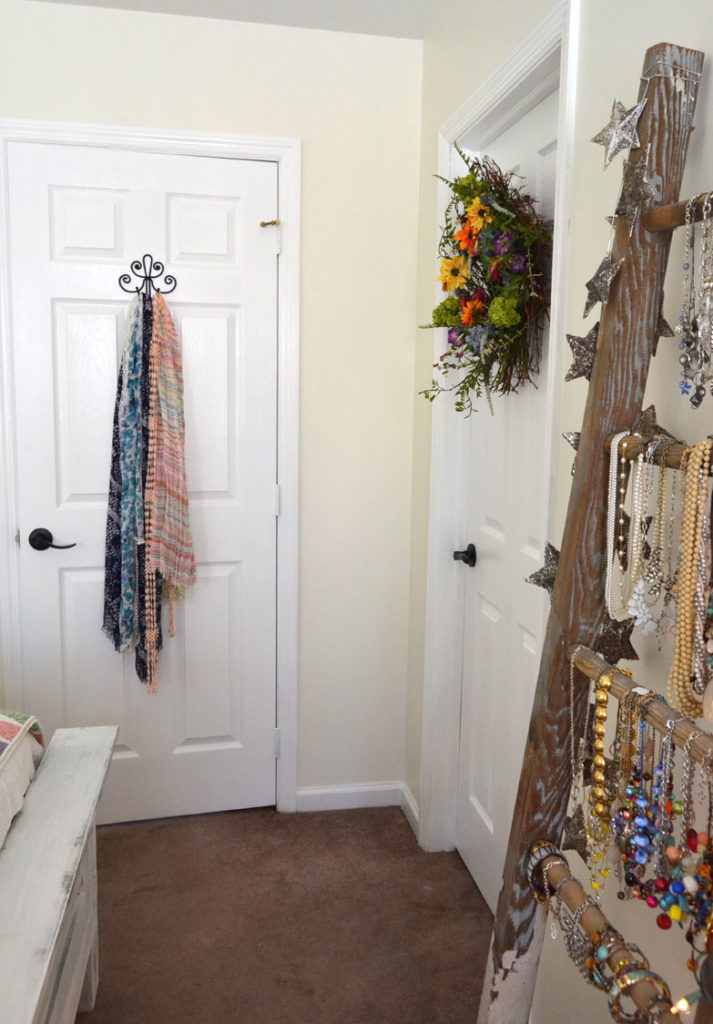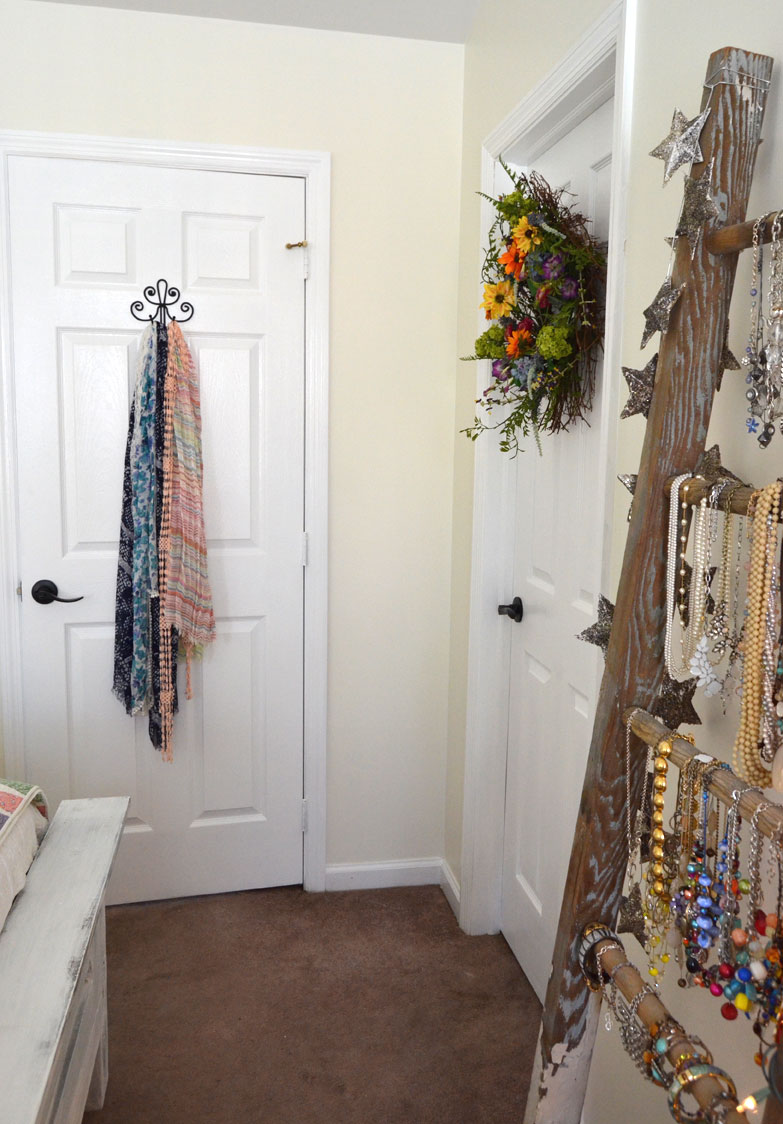 No matter how many I paint, I still can't get over the huge difference that such a small amount of paint can make! Make the most of what you already have by painting it! You'll be amazed at the difference it makes.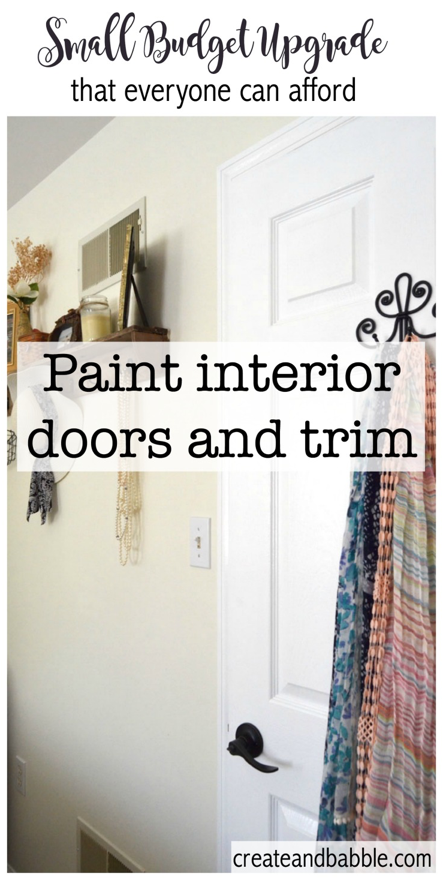 This is a sponsored post written by me on behalf of Lowe's, however the words here are my own. As always, I only recommend products that I use and love.