Usually you hear of using a rolling cart in a kitchen. While that is a good purpose, I had a different purpose in mind.
I needed something to hold my heat press. Heat presses are heavy so this cart has to be sturdy. It also has to have storage. It has to look good. And to save money, I want to build it myself.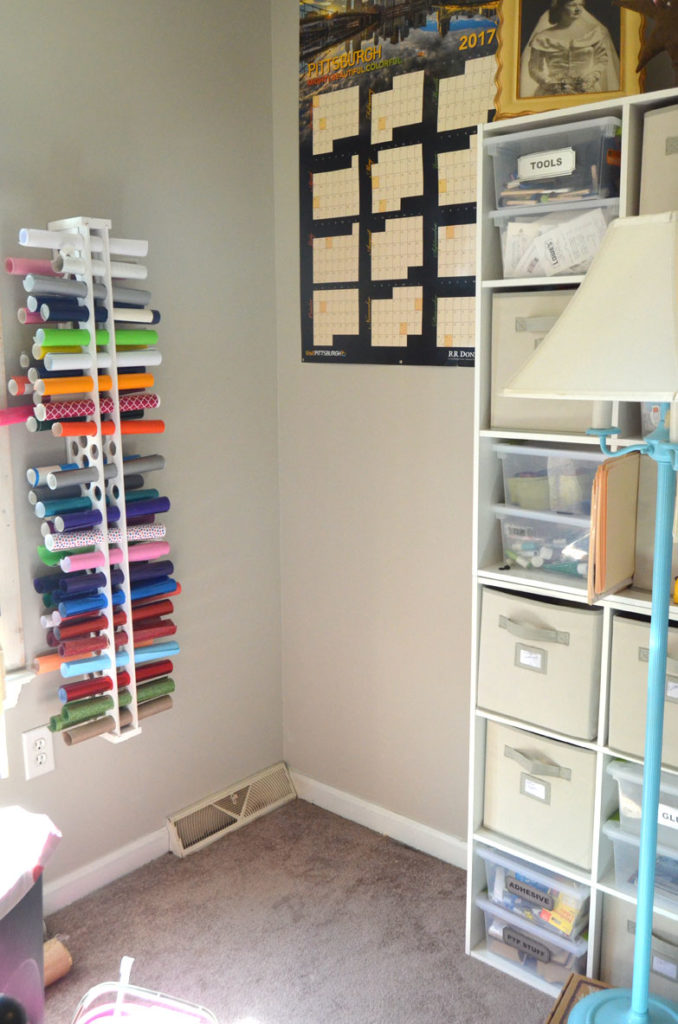 Isn't this spot just screaming for a heat press on a cart???
Now I could have designed plans for this heat press rolling cart. But why reinvent the wheel when there's lots of wheels out there? I mean rolling cart plans out there. Don't get me wrong, I love to design building plans but this rolling cart is pretty basic. Anything that I designed would end up looking pretty much like a lot of the other rolling cart designs out there. Plus designing plans takes time and I wanted this cart pronto!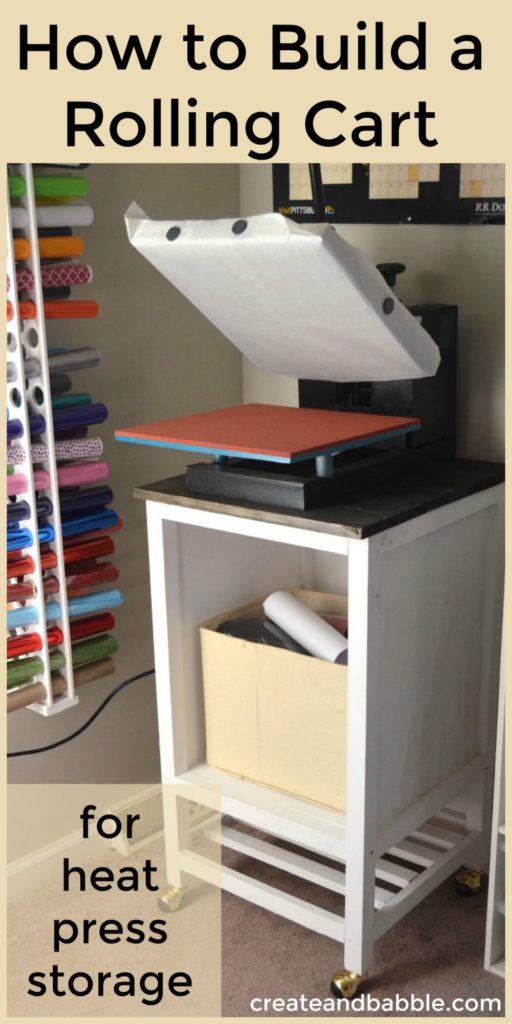 So what I did was modify a free set of plans that I found on 
ana.white.com
. Ana has a bunch of free plans for all kinds of rolling carts, but I liked the look and size of
this one
.
Here are the steps I took to build a rolling cart using Ana's plans:
Step One – Gather Supplies & Cut Wood to plan specs
These are the tools I used:
12″ sliding miter saw
10″ table saw
drill/driver
My cart differs from the plan in the following ways:
The back of mine has a plywood back – no door.
The front of mine is open – no door or drawer front.
I plan on living with it for a while and then will probably add shelves where I find them necessary.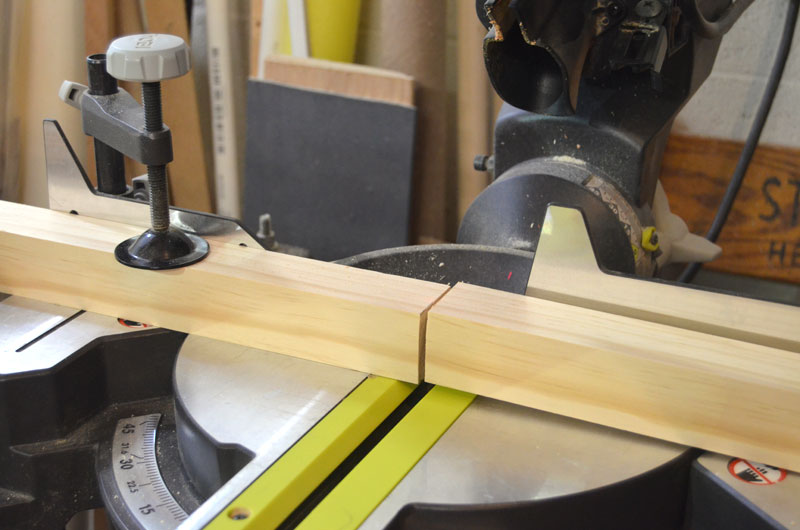 This cart is built using 2 x 2s, 1 x 2s, and 1 x 4s boards and also 3/4″ plywood for the sides and back. Since my cart was going to have a drawer front, I didn't use a 1 x 6 board. I had most of the wood in my wood stack in my workshop, but the rest I picked up at Home Depot.
Step 2 – Drill pocket screws
This cart is put together with lots of pocket screws and wood glue so a Kreg Jig is a must-have. After all of my wood was cut, I followed the plans and drilled all of the pocket screws using my Kreg Jig K4.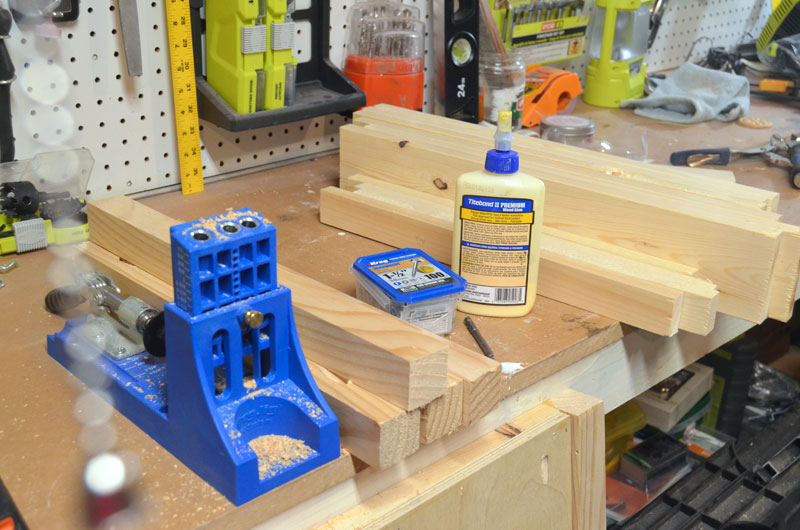 Step 3 – Assemble cart per instructions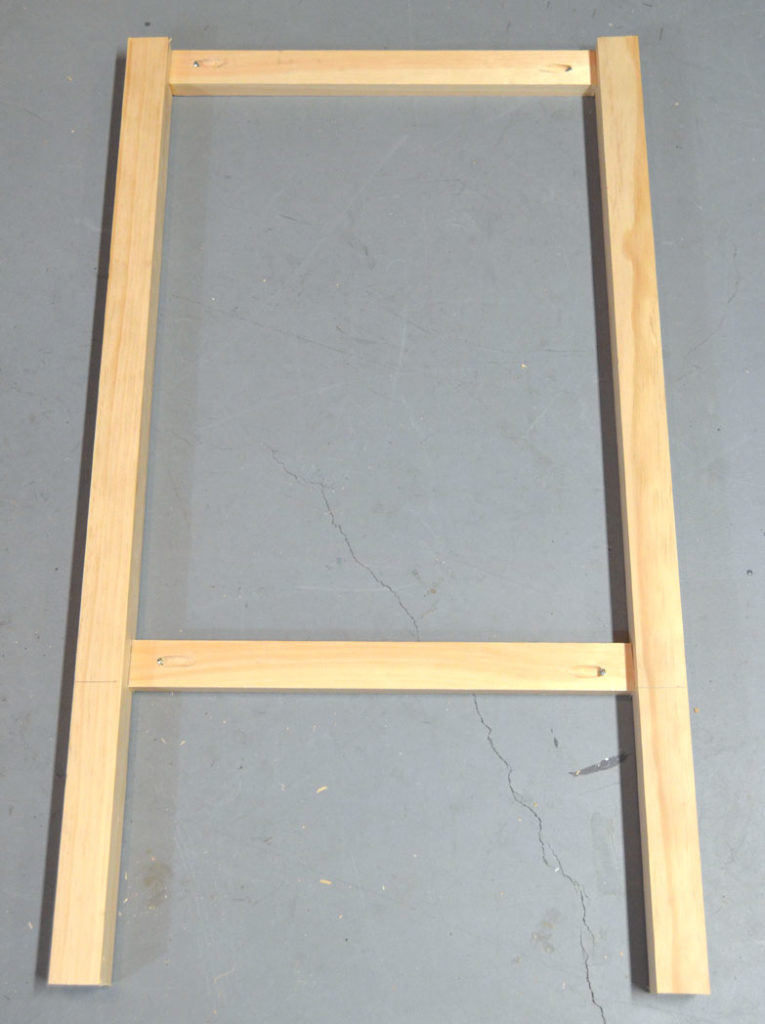 I followed Ana's instructions and built the sides first.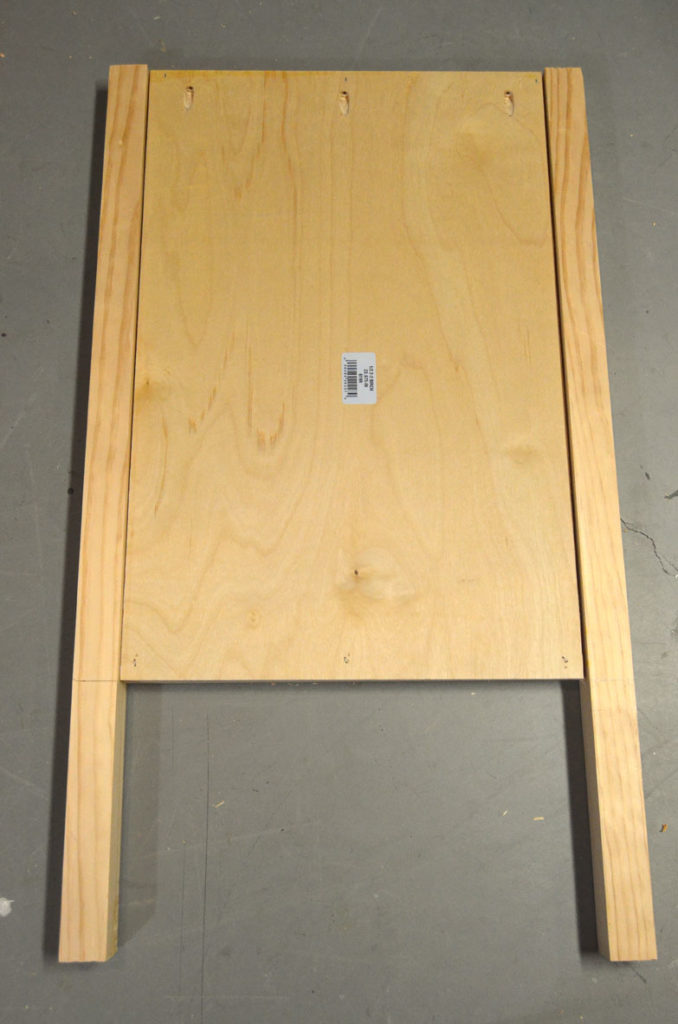 After the two sides are built, it's time to put the cart together with more pocket screws and 2 x 2s.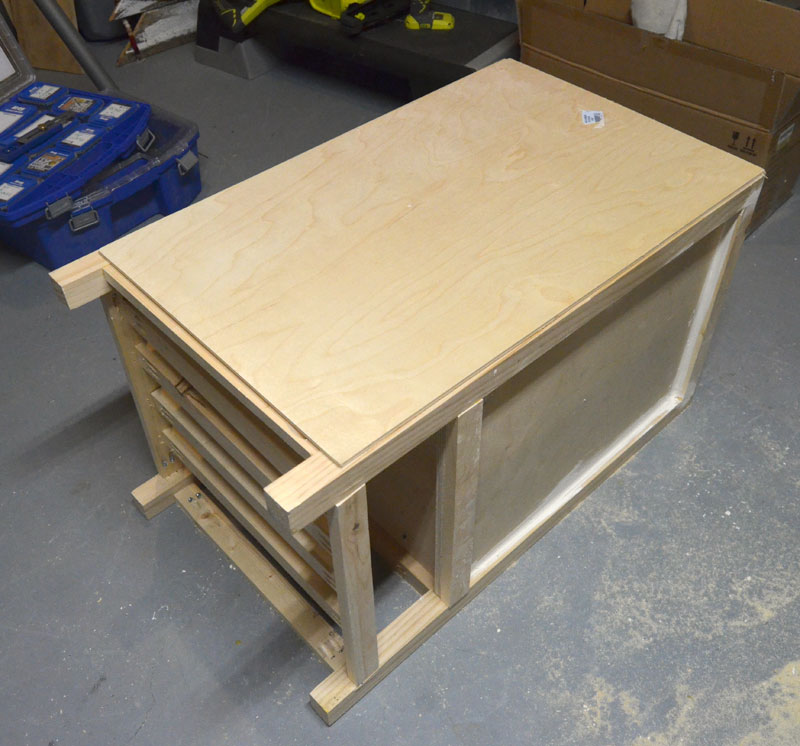 As I mentioned earlier, I chose to cover the back with with a piece of plywood cut to size. I also choose to have this piece of plywood cut long enough to reach the bottom shelf. I did this to prevent items on that bottom shelf from slipping through the back onto the floor. (This cart is going to be placed up against a wall instead of being in the middle of kitchen.)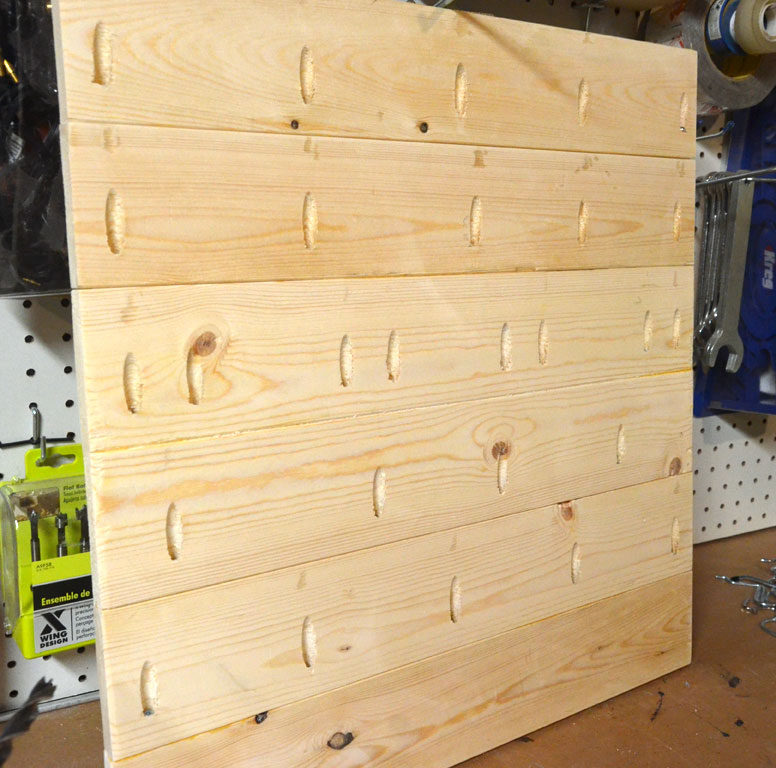 Again, as per Ana's instruction, I put the top together with more pocket screws and glue.
Step 3 – Paint or Stain (or both)
I brushed on two coats of white primer on the base of my cart and decided to stain the top.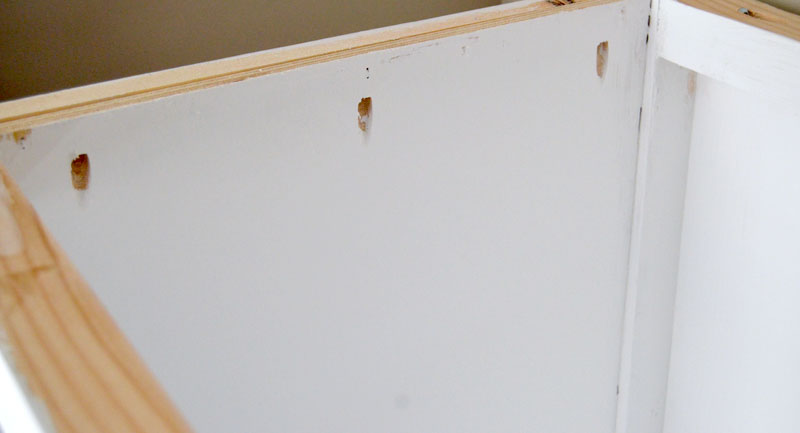 Note the pocket holes that are drilled into the sides of the cart to that will be used to attach the top.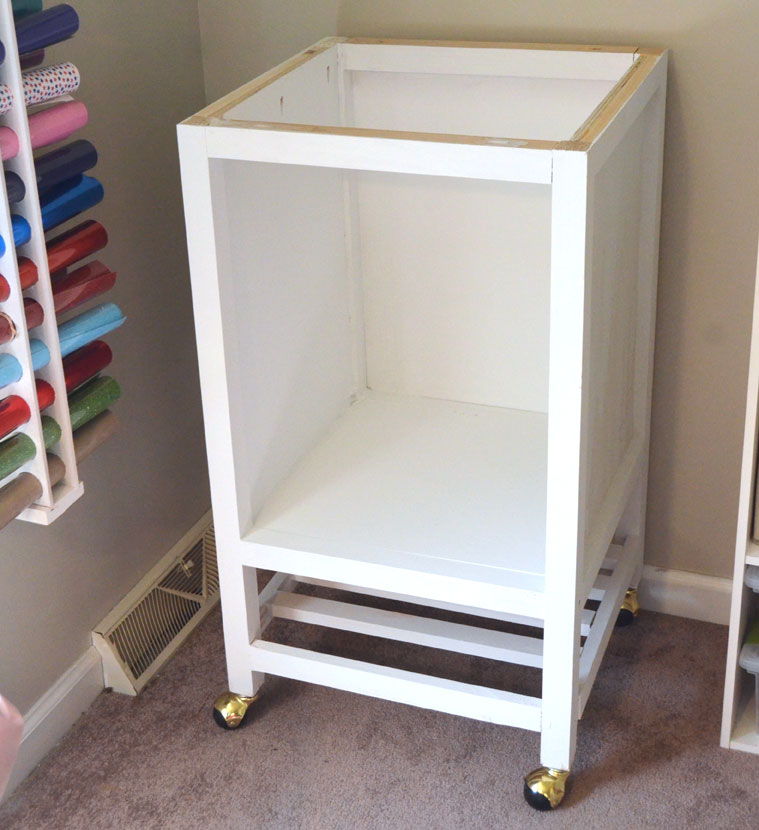 Here it is in place in that corner of my office. Right next to the vinyl storage! Convenient!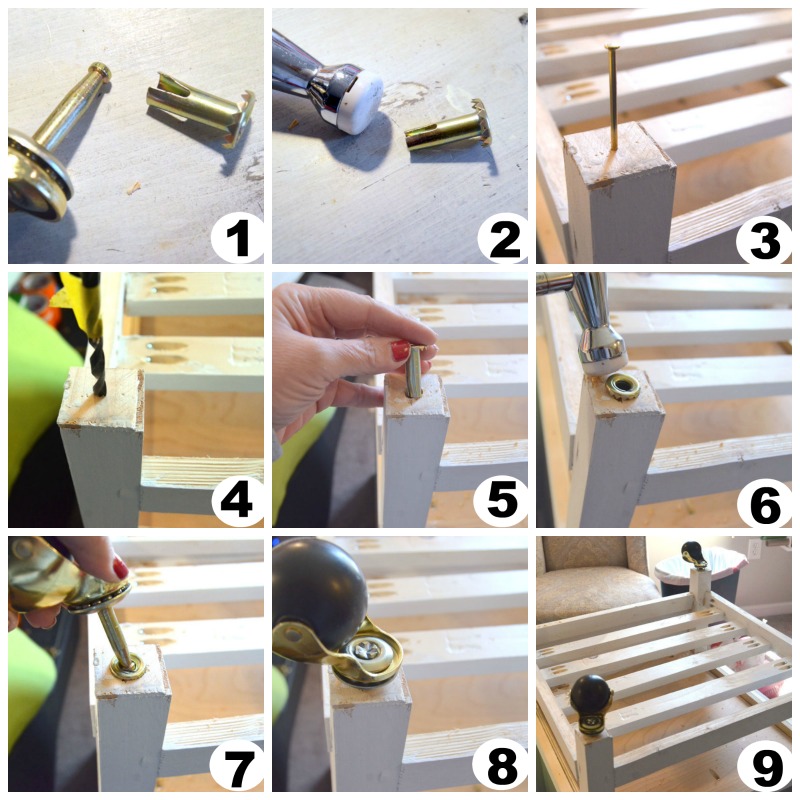 If you have never installed casters, I've included a little picture tutorial showing you how easy it is. I know that sometimes these type of things can look intimidating – especially if you've never done it before. (Like using wall anchors!)
Remove socket from caster stem by prying open with a flat head screw driver
Using pliers or a soft craft mallet ; ), gently squeee the socket until it is back to its original shape (or close to it)
Tap a nail into bottom of leg (to give the drill bit a place to grip)
Drill hole to depth recommended on caster packaging
Place socket into drilled hole
Tape socket with a mallet until the teeth lock into the wood
Insert caster stem into socket and press firmly by hand until the caster stem locks into place
Repeat on remaining legs
Enjoy looking at your handiwork!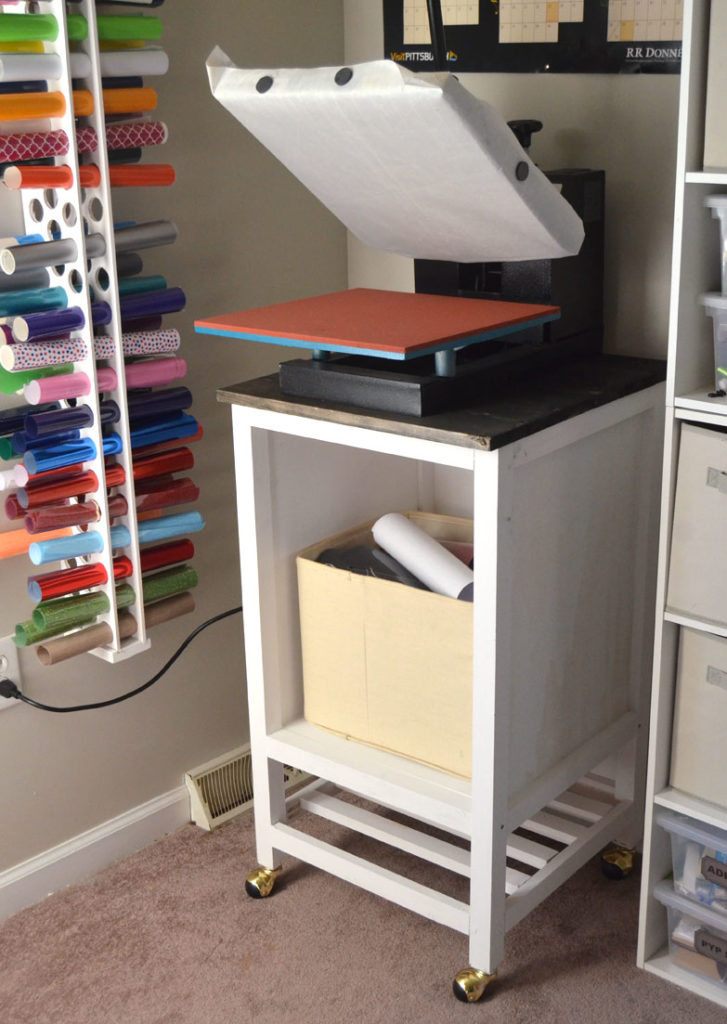 This is just perfect! I love the dark stained top with the white base. It's just primer paint for now – I'm waiting on a shipment of glossy white paint to finish it. And like I said, I'll live with it like this for now. I did make a door, but decided to try it without the door for now. I'm not sure I'll add it or not. But I think I'll probably add shelves for sure. That will be an easy add. I'll probably use my Kreg Jig Shelf Pin Kit to so that I can adjust the height of the shelves as necessary. Similar to the shelves in my granddaughter's armoire that I built for her.