The Princess is here! In case you missed the announcement on my Facebook Page, my granddaughter was born on February 23! She is a doll and I love her to pieces! I'll show you a photo of her at the end of this post. But first I want to show you the invitations that I made for the baby shower back in January.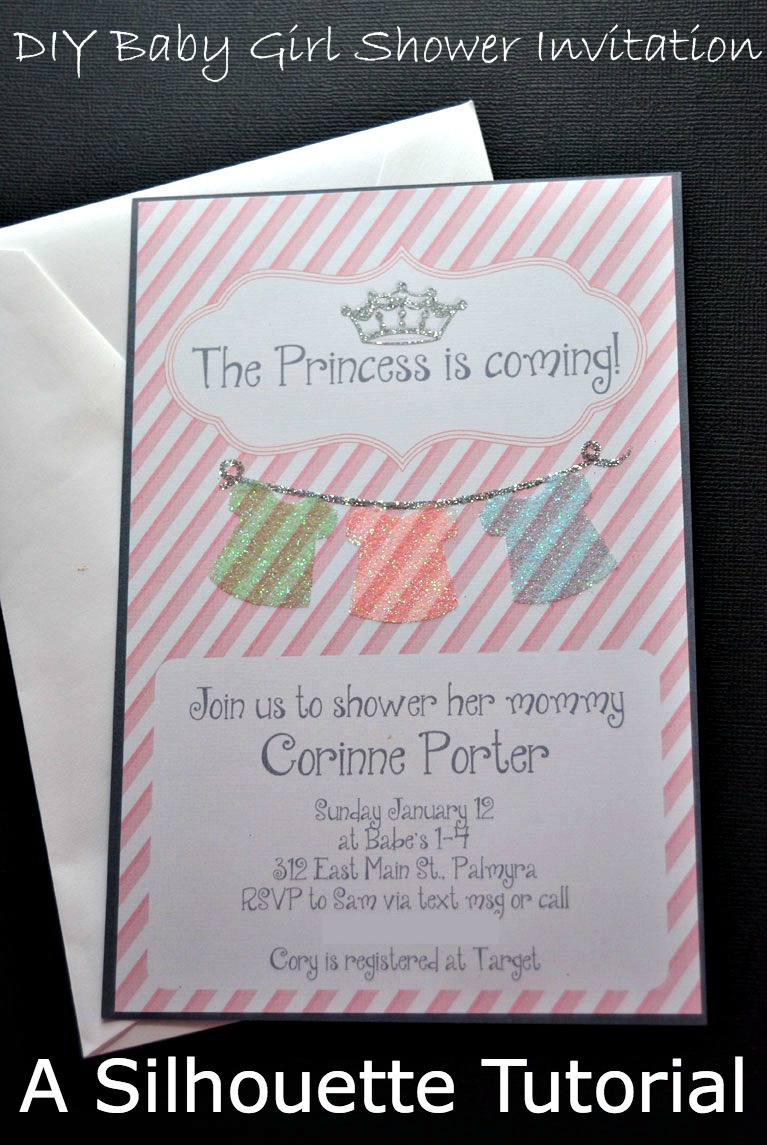 In keeping with the pink, gray and white theme that was used in the decorations, I used the same colors for the invitations.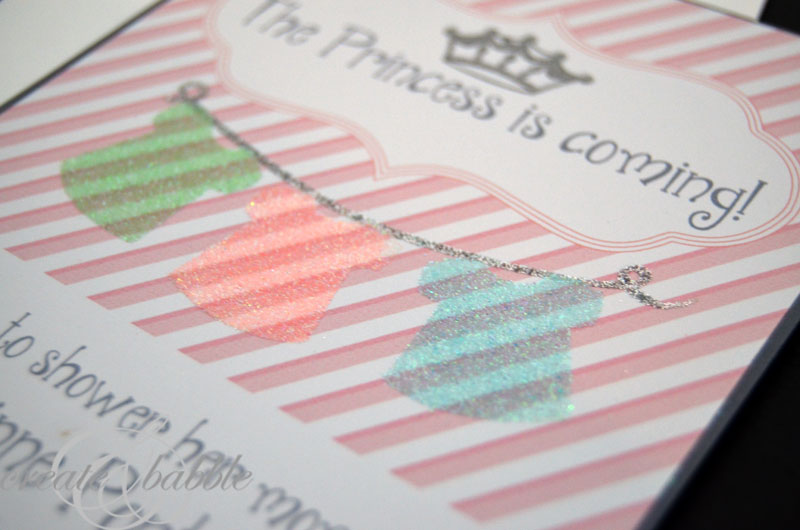 And of course I had to use glitter! All princesses love glitter! And grandmothers. Grandmothers love glitter, too!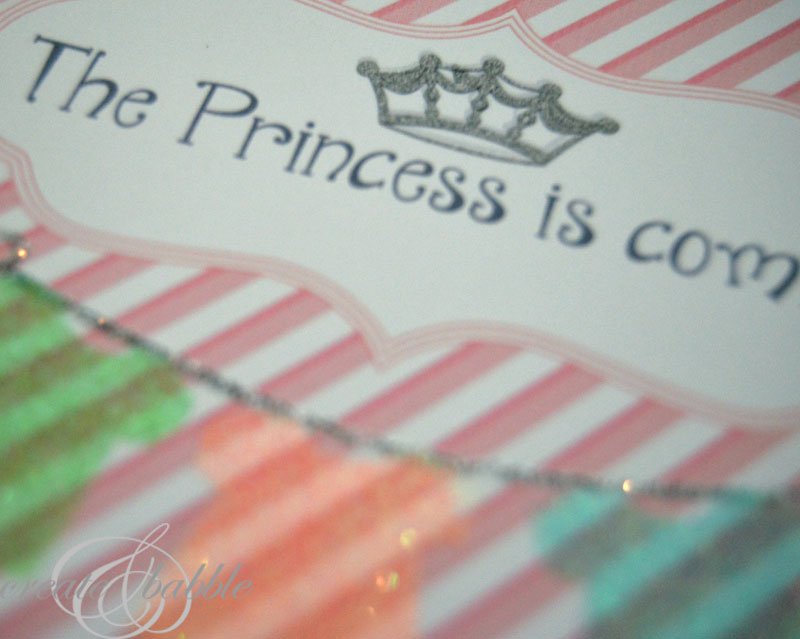 And a tiara, of course!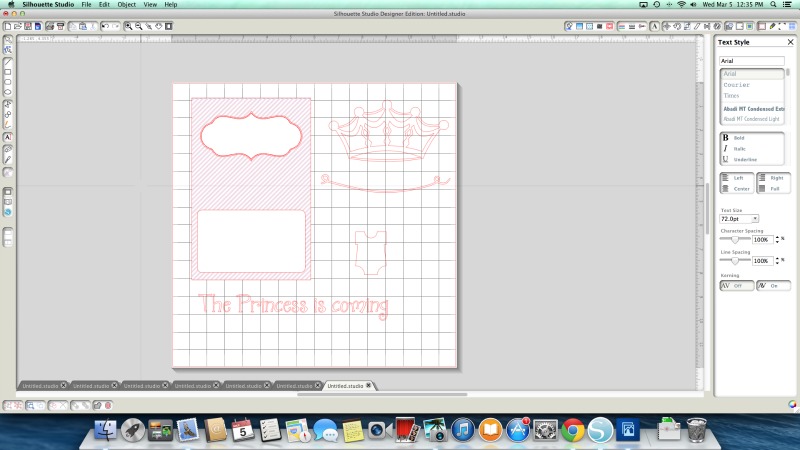 These were fairly simple to make using the Print & Cut feature of the Silhouette.
I drew a rectangle to the size I wanted: 5 x 7.5″ for the invitation
I then filled the rectangle with a pink and white diagonal stripe pattern.
I grabbed a bracket frame and color filled it with white and placed it over the top portion of the rectangle

Then I drew a rounded rectangle filled with white which is where I typed the invitation details.

I used Janda Quirkygirl font for all of the text
Don't forget to turn off the cut lines on the shapes that are inside of the rectangle.
Turn on the registration marks, print and cut!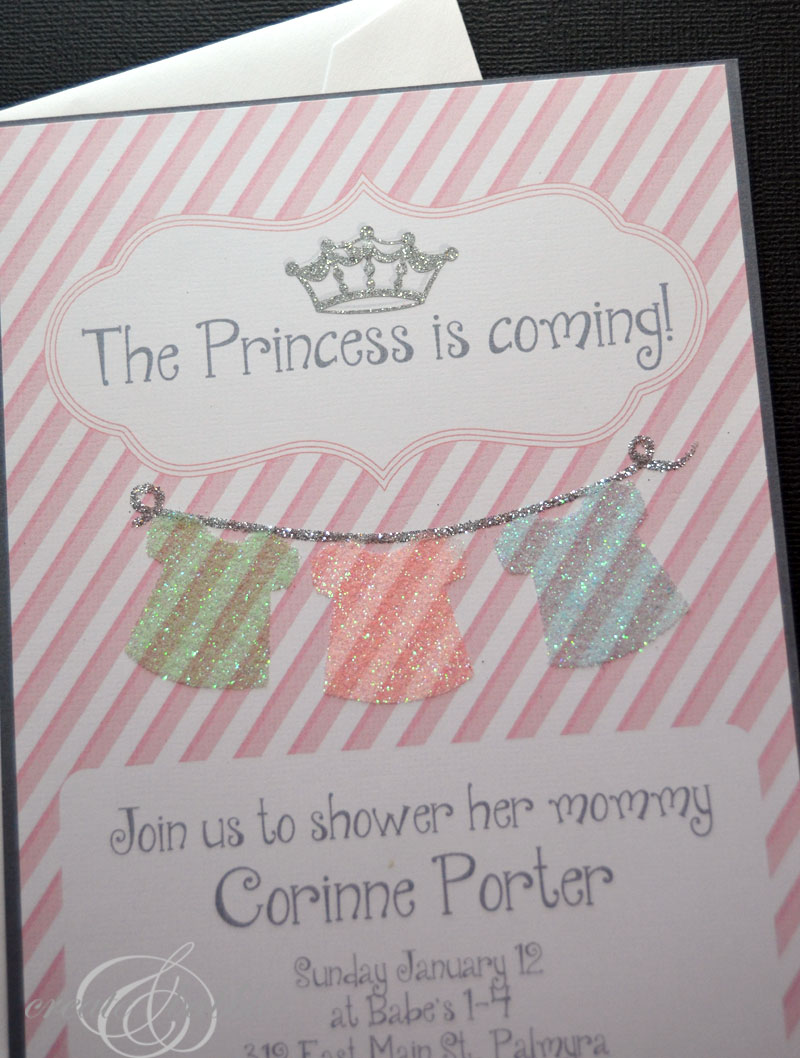 I cut the tiara out of glitter vinyl. You can barely see it, but in the photo above, I intentionally printed the shape of the tiara to help with placement of the teeny, tiny, fragile glitter vinyl tiara. The glittery dresses were made using Silhouette's double-sided adhesive and Silhouette's glitter. I just love that stuff; both the double-sided adhesive and the glitter. If you haven't tried the Silhouette Glitter yet, I highly recommend it and I'm a bit of a glitter snob! And while you're ordering the glitter, go ahead and order some of the double-sided adhesive, too. You'll love it!
I love how they turned out and think they look better than the pricey store-bought invitations!
As promised, here's peek at our princess!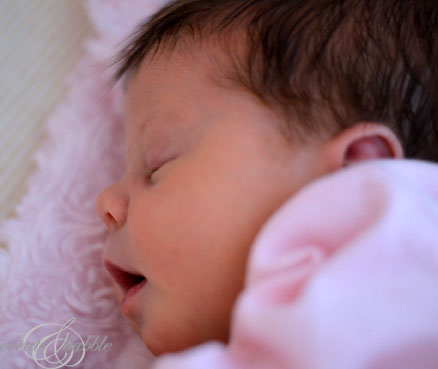 Sweet, little Melanie!
Want to Check Out More Silhouette Projects?
My Silhouette Challenge buddies and I are all sharing projects on our blogs today, so peruse the projects below for a wealth of Silhouette inspiration!
1. McCall Manor // 2. The Turquoise Home // 3. Creative Savings // 4. Sandpaper and Glue // 5. The Thinking Closet // 6. Sowdering About in Seattle // 7. Persia Lou // 8. From Wine to Whine // 9. Dream a Little Bigger // 10. Please Excuse My Craftermath… // 11. Play. Party. Pin. // 12. Everyday Paper // 13. Practically Functional // 14. A Tossed Salad Life // 15. My Favorite Finds // 16. The House on Hillbrook // 17. Adventures in All Things Food // 18. A Glimpse Into Barb's Life // 19. TitiCrafty // 20. The Experimental Home // 21. feto soap blog // 22. Creative Ramblings // 23. The Stamp Doc // 24. Ginger Snap Crafts // 25. Simply Kelly Designs // 26. Whats Next Ma // 27. unOriginal Mom // 28. Bringing Creativity 2 Life // 29. Cutesy Crafts // 30. My Paper Craze // 31. Create & Babble // 32. Grey Luster Girl // 33. The Sensory Emporium // 34. Lil' Mrs. Tori // 35. Black and White Obsession // 36. Mama Sonshine // 37. Weekend Craft // 38. Creative Carnival // 39. Peace, Love and Joyce // 40. Tried & True // 41. The Frill of Life // 42. Dragonfly & Lily Pads // 43. Get Silvered // 44. Minted Strawberry