A friend of mine asked if I would make a baby shower banner for an upcoming baby shower that she is hosting for her first grandchild. Of course I said yes. I know how easy paper banners are to make and she had no idea of where to even start. So if you find yourself in a similar situation and want to make banner for a shower or any party for that matter, here's how!
How to make a simple baby shower banner 

My friend texted me a picture of the invitation so that I could color coordinate the banner with the invitation. It was a very simple, but pretty design with three colors: blue, green and white. (Also take note of the polka dots and monkey ; )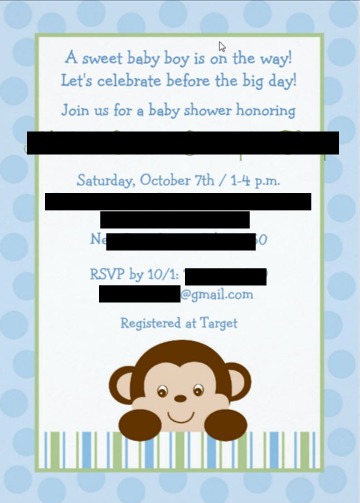 Materials needed to make a simple baby shower banner
Tools needed to make a simple baby shower banner
Steps to make a simple baby shower banner
Step One – Make the base of the banner
Cut pennant shapes for the base of the banner. These pennant shapes can be any shape you like: triangles, squares, rectangles, rounded rectangles, etc.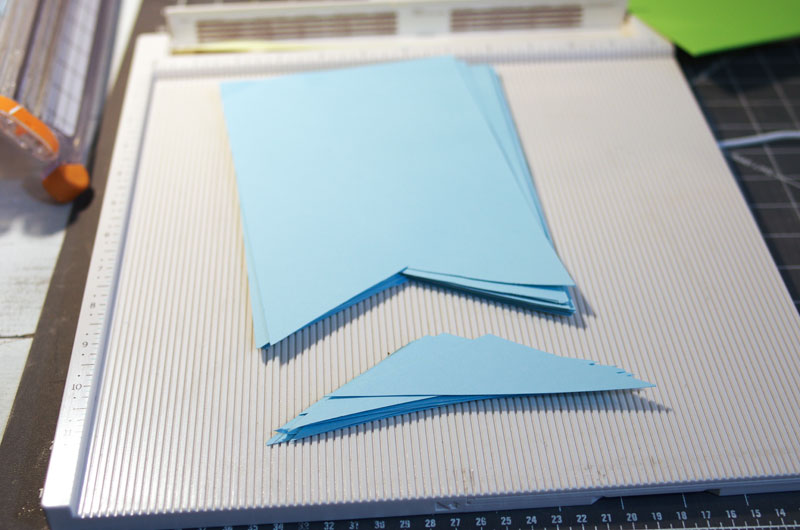 I chose rectangles with the bottom notched out.
I simply took 8-1/2″ x 11″ light blue card stock and cut it in half with a paper trimmer. I then had two pieces that measured 8-1/2″ x 5-1/2″.
Next I cut out an inverted "V" shape on the 5-1/2″ bottom of each rectangle.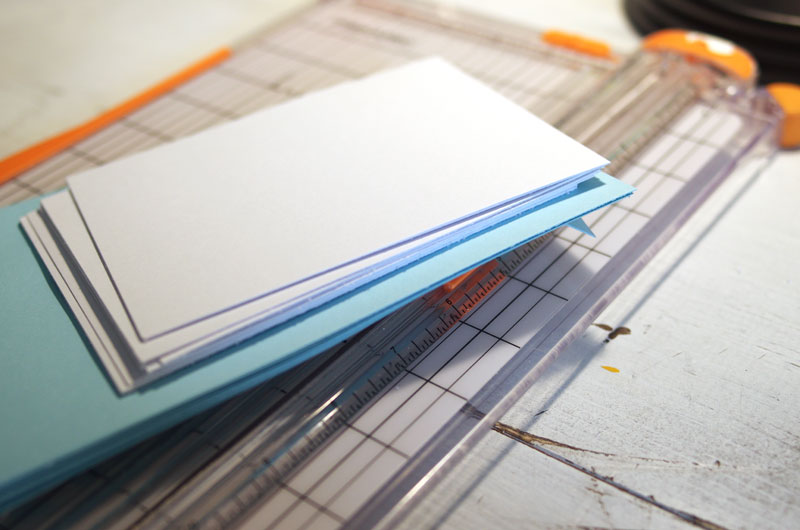 Then I cut  5-1/2″ x 4-1/2″ rectangles out of white card stock to act as a mat on each banner piece.
Step Two – Cut out letters
First this step I used my Cricut Explore Air 2 to cut out the letters for the baby shower banner.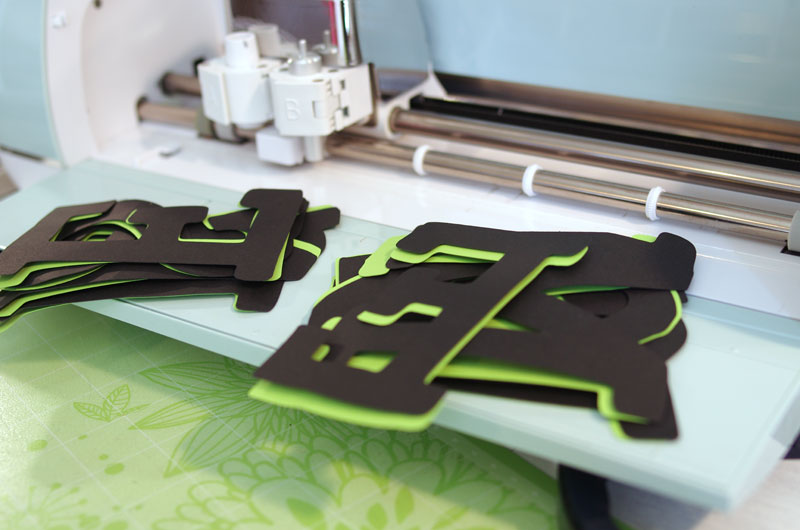 (You could also cut these out by hand, with a different electronic cutter like a Silhouette Cameo, a die cutter with letter dies, or even buy pre-cut letters). I cut the letters out of green and black card stock and used the black letters to act as a shadow behind the green letters.
Step Three – Attach the letters
Using Tombow Mono Liquid Glue, I glued the letters onto the white matting rectangle and then glued the white rectangle on to each pennant shape.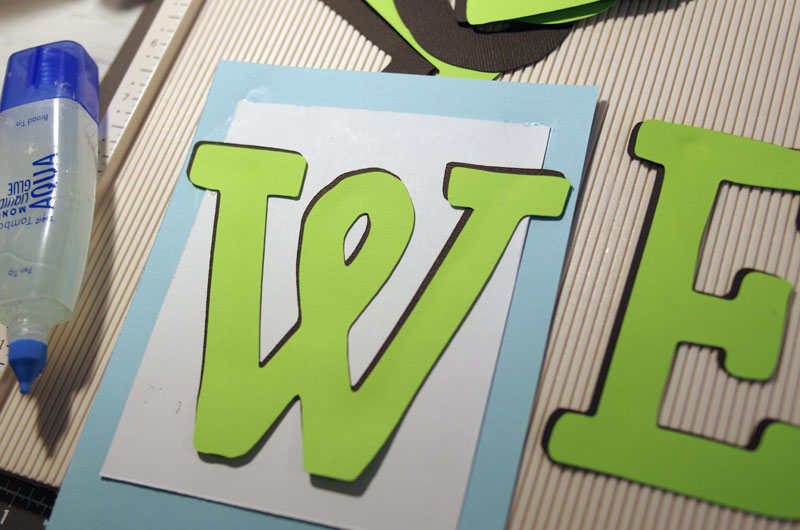 Notice how having the black shadow on the green letters allow the letters to "pop" off the white background.
Step Four – Punch holes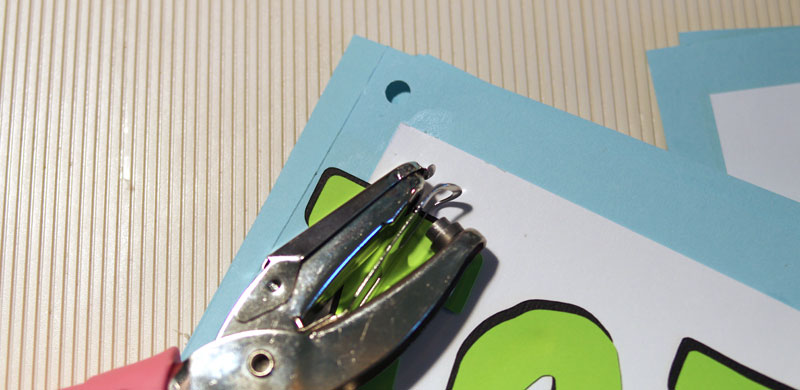 I used a 1/4″ hole punch to punch a hole in each top corner of the pennant pieces and then strung the pieces together on a length of light blue ribbon.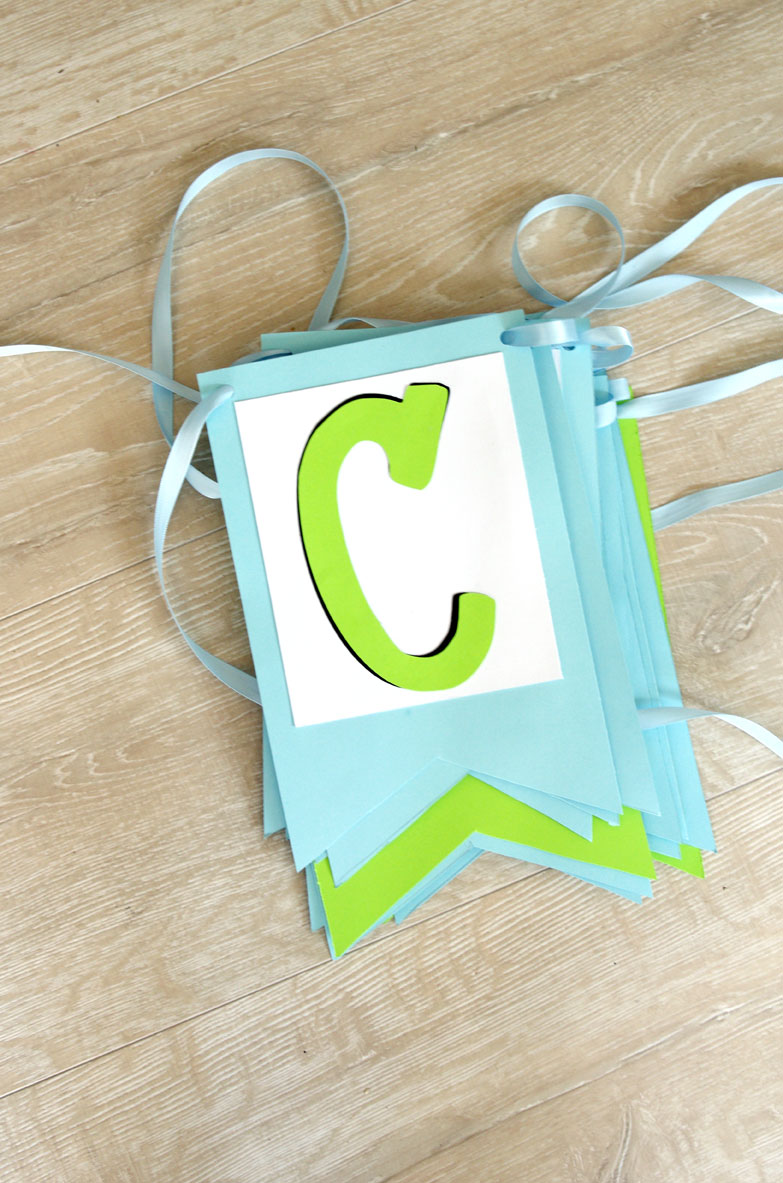 And it's done . . .  almost!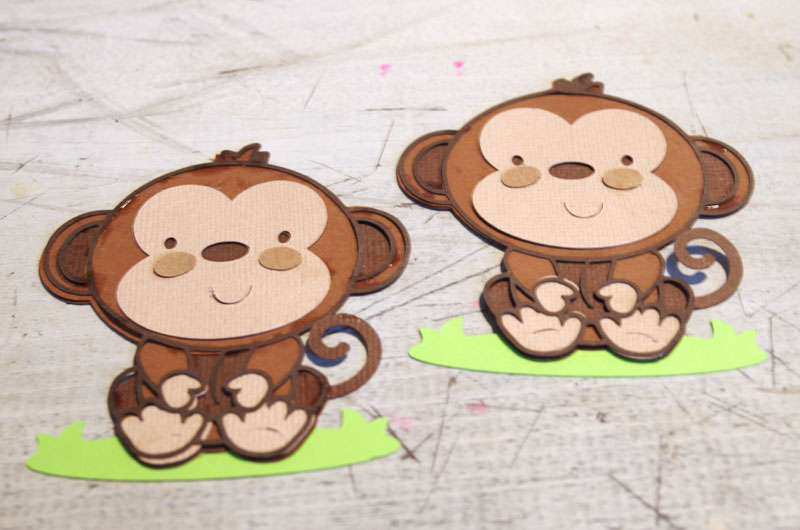 After finding an SVG file for a cute little monkey that is similar to the monkey on the invitation. I cut two of them and added an extra pennant shape to each end of the name banner. Then I simply adhered the monkeys to those extra shapes.
I also cut heart shapes cut out of coordinating polka dot card stock and added them to two extra pennant shapes added to the front of the back of the "welcome" banner.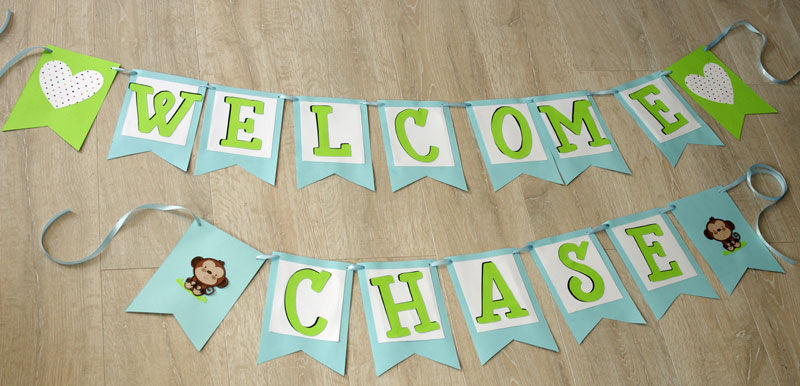 All done! My friend is thrilled with this baby shower banner and I love how easy it was to make and how it coordinates with the colors of the invitation.
Now don't you think making a banner is easier than you thought?!
Here are a few more baby shower projects that you may like: