I live in a tiny house. Well, not a "real" tiny house like you see on television. I could never live in one of those. Could you? I think it would seem like camping. Camping for eternity. No thanks. They are cute though!
I guess I should say my house is on the small side. And that means the kitchen is small, too. There's not a lot of counter space or storage space. But there is some room for a small table and chairs. In fact, I used to have a counter height table and stools in there until I moved them to the family room. For a while I thought about building a banquette but that never happened. It just didn't feel right somehow.
And then it hit me.
I needed an island.
A cheap, DIY island that I could build. And it would have to have wheels.
I'm a DIY blogger. I can make a kitchen island. For almost nothing. Right? From a desk, right?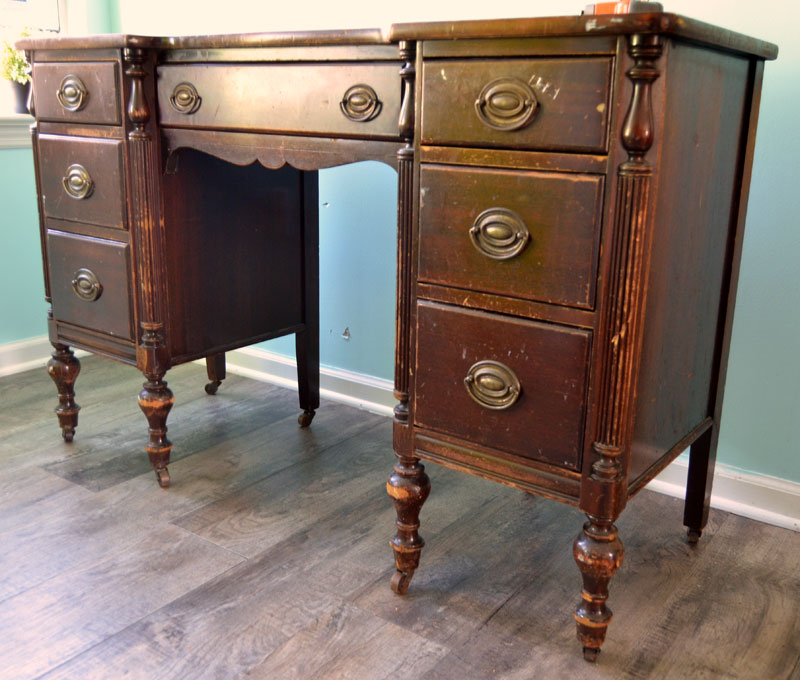 I bought this desk for next to nothing this past summer. Look: wheels!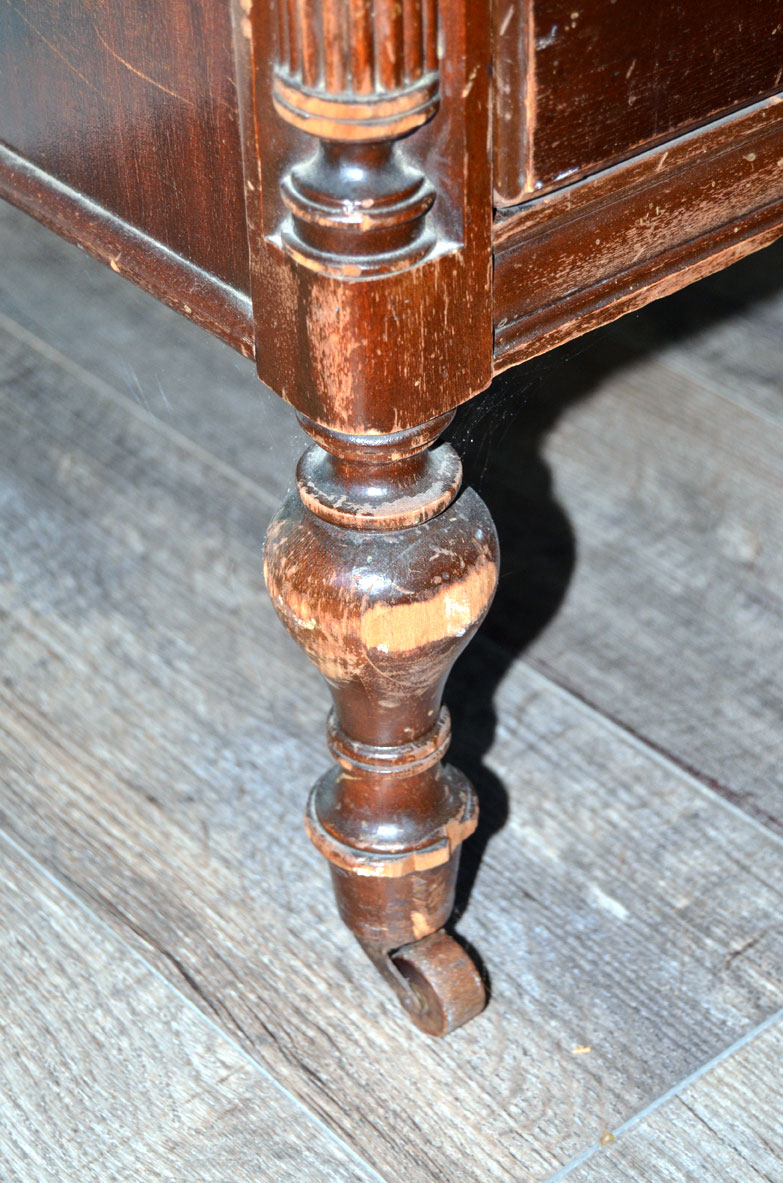 The desk was structurally sound. It just needed a little TLC.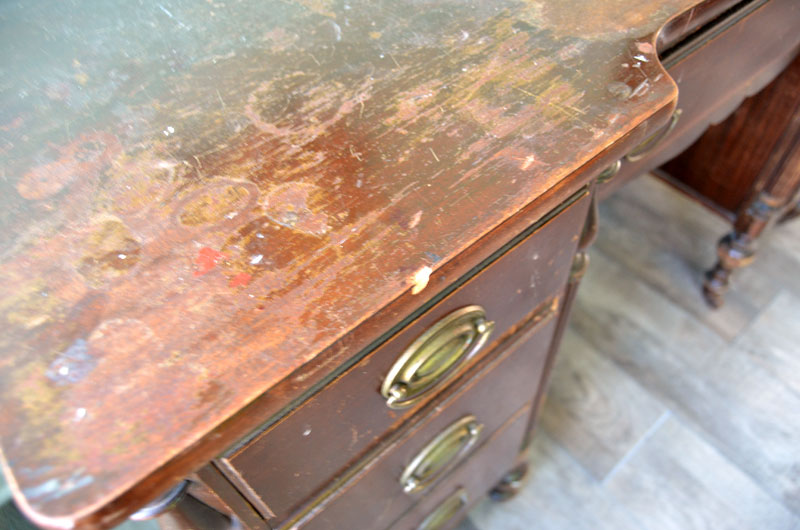 Okay, A LOT of TLC.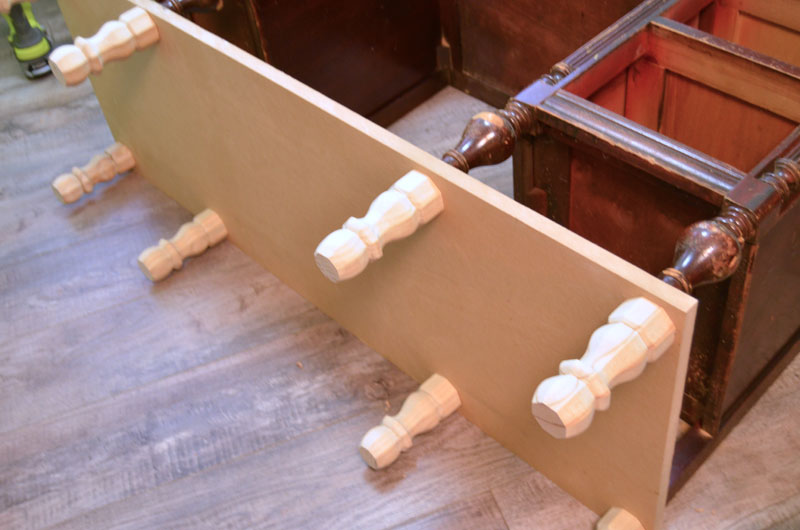 One of the first things I did was build a base. Counter heights are generally 36″ so I measured my desk and built the base high enough so that the completed island would be around 36″ high. No problem.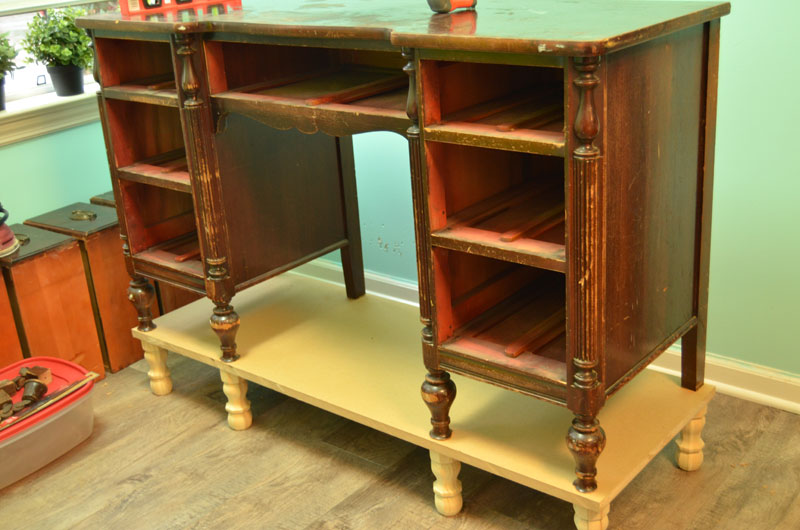 So there's my island – I mean desk sitting on a platform : (
This is when I started doubting myself and this whole "I-can-make-an-island-out-of-a-desk" idea. But I kept telling myself that maybe it would come together and be wonderful. And if not, so what. I'd learn something. This bench build story by My Repurposed Life is a perfect example of this.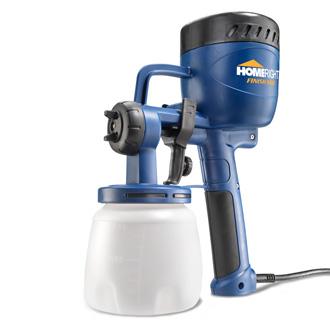 Since this project is part of the The Fab Furniture Flippin' Contest and this month's them is: "Spray It Pretty", I was excited to try out my brand spankin' new HomeRight Finish Max Fine Finish Sprayer! This bad boy has been sitting in my basement just waiting for me break it out. But I have to admit: I was a little hesitant. I've never used a paint sprayer before.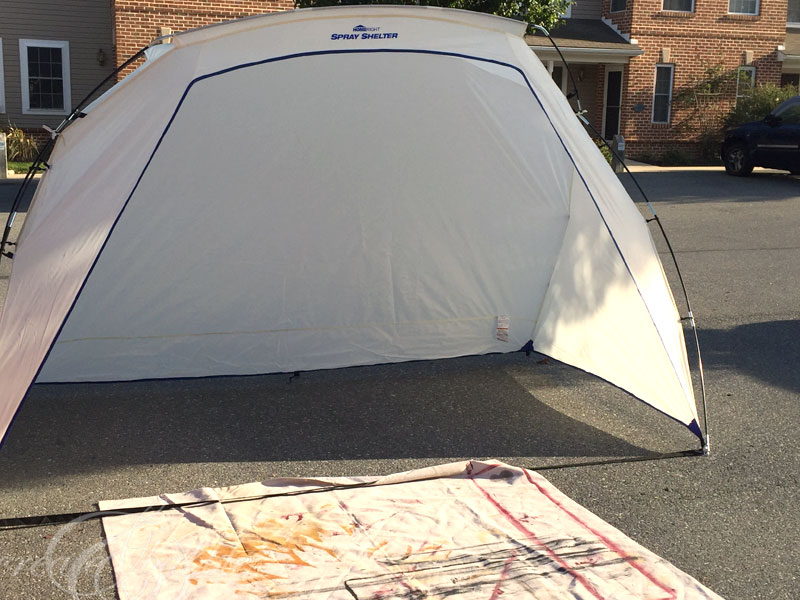 AND, I got to set up my cool HomeRightSpray Shelter. That IS way cool. I think my neighbors were a little jealous when they saw me setting it up in the parking lot ; ) But they can get one, too! Besides, they should be thanking me for not getting paint on the grass, parking spaces, OR their cars ; )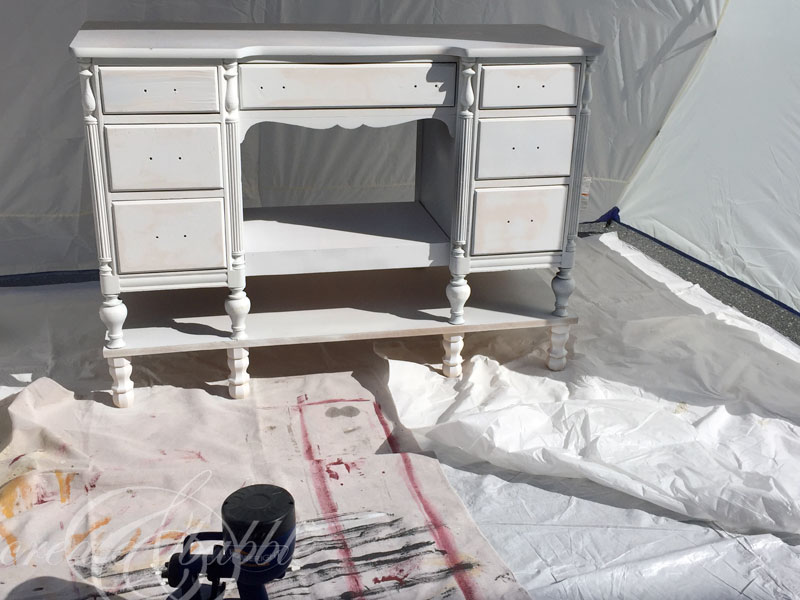 My aforementioned worries were for naught. The sprayer couldn't have been any easier to use. The instructions were clearly written and easy to follow. And the clean-up was a breeze. Very nice product HomeRight!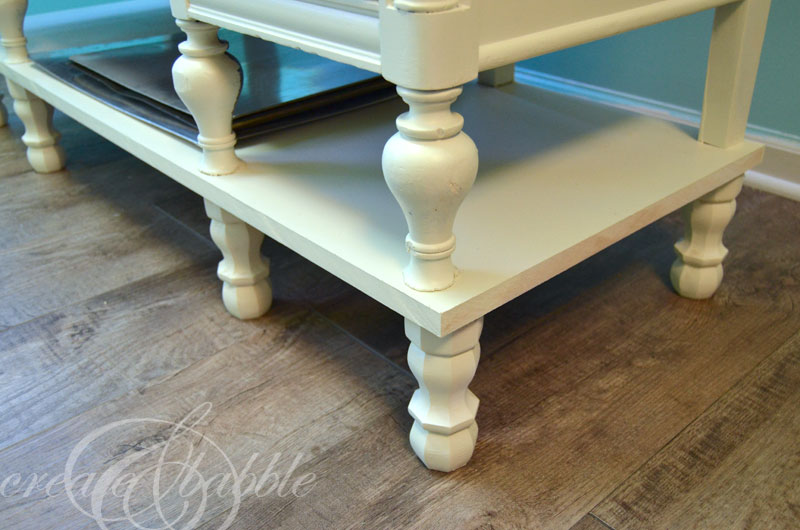 I used the sprayer to apply two coats of thinned out primer and then two coats of chalk paint. Using the sprayer made easy work of painting those curved legs and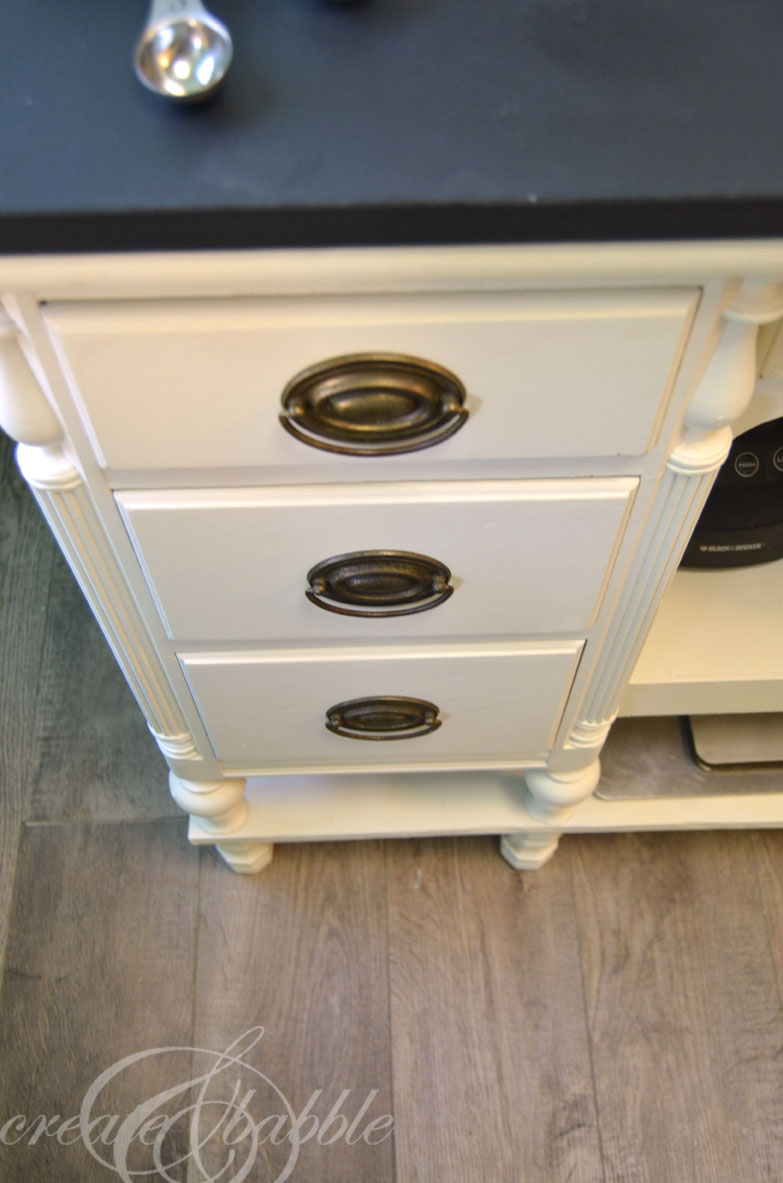 carved details on the front.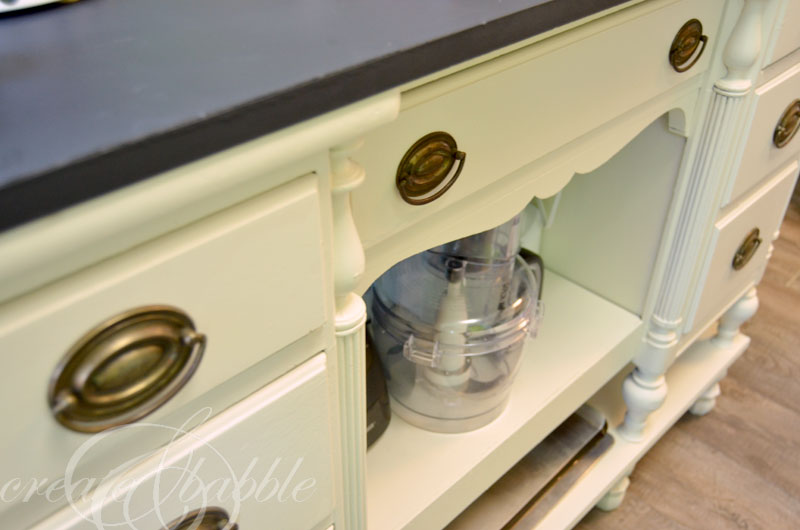 At first I wasn't sure what to do about the hardware, but in the end decided to leave it as it was. I love how it pops against the Antique White paint color, don't you?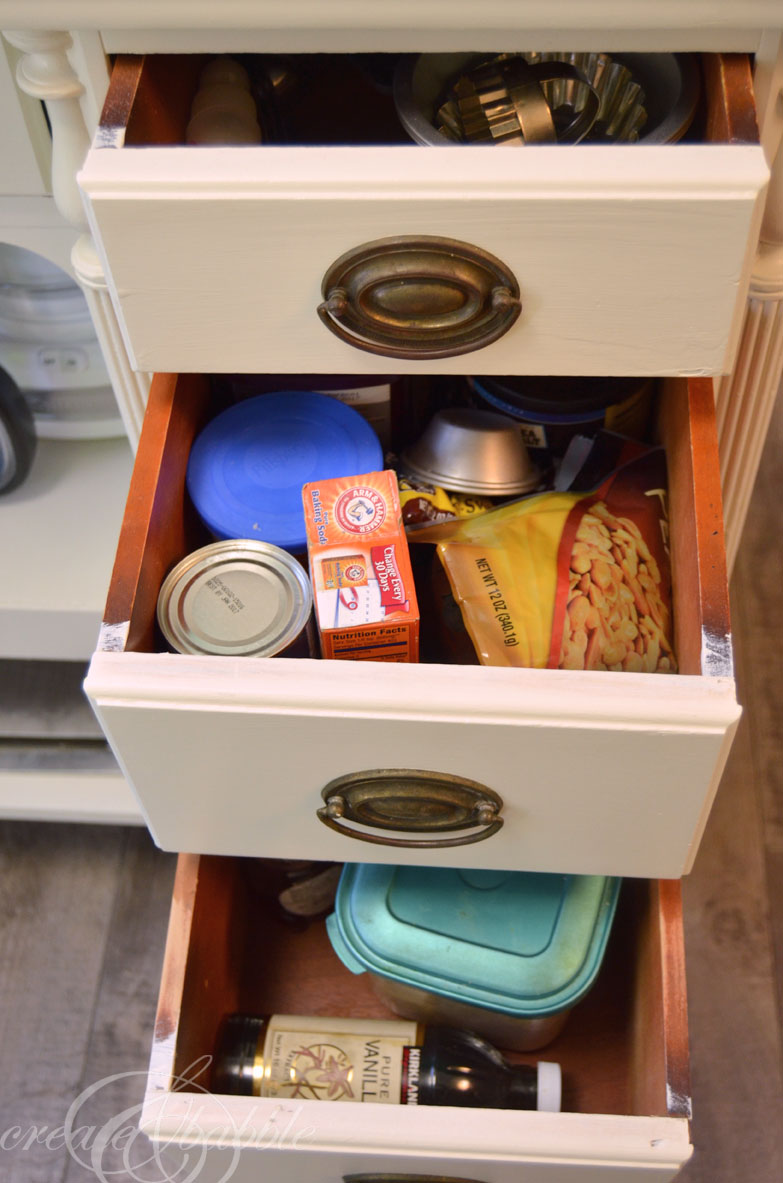 I didn't waste any time filling the drawers with baking supplies, tea bags, pot holders,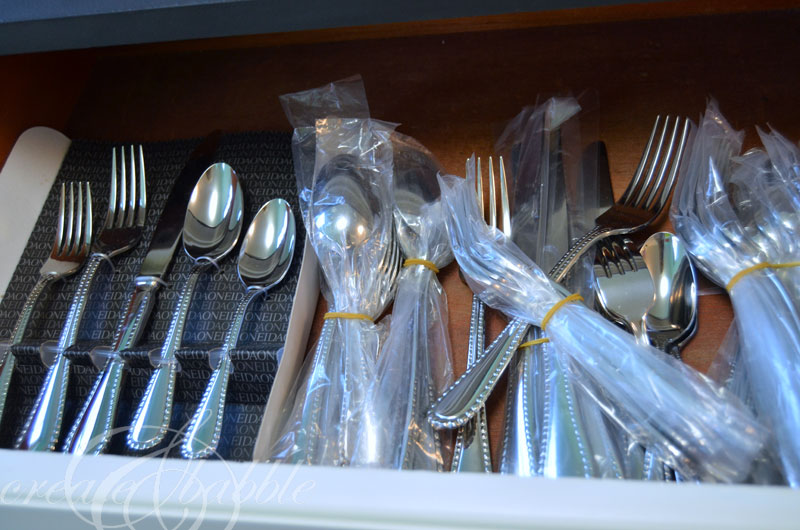 and my new flatware! Looks like I need to go shopping for a flatware divider tray.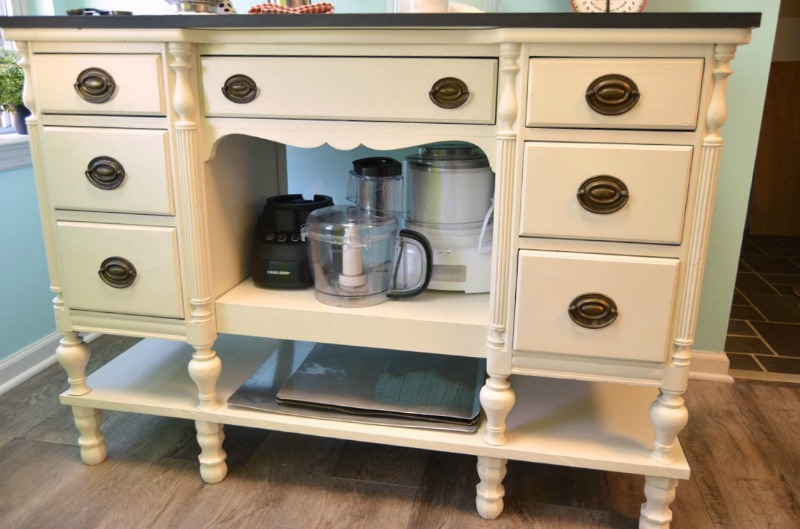 I was going to look for three baskets to fit on the lower shelf, but it's a great place to store my over-sized cookie sheets for now.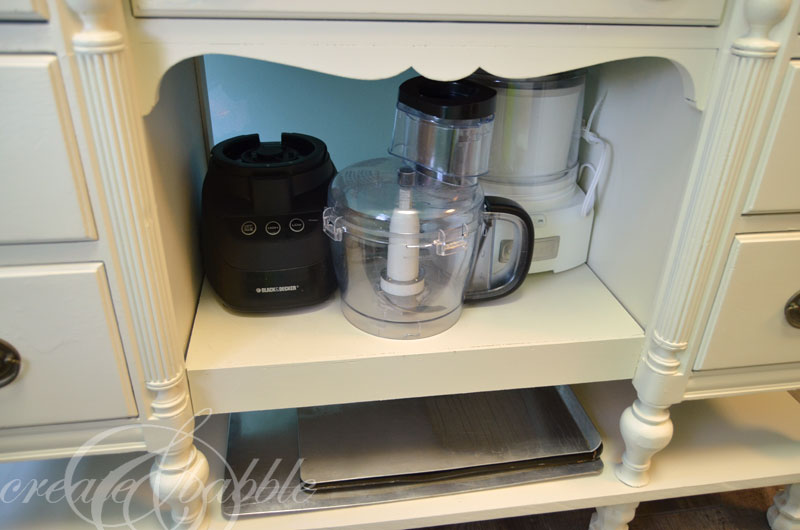 I added a shelf to the knee hole area and I'm using it to store frequently used small appliances.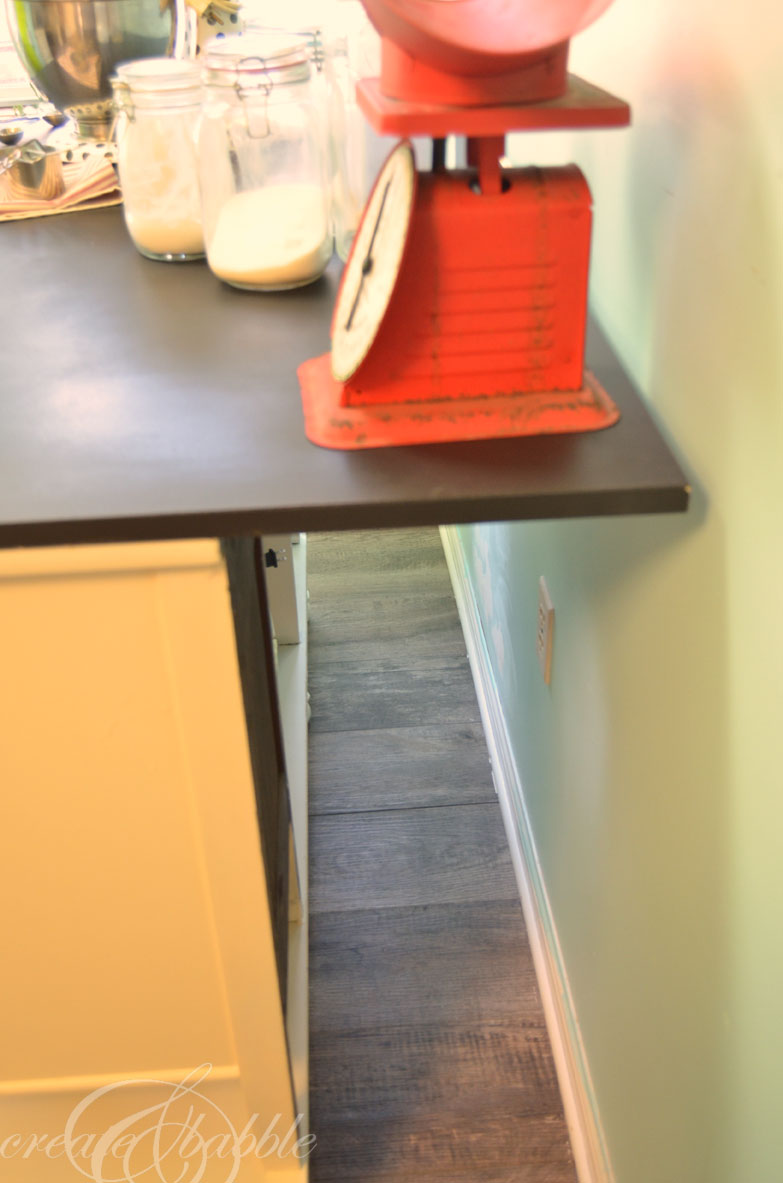 I'm going to add two corbels and a piece of beadboard to the back and look for two small stools to tuck under the counter overhang – a perfect place for my two grandbabies to sit and help Nana bake!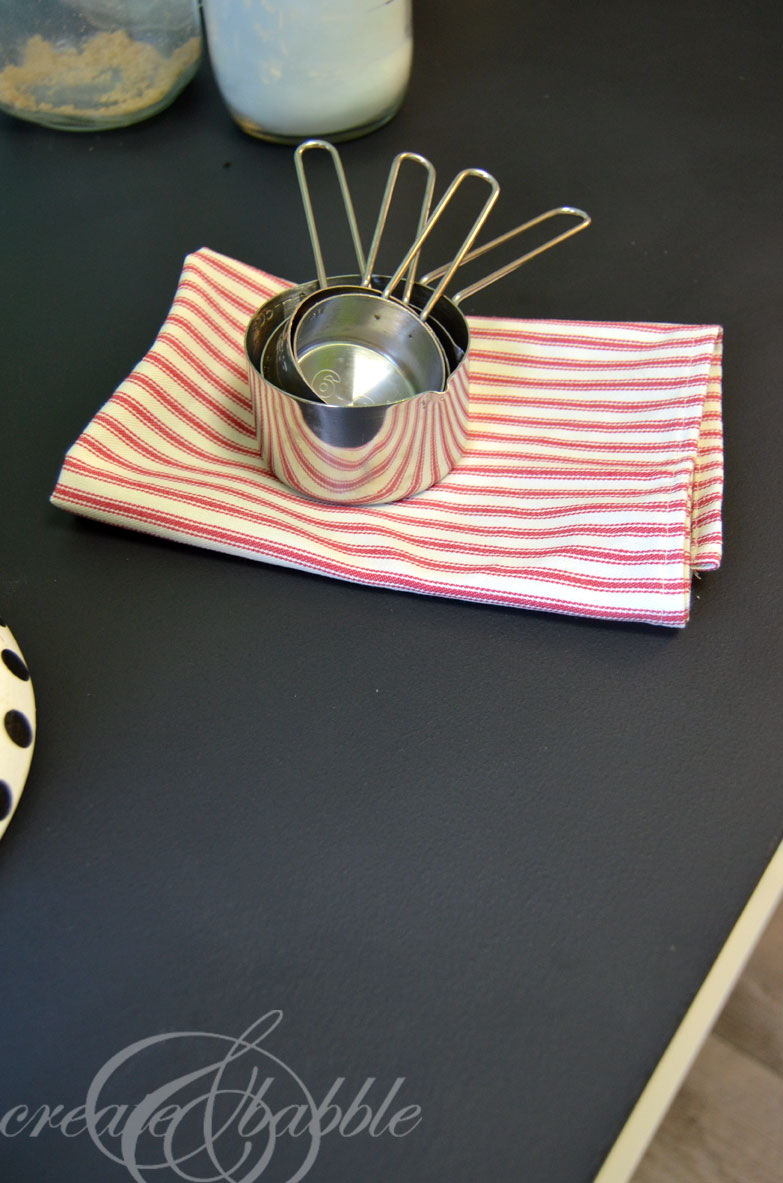 Oh my, I almost forgot to mention the top! At first I thought I'd look for a piece of butcher block but wasn't able to find an inexpensive remnant piece. Then a friend (thanks Maureen!) told me about an article she saw about creating faux soapstone using chalkboard paint and furniture wax. So that's what I did.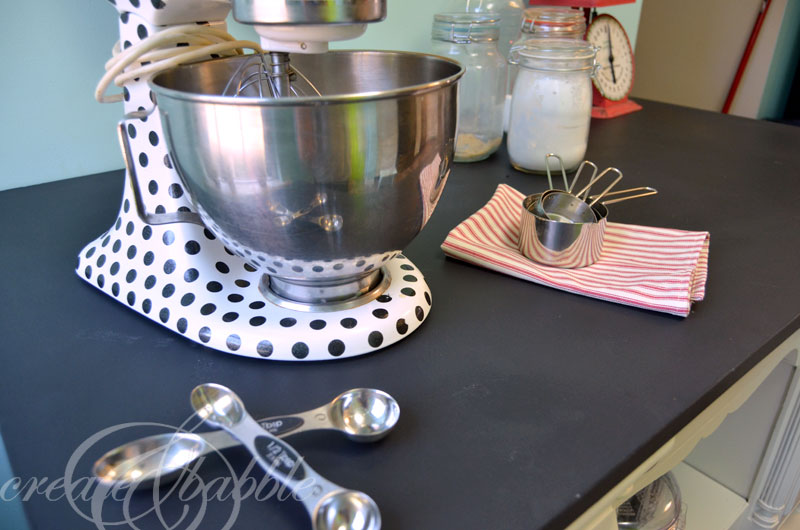 I cut down a large, leftover piece of that white-coated MDF and rolled on a few coats of chalkboard paint. In the morning, I brushed on and buffed a coat of light furniture wax. I love how it turned out!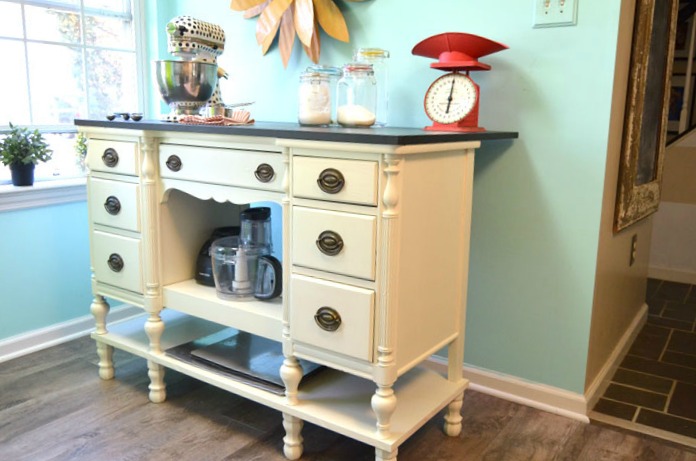 So now my little kitchen has an island! Thanks to a great deal at a thrift store and the fine folks at HomeRight, this pretty, little, functional island only set me back about $40.
Be sure to check out the featured hosts for this month's Fab Flippin Furniture Contest HERE and HERE. And please check out our sponsor, HomeRight. Along with the Finish Max Sprayer, they have many other amazing products that help make painting furniture so much easier!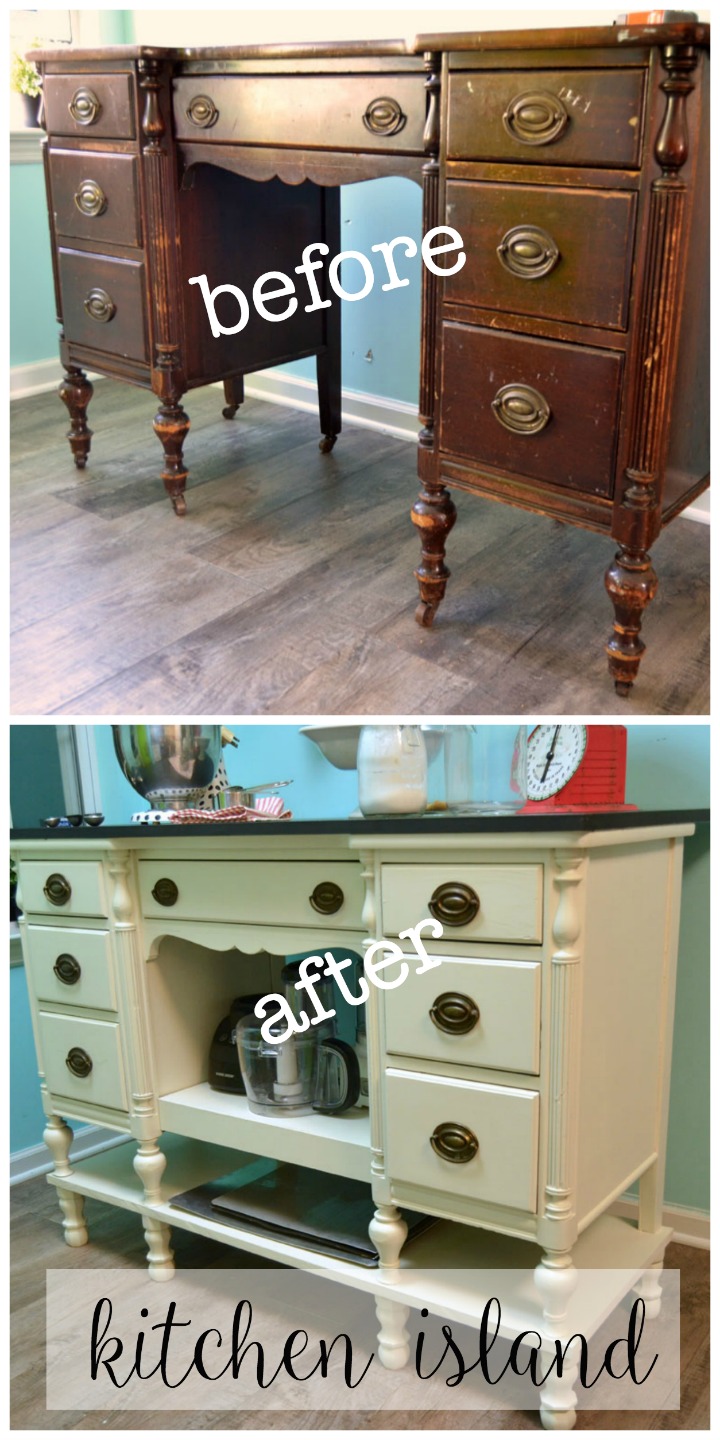 If you like this idea, please pin it! Thank you!

Linking up to these fun parties:
Something To Talk About / GRAND Social / Inspire Me Monday / Project Inspired / You're Going to Love It Tuesday / The Scoop / Show & Share / From Dream to Reality / Remodelaholics Anonymous Link Party / Wow Us Wednesdays / Hit Me With Your Best Shot / Moonlight & Mason Jars / Project Parade / Creative Spark / This is How We Roll / Shabbilicious Friday / The Creative Circle / Feathered Nest Friday / Creativity Unleashed / Weekend Retreat / Friday Finds / Link Party Palooza / Party Junk / Share it One More Time / Skip The Housework / Best DIY Project & Recipe Party / Best of the Weekend /