I am so thrilled with the latest addition to my craft room. I try so hard to be organized in this space with labeled bins, cubbies, and shelves but I gotta say that a giant pegboard is the ultimate organizer! I can see EVERYTHING all at once and for me that is such a time saver. So without further delay I want to show you just how to build a giant pegboard.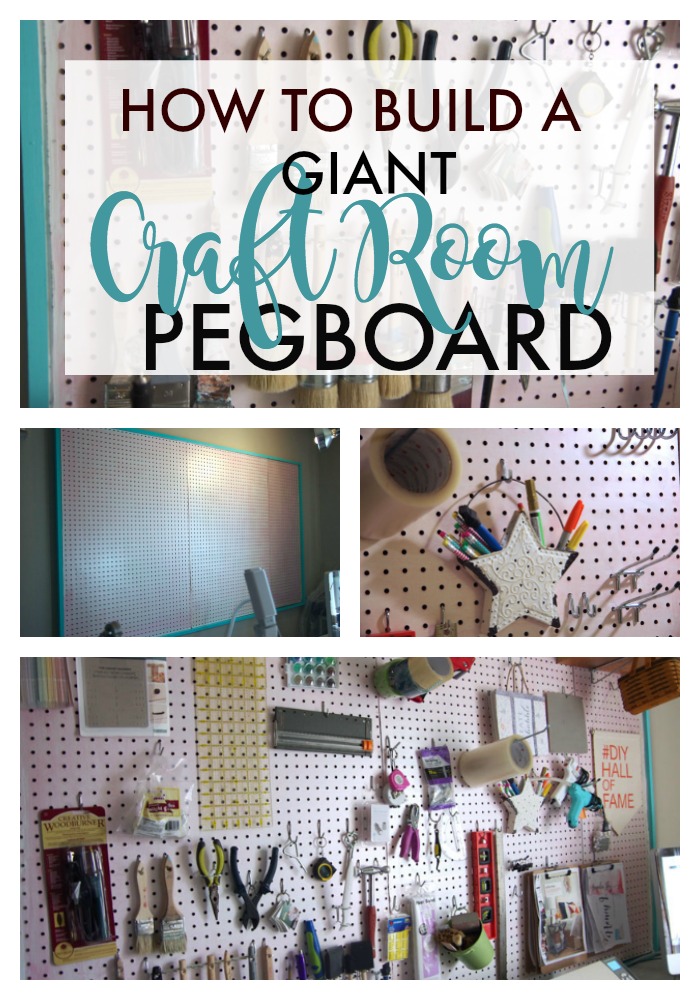 How to Build a Giant Pegboard
Materials
pegboard
1″ x 2″s
2″ wood screws
1-1/4″ brad nails
caulk
paint
pegboard hooks
Tools (contains affiliate links)
paint brush
paint roller
pencil
Step One – Determine placement and size of pegboard
I knew I wanted a huge pegboard. My "desk" is actually long, narrow table that I made a couple of years ago. It is placed up against one of the long walls in my office/craft room. I wanted my pegboard to be directly above that table.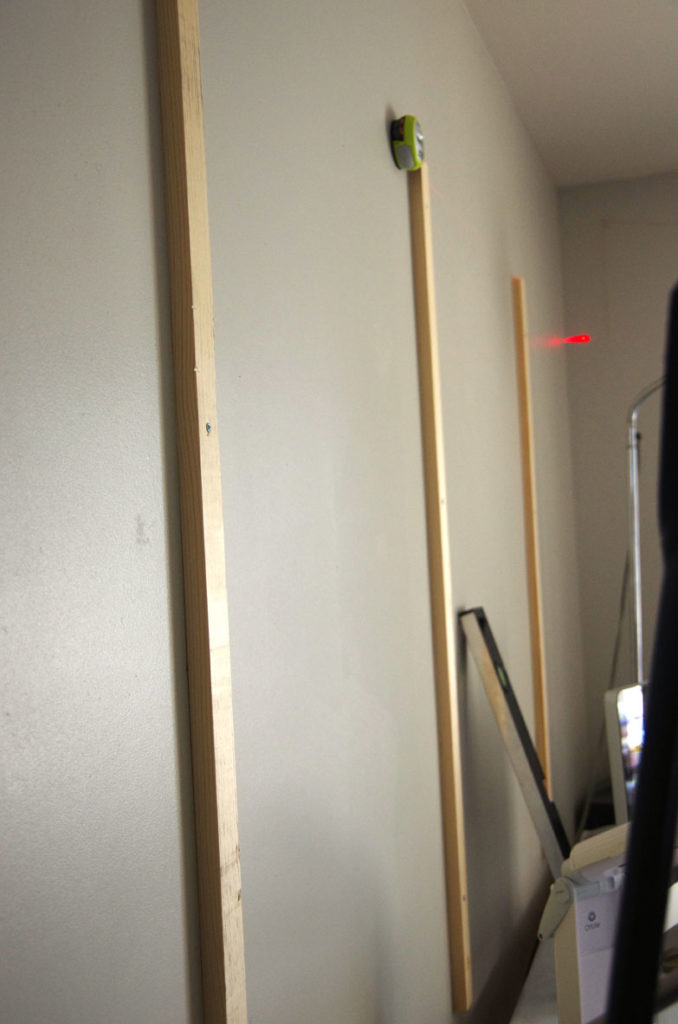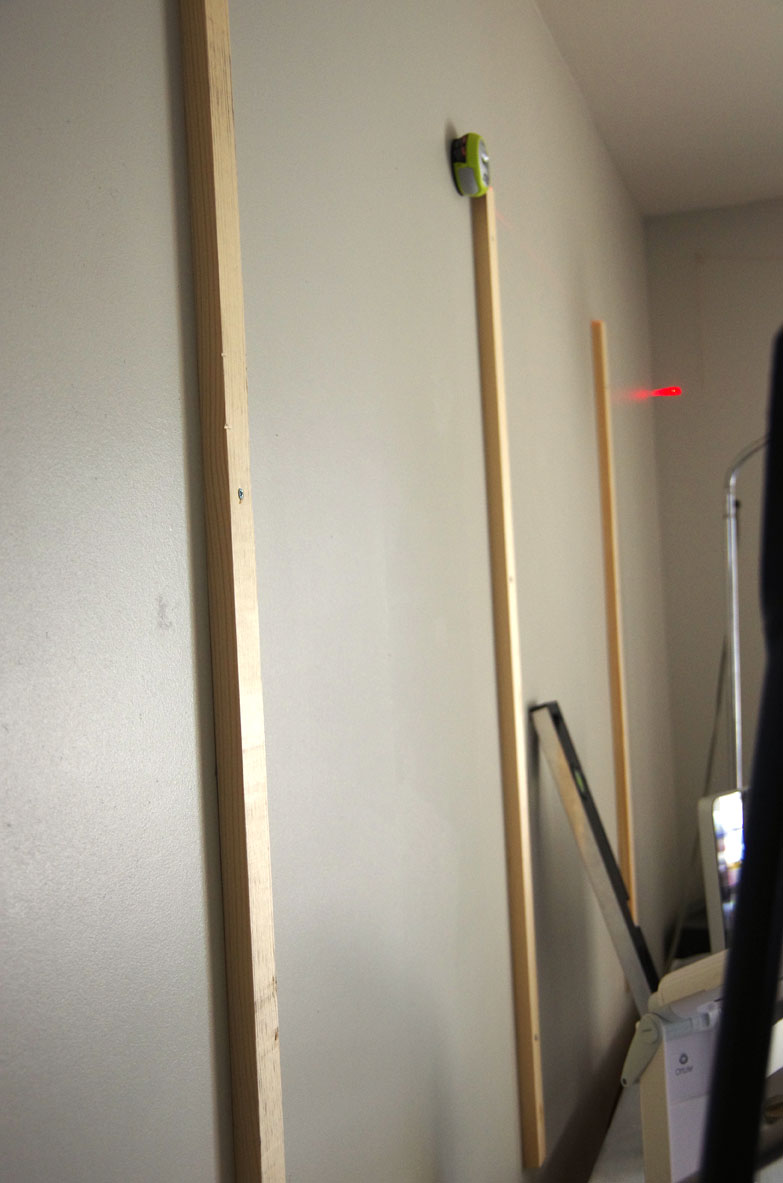 Using a stud finder, I marked the studs and attached a 48″ long 1″ x 2″ at each stud using three wood screws (top, middle and bottom). I used a laser level to be keep everything lined up and even at the top of the studs and I used a carpenter's level to keep the studs straight.
Since my studs are 16″ apart, I placed my 1 x 2s at 32″, 32″, and 16″ for a total pegboard width of 80″.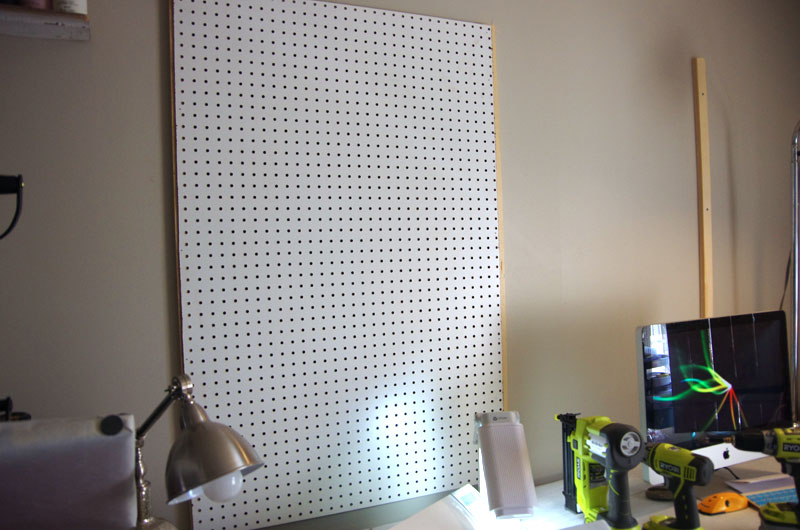 Step 2 – Attach pegboards
Using a brad nailer with 1-1/4″ brad nails, I attached the pegboard to the 1″ x 2″ "studs".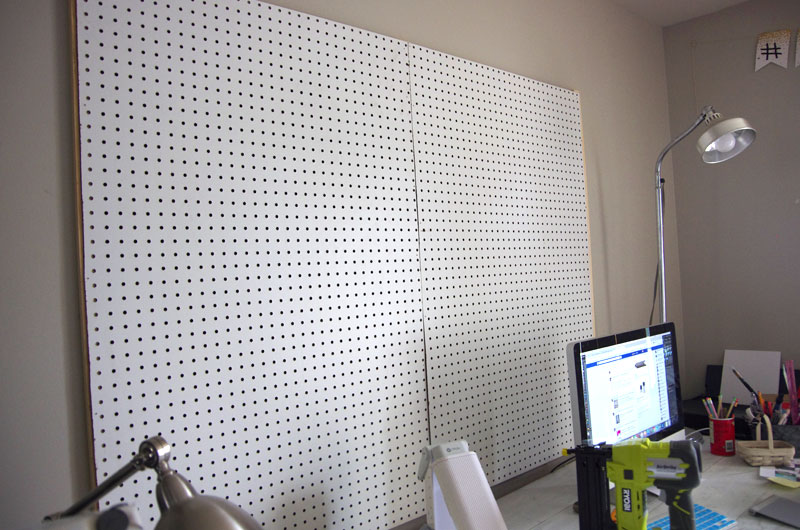 At first I was just going to leave it at 64″ but what the heck!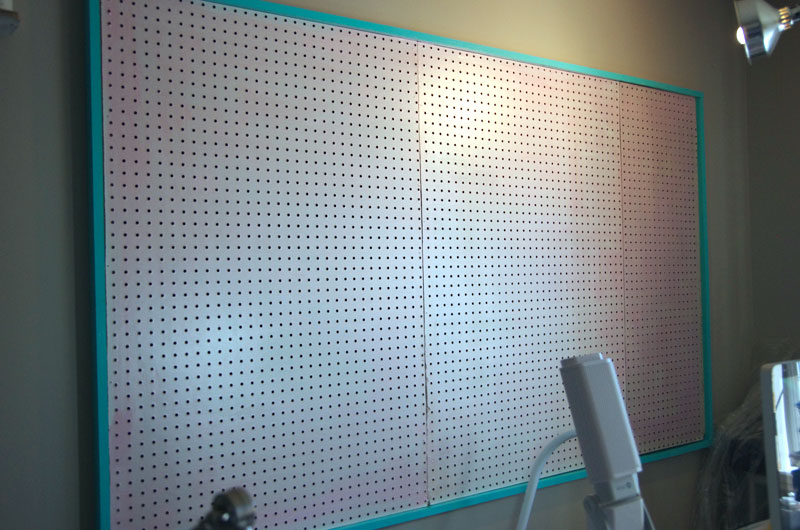 When it comes to pegboards, I say bigger is better.
Step 4 – Add the frame
For the frame, I simply used more 1″ x 2″s that I had pre-painted using more of that incredible Americana Decor Maxx Gloss™ paint in Aqua Waters. It's the same paint that I used on the framed bulletin board.
Again I used the brad nailer to nail the painted 1″ x 2″ pieces to the 1 x 2 "studs". (I turned the frame pieces on their sides to create a raised frame around the edge of the pegboard.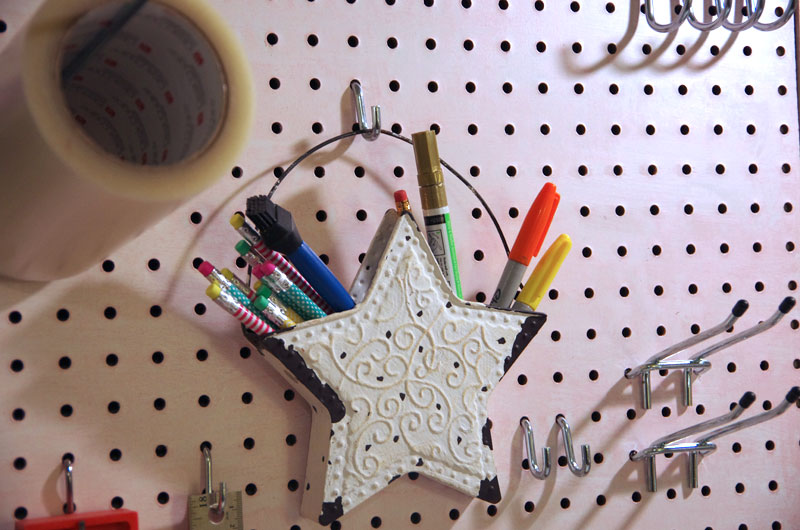 Now the fun part! Adding all of the hooks and then hanging my "stuff"!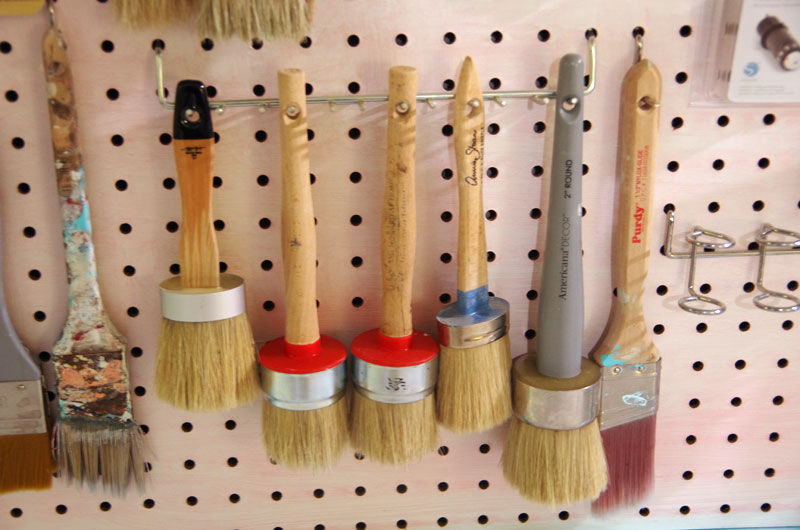 So now hopefully I can find what I'm looking for instead of going out and buying another one! Haha! Does anyone else do that? I must have two dozen tape measures!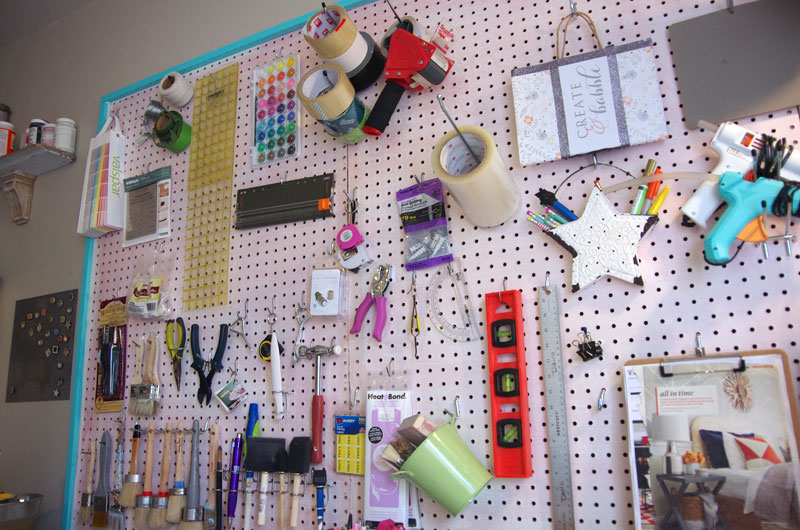 The photo above was taken from my desk chair. I just look up and see everything at once!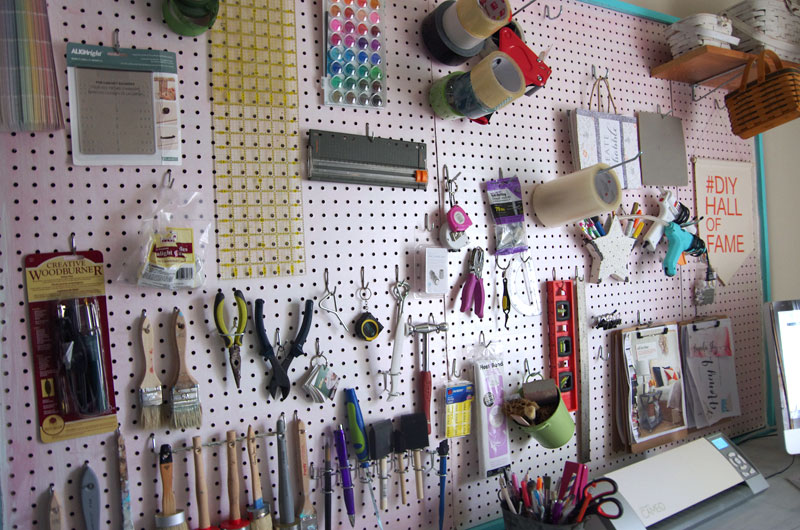 Oh my goodness, why did I wait so long to do this!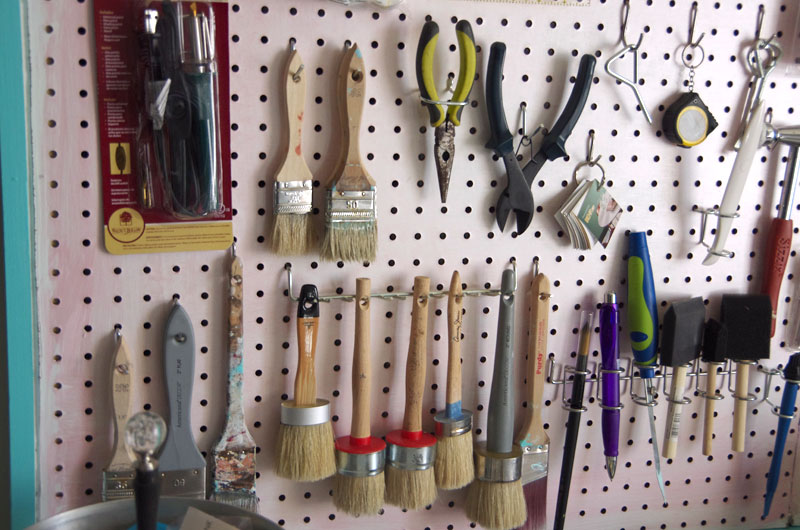 If you have a designated craft space, I can't recommend building a giant pegboard enough! It's a small investment for a big return on organization!
This not the first pegboard I've made (see this smaller, framed pegboard), but it's certainly the largest and I love it!
Oh and if you're wondering how to hang a pegboard in your basement and don't want to drill holes into the block walls, I gotcha covered! See How to Hang a Pegboard Without Drilling Into Cinderblock.