When I found out that Cricut has a new iron-on product specifically made for polyester and nylon "techy" style fabric, I was over-the-moon excited. And then I got to try it and I am now ecstatic! It's called Cricut SportFlex Iron On™ and it is the bee's knees!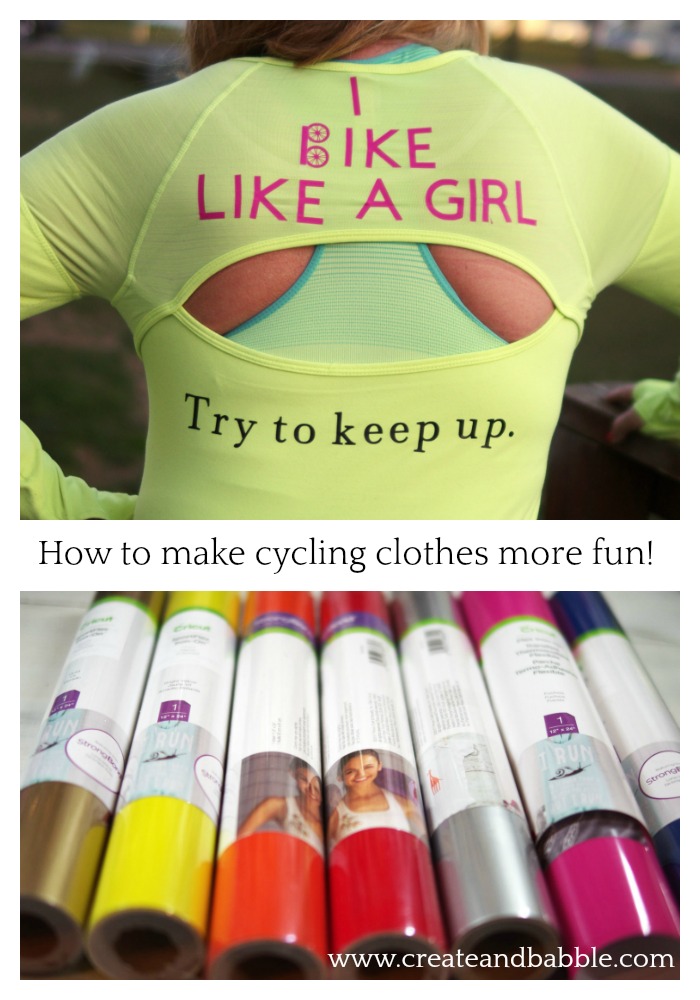 Here's why: most of my regular readers know that I'm an avid bicycle rider. (Read about those adventures). And that means that all of my cycling clothing is made out of that moisture-wicking polyester tech fabric. Which is great. Great but boring. Have you shopped for cycling tops or bottoms? Let me tell you, it's not too exciting. I can't understand why cycling shorts, pants, and even skirts are always black? Is there a law I don't know about??? The tops aren't much better. They do come in bright colors for safety sake, but there's usually no designs or printing on them. I like pretty things and plain black bottoms and solid colored tops aren't that pretty.
But now with Cricut SportFlex Iron On™, my cycling wardrobe is getting updated, pretty, fun to wear AND fun to look at! One piece at a time. And I'm starting with this bright yellow top.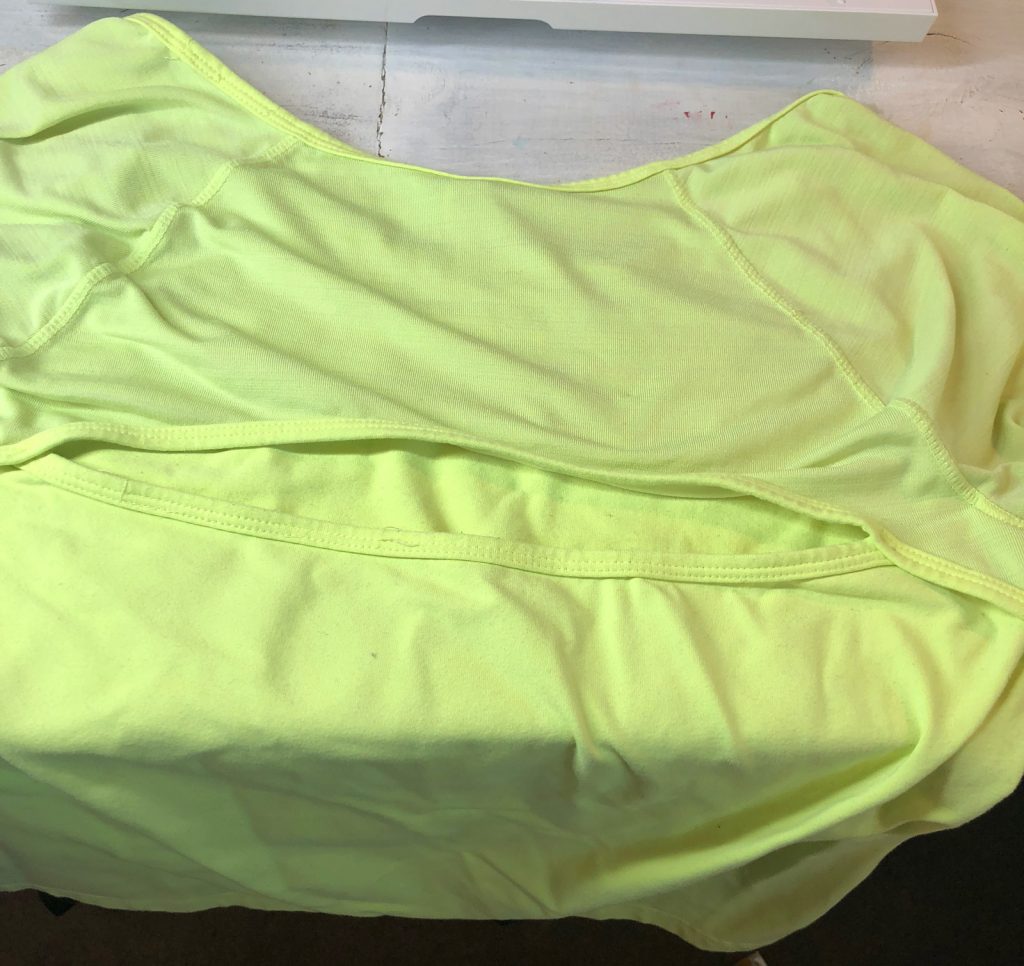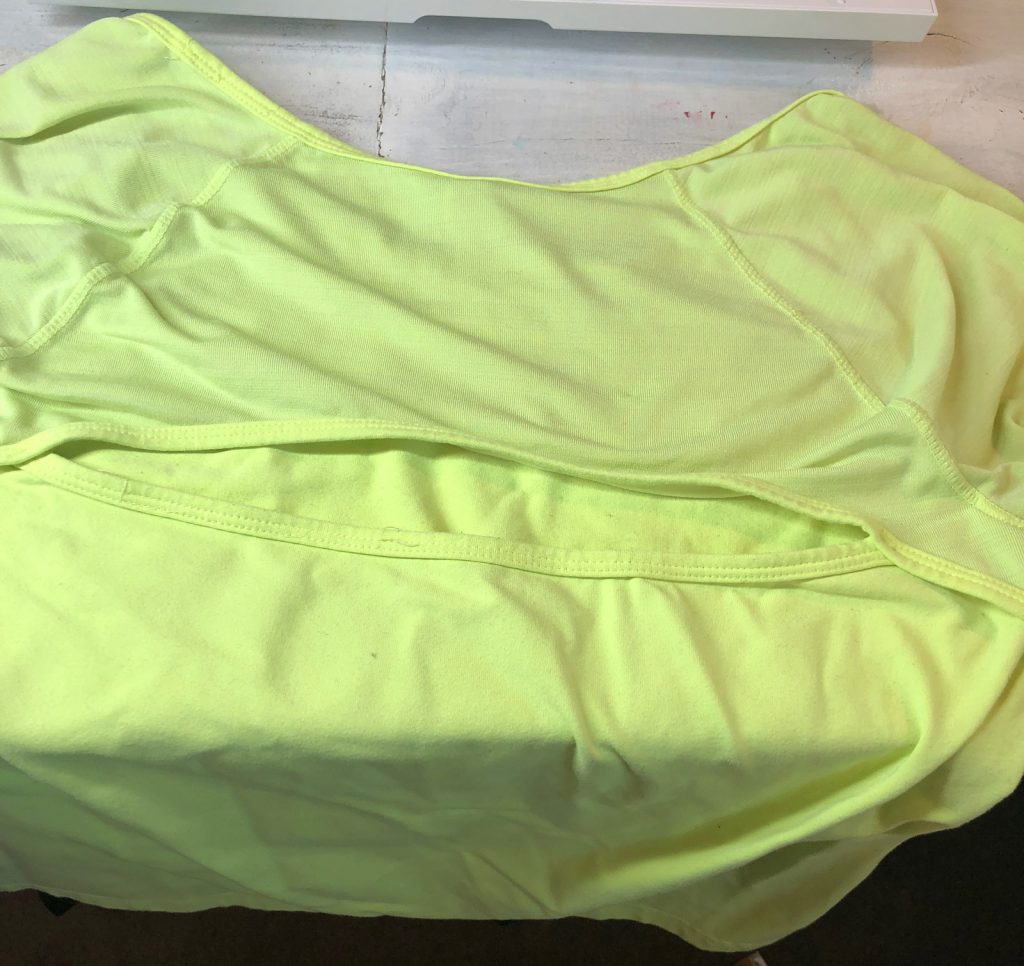 I originally designed this to go on it: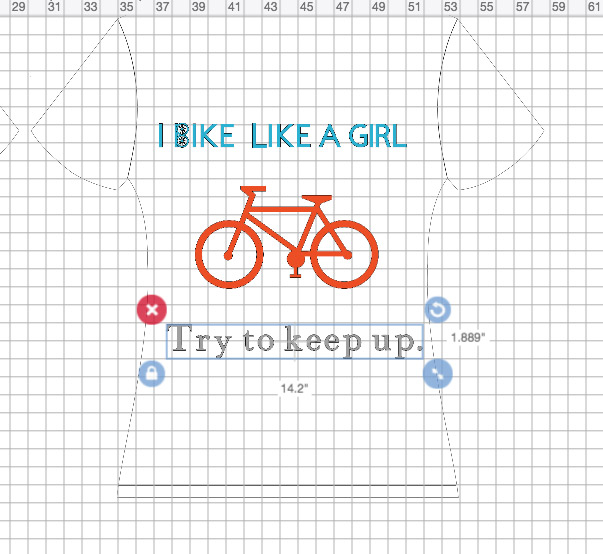 But since the top has a sort of keyhole back, I had to make a few adjustments. Here it is all finished!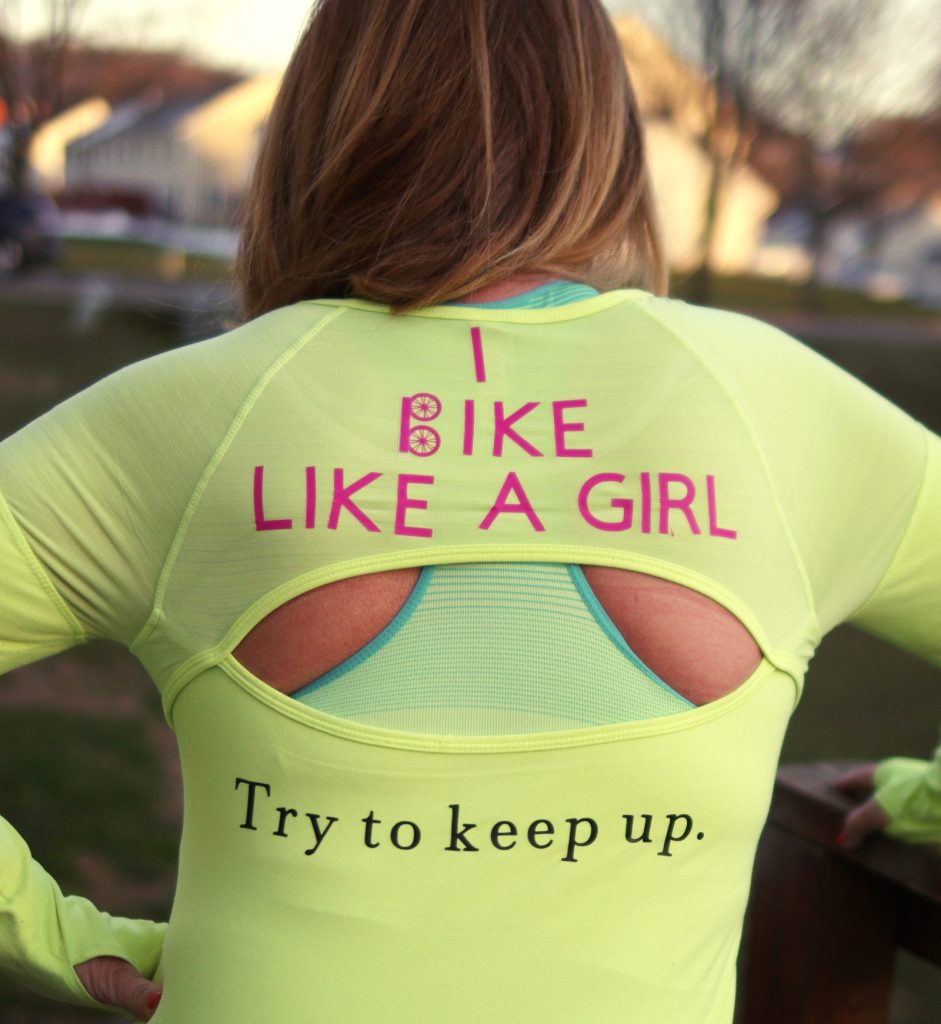 Like it? Want to make one? To use the design that I created, click here. Replace the "B" in bike with an "I" and two wheels. Size to fit your shirt.
Now remember, techy active sportswear is stretchy. That means you can't use regular old heat transfer vinyl on it. You need an iron on that is made for tech fabrics. SportFlex Iron On™is the answer. It is the perfect choice to customize activewear made out of tech fabric. It's thin, flexible, stretchable and lightweight. (You can even layer SportsFlex Iron On™, but Cricut suggests not going more than two layers.) It features the Cricut StrongBond™ Guarantee* for long-lasting results that stick.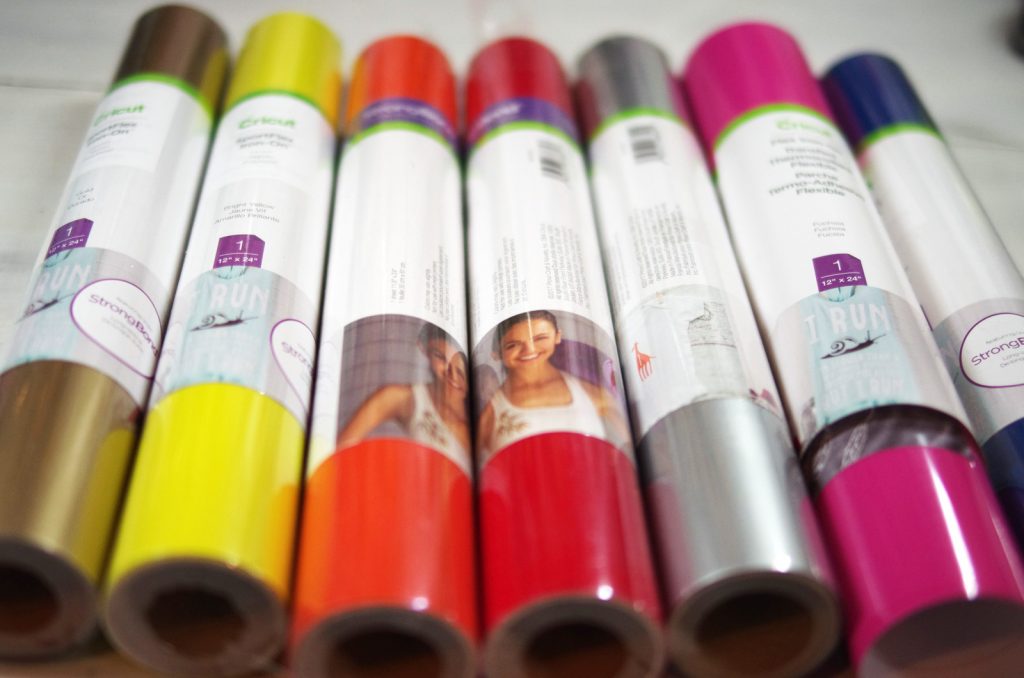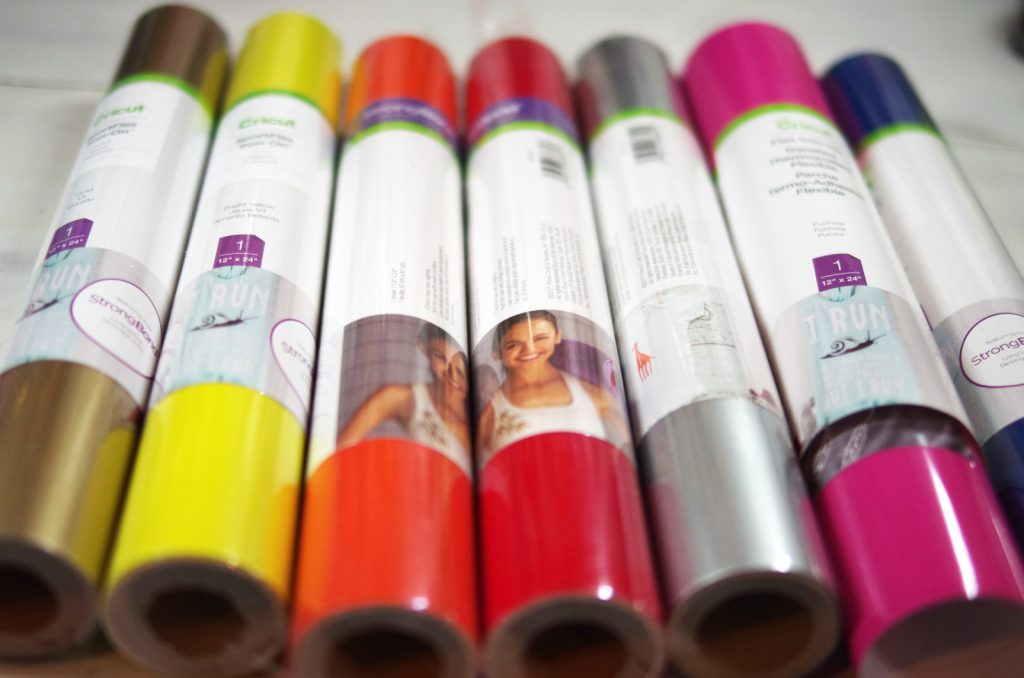 The SportFlex Iron On™  comes as one 11.8" x 24" sheet and look at those colors!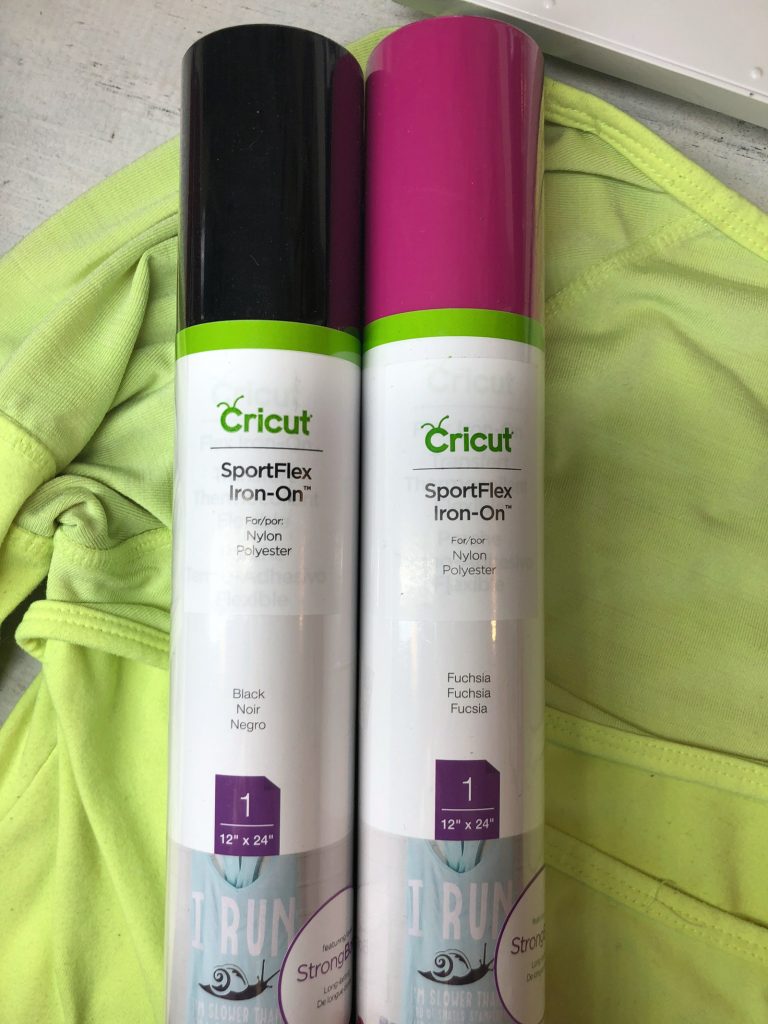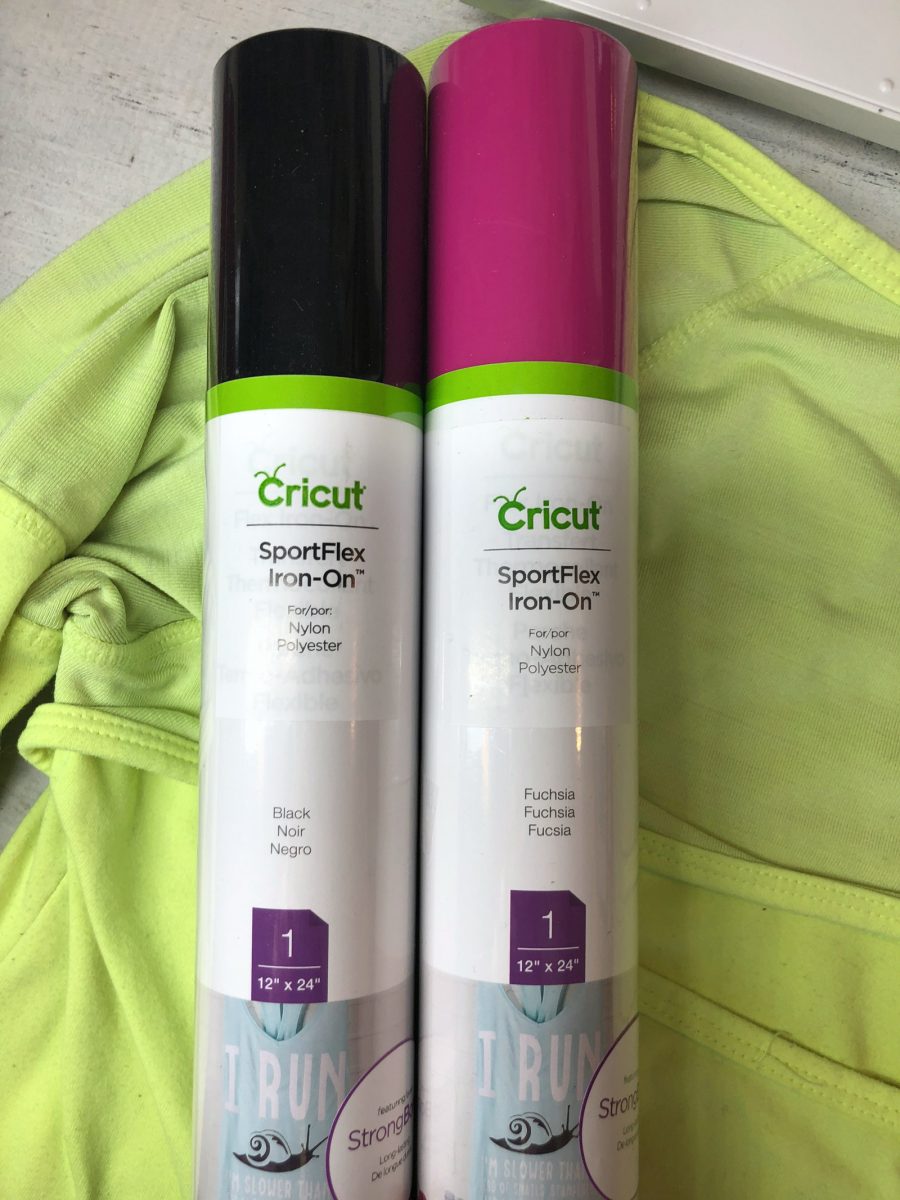 I chose black and fuscia to use on my bright safety yellow top.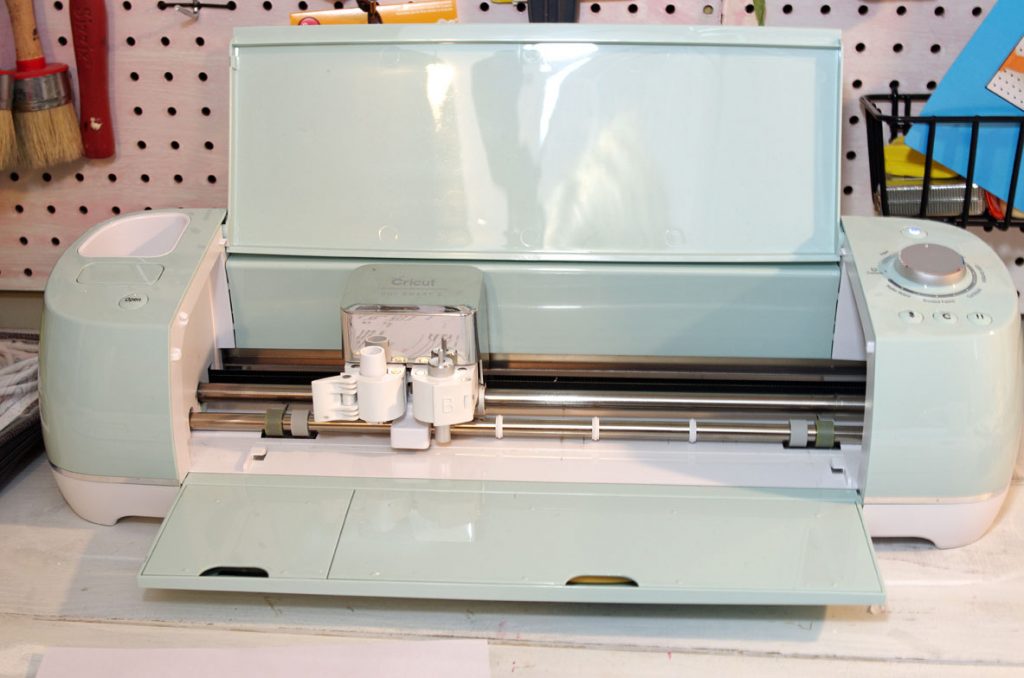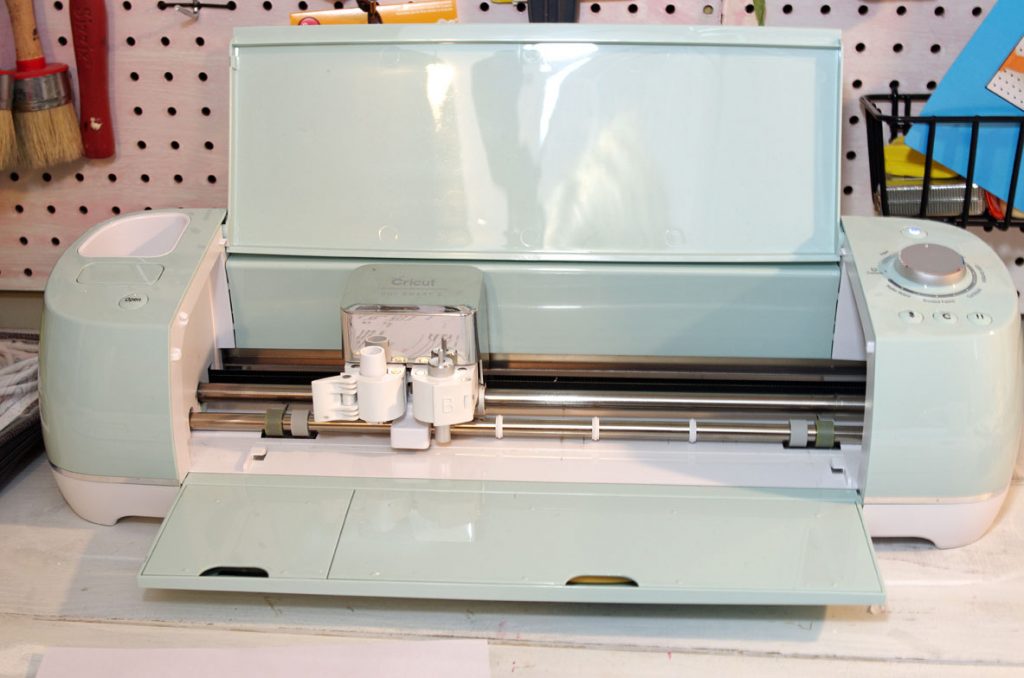 I cut the Cricut SportFlex Iron On™ using my Cricut Explore Air 2 machine.
I used my new Cricut EasyPress set to 305 degrees. Cold peel. You can use a household iron if you don't have an EasyPress yet! Oh, and when you order the EasyPress, go ahead and order the EasyPress Mat too!
Just don't forget to mirror your words before cutting. I like that the Cricut software reminds you of that!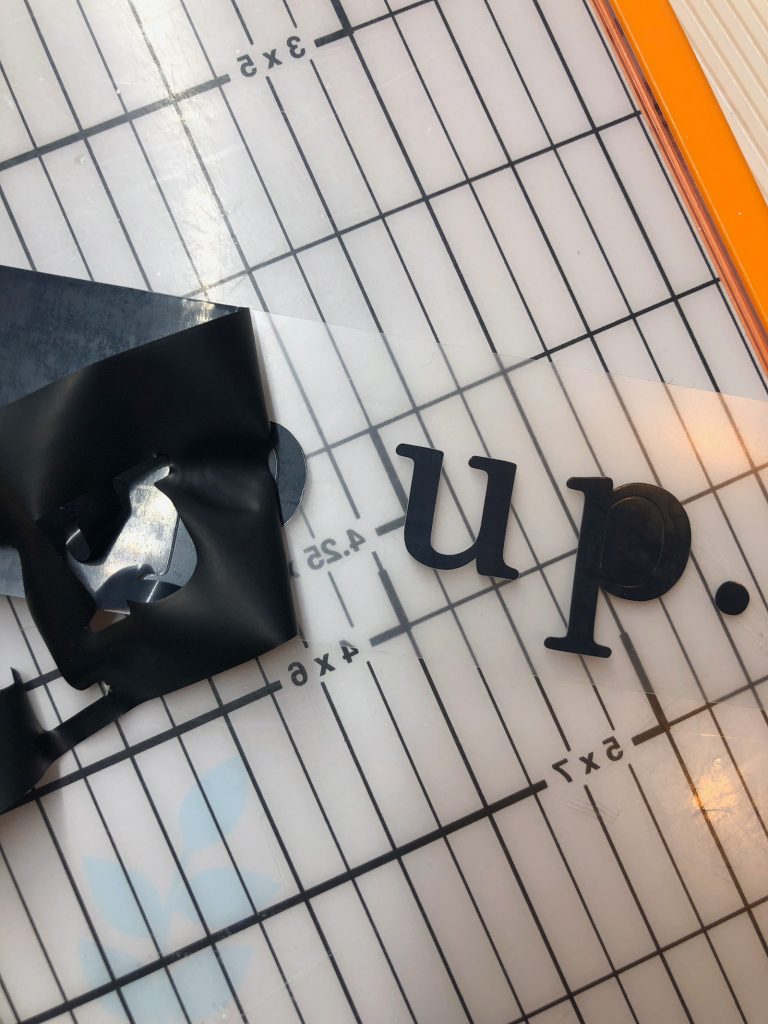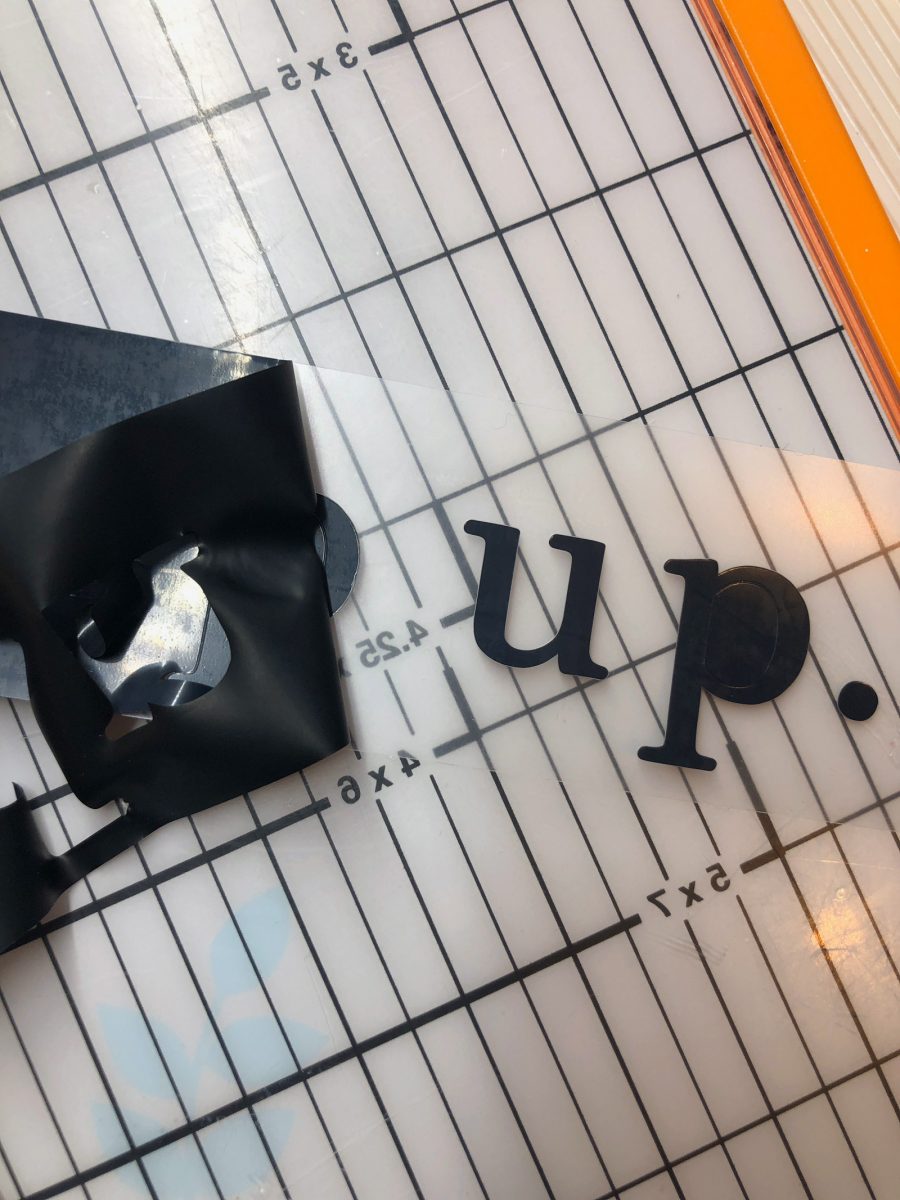 The SportFlex Iron On™ is a dream to work with. It cuts and weeds easily.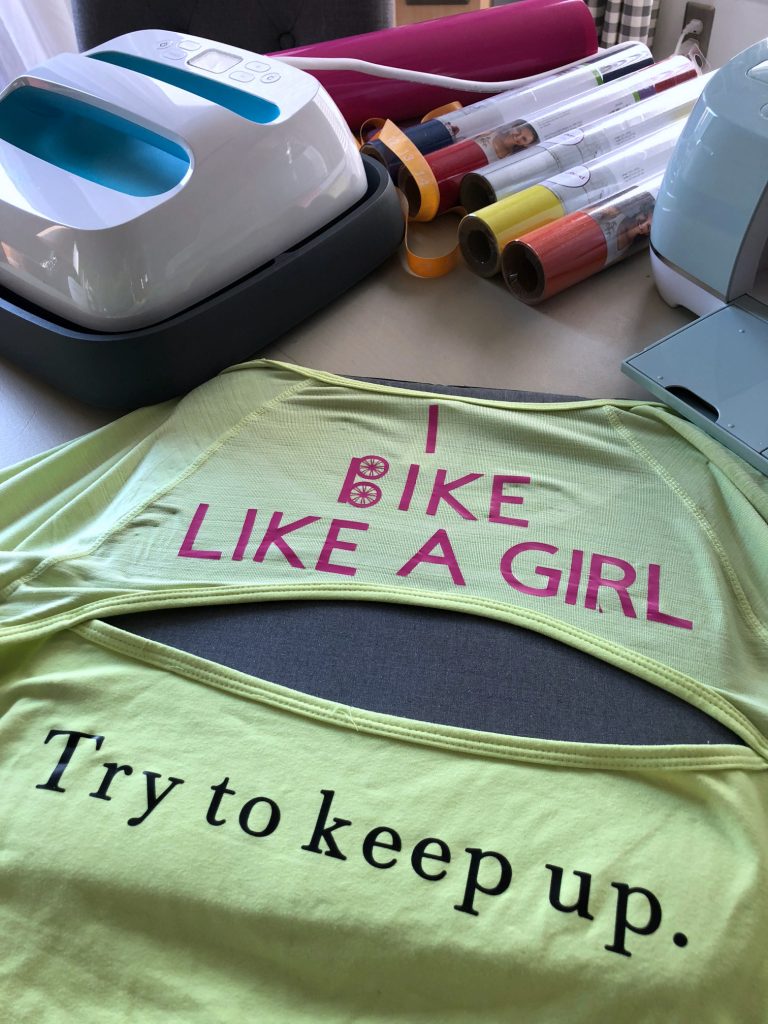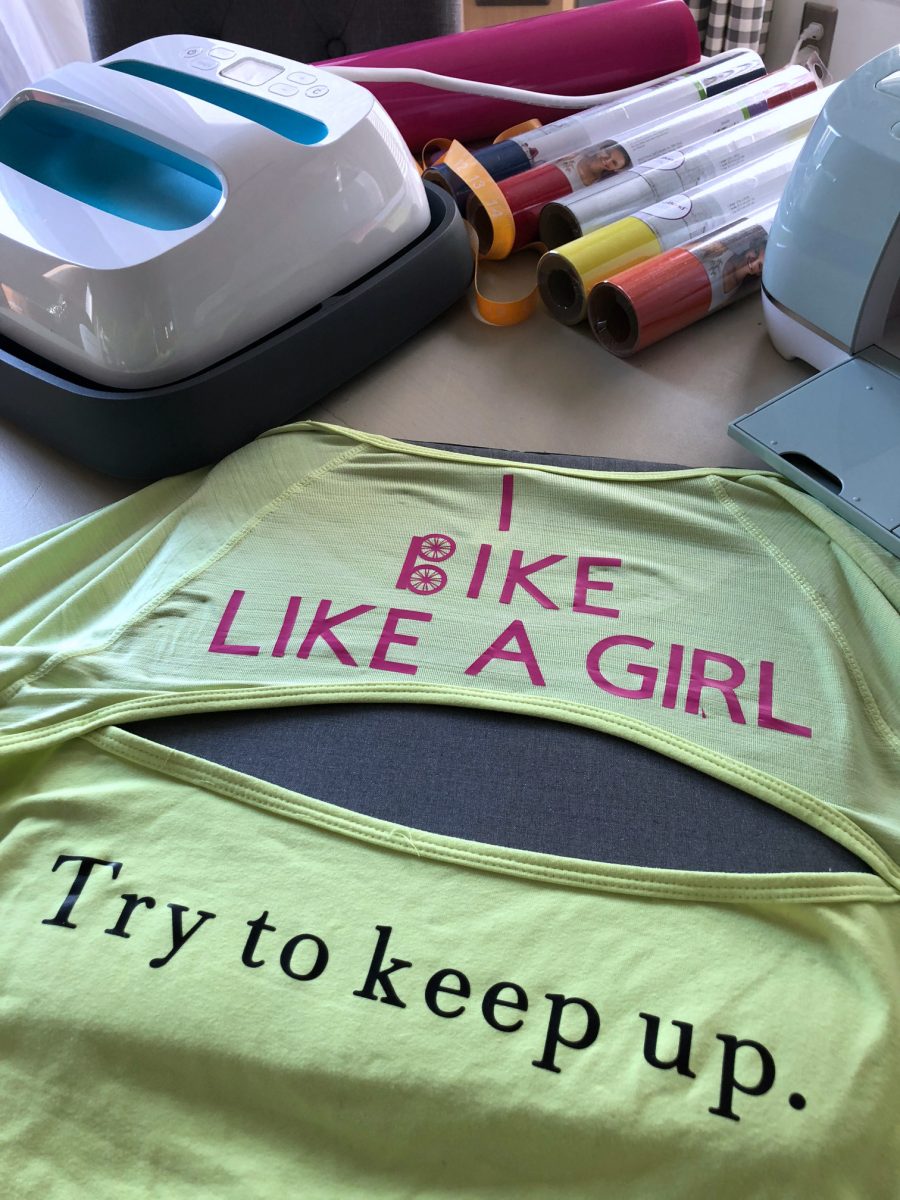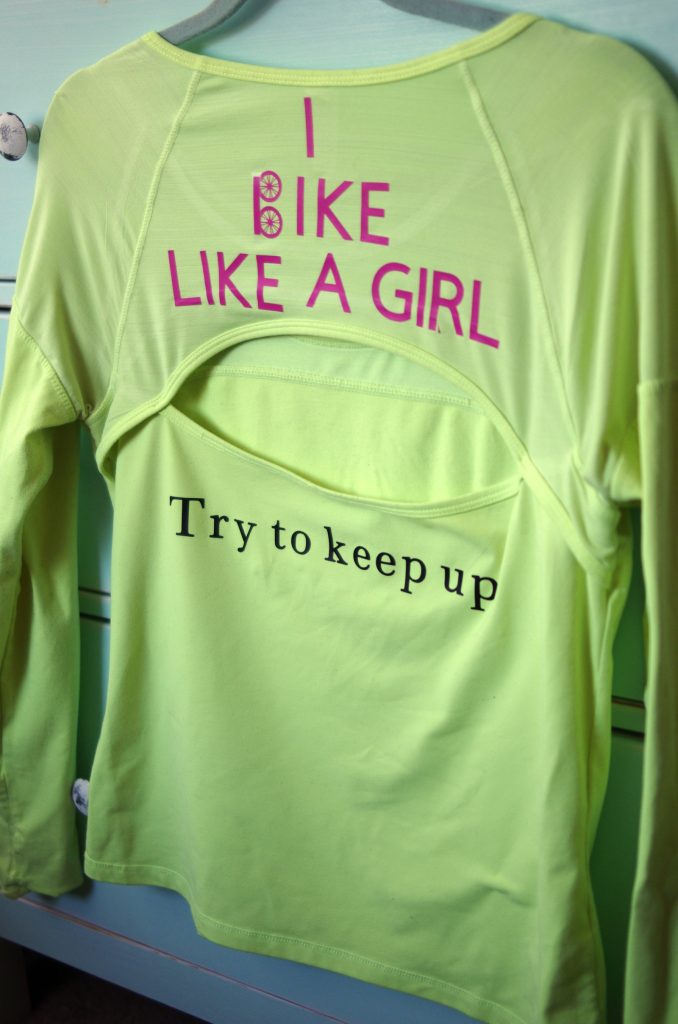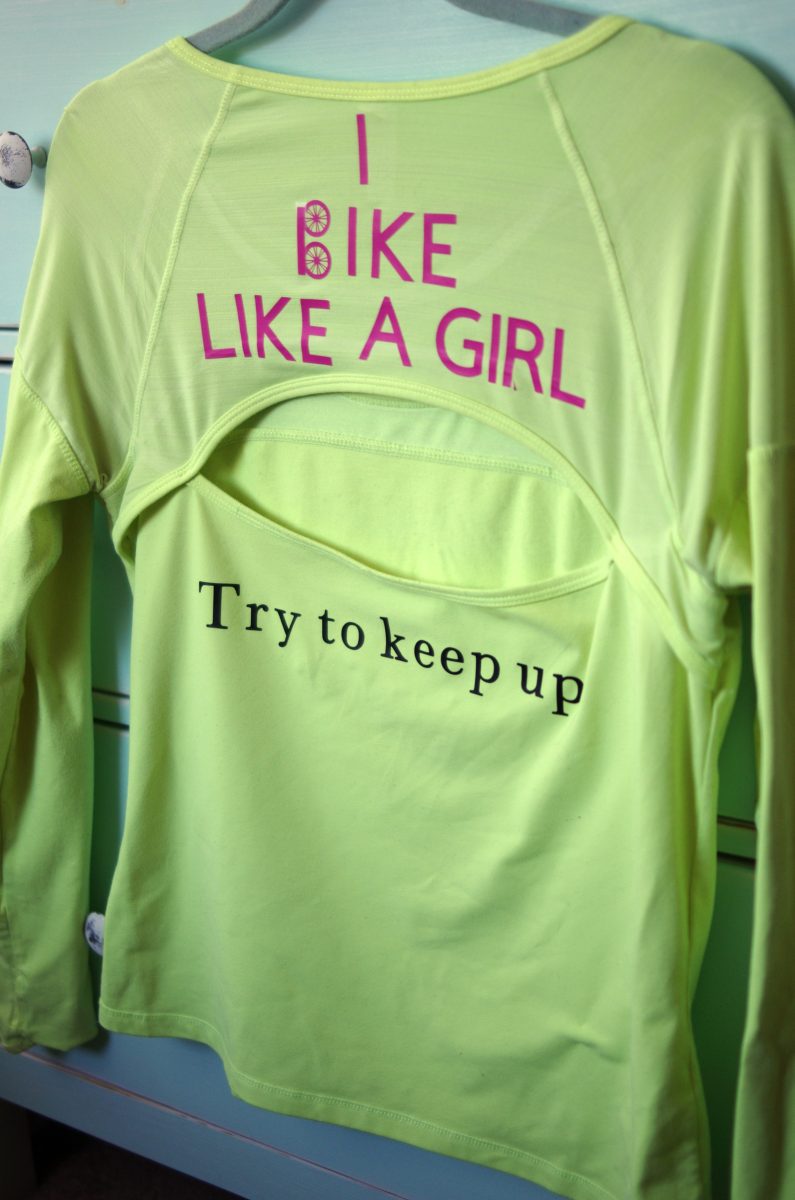 Here's how to use Cricut SportFlex Iron On™
Application Instructions for using an iron (Please click here for EasyPress Settings)
Remove negative Cricut iron-on film, leaving only the desired cut image on the liner (this process is known as weeding). Using the weeding tool found in the Cricut Tool Kit can make this process faster and easier.
Set your iron to the Wool setting. Make sure the steam setting is OFF for steam irons.
Use the iron to preheat the area of the material in which you will be applying your cut image for 5-10 seconds.*
Place the weeded image, liner side up, onto the preheated material.* Apply medium pressure with the iron for 30 seconds.
Flip the material over and apply medium pressure with the iron to the back of the material for an additional 15 seconds.*
Let cool 1-2 minutes, then remove the lining.
*A press cloth (or a clean cotton cloth, such as a dishtowel) is not required, but may be desired to protect your base material from imprint by the iron or EasyPress.
Application Tips
A firm ironing surface is recommended with significant padding for best results.
If a portion of the image isn't sticking, replace the liner over the film and re-iron the piece with the iron tip for 10 seconds, moving it back and forth with firm pressure directly over loose edges.
Using the Wool setting of the iron provides the best results for most polyester and nylon fabrics.
Care Instructions
Wait 24 hours before washing.
For longest life, wash and dry the embellished item inside-out.
If there are areas of the Iron-on material which seem to be coming off after being washed, simply re-iron the material in place following the complete application instructions.
Results may vary. Always do a test cut to verify settings.
I've got a lot of cycling clothes to update so I'm going to get to it! Have any cute sayings or ideas for cycling? Let me know in the comments below!
Find more Cricut tutorials here.
This is a sponsored conversation written by me on behalf of Cricut. The opinions and text are all mine.
Here is Where I Party!