I'm so excited to show you the corner of my deck that I just decorated. How do you like my junky deck decor!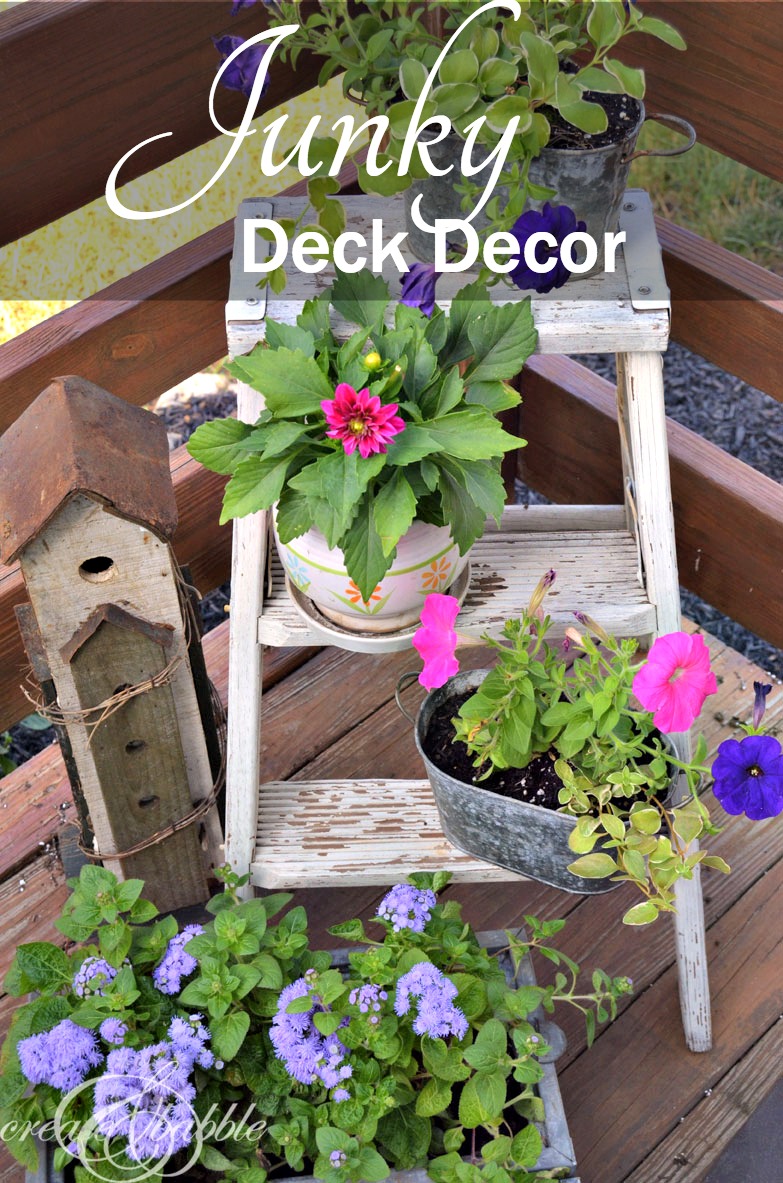 It's been a busy, busy week around here. We have been getting the outside areas of our home cleaned up and ready for summer. It's funny because I was just saying as we were pulling weeds, laying new mulch, and planting flowers that one of the reasons why I bought a condo was so I didn't have to do yard work. Ha! I found out the HOA does not cover the side or back mulched areas. So I inherited gardens along the side and back of the house. Ugh. I say ugh because gardening is not my thing. In fact for the past six years that I've owned this house, I've pretty much just ignored those gardens and let the weeds grow. Yeah, I'm one of "those" neighbors. But in my defense, I didn't know they were ALL weeds. I know next to nothing about such things. Seriously. I took pictures with my iphone to show "gardeny" folks at work and asked them if they were weeds or plants. Yep. Turns out most of them were weeds. Sigh.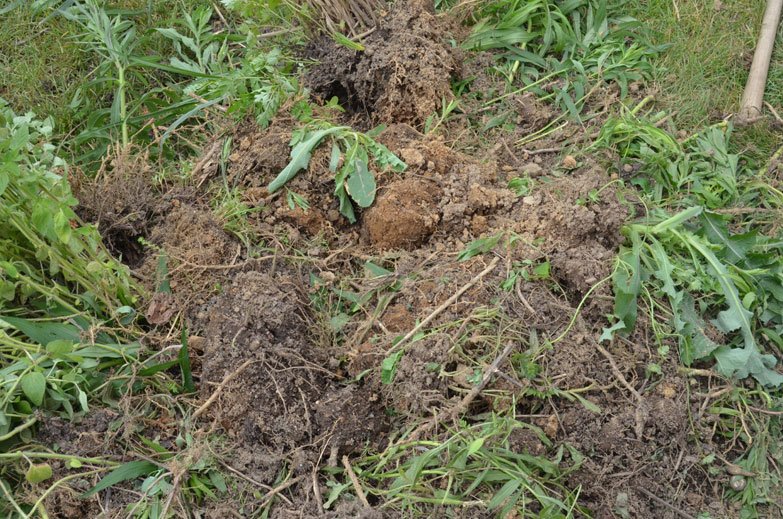 We had work to do. And lots of it. Digging up weeds (they were way beyond the "pulling" stage).
I round up my unwilling helpers: Dan and my son, Alex (I'll call them the "voluntolds") and sent them off to get mulch and a weed barrier. Since we are not the gardening type, we didn't even own a shovel. As we were contemplating how to get the mulch from the truck to the flower beds, I'm pretty sure I heard cheers coming from the neighboring condos and the guy next door actually drove off to a friends house to borrow a shovel for us. ; ) Update: we are now the proud owners of 2 shovels.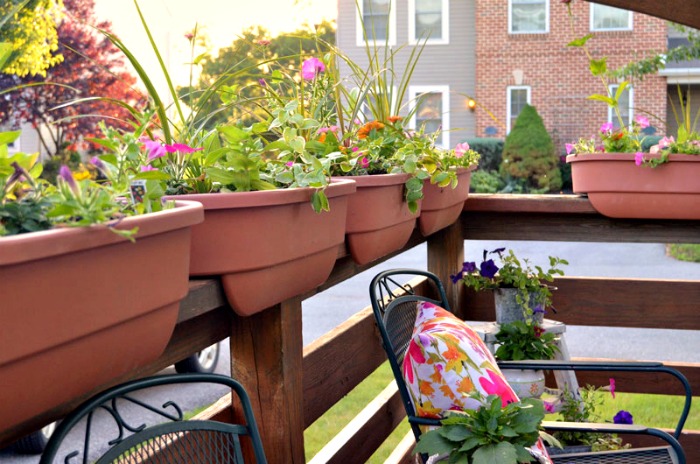 In anticipation of all this outdoor planting stuff, I bought lots of flowers for the beds and also for the deck railing planters. I kinda went a little overboard and had flowers leftover but nowhere to plant them. So I looked around inside my house and found a few things that could work.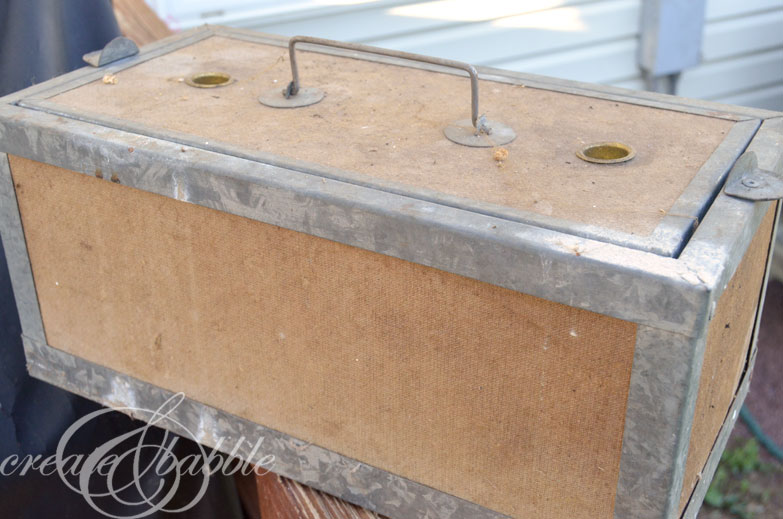 How about a worm box! A worm box? Yes! Perfect. It was my Dad's and I'm sure he made it. He didn't buy anything if he could make it himself.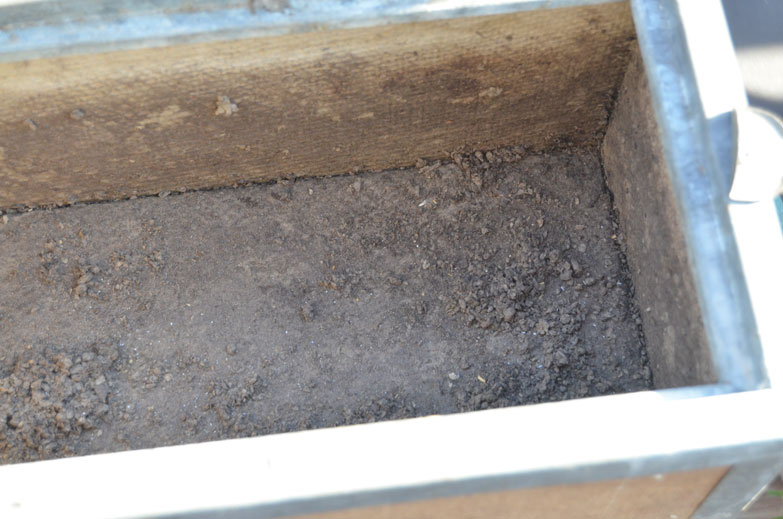 Oh my goodness, I wonder how old that dirt is that's inside of that old box?!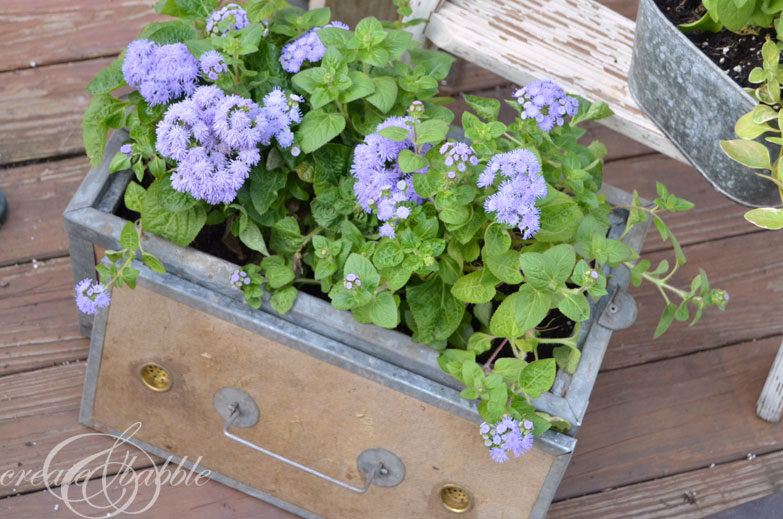 I cleaned it out, filled it with fresh potting soil and Ageratum (at least that's what the tag says 😉 Don't they look pretty in there? I can picture my Dad looking down on his worm box and either shaking his head or laughing just a little! And because finding this old worm box in the basement brought back some wonderful memories of me and my Dad, I went looking for this photo: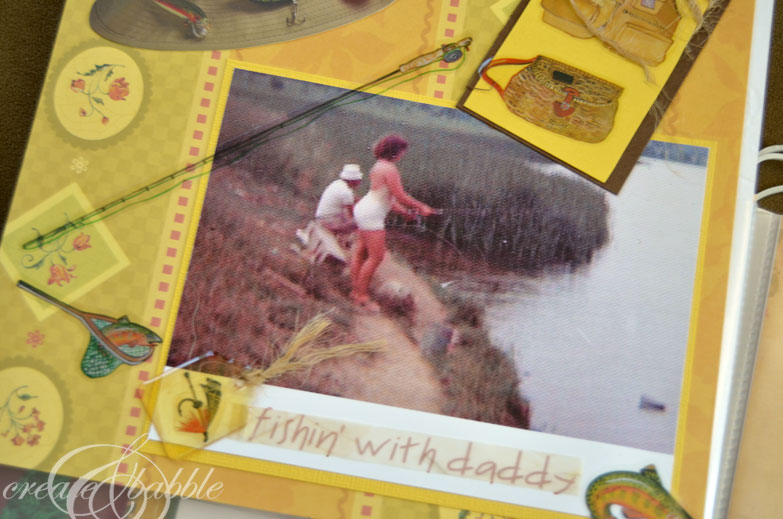 That's me and my Dad fishing. I was 16. OMG, 40 years ago! It seems like yesterday. Look at the ground behind me…..there's the worm box!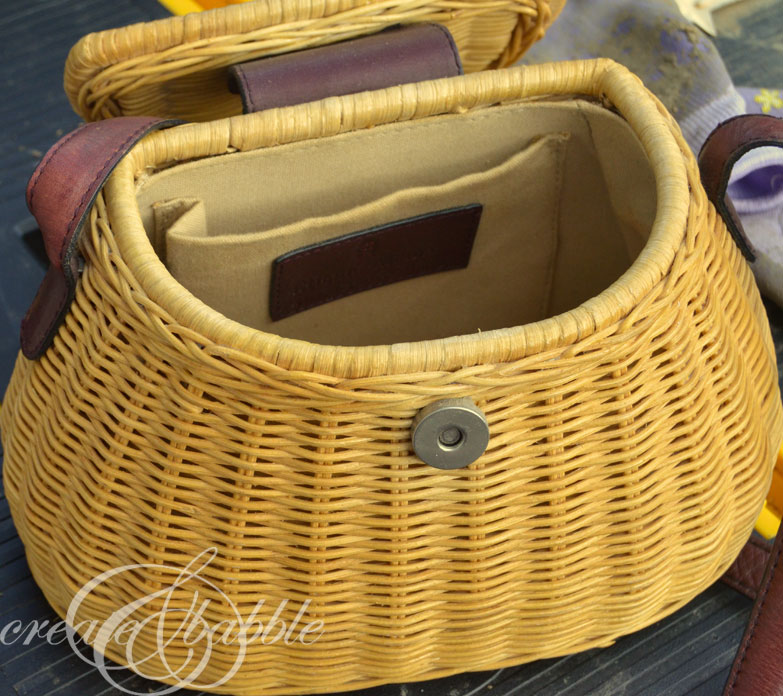 This fishing creel purse …. do you sense a them here?…. it's seriously unintentional, just a coincidence! …was heading for the donation box until I saw the planter potential: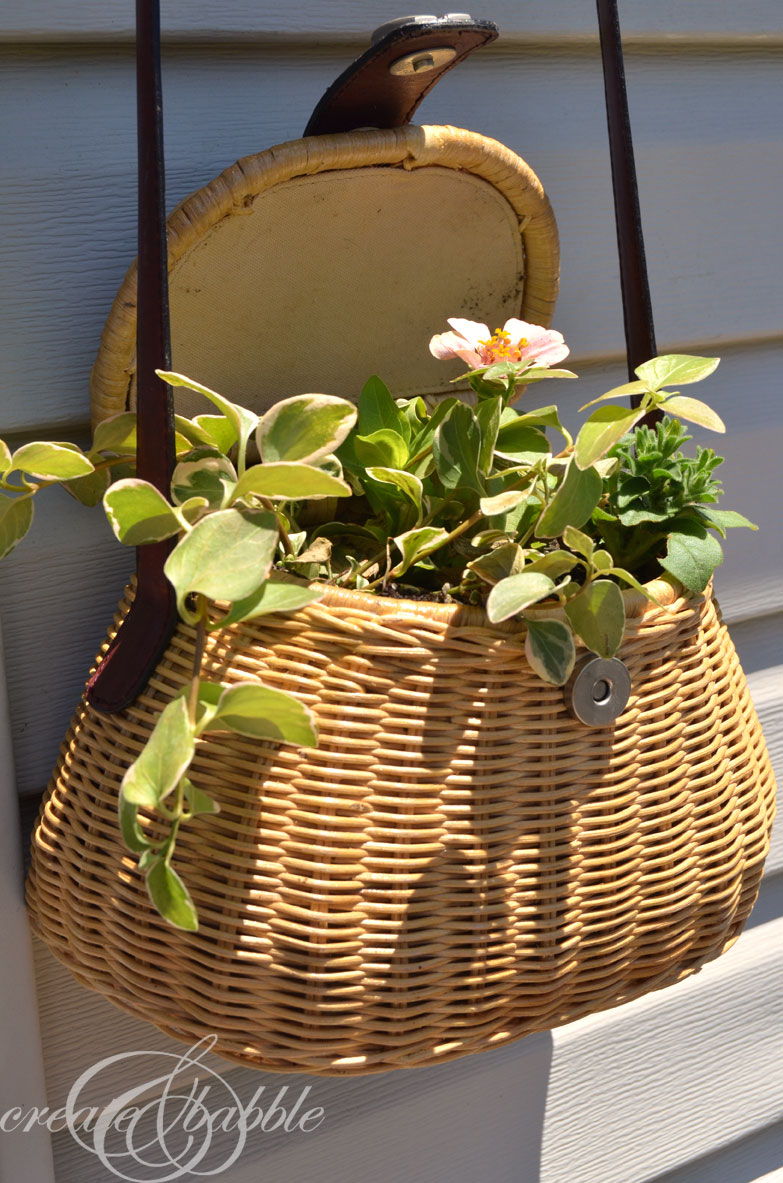 I would be honored if you share or pin this post!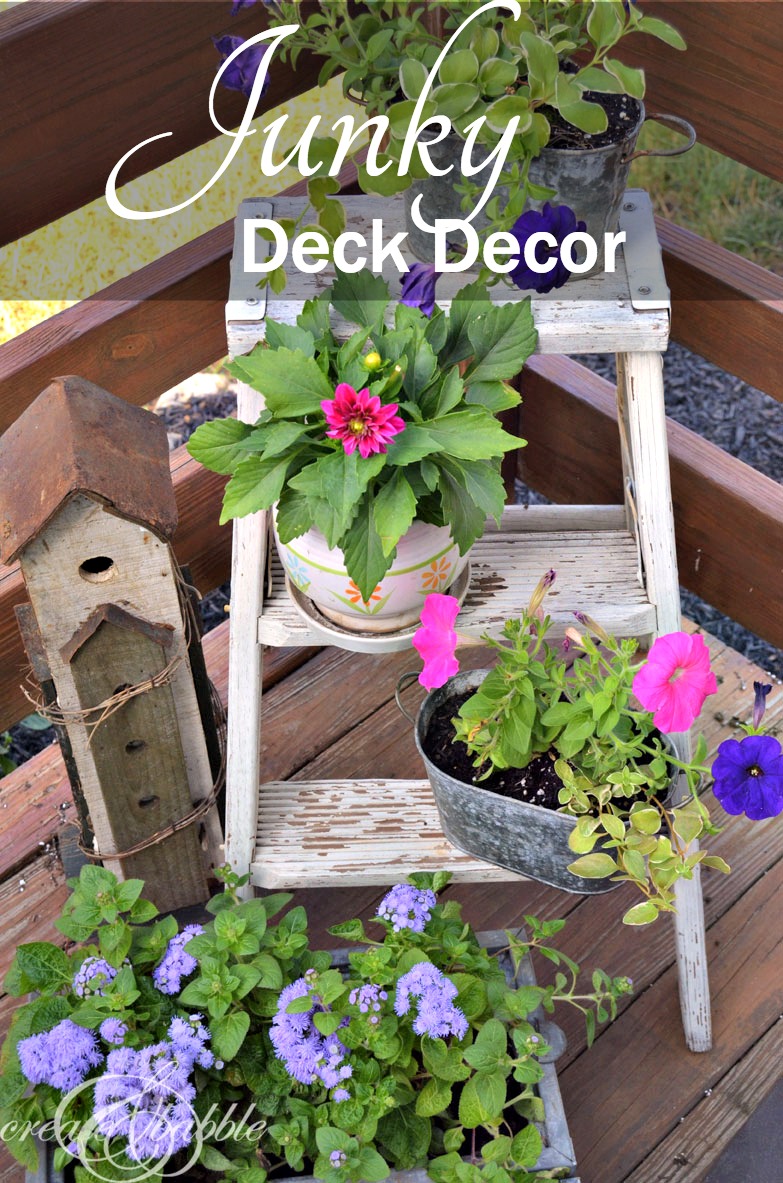 The little, chippy step ladder was a $2 yard sale find and the galvanized tubs were from Pick Your Plum. Dan almost threw away the old birdhouse in the corner, but I rescued it and think it looks perfect in this little junky vignette. My deck and flower beds look so much better. I can hang my patriotic banner on MY deck now ; ) And all of a sudden the neighbors are being really friendly ; )
And you know, I think I've had a change of heart and might actually like this whole gardening thing.
 I link up to these great parties.