Welcome to Week 2 of the One Room Challenge. It is time for my weekly update on the laundry room makeover.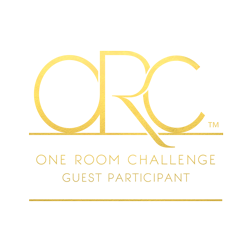 I am actually quite pleased with how well this is going so far. I know it's only Week 2 but I have a good feeling about this. Excuse me while I go knock on some wood ; )
Do you remember what I had to start with? Please don't make me publish those embarrassing photos again. Instead, just click right here. Don't forget to come back here to see my progress!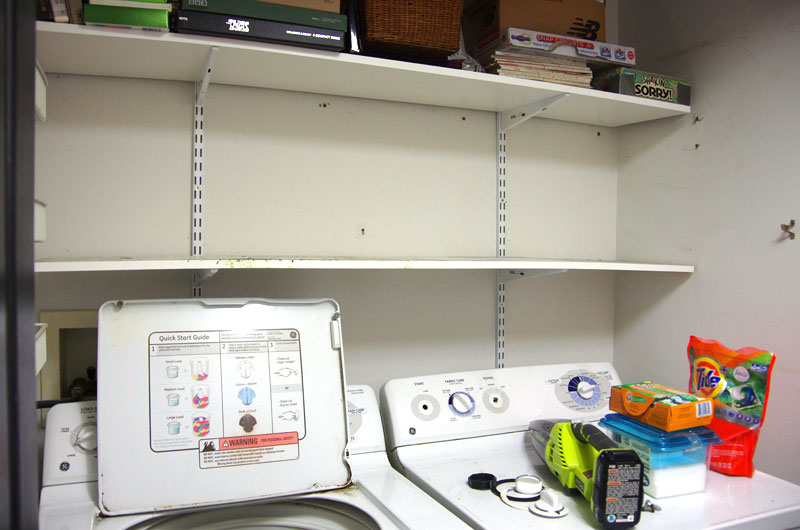 This week was all about the dirty work.
I started by removing everything off the shelves and finding new homes for the non-laundry-related items. My husband put up these shelves a few years ago to replace the useless wire shelf that was there when I bought the house. While these two shelves were far better than that one wire shelf, I think we can do better. I'm anxious to get a large cabinet up on that wall instead.
Once the shelves and their hardware were removed, there were a lot of holes to fill.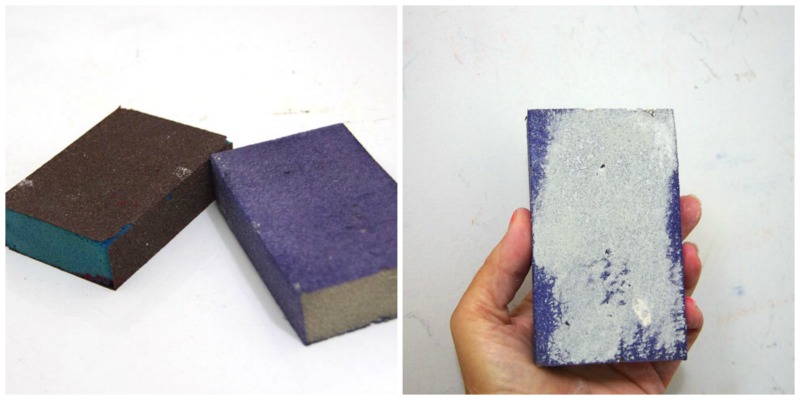 I discovered a new-to-me way of filling drywall holes with no dust: Use damp sanding sponges! Why didn't I know that???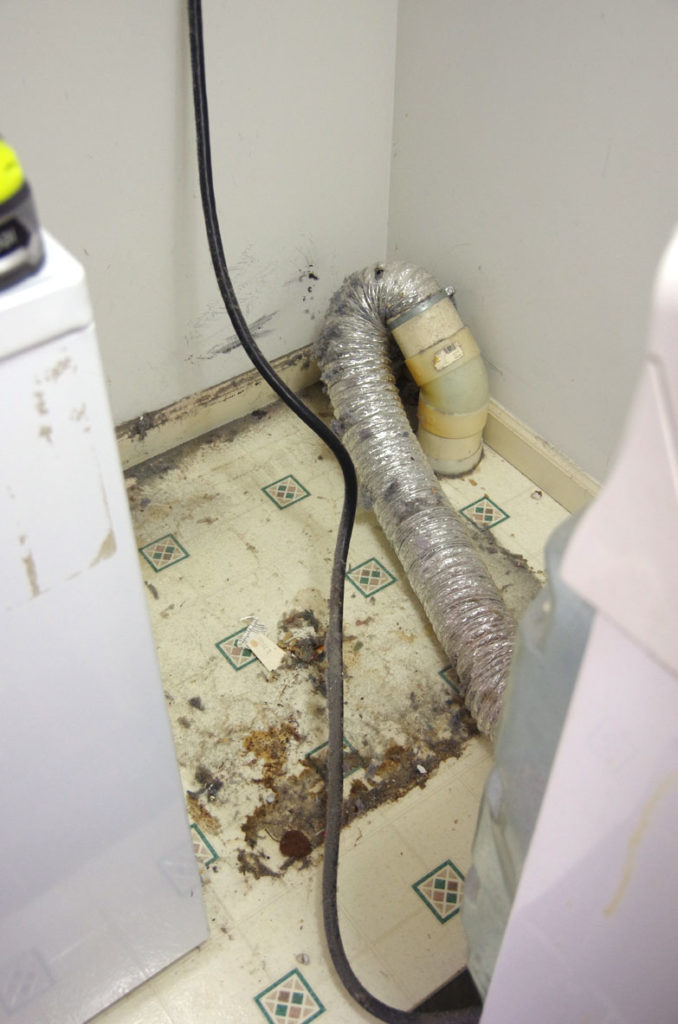 Well we just can't let a week go by without another embarrassing photo can we?
My son helped me move the washer and dryer out of the closet. That's disgusting. I had no idea. It seems that a hole in the dryer vent hose was allowing a lot of lint to blown all about the room, but mostly on the floor. Yikes!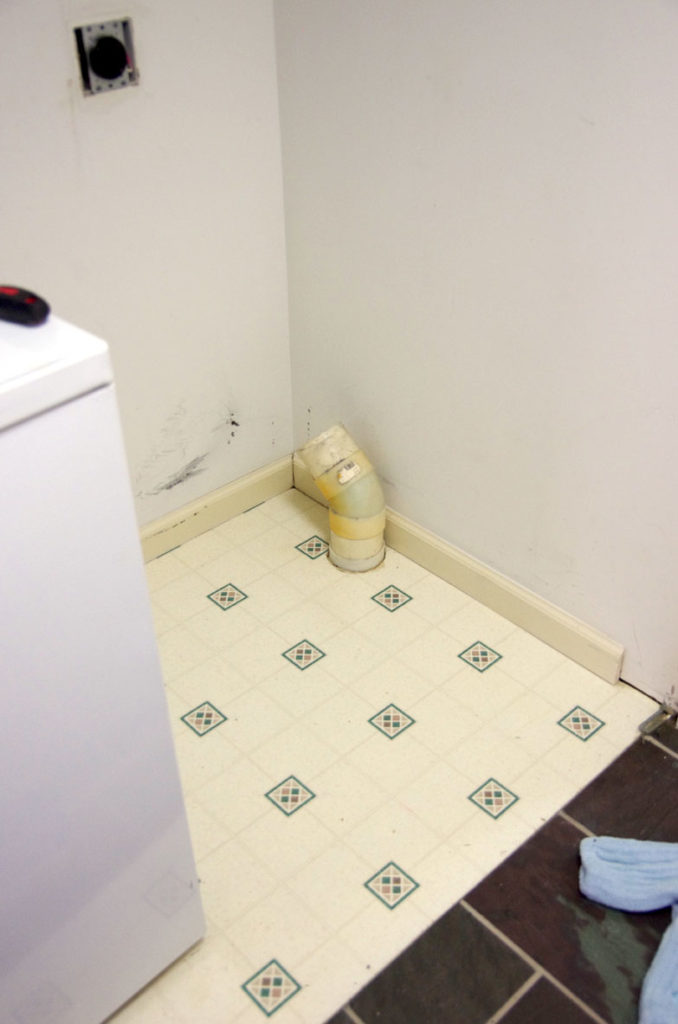 That's better!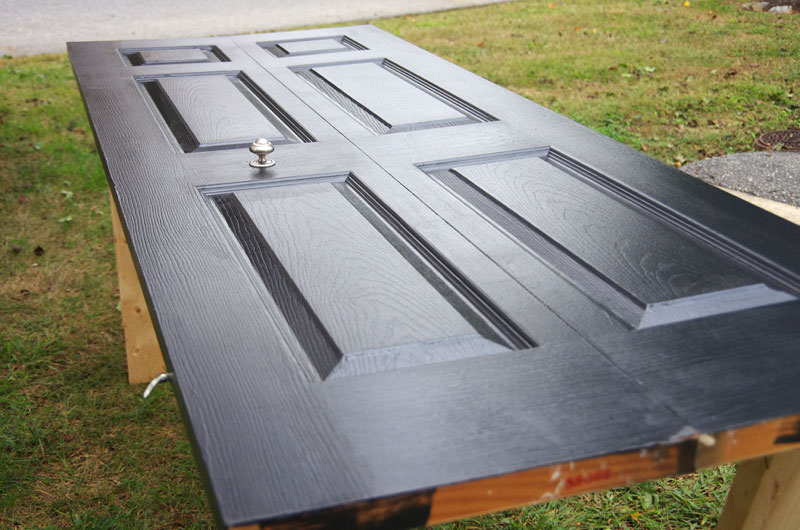 I had to remove the bi-fold doors to get the washer and dryer out, so this was my chance to give the doors a fresh coat of black paint.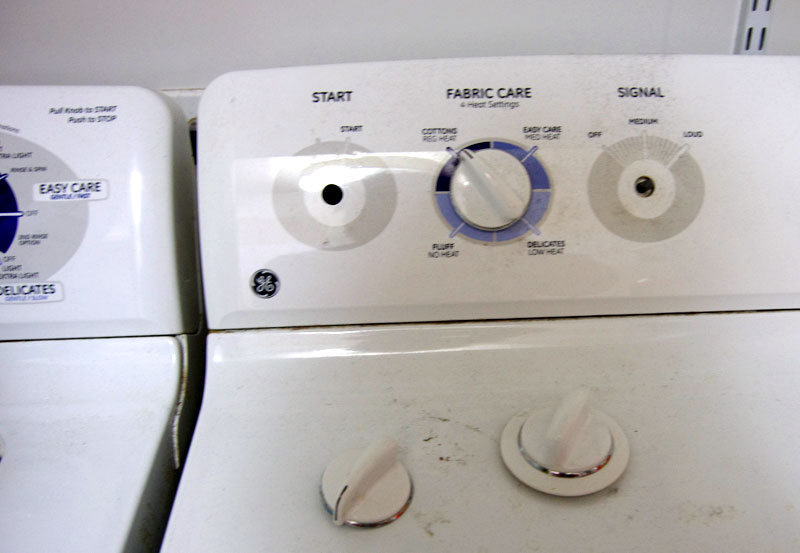 While the paint on the doors was drying, I installed a switch and new knobs on the dryer.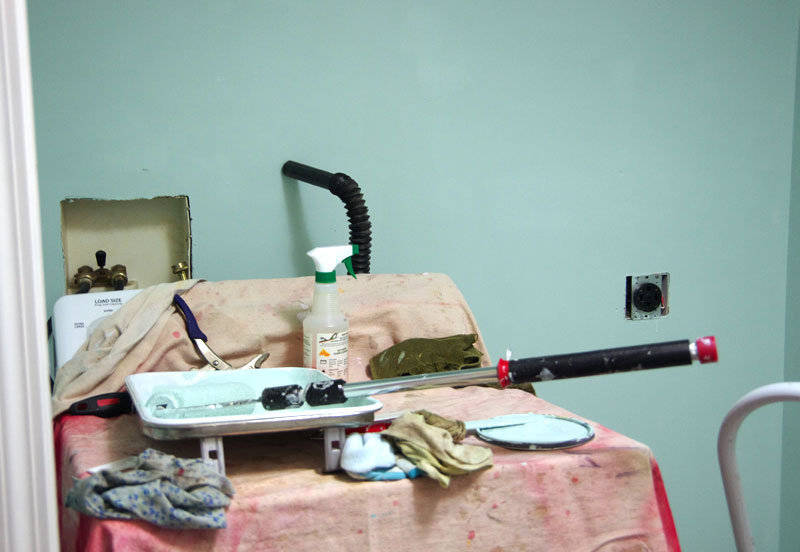 The walls and ceiling got two coats of pretty paint thanks to the Valspar Rep at my local Lowe's. This paint is Valspar® Reserve™ and the color is Tranquility. I love this color. It's also in my kitchen.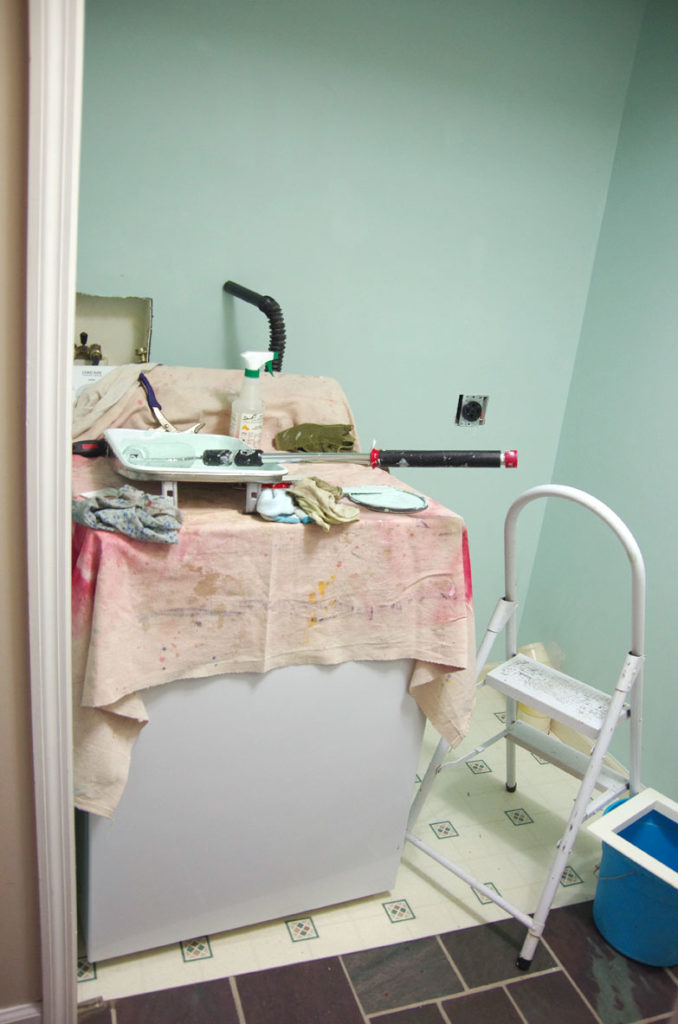 Since my goal is to spend as little as possible on this makeover, I started my search for a wall cabinet at my local Re-Store.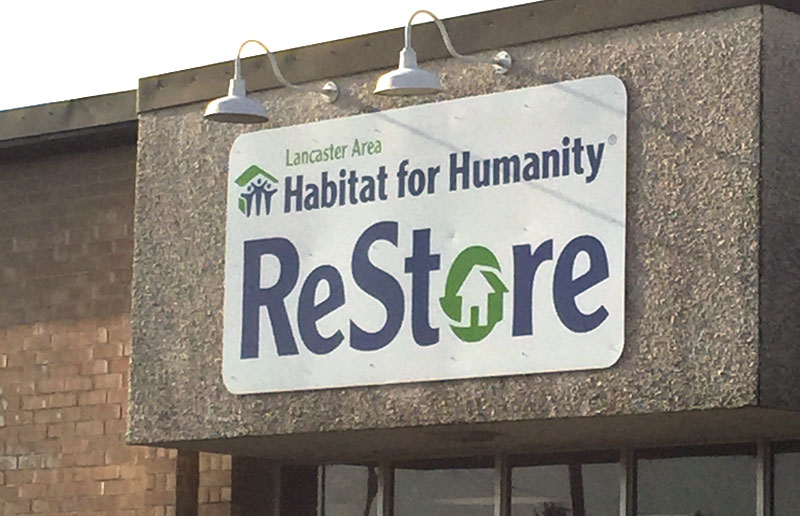 They always seem to have a lot of kitchen cabinets (and cabinet doors!). This day was no exception.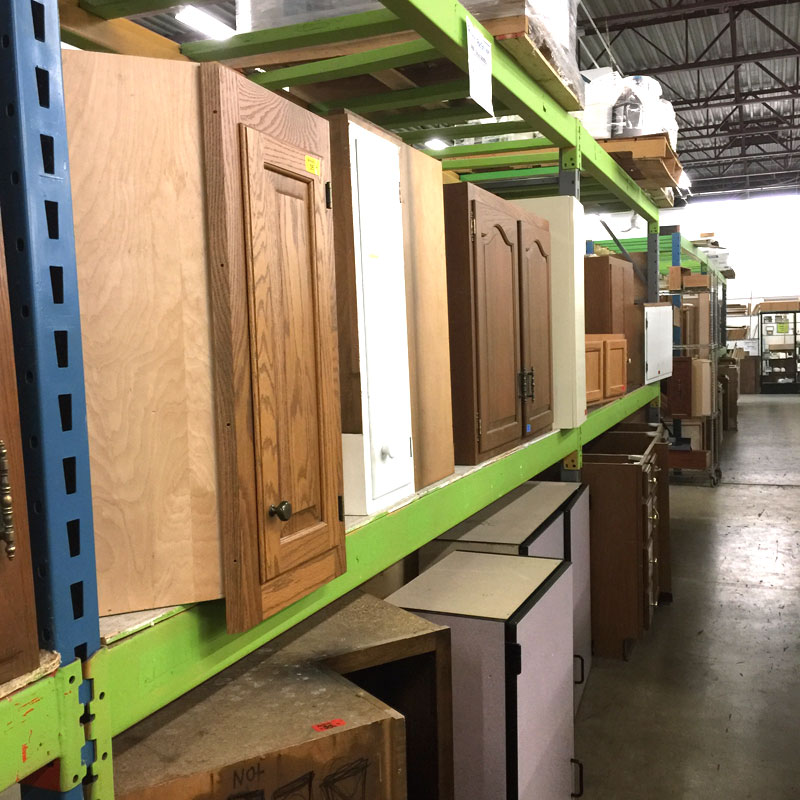 I was looking for either two narrow and tall cabinets or one large tall wall cabinet.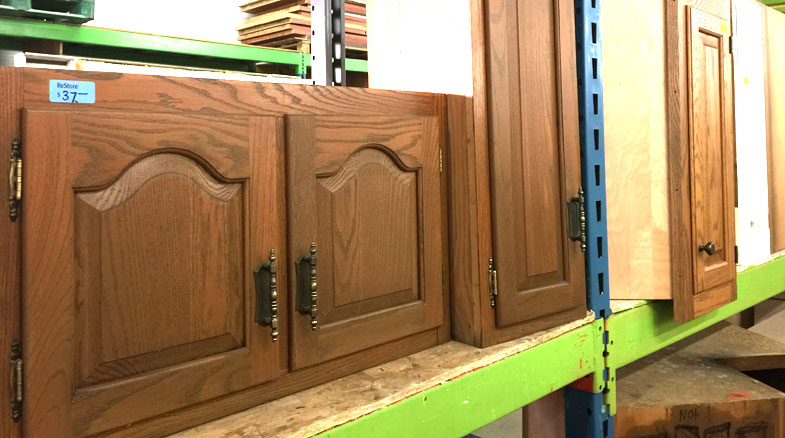 I was just about to give up because all I was seeing were these small cabinets.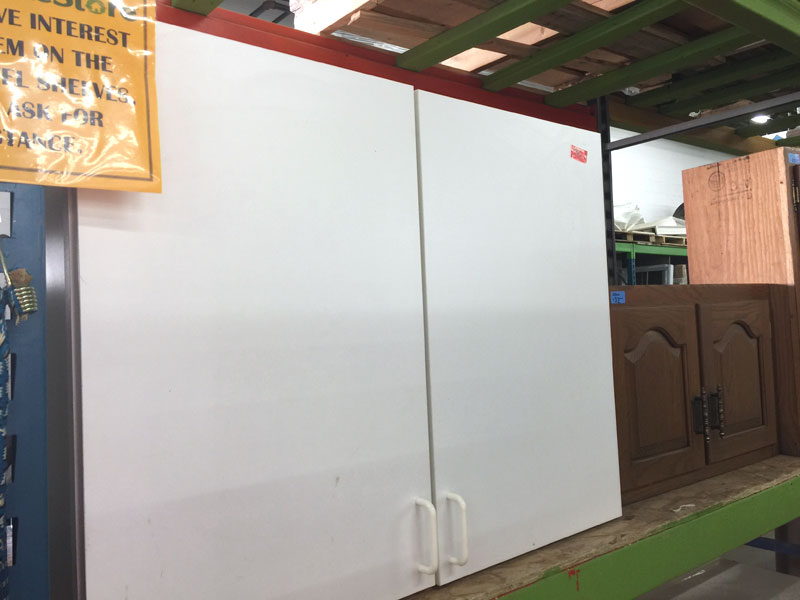 And then I spotted the right one. I know. It's rather plain and boring. No worries. I have plans for it.
Take everything out
Clean closet
Clean and repair appliances
Paint walls & ceiling
Paint doors
Install new flooring
Install a cabinet with doors
Maybe add some open shelving?
Maybe add a rod for hangers?
Decorate
So here's where I am right now. Five tasks crossed off the list. Woohoo!!!!