Packing for a weekend crop can be overwhelming. I recently attended a scrapping weekend and I took way too much stuff. Sound familiar?
After it was over, I felt like a little bit of planning would have gone a long way to making the weekend crop more productive while also keeping my workspace a little less crowded!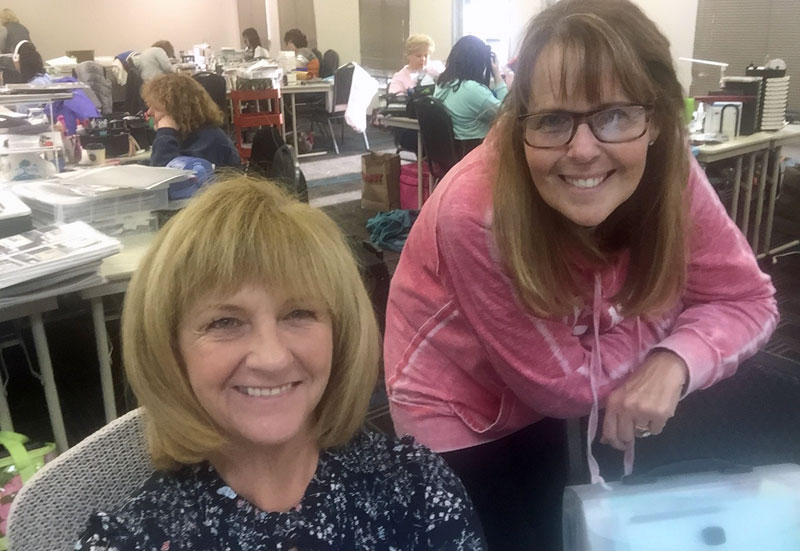 Me and my dear friend Kathy at the last weekend crop.
I've only attended three weekend crops but I must say that I'm getting a little better at packing each time. But I still take way too much. As I'm choosing what items to take and pack I'm always saying to myself "I might need these". You too? Some pre-planning might help.
That's the problem! I don't know what I'll need since I don't have a plan.
So next time I'll have a plan. I'm going to decide ahead of time what pictures I'll be scrapping or what project I want to make, and then only pack the tools, kits, and photos for those projects.
No matter what pages or projects I'll be working on, there will be certain items that I'll always take to weekend crops.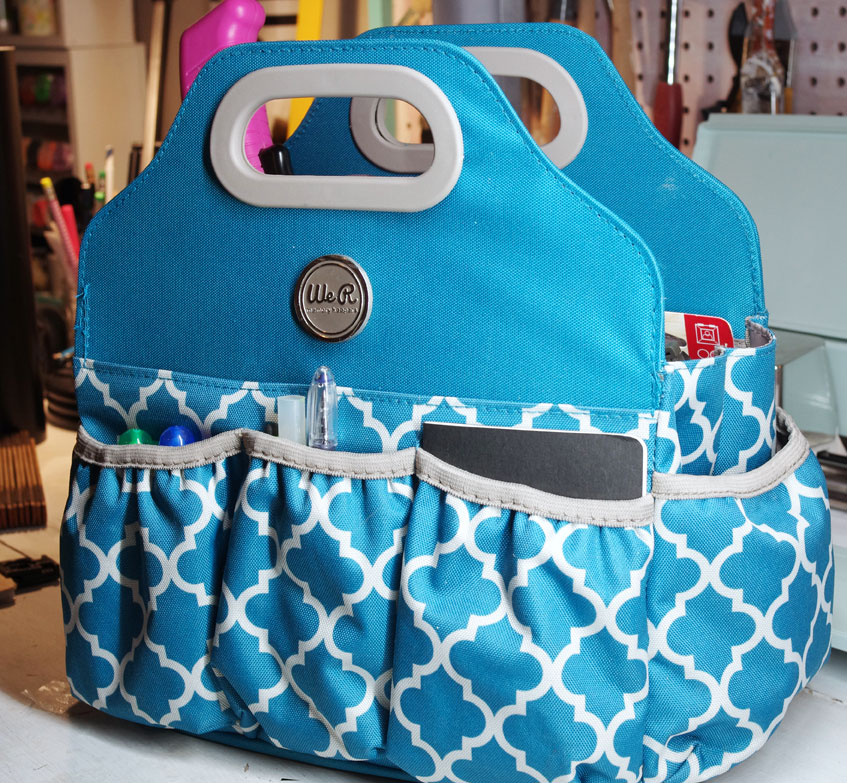 We R Memory Keepers Crafters Tote filled with: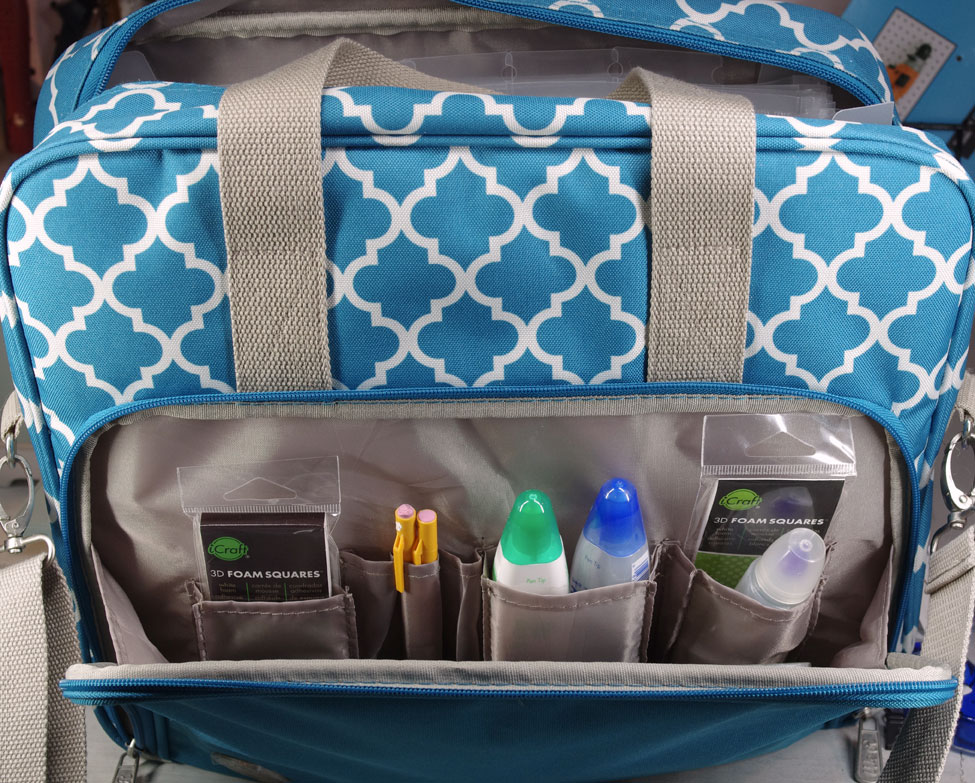 2. We R Memory Keepers Shoulder Tote.
Here's why: it's part of my new plan. My plan to only take supplies for the projects that I plan on working on. This bag is perfect to hold and carry the photos and paper kits that I'll be using. And there's also a zip pocket on the front with places to store adhesives and small tools. The Shoulder Tote is also a great bag to take to single day crops. Everything you need will be in just one bag!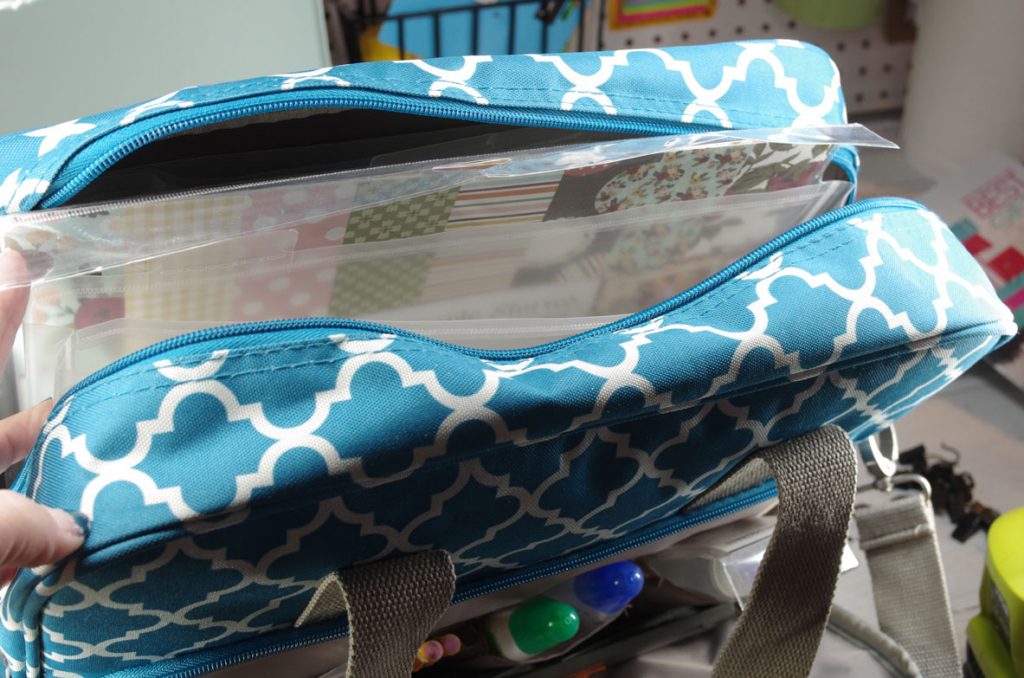 3. We R Memory Keepers 360 Crafters Bag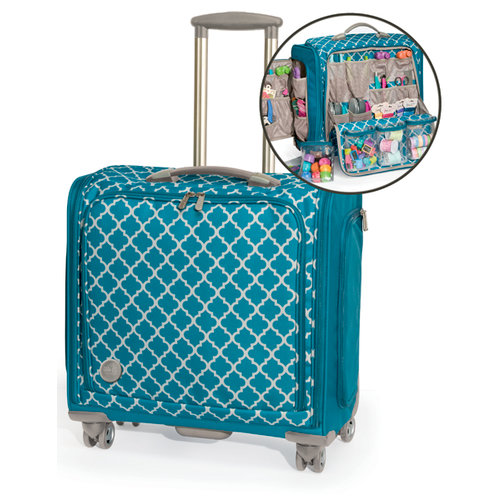 I love this bag! Here's why:
"Keep your scrapbook supplies organized and ready for crafting on-the-go with the 360 Crafter's Bag by We R Memory Keepers. This stylish bag is the first crafting bag with 360 degree wheels for the ultimate in maneuverability. It has dozens of multi-sized mesh pockets, as well as several removable clear storage pockets. One is perfectly sized for keeping paper pristine. The convenient handle on the bottom of the bag makes lifting easy. This bag is 18″ wide, 20″ high and 12" deep.

First crafting bag with 360 degree wheels
Includes dozens of multisized mesh pockets
Clear removable storage pockets easily store embellishments, tools and more
Large removable paper storage pocket keep paper organized
Convenient handle on bottom makes lifting easy
Bag measurements: 18″ wide x 20″ high x 12″ deep"
If your at-home crafting space is limited, this bag will keep you organized at home too. Kind of like a craft room in a suitcase! Some of my stuff never comes out of this bag. Like the pens in the side pockets.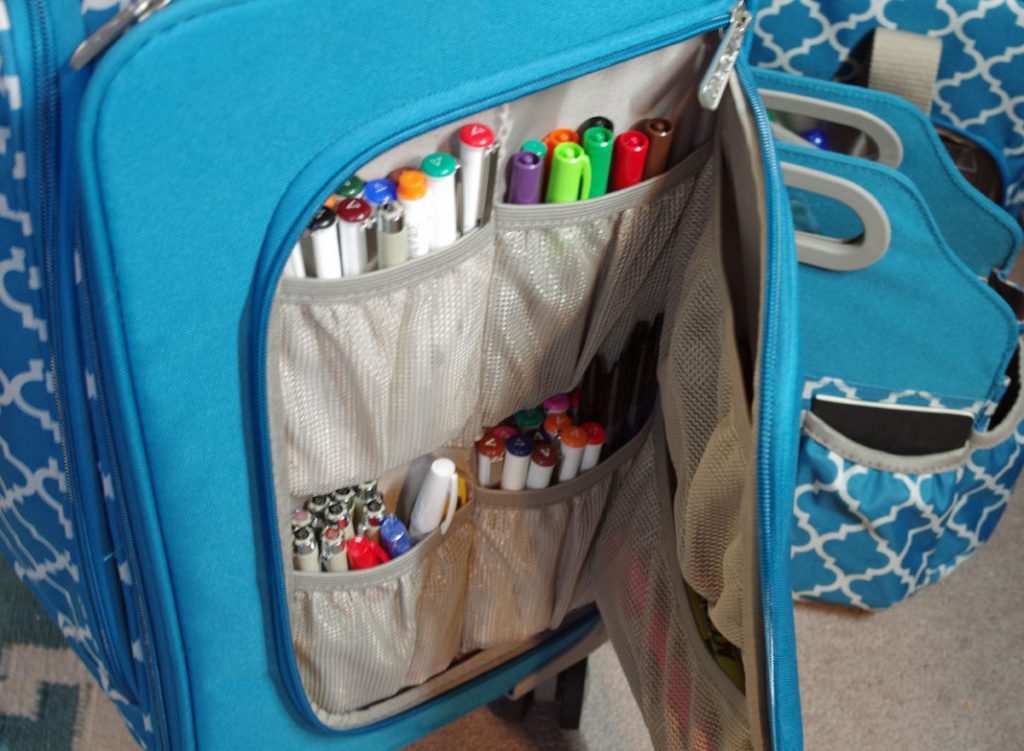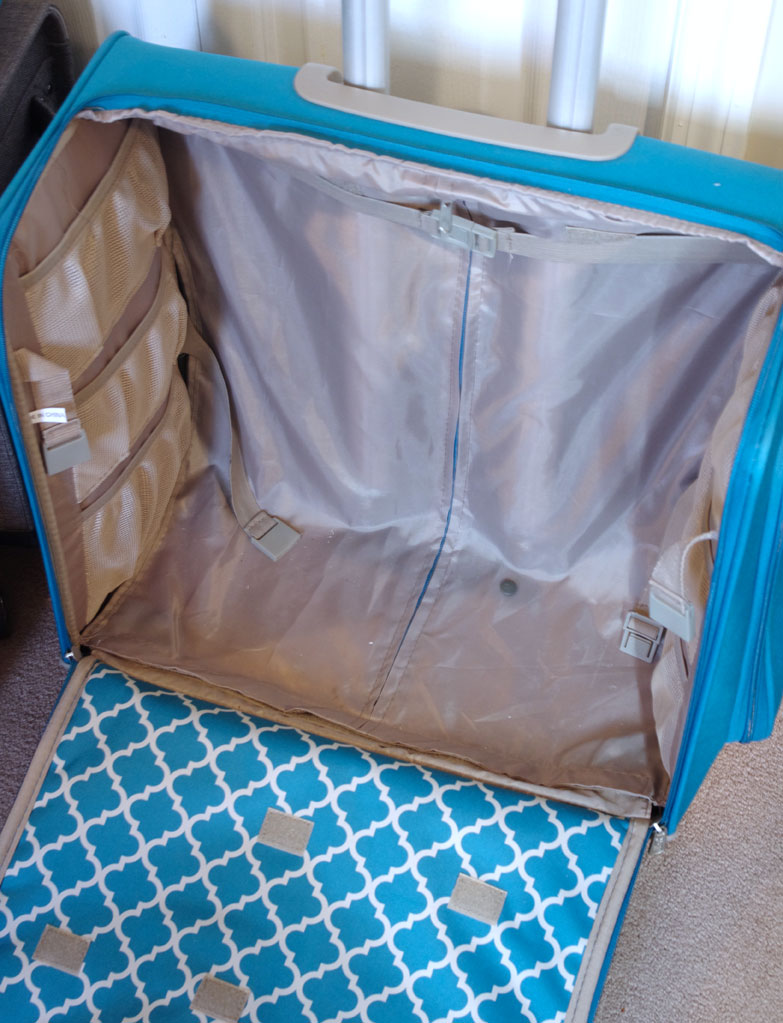 Look how much room there is! I fill this bag with: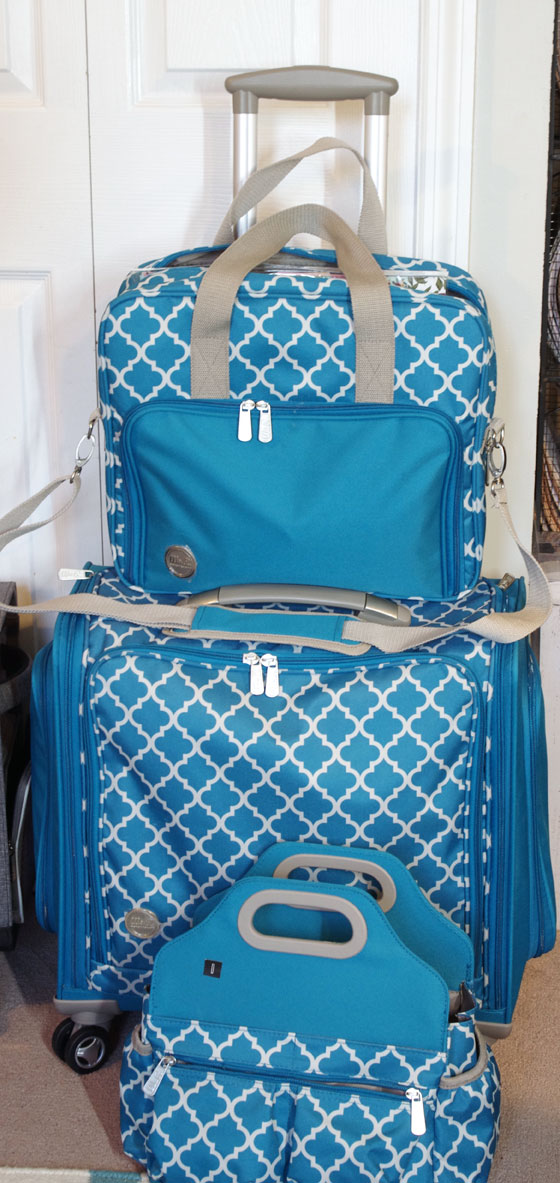 Packing for a Weekend Crop with efficiency and style with We R Memory Keepers bags.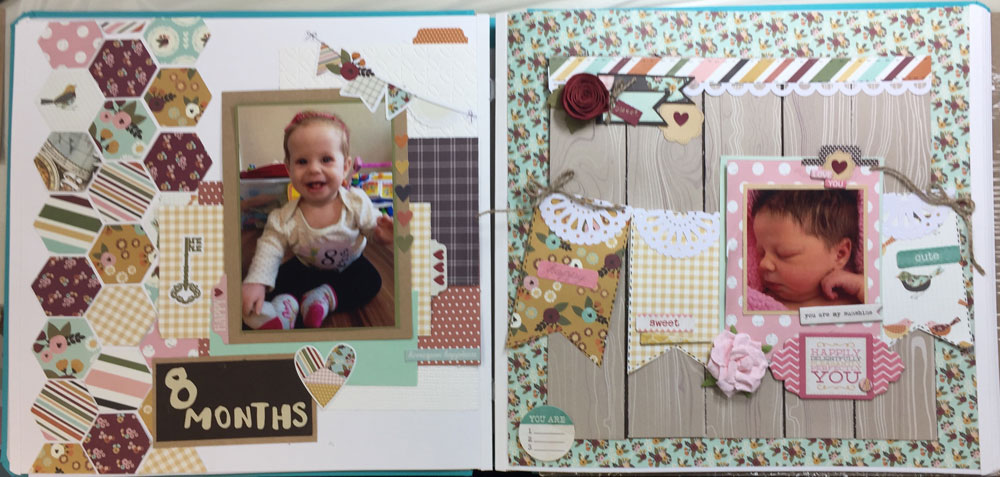 Here are two of the pages that I got done. I used Simple Stories Vintage Blessings Collection.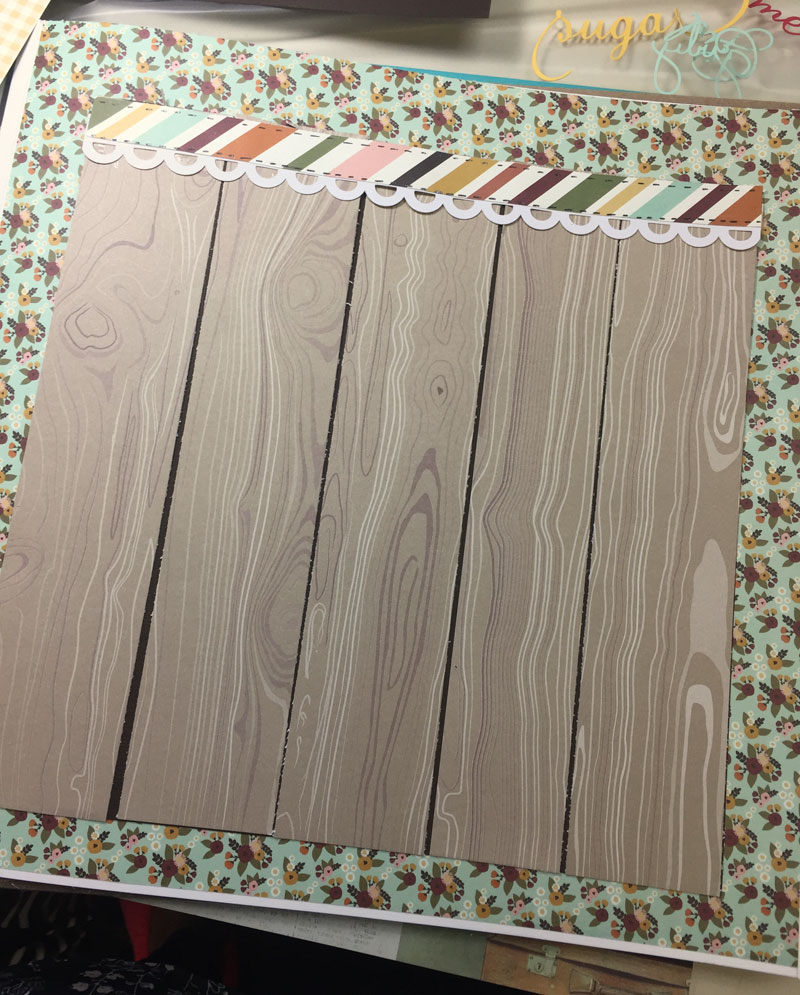 I didn't have a paper that looked like a fence, so I cut strips out of wood grain paper and adhered them to a dark background.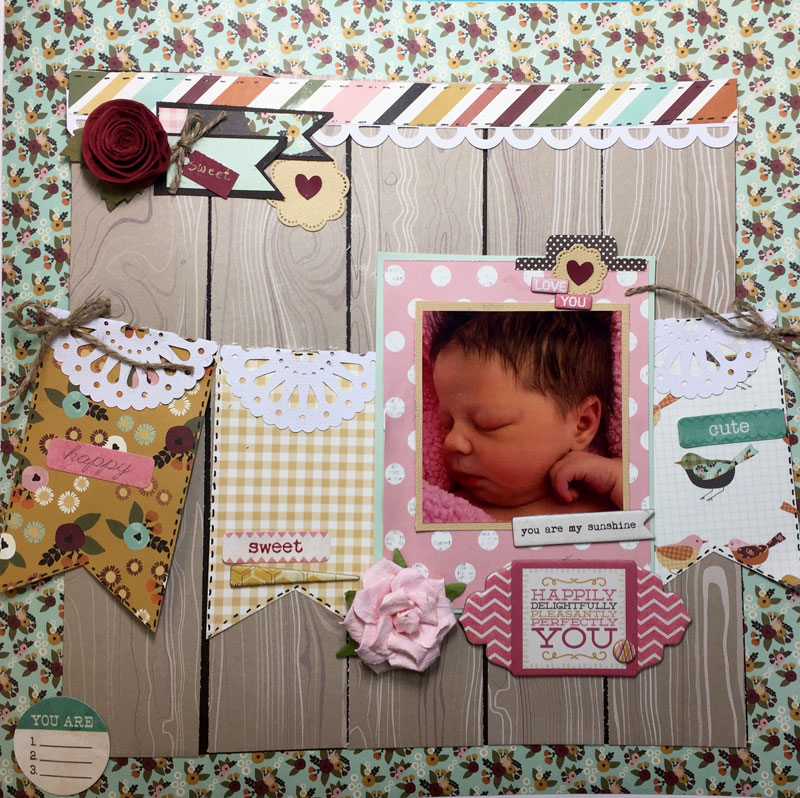 My tip for inspiration is to look up the name of the paper pack on Pinterest and Google and you'll see images of what others have made with the same paper!
One more thing I will always take to a scrapping weekend is my Cricut Explore Air 2. I will write about that in a separate blog post coming soon.
You may also enjoy reading Making Pretty Scrapbook Pages.