Welcome to the 2017 Ornament Exchange & Blog Hop! This year, there are 47 amazing bloggers participating in the exchange. The rules of the challenge were simple: be partnered with a fellow blogger, create a handmade ornament for $15 or under, create a tutorial, and ship the ornament off to a new home!
My partner is the lovely Lorelai from Life With Lorelai. When it comes to decorating her tree, Lorelai is a lot like me. She says: "…. my tree has everything on it …. I love all the special stories and memories that go with my holiday decorations." Me too! Opening up each box and bin takes me on a walk down memory lane every year. I love that.
The ornament that I chose to make for Lorelai is an ornament inspired by the trendy pottery line that's happening this year. Have you heard the name Rae Dunn
? If not, get out from under that rock! Just kidding – I only recently heard about this craze myself. (Is my age showing???). Well, I don't know if Lorelai is a collector or not. But years from now when she's looking at this ornament it will bring the memory of the Rae Dunn pottery hunters of 2017. ?
Meet the 2017 Ornament Exchange Hosts
Erlene ⋅ My Pinterventures Kim · Made In A Day Amanda · Domestically Creative
Shirley · Intelligent Domesticatons Michelle · Our Crafty Mom
Beverly · Across the Blvd. Christene · Key to Inspiration Pili ⋅ My Sweet Things
Nicki · Sweet Parrish Place Megan · C'mon Get Crafty
Hilary · Raising Fairies and Knights Emily · Two Purple Couches
Tina · One Crafty Mess Marie · The Inspiration Vault Debra · Shoppe No. 5
Trisha · Rosewood and Grace Jeanie · Create and Babble Katrin ⋅ Kreativ K
Terri · Christmas Tree Lane Maureen · Red Cottage Chronicles
Toni ⋅ Small Home Soul Ula ⋅ Lulu & Celeste Sue ⋅ A Purdy Little House
Pamela · Home On The Corner Lorelai ⋅ Life with Lorelai Cindy ⋅ DIY Beautify
Debbie ⋅ Tweak and Style Stephanie ⋅ Swoodson Says Chelc ⋅ Inside the Fox Den
Susan ⋅ Super Mom – No Cape! Molly ⋅ Just a Little Creativity
Roseann ⋅ This Autoimmune Life Angela ⋅ Simply Beautiful by Angela
Vicki and Jenn ⋅ 2 Bees in a Pod Joanne ⋅ Our Unschooling Journey
Tylynn ⋅ Bitterroot DIY Sam ⋅ Raggedity Bits Mary ⋅ The Boondocks Blog
Cyn ⋅ Creative Cynchronicity Dione ⋅ Clever Chameleon Quilting
Erica ⋅ Erica Ever After Chelsea ⋅ Love Paper Crafts Evija ⋅ From Evija with Love
Samantha ⋅ Little Bits of Home Hope ⋅ Hopes Crafty Niche Anne ⋅ Orange Bettie
Pam · P.S. I Love You Crafts
---
Three ways to make a Rae Dunn-inspired Christmas Ornament
Supplies you need to make Rae Dunn-inspired ornaments
How to make Rae Dunn Inspired Ornaments
Step One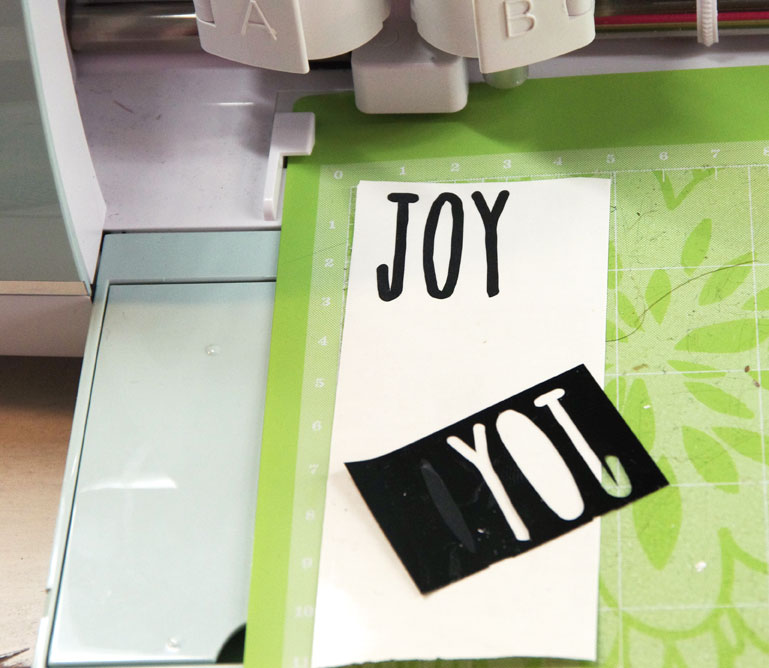 Open up Cricut Design Space or Silhouette Studio and create your designs (which are the words that will go on the ornaments). The font I used is The Skinny. Resize the words as needed to fit on your ornaments. I also decreased the space between the letters.
Step Two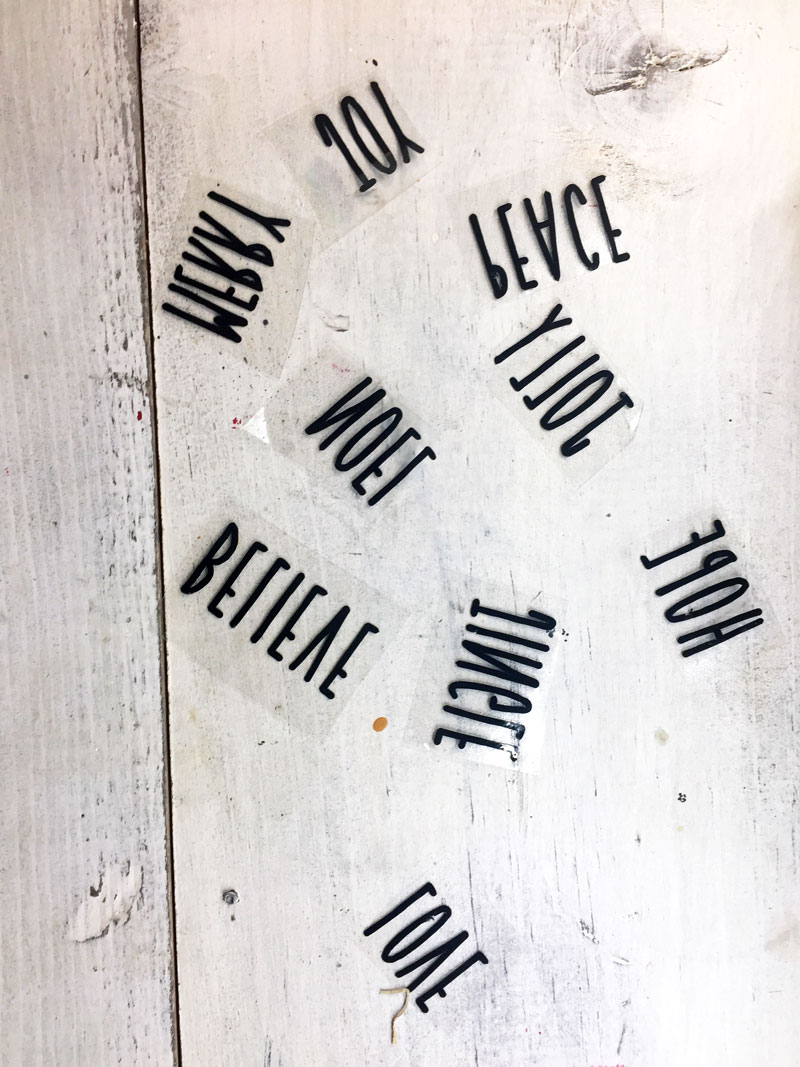 Cut the words out of black vinyl and weed away the excess vinyl with the weeding hook.
Step Three
Use the transfer paper to remove the vinyl design from the backing.
Step Four (If you have plain white ornaments you can skip ahead to Step Five)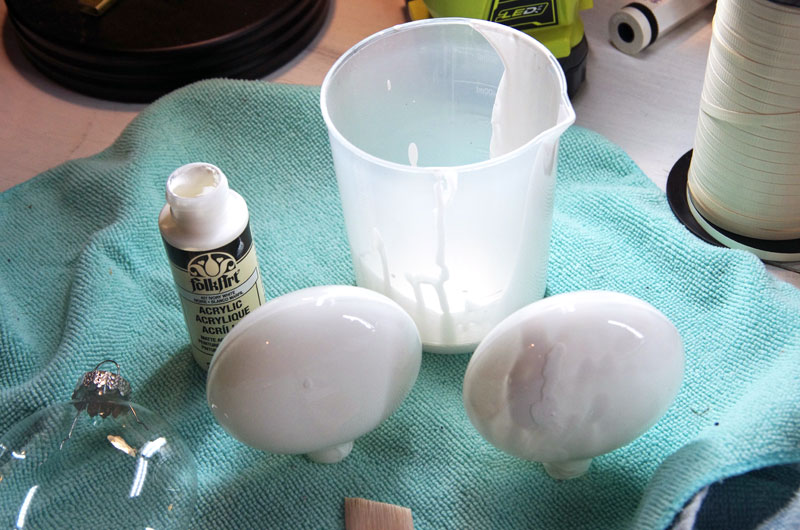 Dilute white acrylic craft paint with water (70/30) and pour into ornaments, swirl, then drain. Repeat two more times. Allow each coat to dry approximately 30 min. Pour a small amount of the polycrylic into each ornament. Swirl, drain, and allow to dry overnight.
Step Five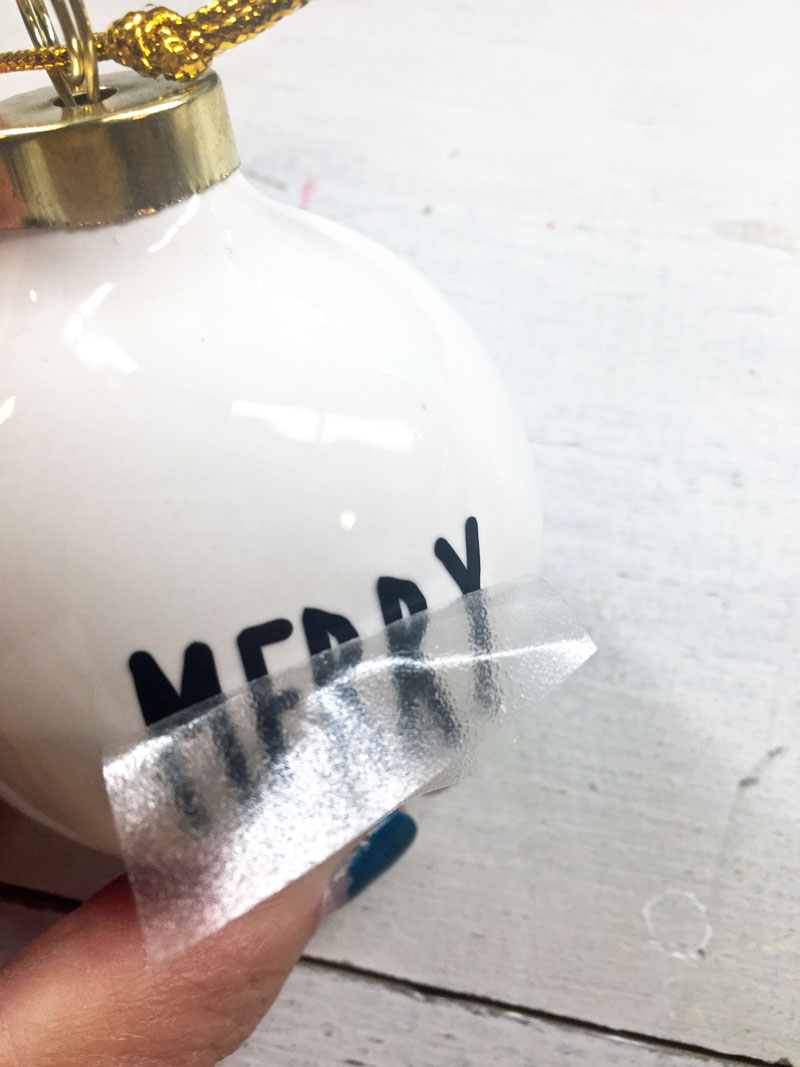 Apply the vinyl design to each ornament. Remove the transfer paper and make sure each letter is pressed firmly onto the ornament. Start in the middle and work your way out to the ends.
Step Six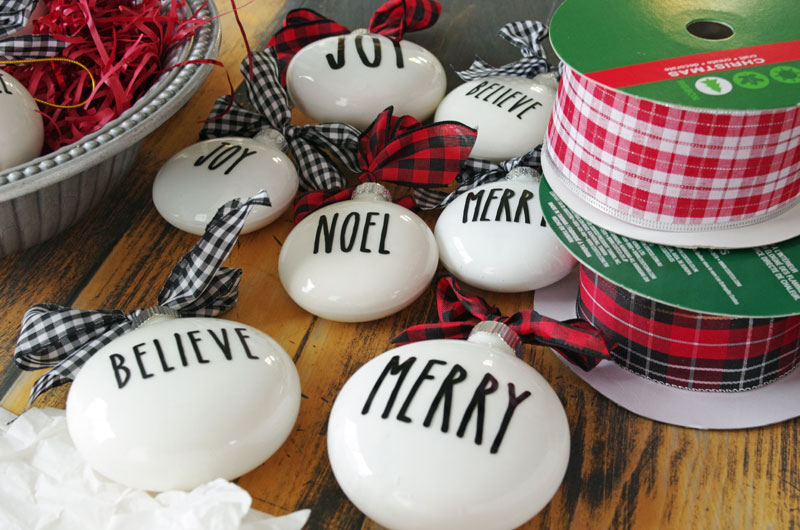 Add a ribbon bow or twine.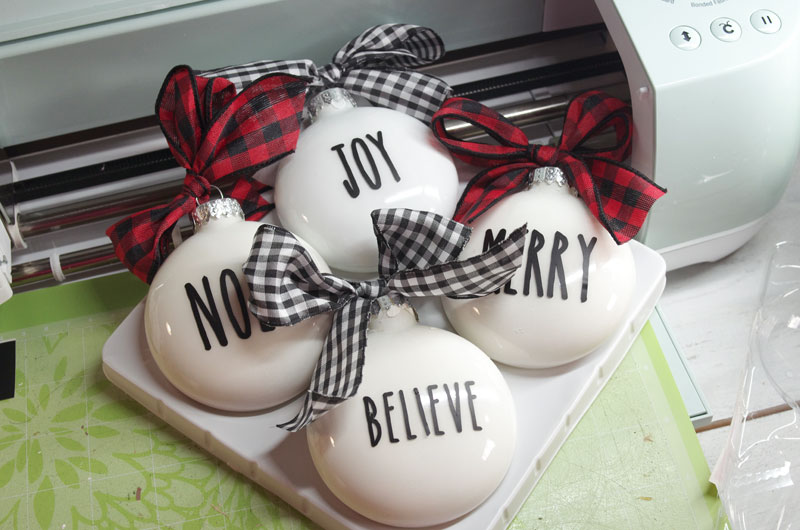 ---
FIND ALL 47

HANDMADE ORNAMENT TUTORIALS

BELOW AND SHARE YOURS TOO!
Use Hashtag #2017OrnamentExchange so we can see your creations on social media.