I can't tell you how excited I am about this One Room Challenge® master bedroom makeover decorated for Christmas. Every time I walk into this room I smile. I guess that's what happens after you've lived with an orange bedroom for over eight years and finally get around to doing something about it!
The One Room Challenge® (ORC®) is a bi-annual event, put on by Linda from Calling It Home. Over the course of six weeks, 20 design bloggers make over a room and share weekly updates on the progress of their rooms on Wednesdays. On Thursdays, the rest of us Guest Participants, link up our weekly updates. We cheer each other on through the chaos of making over a room in six short weeks!
Let's get right to the final reveal. And what makes this reveal so special is that I finally have a master bedroom decorated for Christmas! Do you know how hard it is to decorate an orange room for Christmas??? Believe me, I tried. And failed.
This view is from the doorway as you're walking into the bedroom.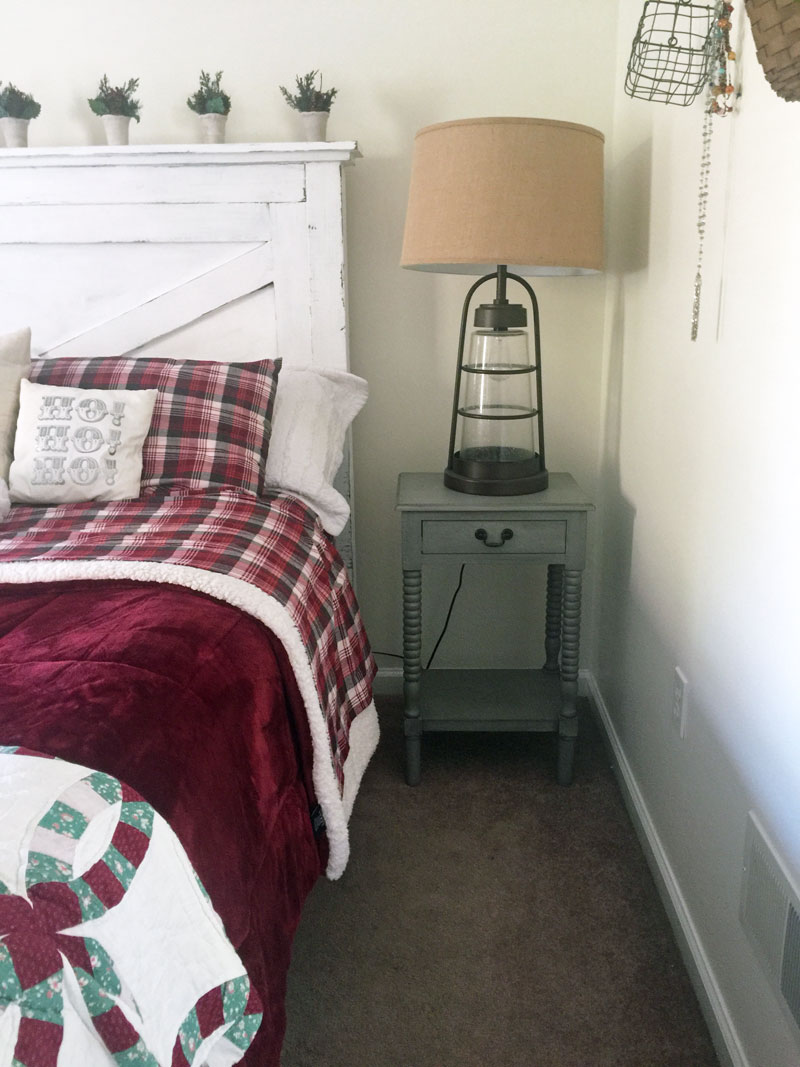 To the right is what we call "Dan's Alley".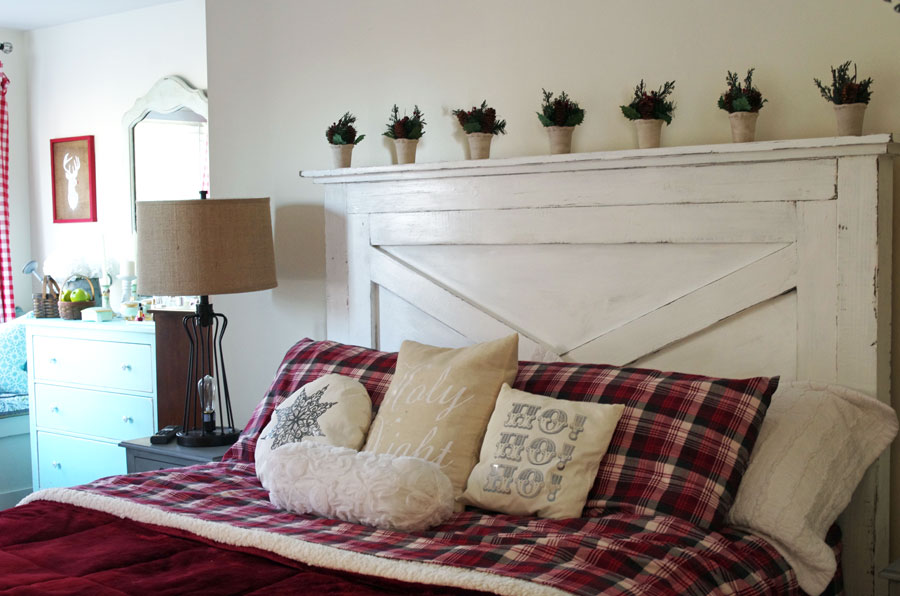 This is towards "my side" of the bed. You can see a little bit of the "bump out" where the window seat is located towards the left.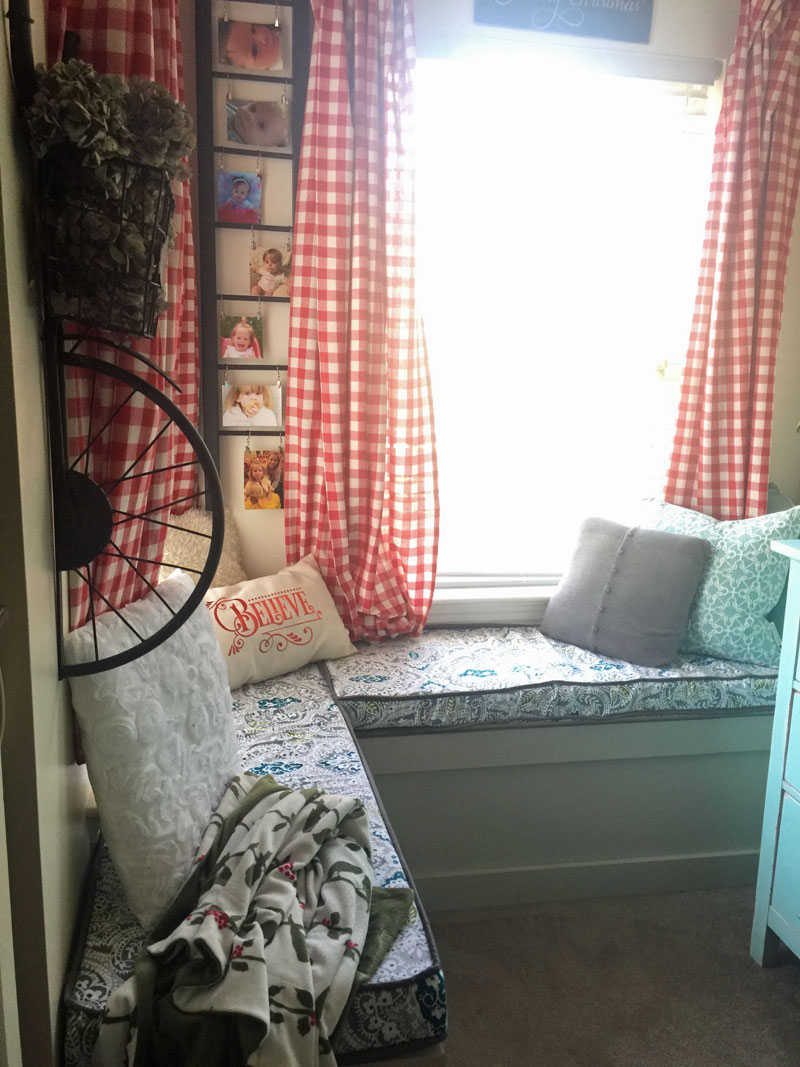 And here's the window seat decked out for Christmas. I hung the tablecloth curtains and brought up the reversible pillow.
Now turn around  .  .  .  .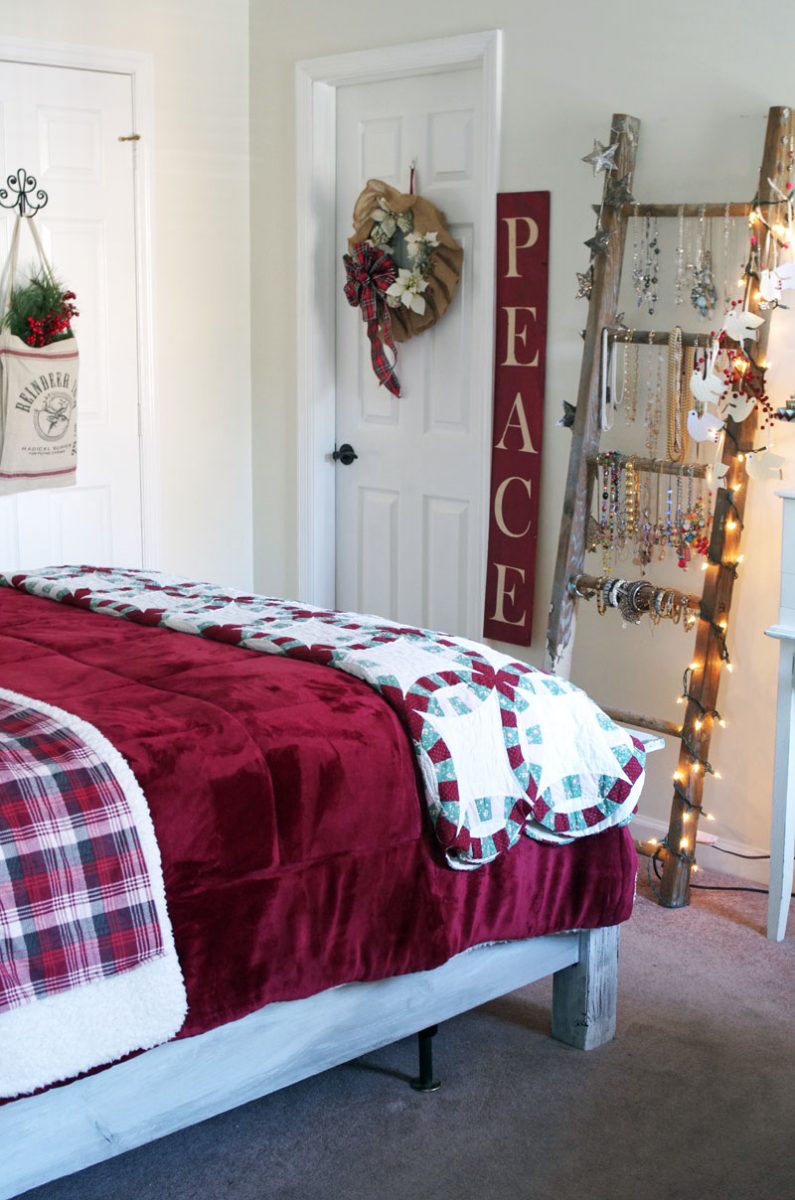 And here is the view from the window seat area. The quilt was a find from an antique sale. It's worn in places but is perfect to have folded at the end of the bed.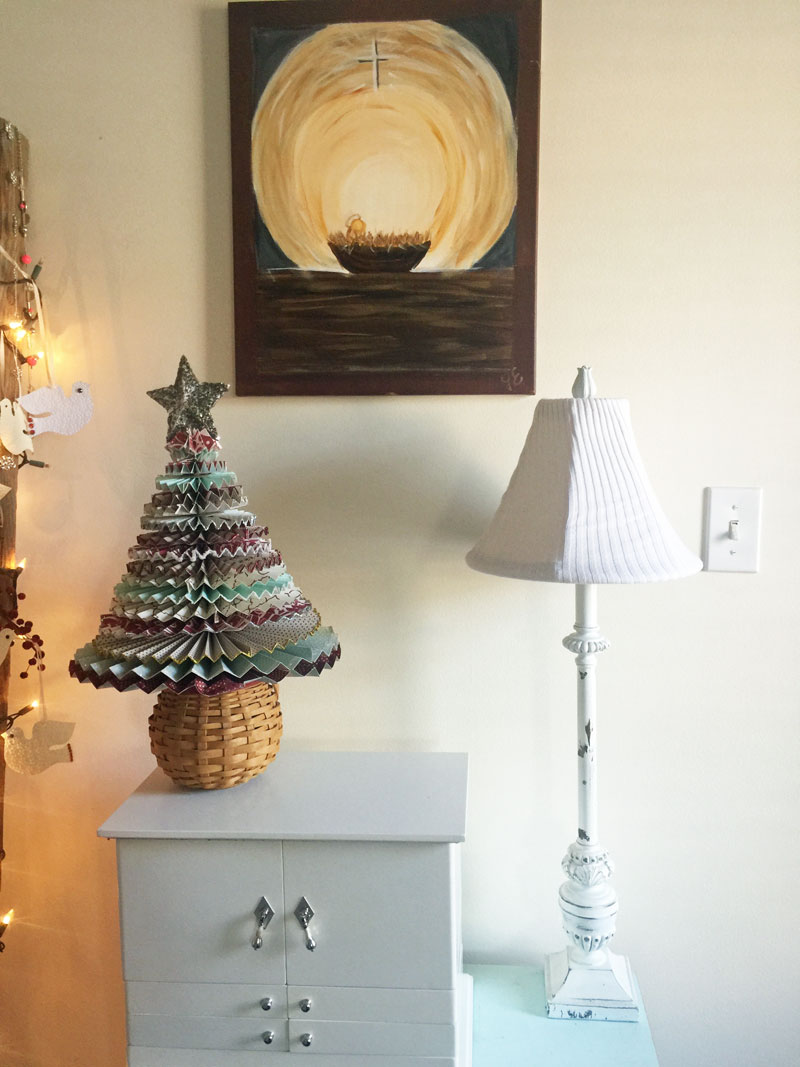 If you look to the right you'll see this vignette that I put together using one of my favorite DIY decorations: the paper tree. The painting was one I did at one of the sip and paint parties.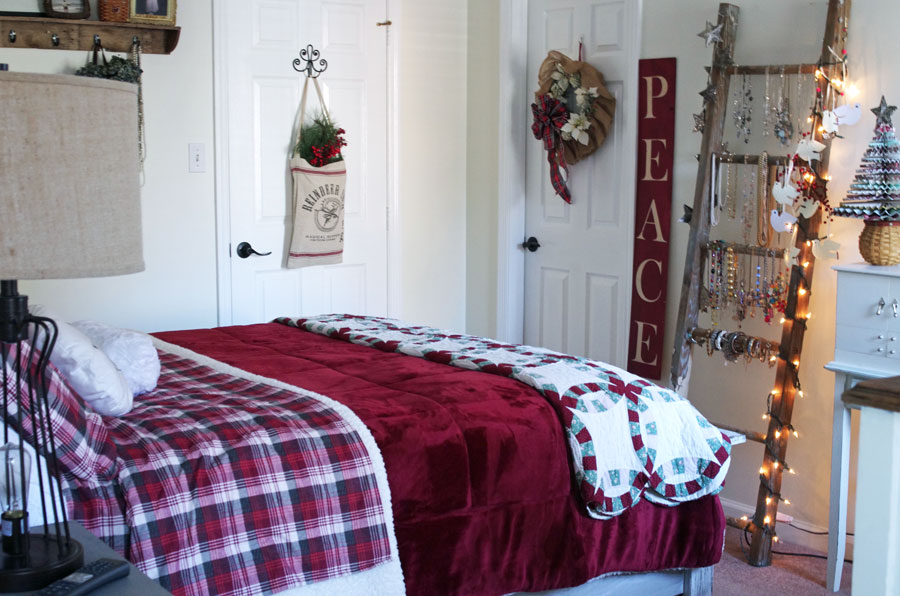 Next to the vignette is one of my favorite finds: a salvaged ladder that I use to hold jewelry. The door decor was from shopping my own bins of Christmas decorations.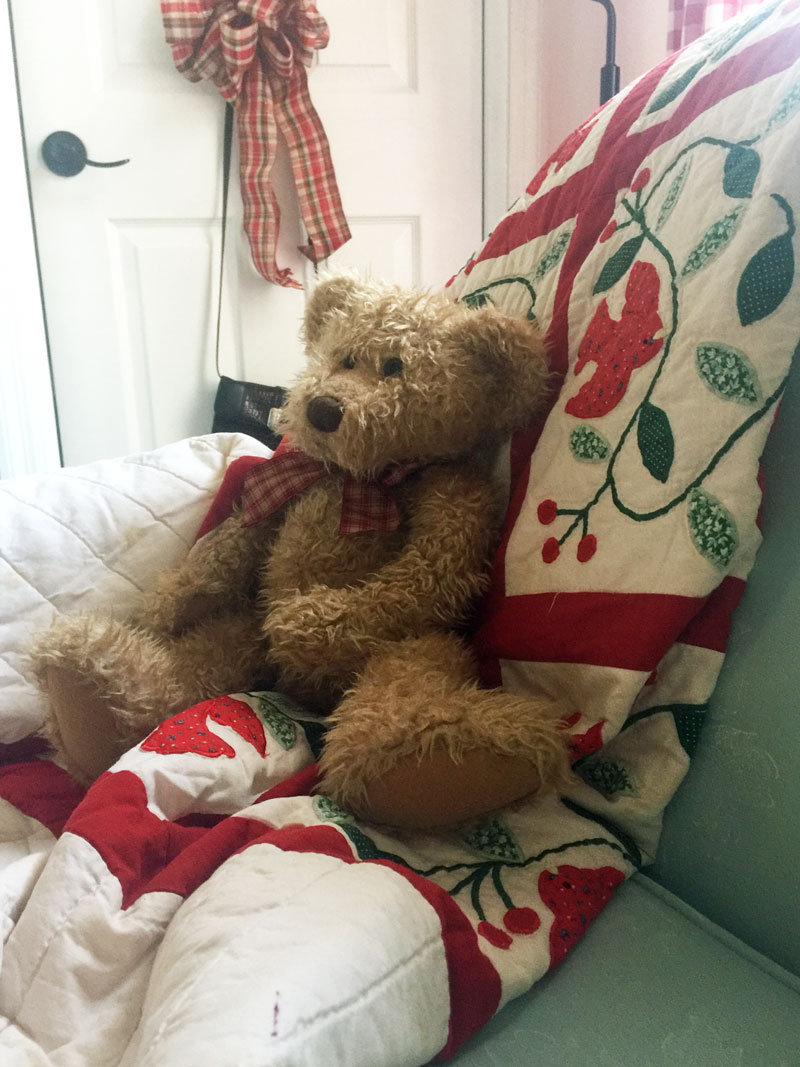 Even the painted chair is ready for Christmas!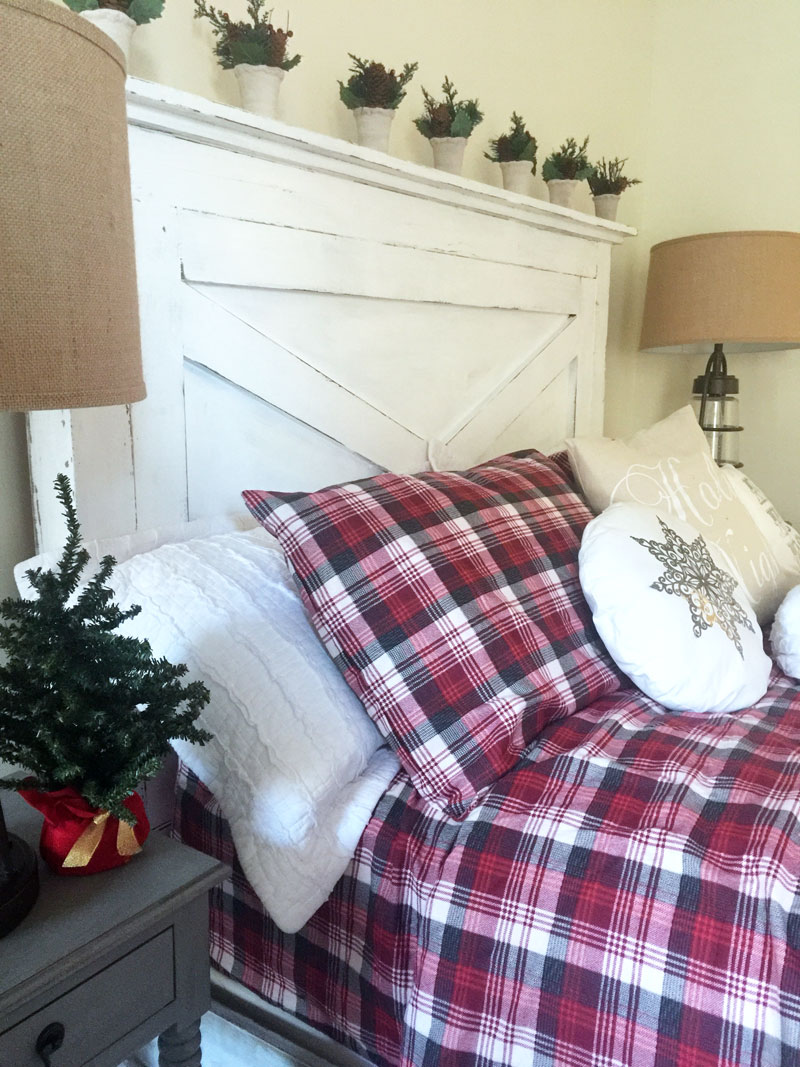 I went with the plaid linens from Wayfair.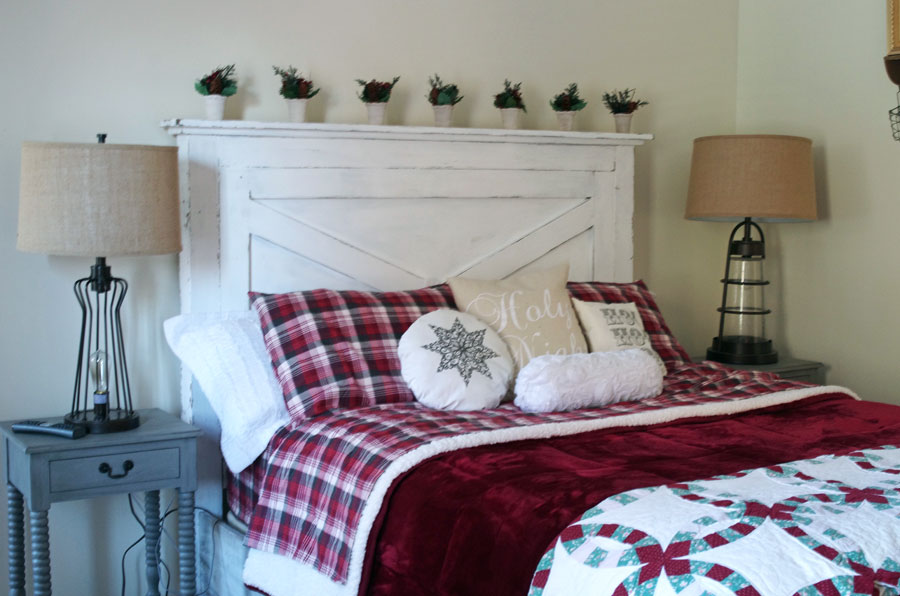 Do you need a reminder of what this room used to look like?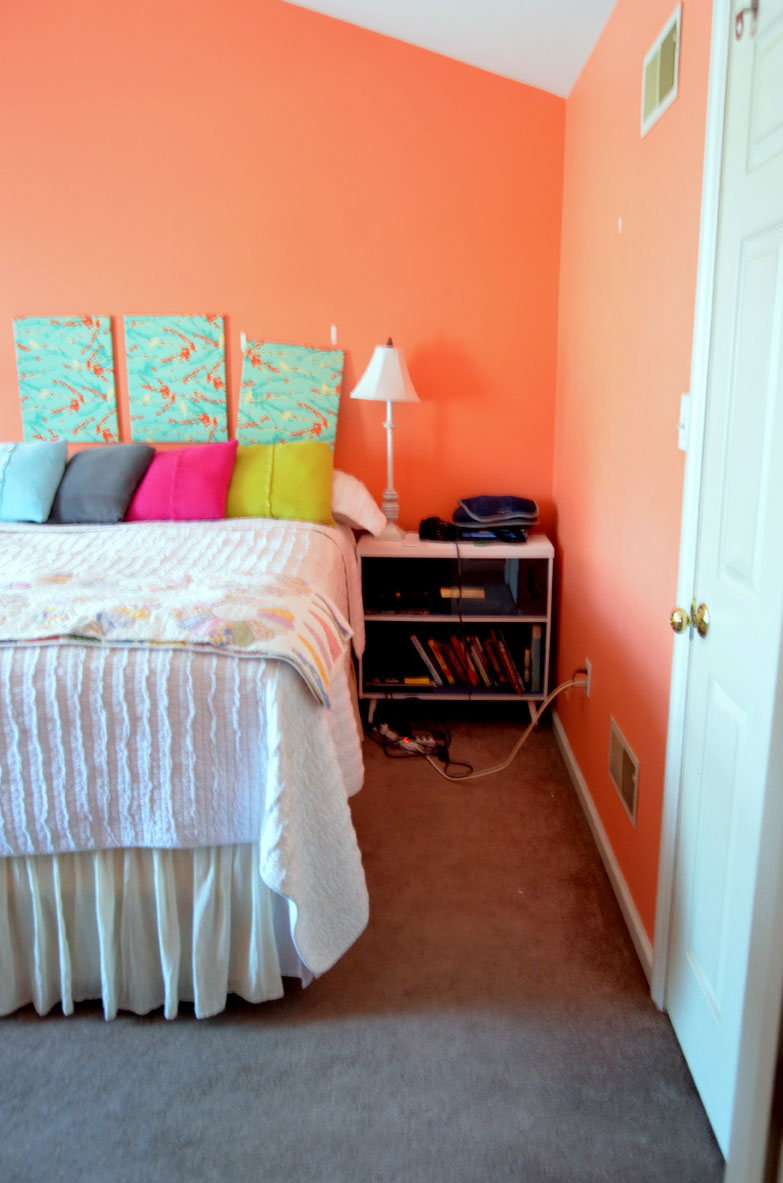 BEFORE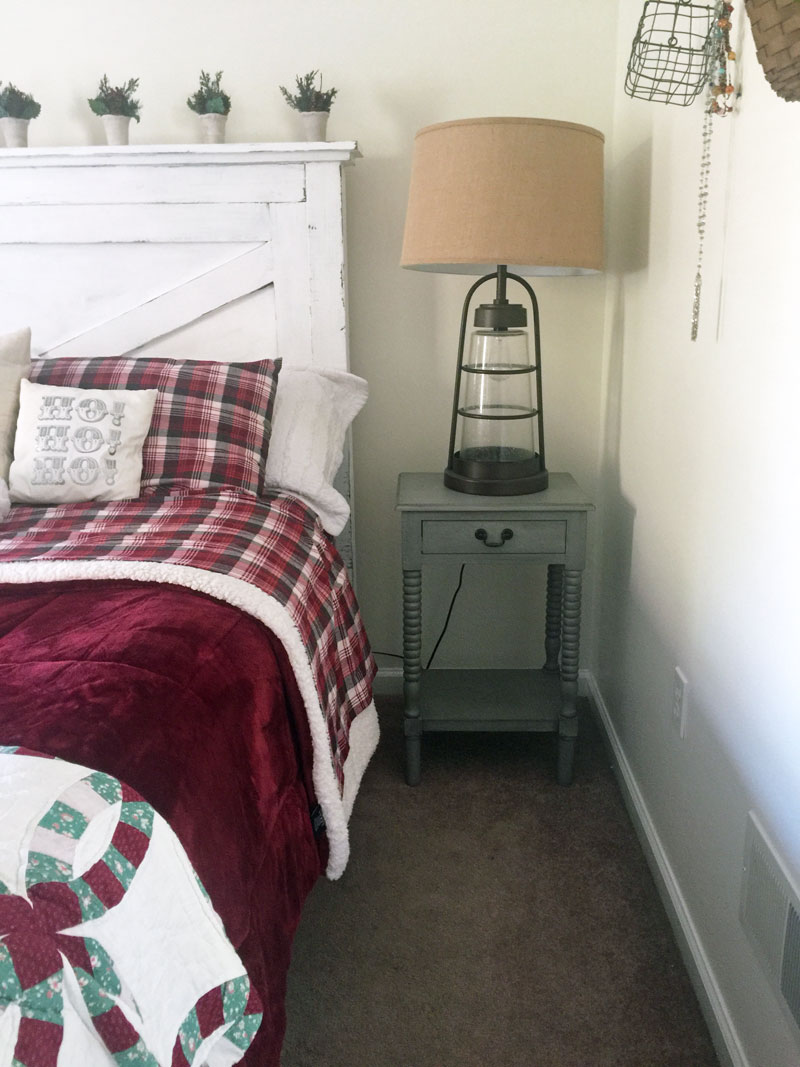 NOW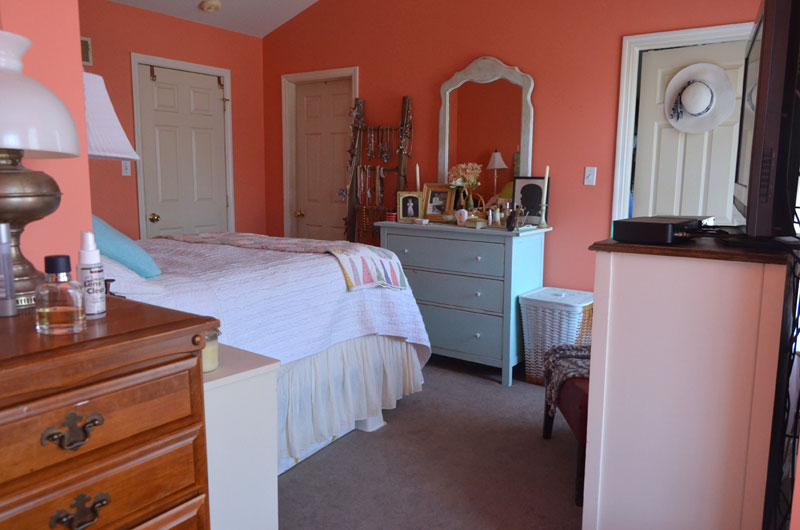 BEFORE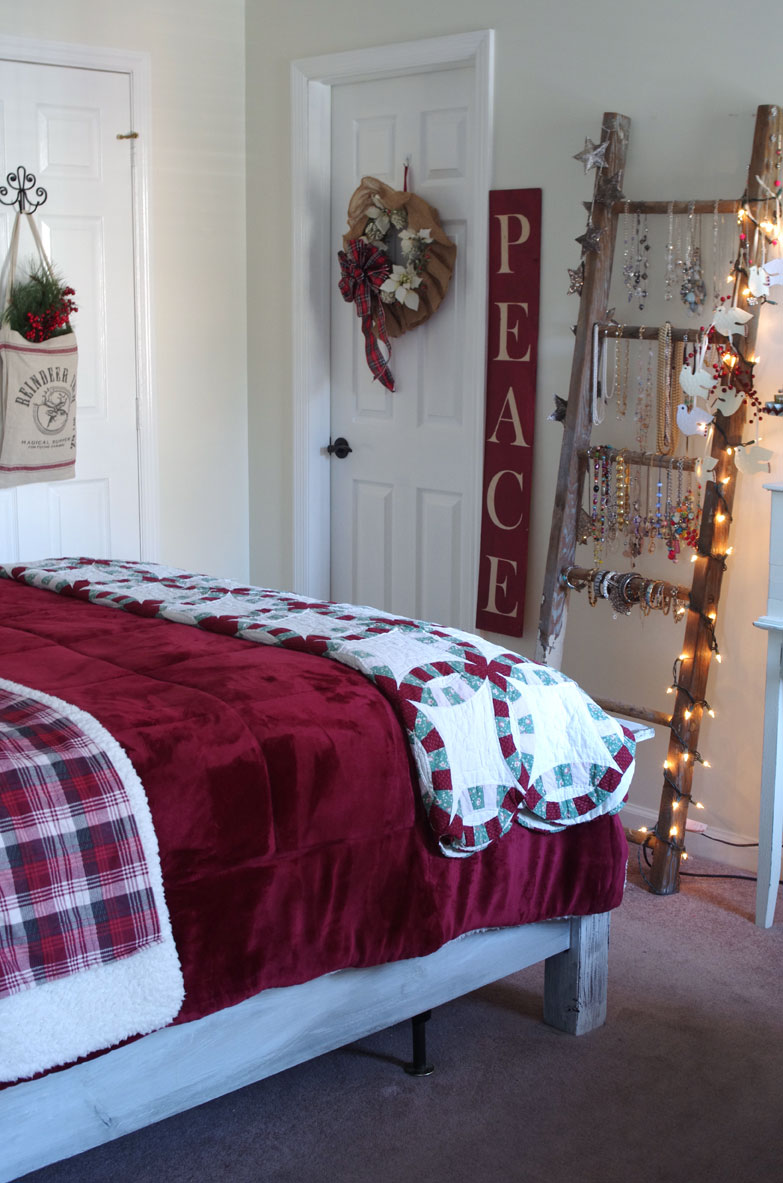 NOW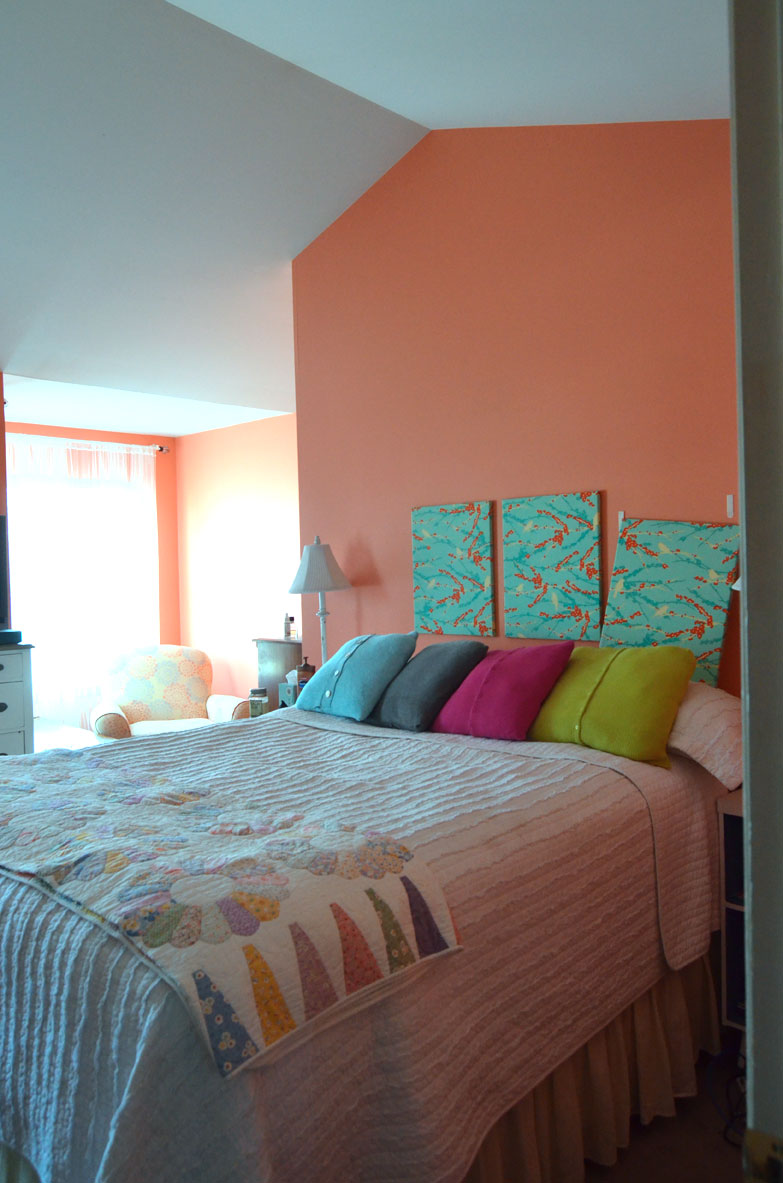 BEFORE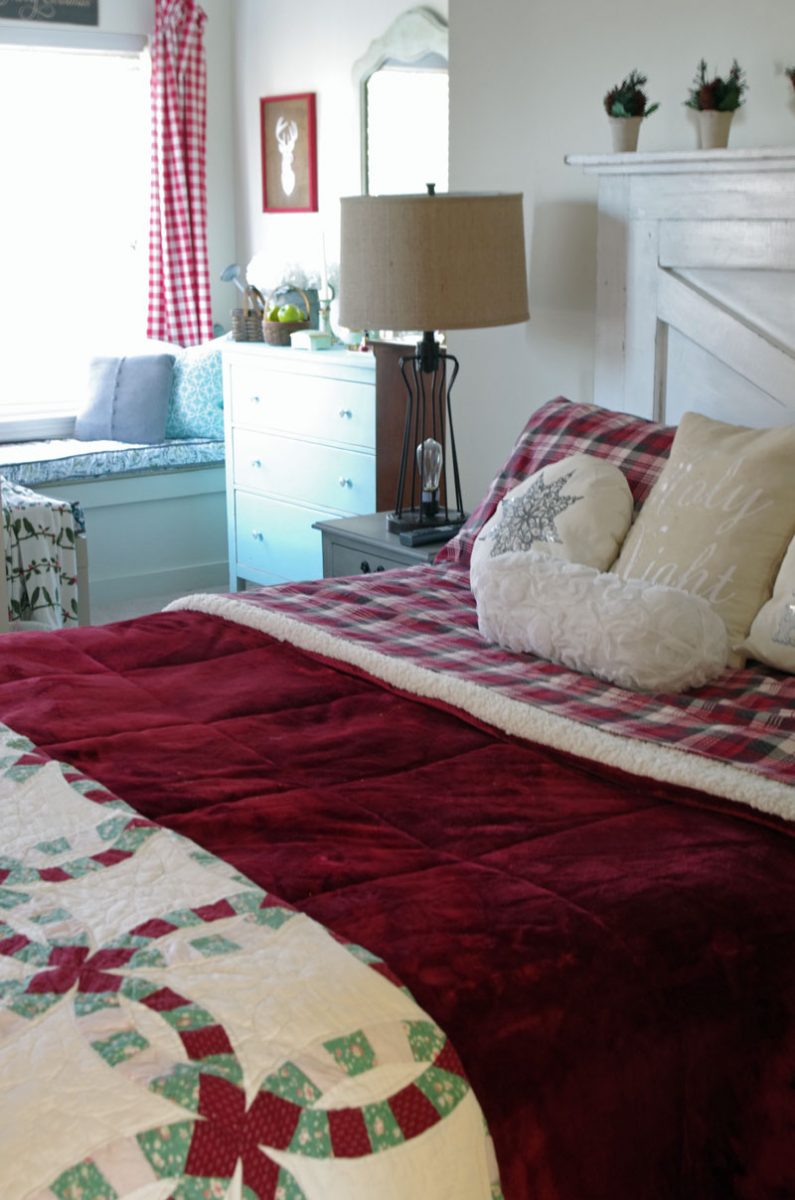 NOW
It's hard to believe it's the same room. Now you know why I smile every single time I enter this room!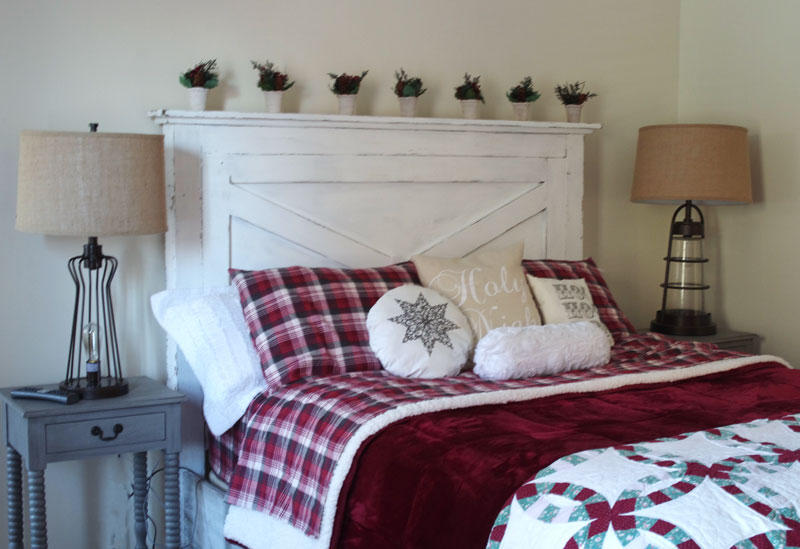 If you were to ask me what is my favorite part of this room I would have to say the bed. I guess it's special because I built it. I have to pinch myself sometimes when I think about the furniture that I've made. If you would have told me five or six years ago that I would be building beds, tables, armoires, and window seats. I would have never believed you.
But I am proof that you're never too old learn new skills. Heck, I would have never had time to be building furniture while I was raising three kids! Anyway, this is just my way of saying that you can do anything you set your mind on.
I want to once again thank my sponsors: Lamps Plus / RYOBI Nation / Silk Plants Direct / Valspar / Amy Howard At Home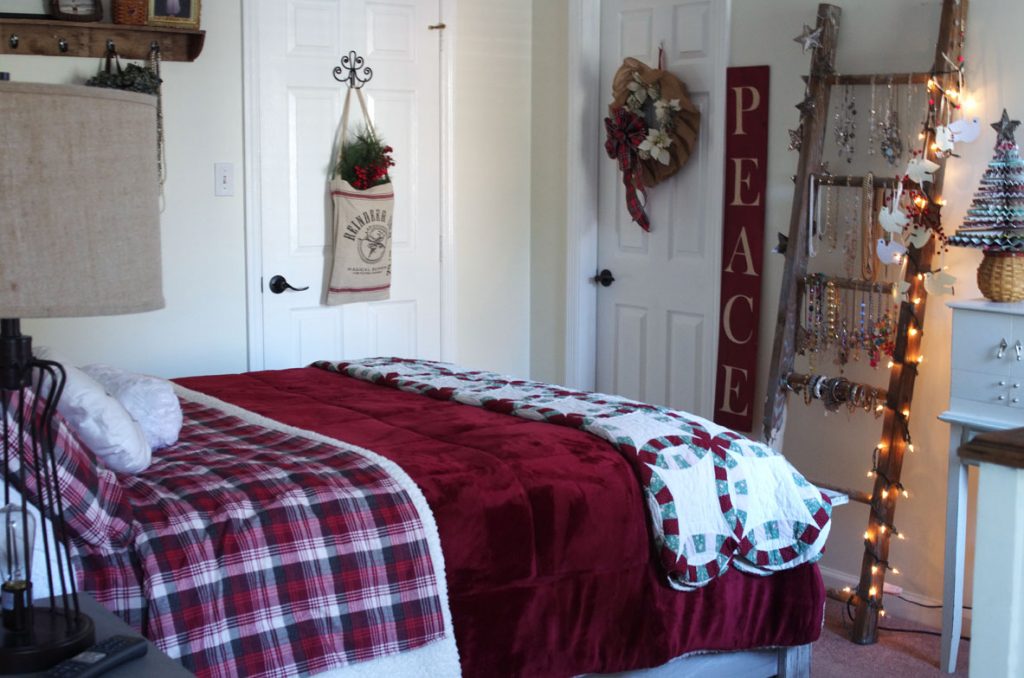 One more look!