This morning we said goodbye to our favorite innkeepers Michael & Jan. They are the sweet, cute, gracious, and funny owners of the Levi Deal Mansion. This is our favorite B&B along the GAP. We stayed here the first time we rode the Great Allegheny Passage almost three years ago. I wrote about that day here.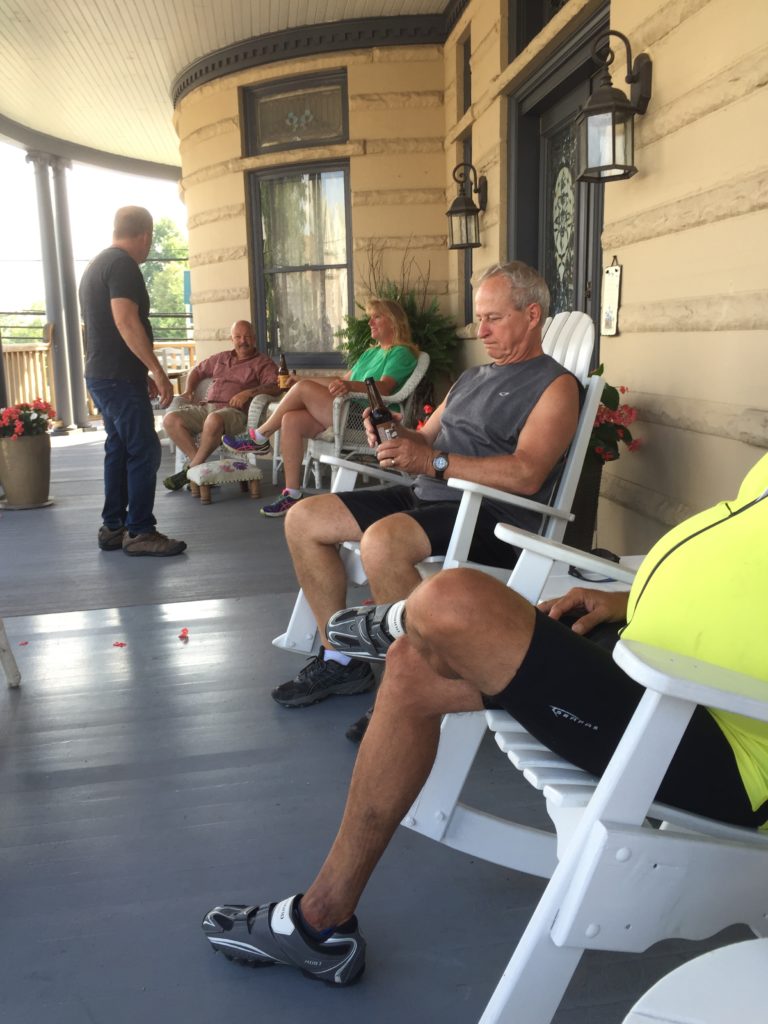 As soon as we pulled up to the mansion, Michael came out to greet us, helped us park our bikes in the garage, and escorted us to the front porch to relax with a cold beer (wine for me ?) While we were talking and sharing trail stories with another couple on the front porch, Michael had carried our bags upstairs to our beautiful room.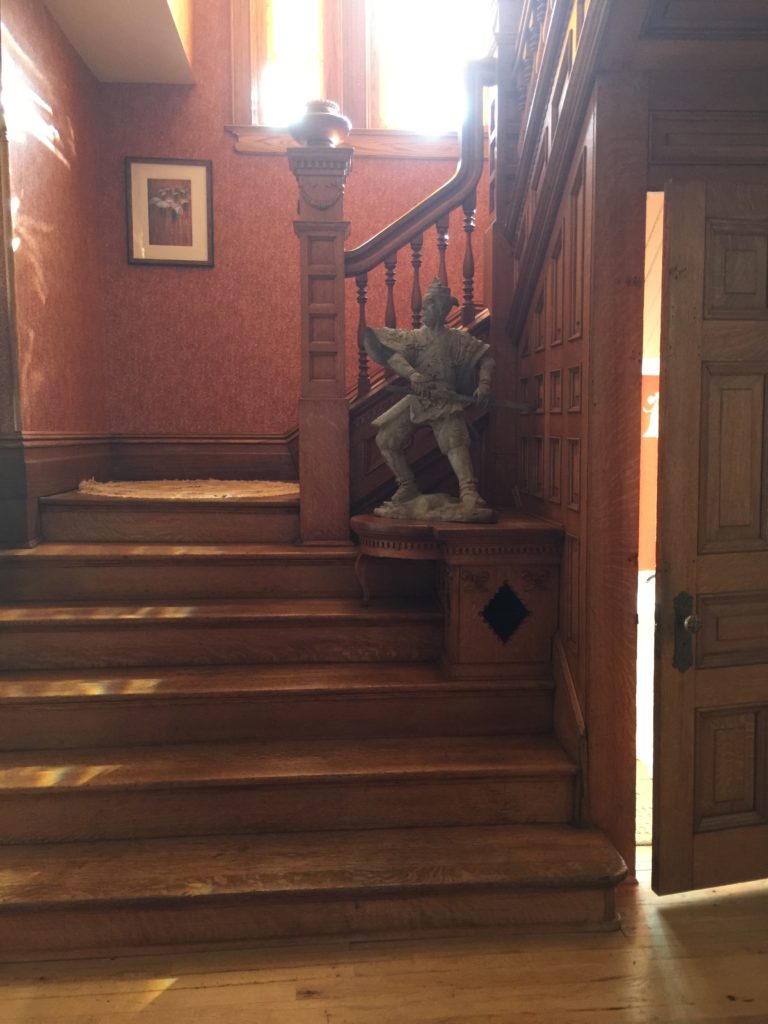 These cell phone photos don't do this mansion justice, but I wanted you to get an idea of how amazing this place is.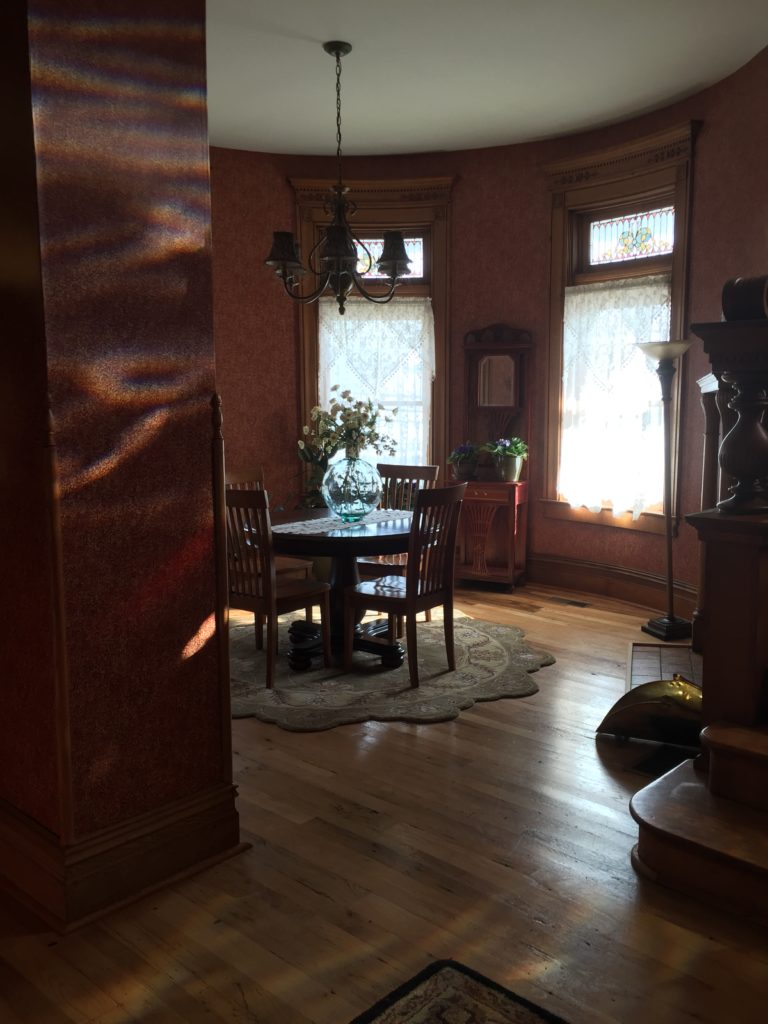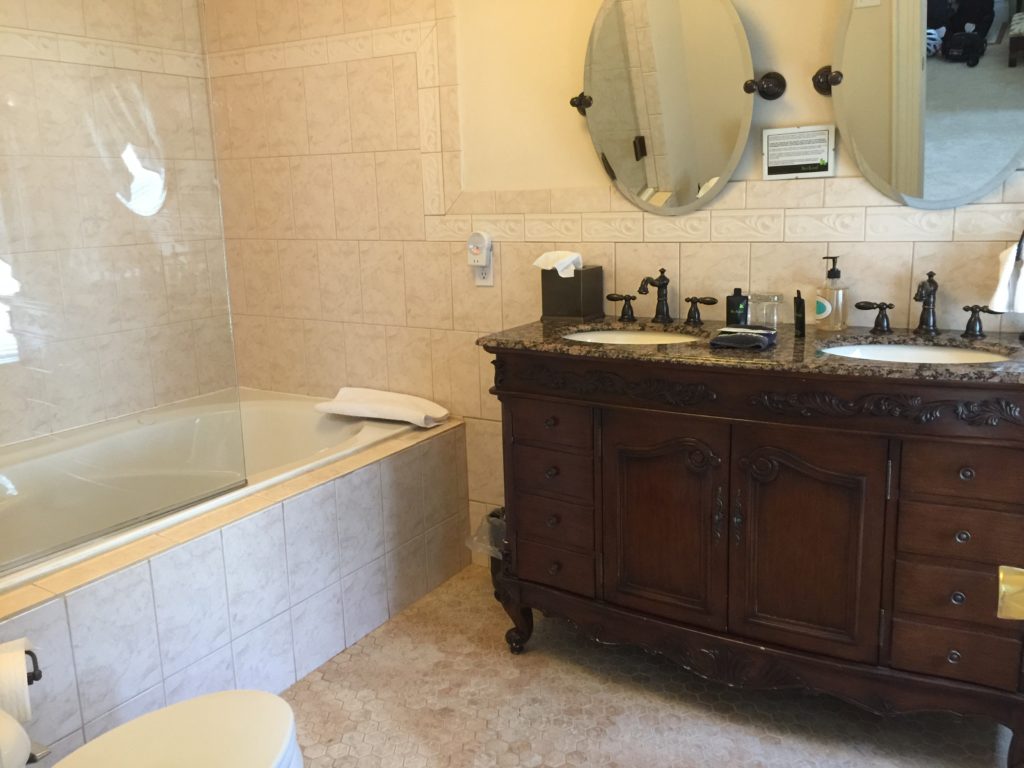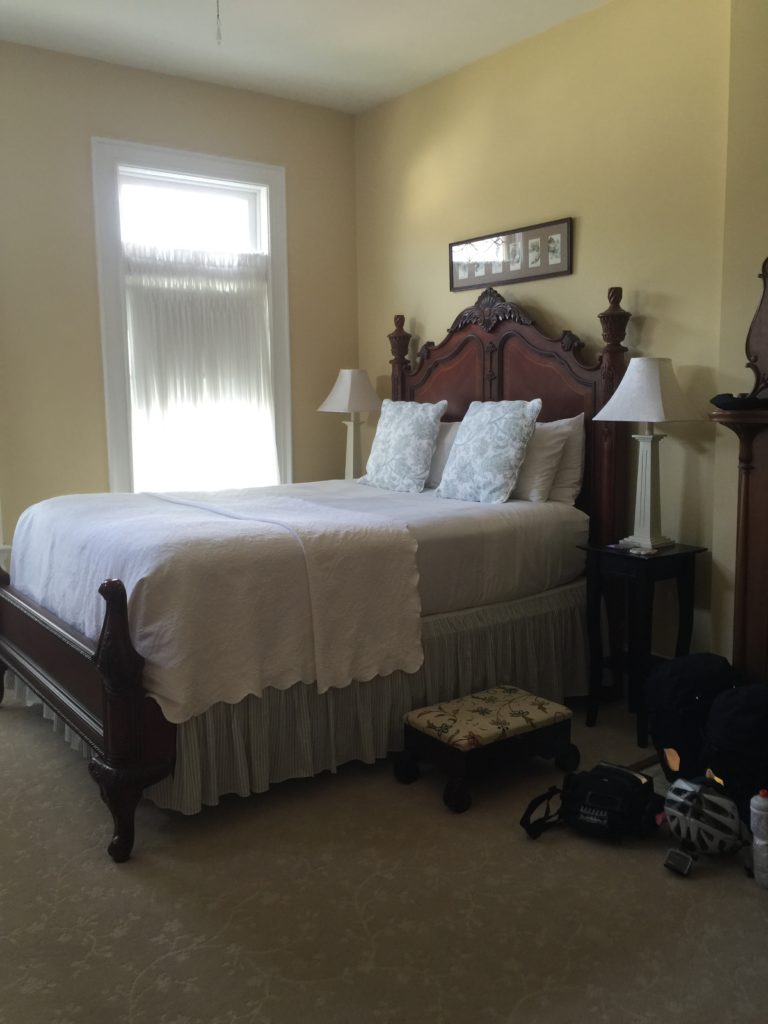 The ride today began with us pushing our bikes up the steep hill from the B&B to the trail.
Then we pedaled the 10 miles up to the Eastern Continental Divide, the highest point on the GAP (Great Allegheny Passage). There have been many bear sightings in the area so we were on the lookout. We saw no bears but did see a snake, a box turtle, and two deer.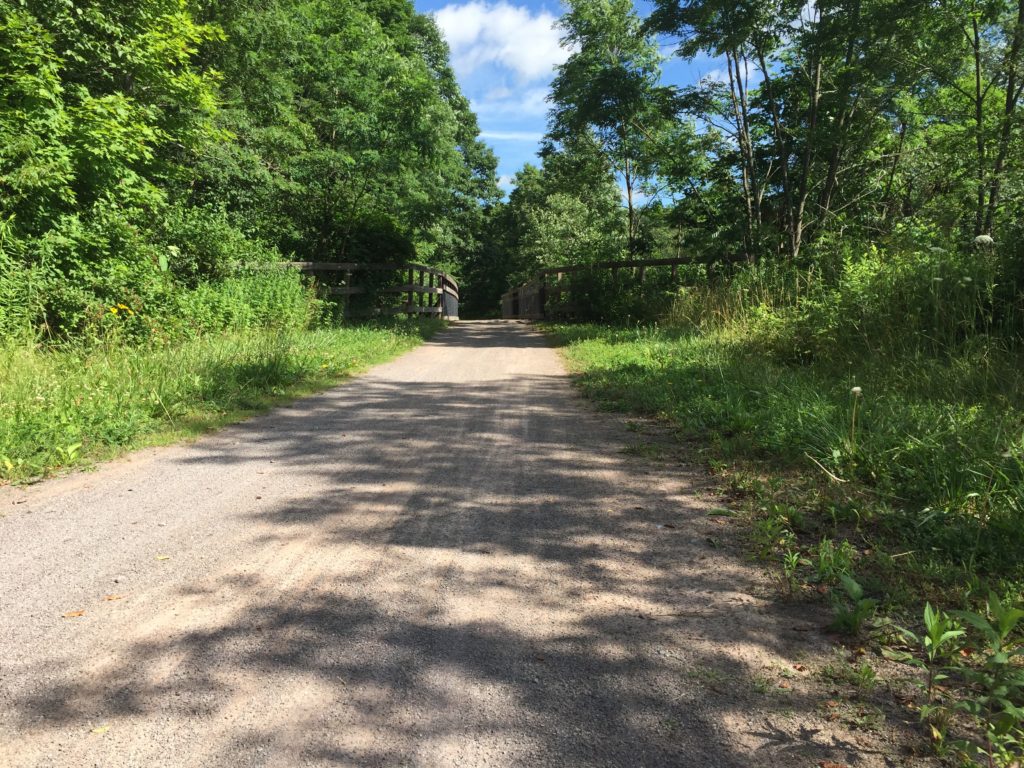 It was another beautiful, sunny day! Although it is hot and humid, you don't really feel it as much when you're on a bike on a mostly shaded trail. Don't get me wrong, I was sweating, er I mean sparkling, but I didn't mind it.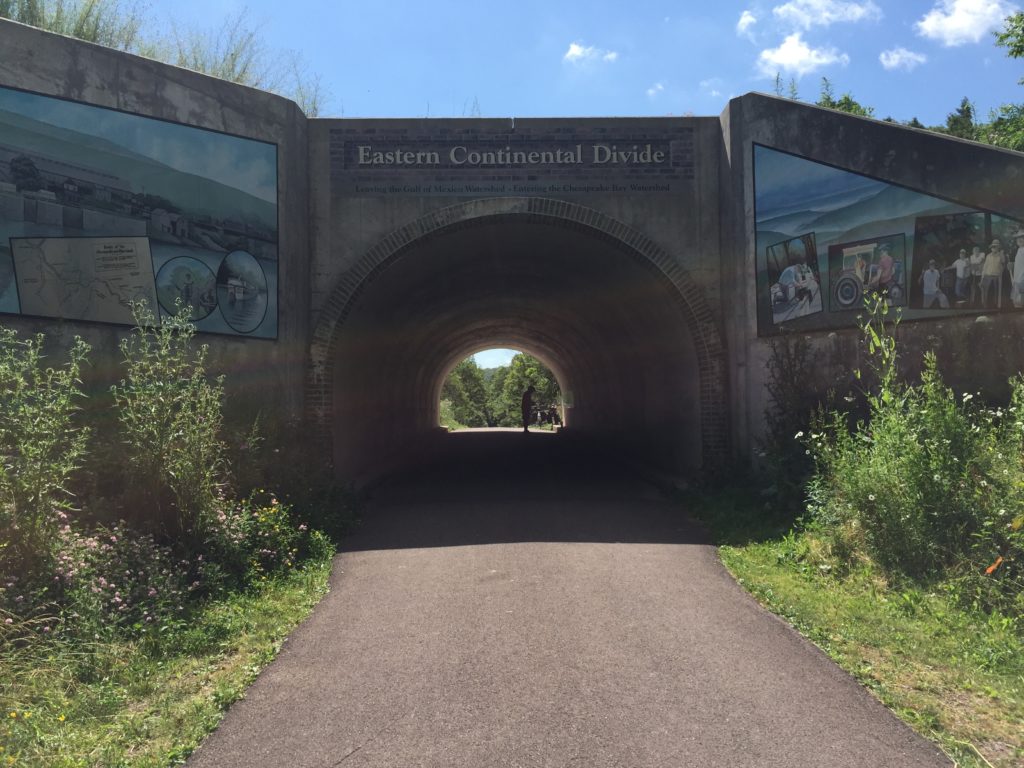 There it is: The Eastern Continental Divide! We were done climbing! Woohoo!!!!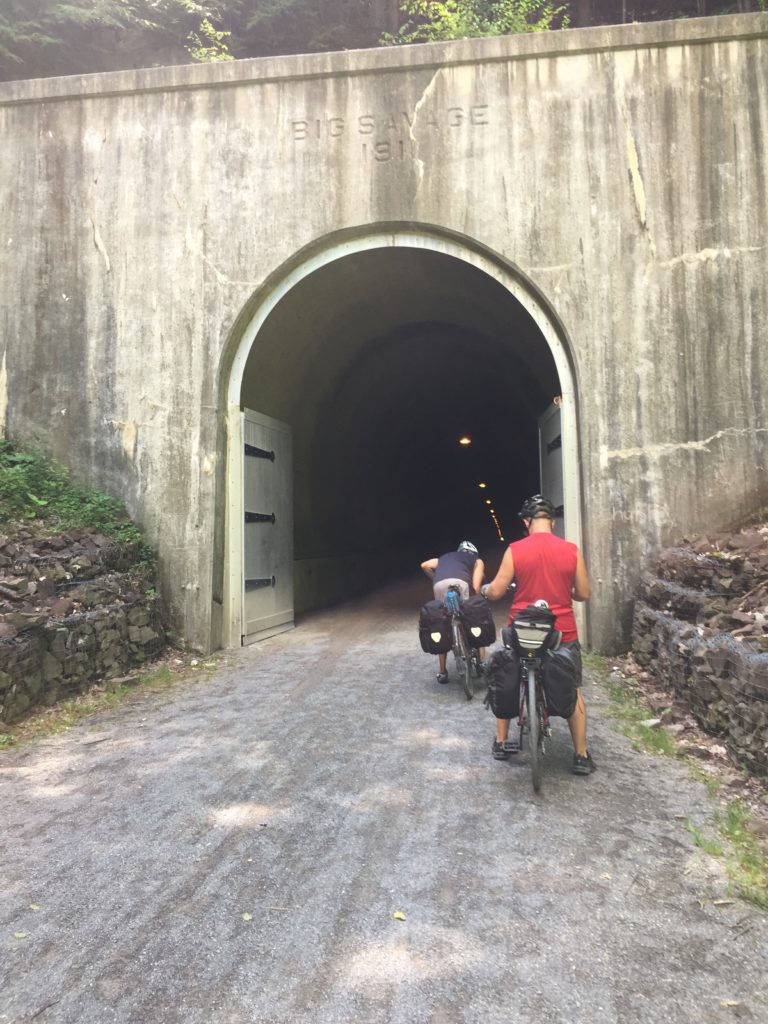 The next milestone was reaching the Big Savage Tunnel. This lit tunnel is 3300 feet long! And cool inside: we guessed the temperature inside to be around 55-60 degrees.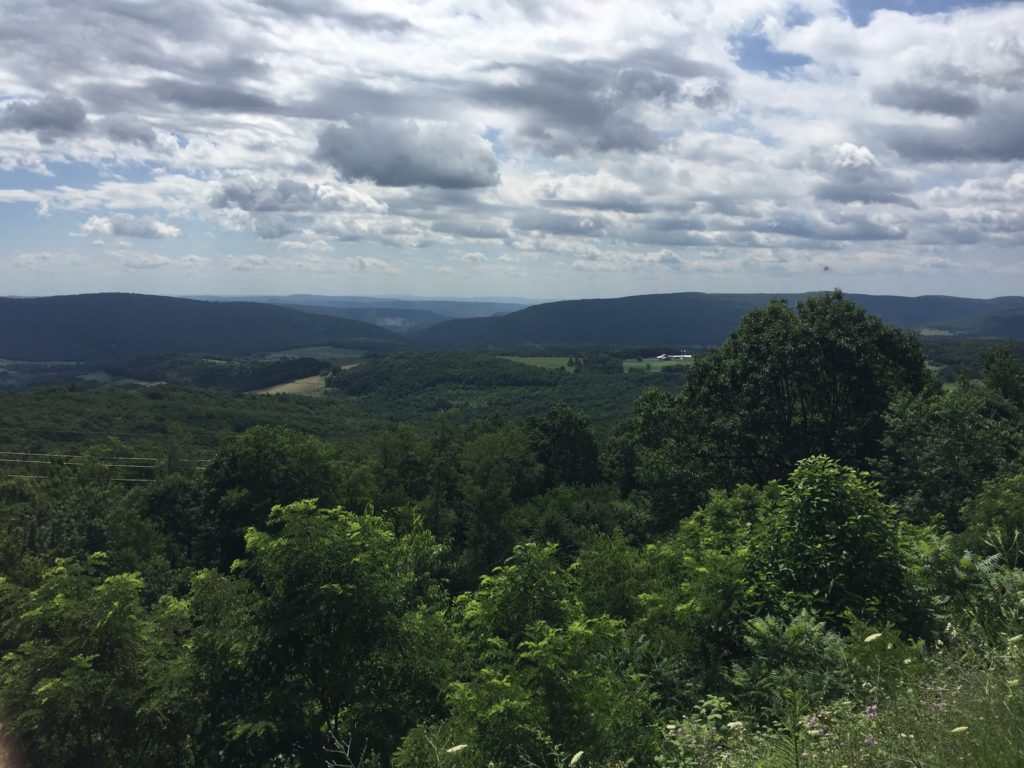 Just outside of the tunnel, we were treated to this spectacular view!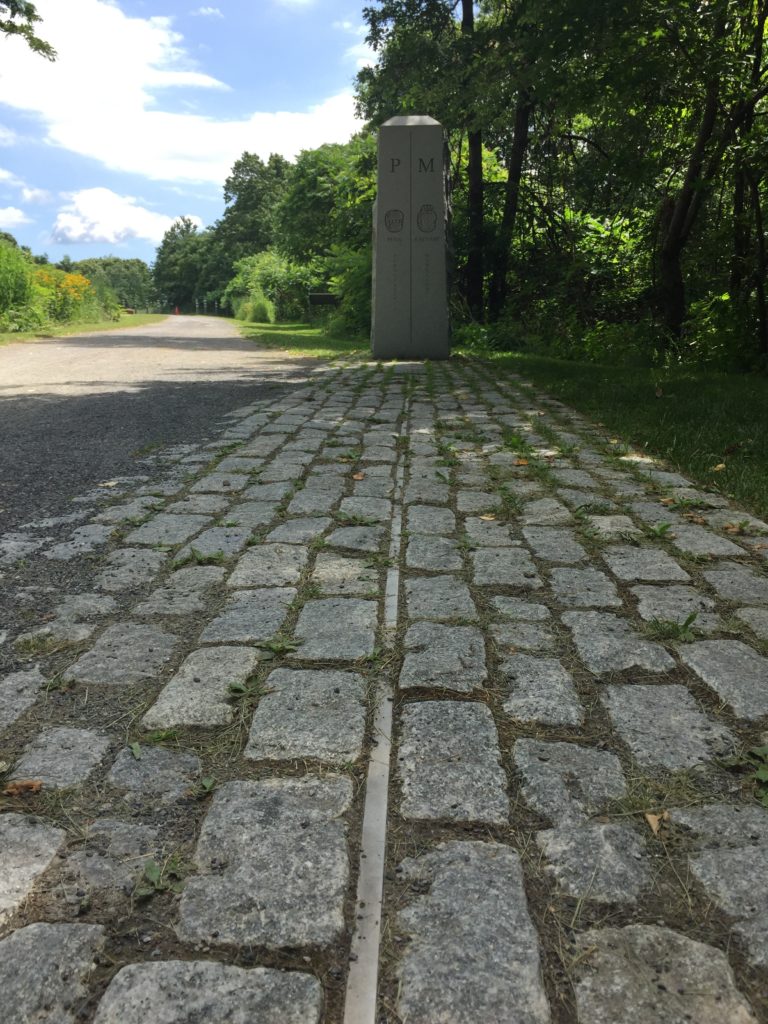 Soon after we peeled ourselves away from that view, we got going again and were soon crossing the Mason-Dixon Line. We are now in Maryland.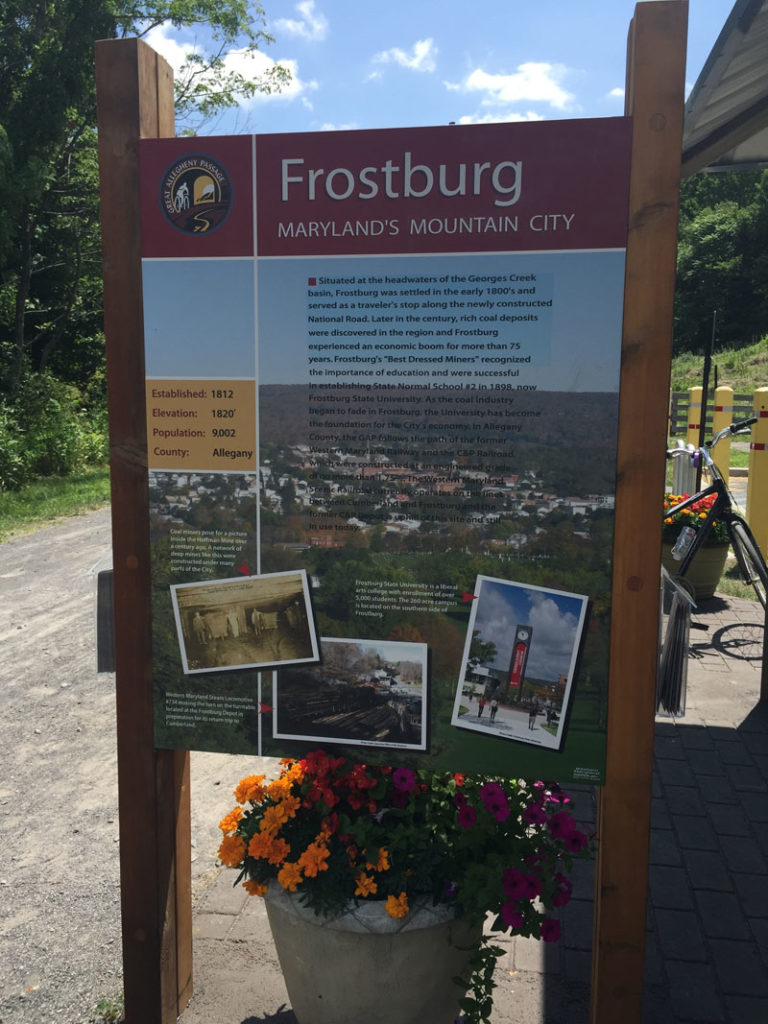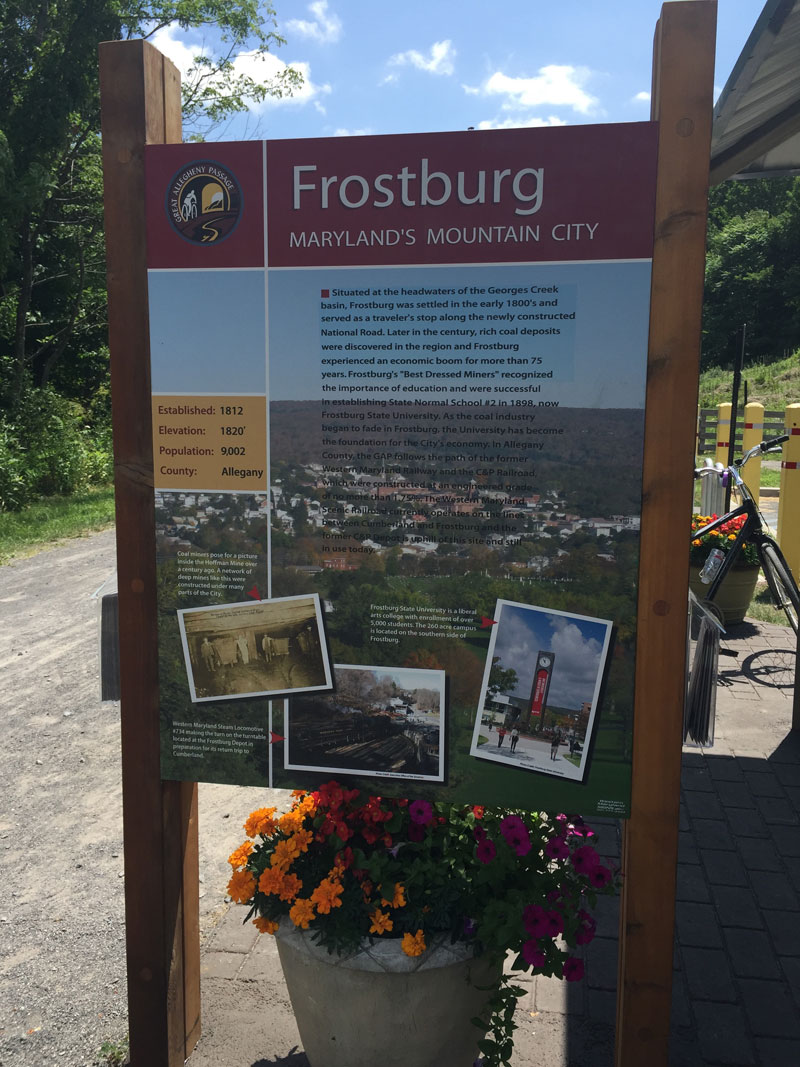 Frostburg is the next town we came to. We didn't have the energy to climb the long switchback that leads up to the town. I hear it is a really nice town and worth seeing but until they provide a shuttle service for us more mature bicycle riders, I won't be visiting. We just didn't have the energy to climb that hill!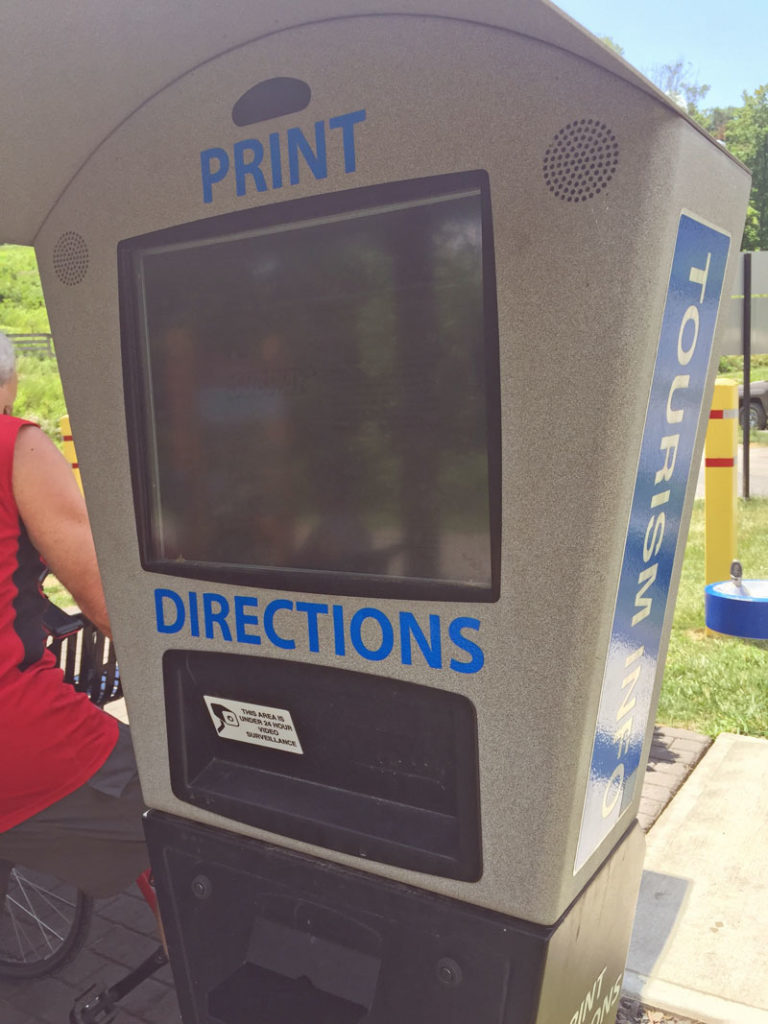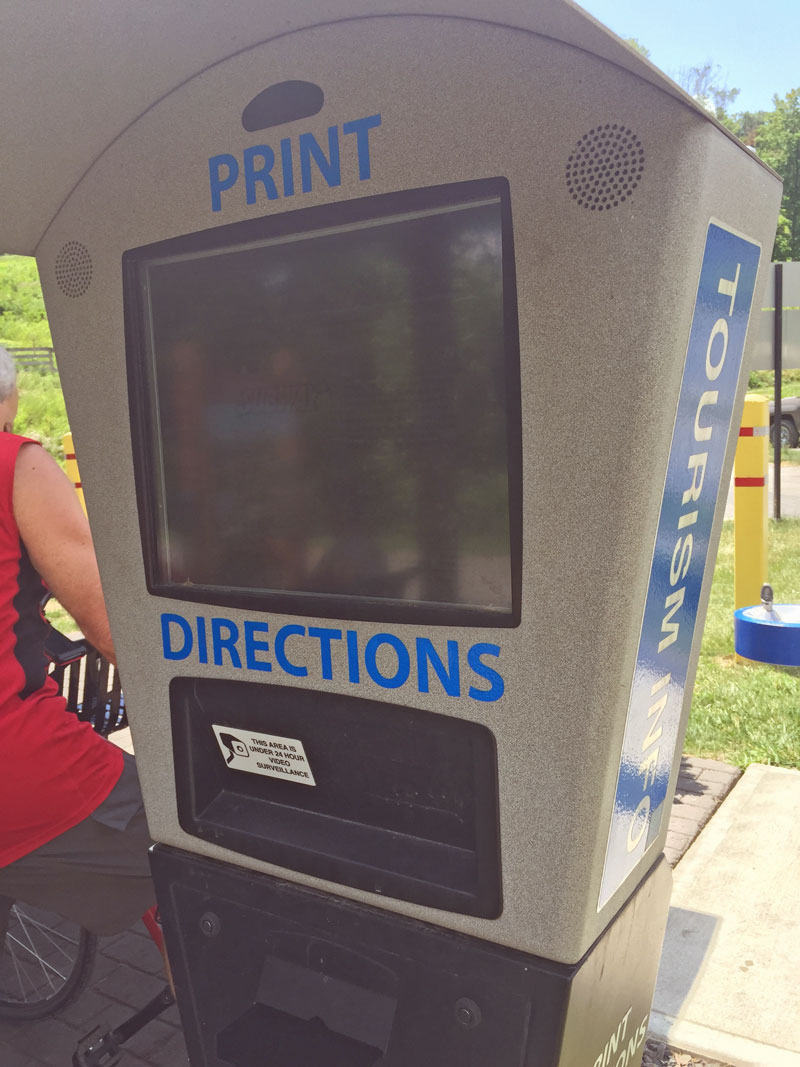 But what Frostburg does have on the trail is a nice gazebo and patio area for bikers and hikers to take a break. They even have this cool tourism computer that will spit out adresses to area destinations.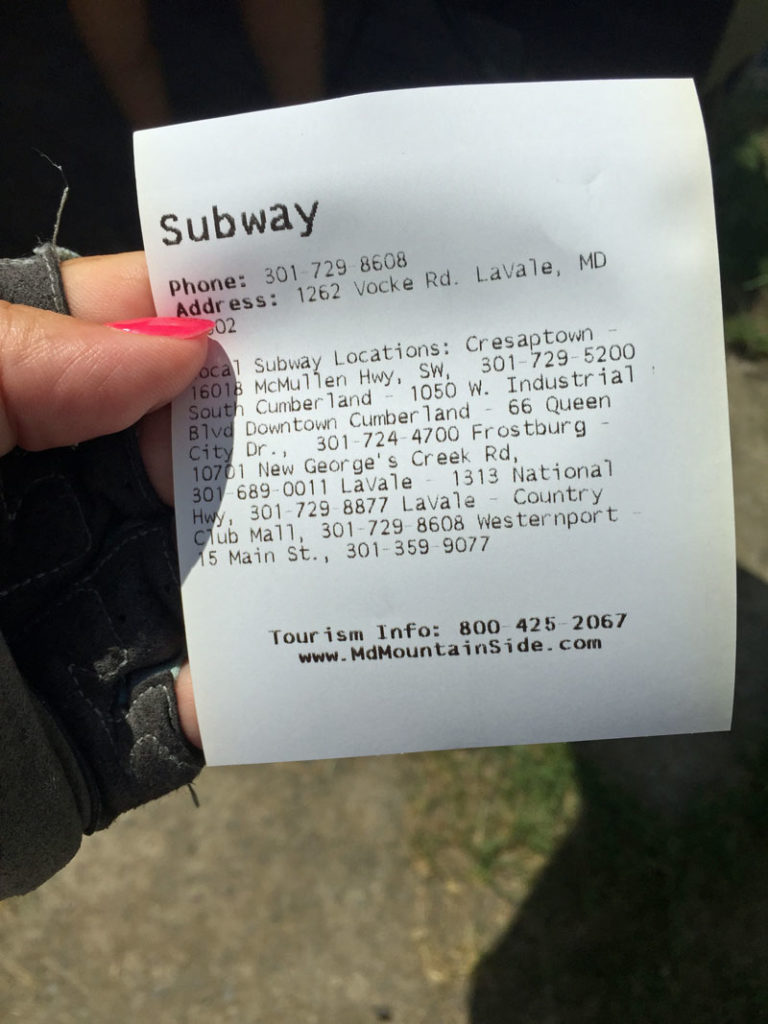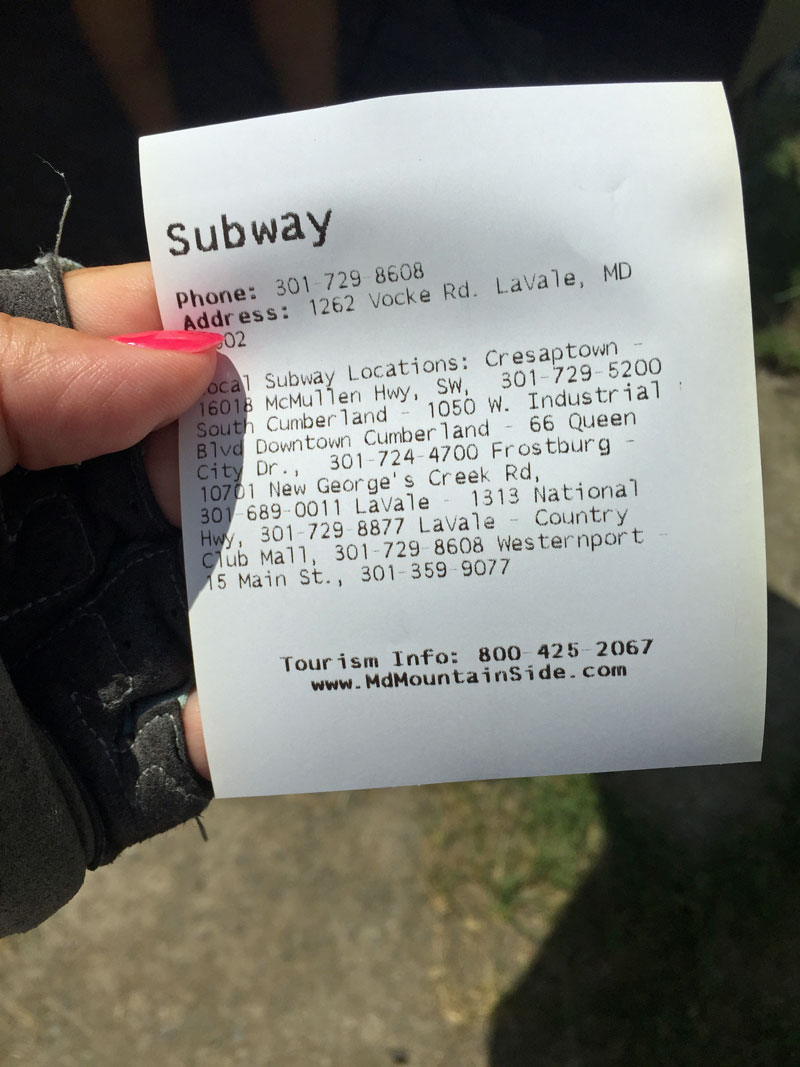 Which is cool if you have a car with you. I think they should have spent the money on a shuttle service instead. I'd even be willing to pay to be taken up to the town for lunch. C'mon Frostburg, if you want me to spend some money in your town, make it a little easier for me to get there! (end rant ; )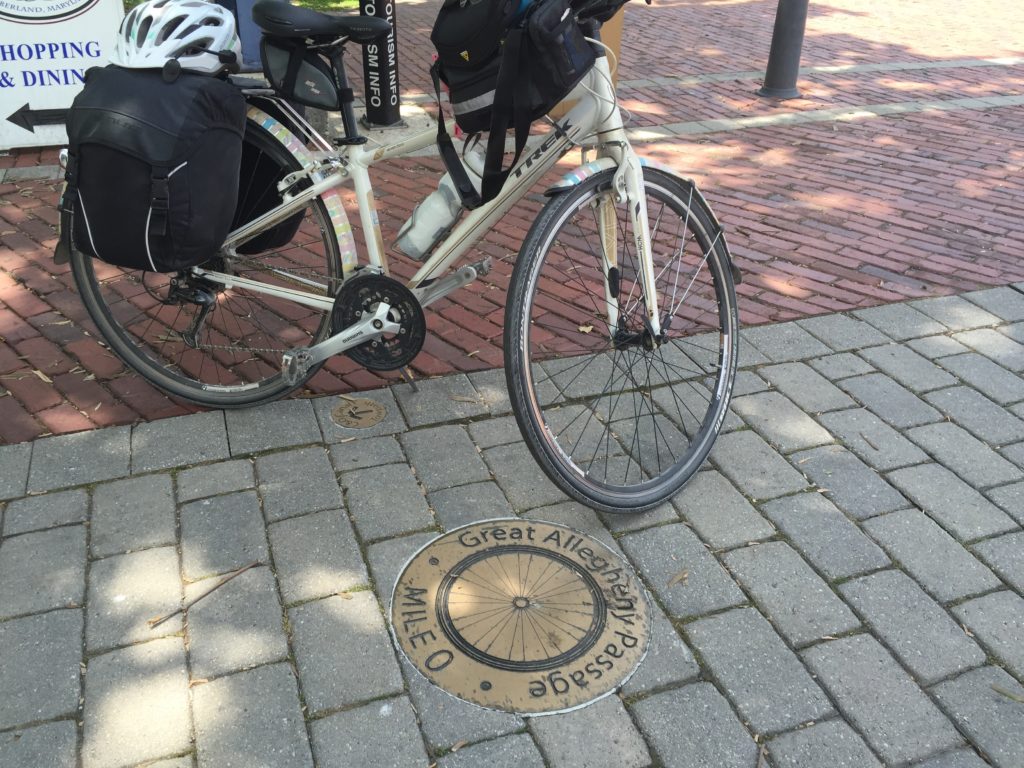 After our short break at the foot of Frostburg, we were sailing down that mountain into Cumberland, Maryland where we crossed that last mile marker of the Great Allegheny Passage!!!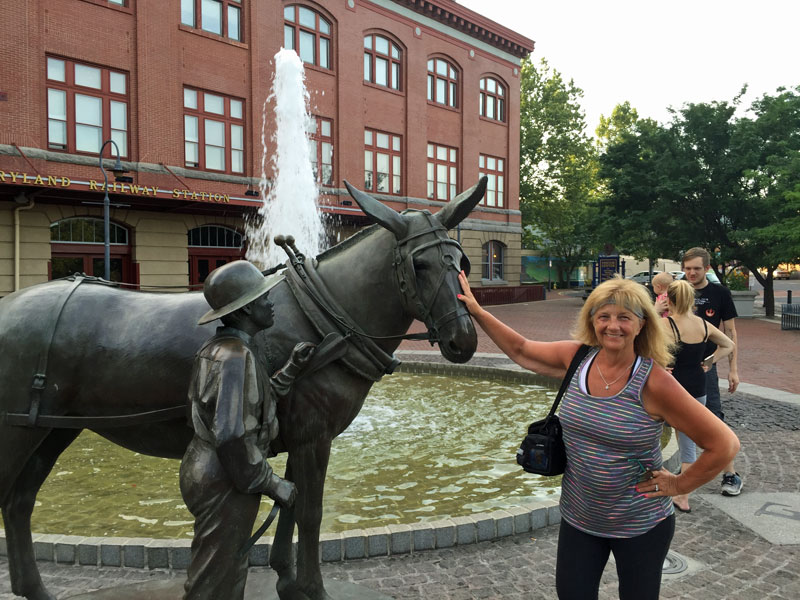 Since tomorrow is going to be our longest ride and we'll be in a pretty desolate area, we ordered wraps at a deli in Cumberland to be packed up for our lunch. We'll also grab some extra fruit from the breakfast buffet at the hotel in the morning.
Tomorrow we start riding on the C&O Canal Towpath towards DC.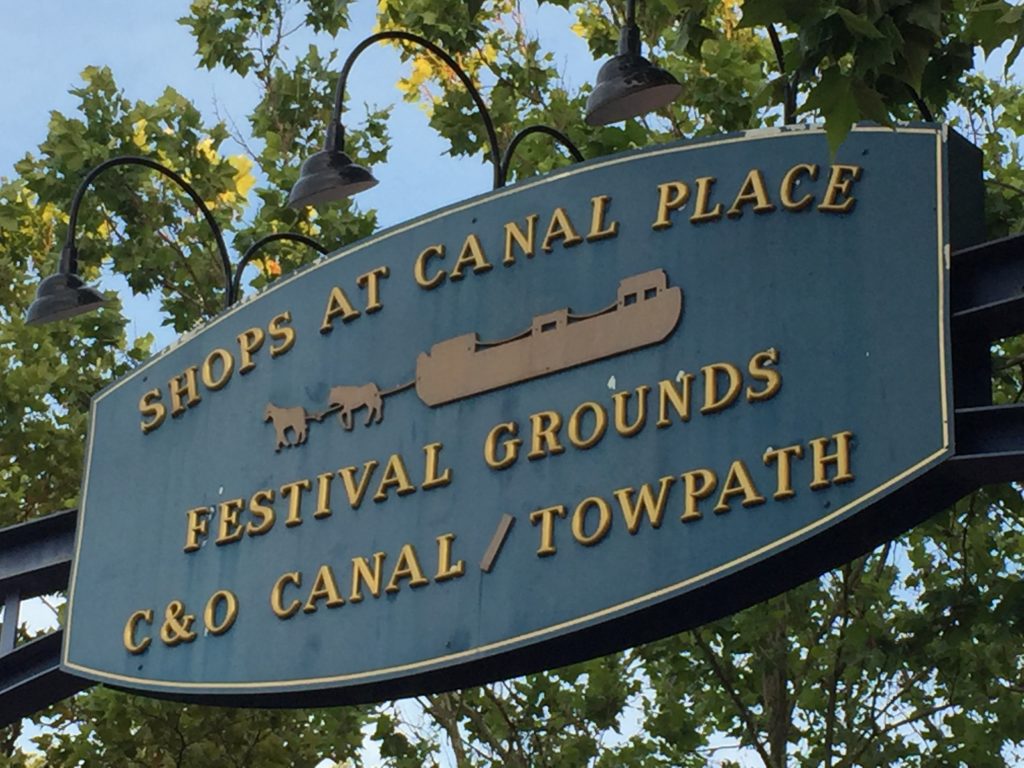 We have a couple of long rides ahead of us so I'm not sure I'll be able to post here right away. If not, I will definitely write as soon as time allows and I will be updating on my Facebook page throughout the trip!
(update, I'm home and updating these posts!)
Read all about Day 6 – our first day on the C & O Canal Towpath!