Knowing that today was going to be our longest ride, we woke up early to eat breakfast, pick up lunch, and hit the dusty trail by 9:00 am. I was excited for today's adventure. We have been on a few different small sections of the C & O Canal Towpath, but we have not yet been through the Paw Paw Tunnel. I have read and watch videos about it but couldn't wait to see it for myself.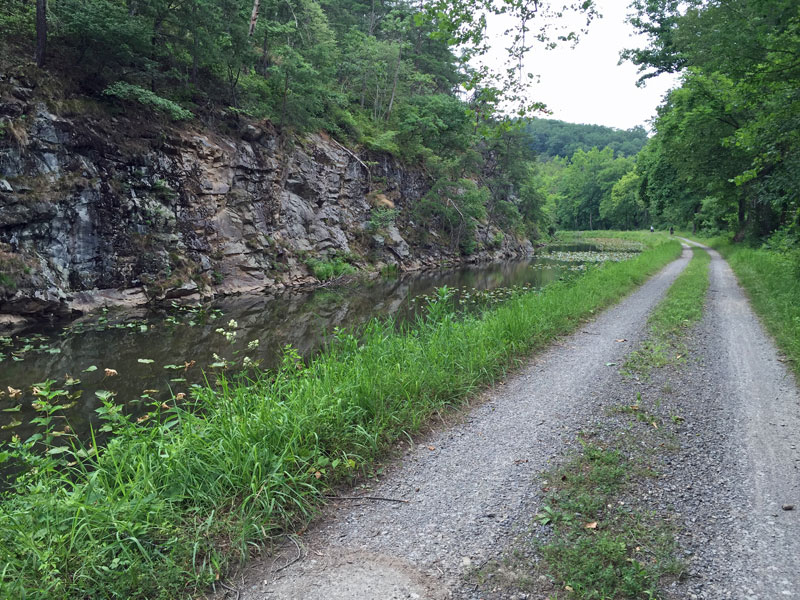 But we had a few miles to pedal before we got to the Paw Paw. And they all looked a lot like this.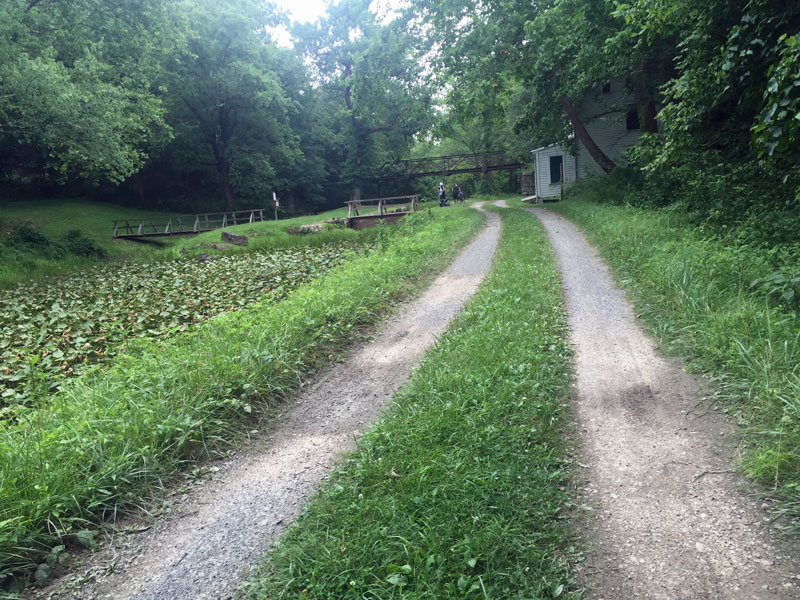 And this.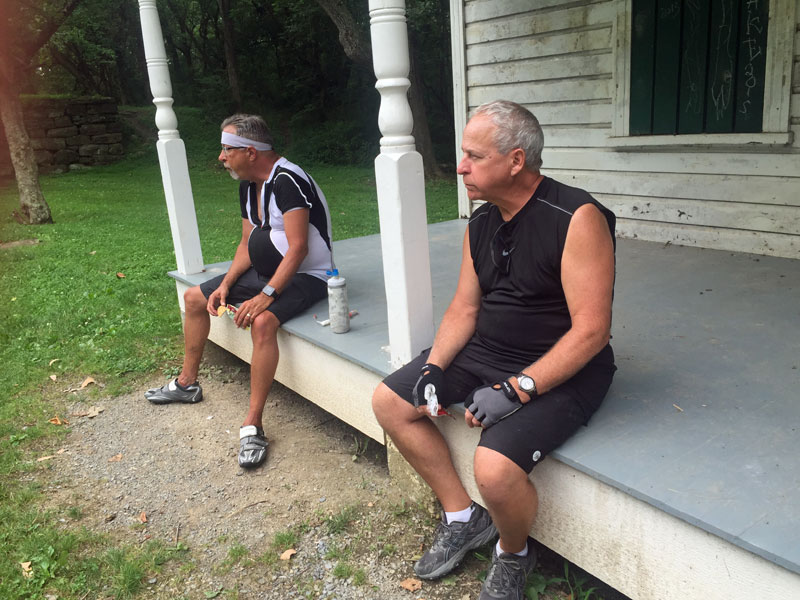 We stopped for a mid-morning break on the front porch of this lock house.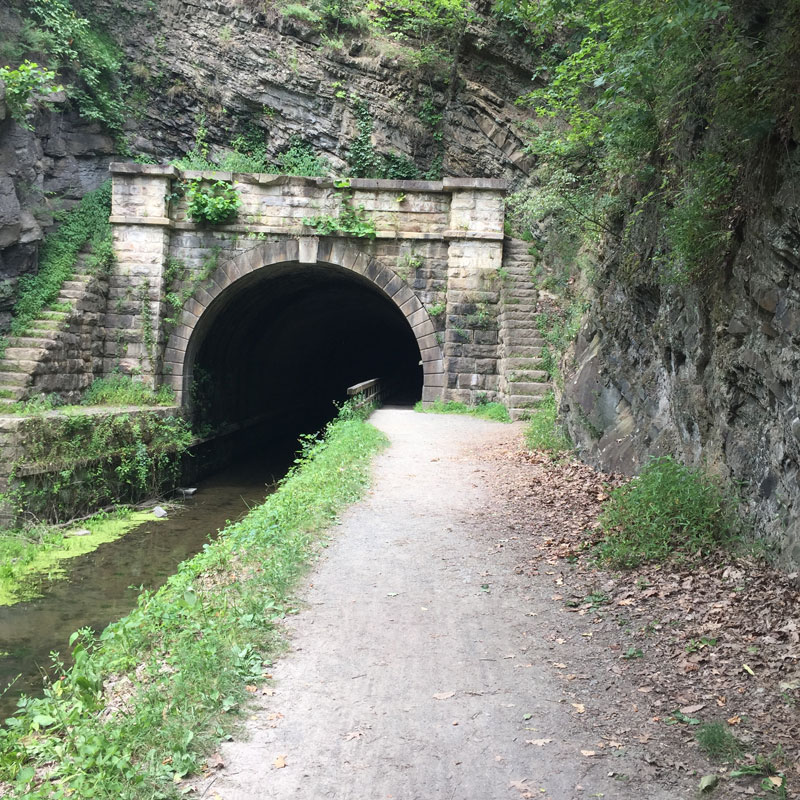 Then after lunch we were there: The Paw Paw Tunnel!!! I was so excited! Because the tunnel is so old, unlit, and long at over half a mile, you have to walk your bikes through it with bike lights and flashlights turned on.
Here's the video of our walk through the tunnel:
I've heard stories of young guys who thought they were too tough to walk their bikes through and came out bloody at the other end. I now know why! The path is extremely bumpy and uneven. Not to mention pitch dark in there! There's just an old wooden railing keeping you from falling into the canal below.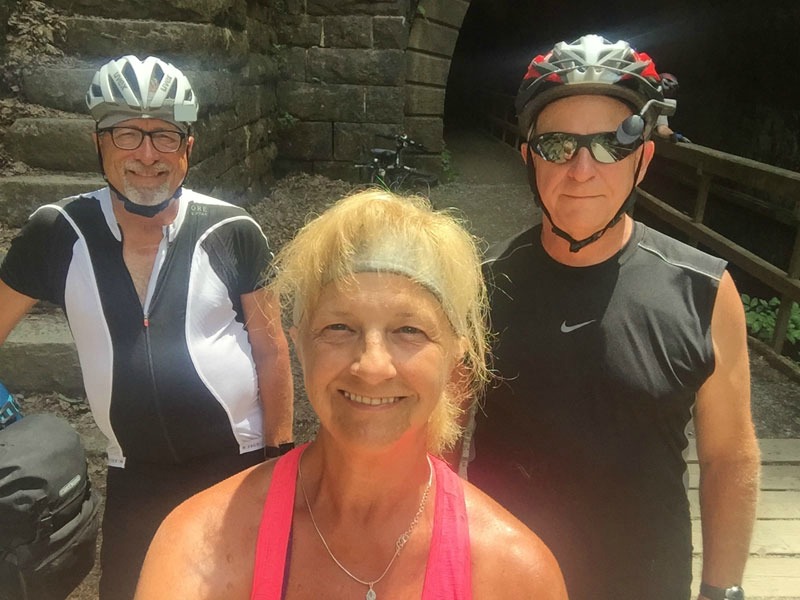 We took our time and pushed our bikes through the Paw Paw Tunnel and came out unscathed ; ) It took longer than I thought it would to walk through it since it was so dark!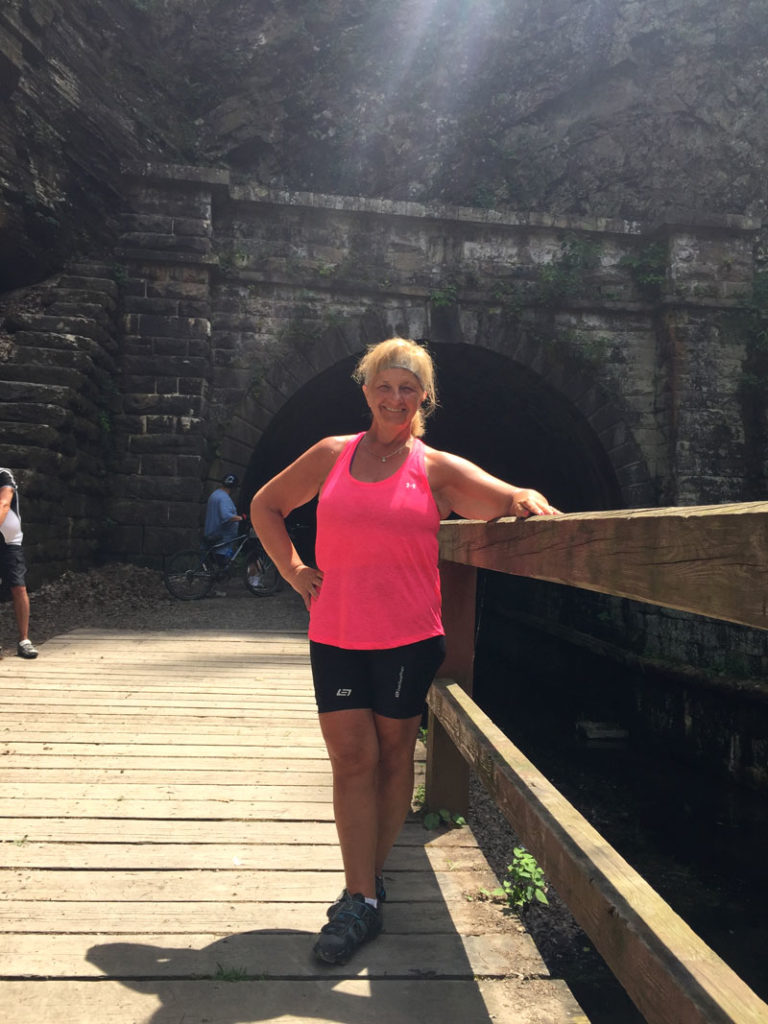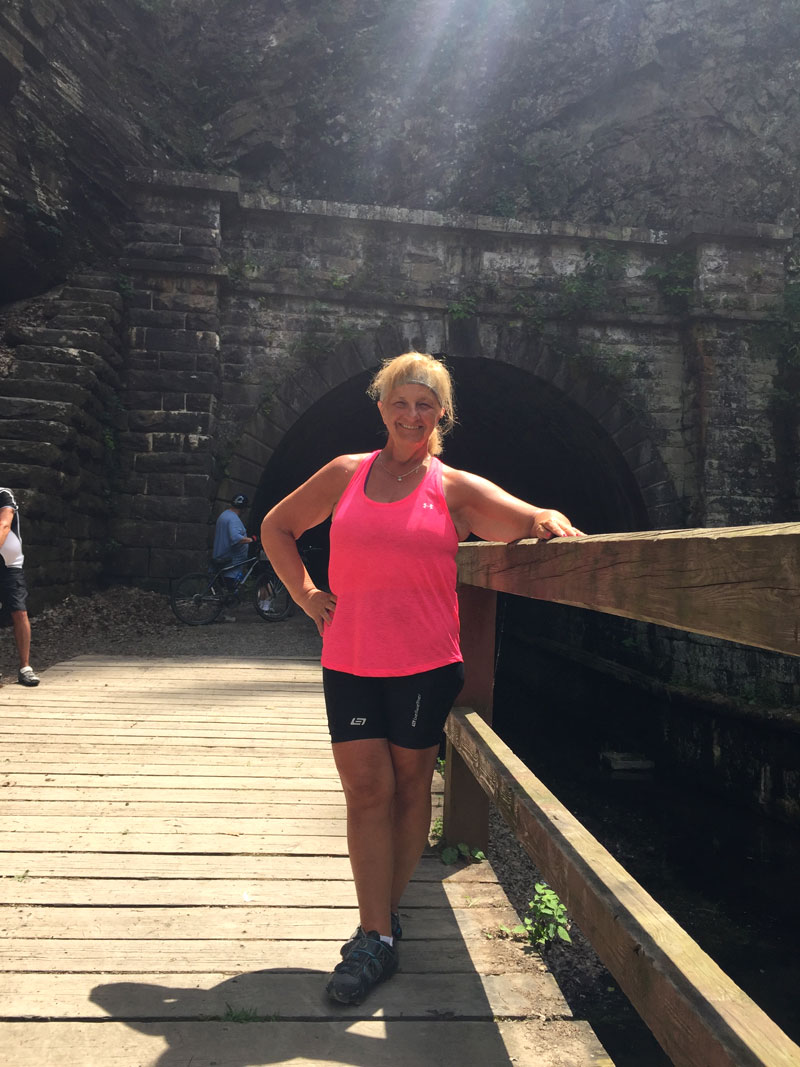 On the other side is a wooden boardwalk that gets very narrow and bumpy. I decided to walk my bike through this section also. I had no desire to fall into the canal water.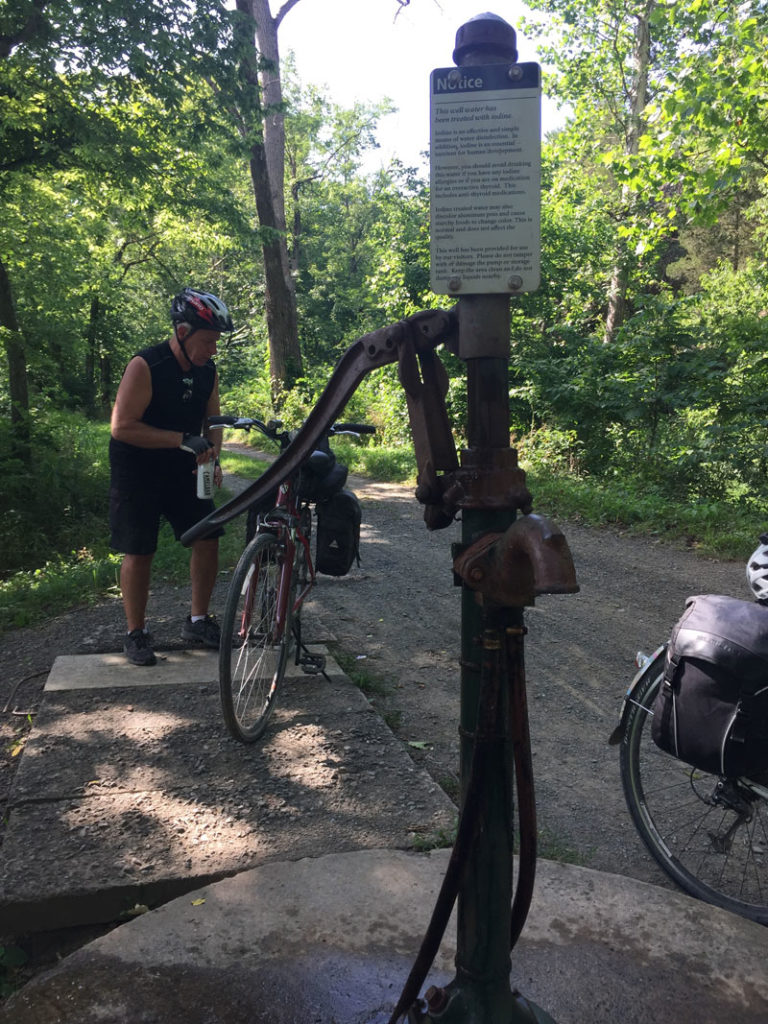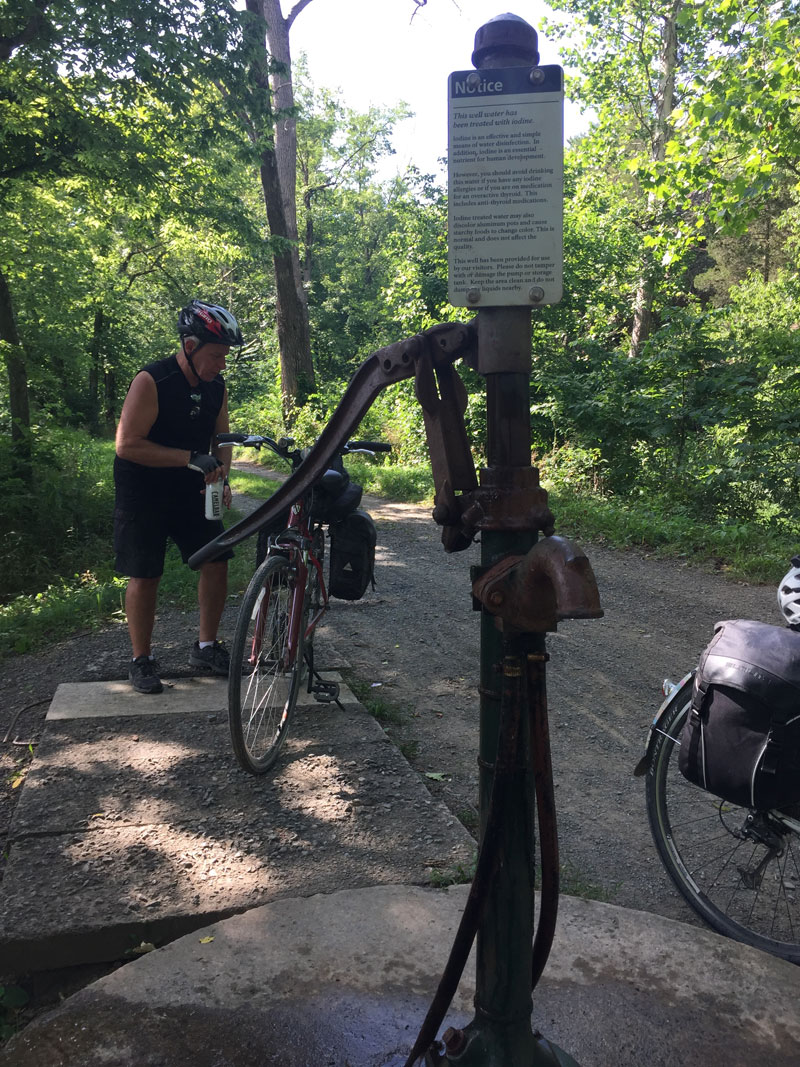 And speaking of water, our biggest concern was having enough water with us to drink. We even bought extra insulated bottles with us but since it was so stinkin' hot and humid we ran out and had to resort to using the iodine-treated well water. Even with adding flavoring, we could still taste the iodine.
About every five or six miles on the towpath you will see a biker/hiker camp site. The campsites are beautiful. They each have a fire ring, an outhouse (the cleanest outhouses I've ever seen and I'm pretty fussy about that kind of thing), a picnic table, and several spots to pitch a tent. They each also have a water pump nearby with the iodine-treated water. You can see one of the campsites above behind Dan's bike.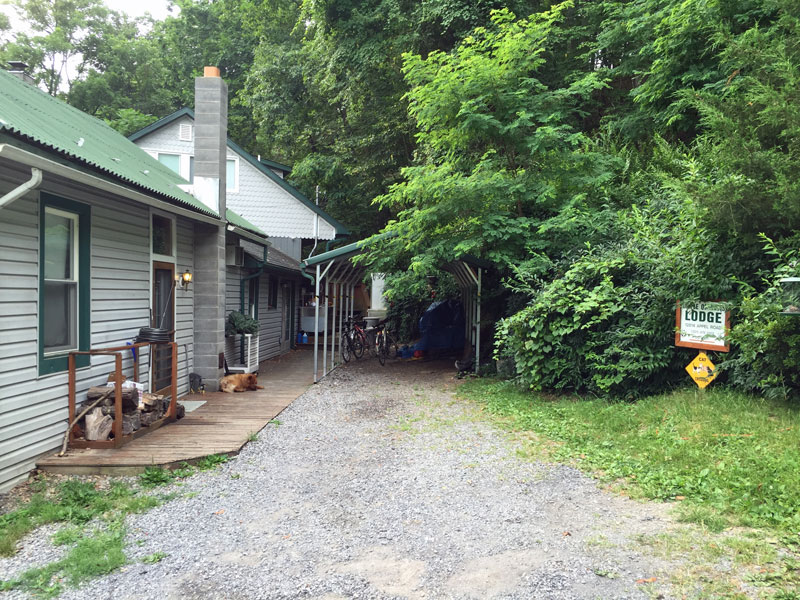 There are very few places to spend the night in this section of the trail unless you are camping. We were not. I made reservations to stay at a place called Little Orleans Lodge. I was skeptical because they describe themselves as rustic. It turns out that "rustic" can also mean dirty and messy. Which is what this place is. Oh well.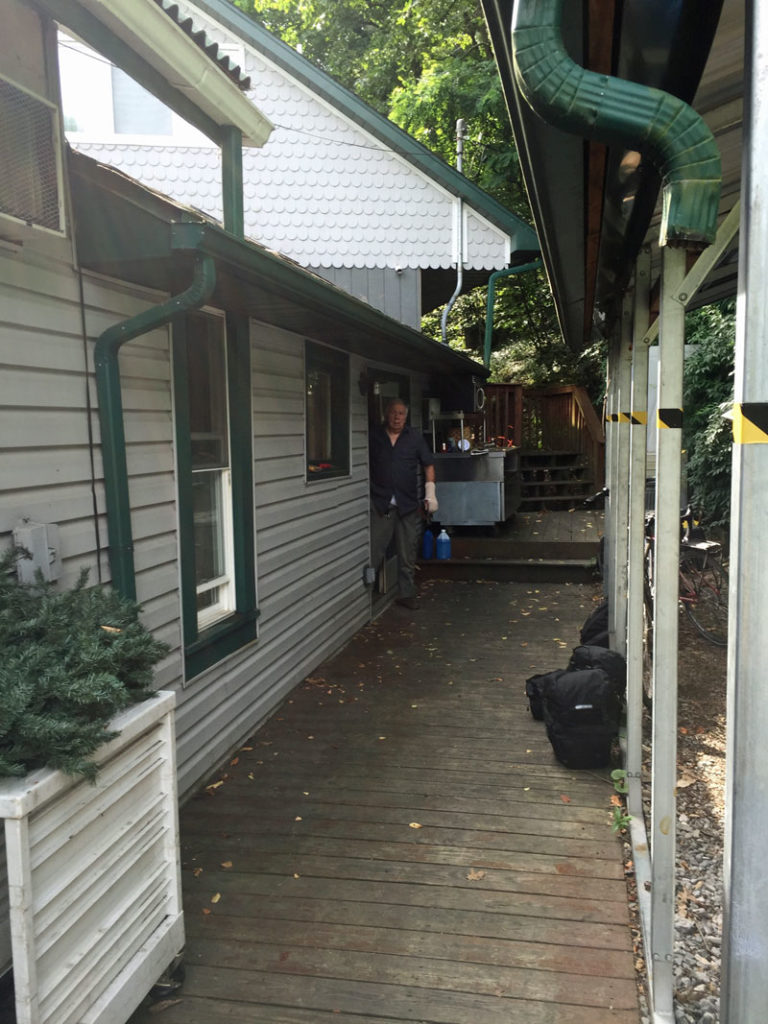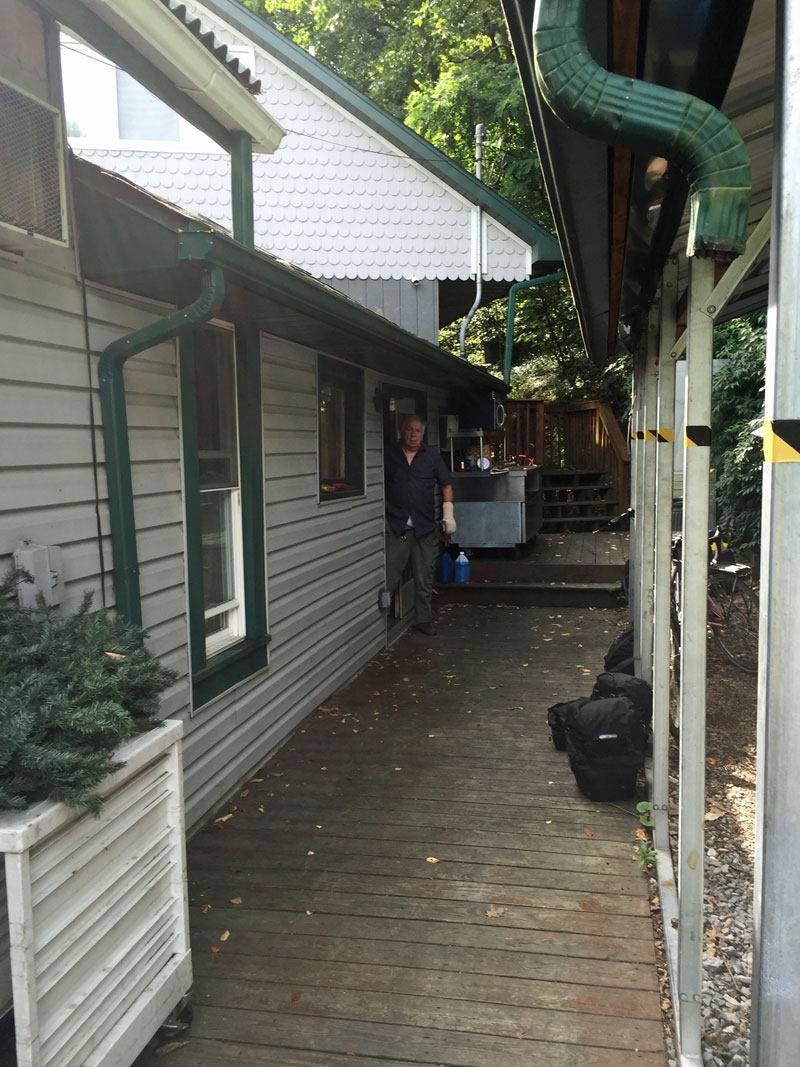 The man that owns it (Steve) was very nice. And very old. He really should not be running an inn. It's obviously too much for him to handle. But from what I learned he is a very nice fellow, very knowledgeable, and he loves having guests. That's all great, but he should have a capable assistant. And a full time maid!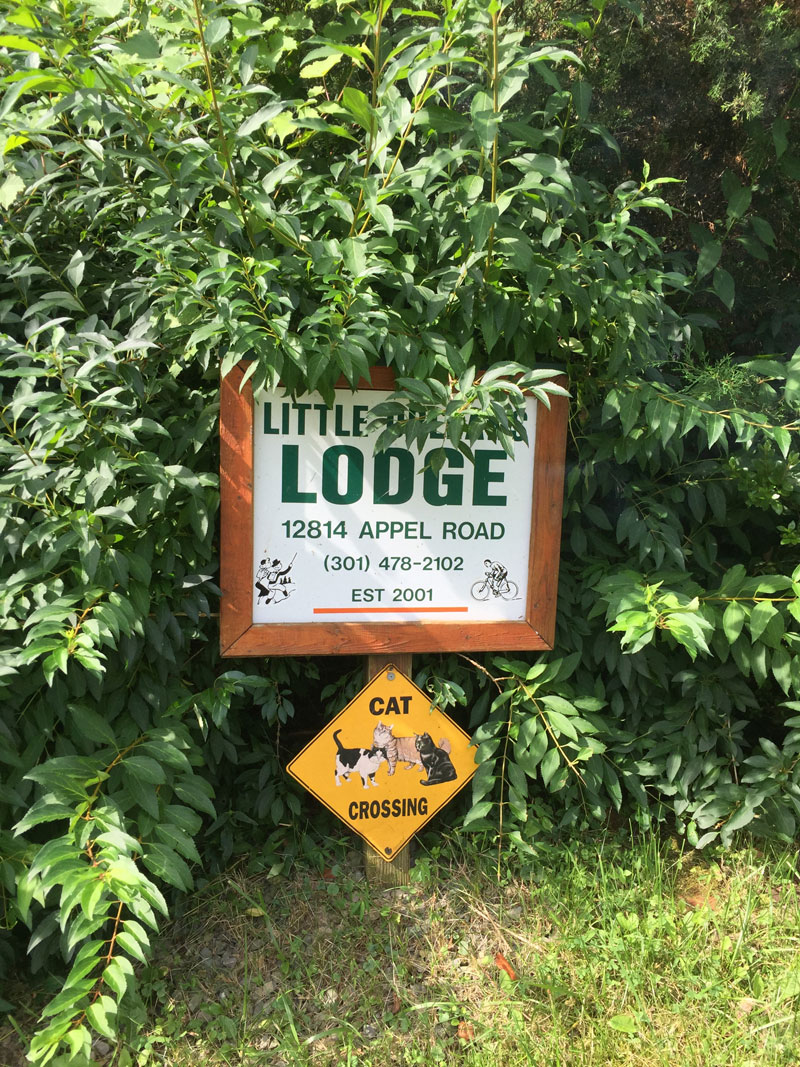 I think the cat crossing was in our room – the rug was covered with cat hair! But the bathroom and the bedding appeared to be clean so there was that. Since Steve had recently broken his arm, he called on a friend of his to be his "helper" while we were there. "FT" cooked breakfast for us. It took about two hours for breakfast to be ready. ; ) Oh my – it was barely edible.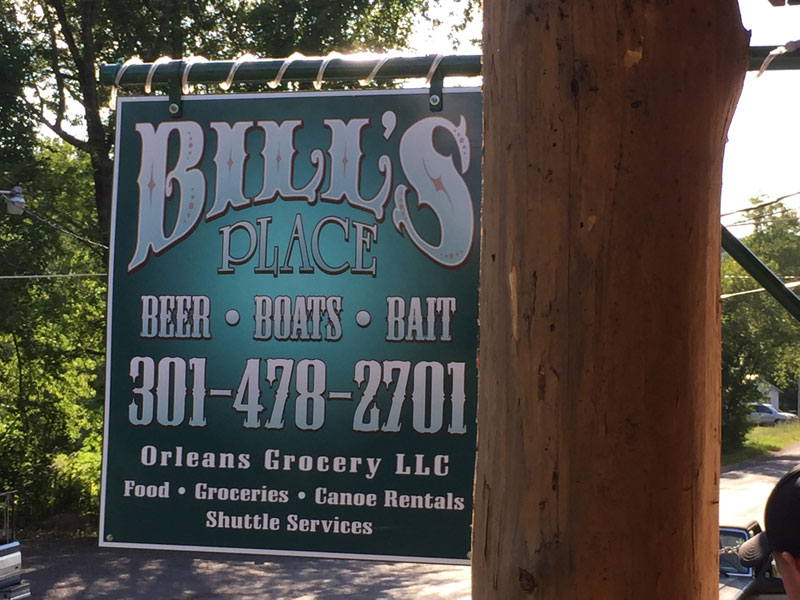 One highlight of this stay was our dinner at Bill's Place. Bill's Place is unique and anyone that has ridden the towpath is familiar with it. The sign above says it all! For dinner I had a cheeseburger with fries for $3.50!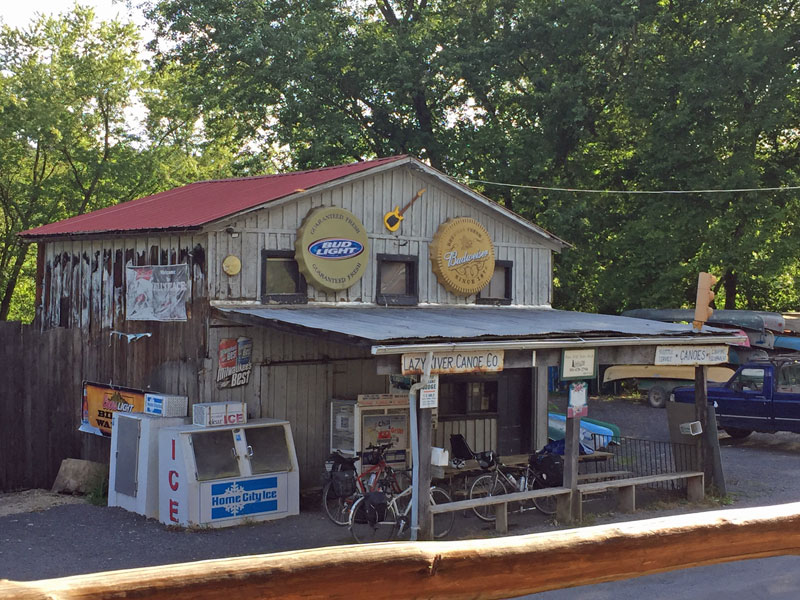 Everyone that we encountered in this little town of Little Orleans was very nice. Steve took us for a ride in the morning before we left. He said we needed to see the view.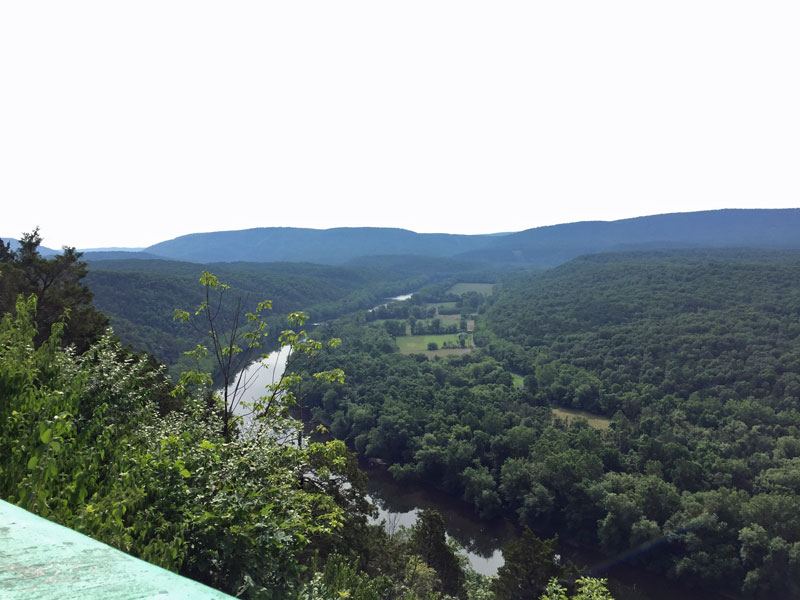 He was right. We DID need to see this spectacular view. It is way better in person. There are no signs leading to this overlook. Only the locals know about it. We were lucky enough to have a local named Steve (yes our innkeeper) take us to it. Thank you Steve! It was a pleasure and an honor to meet you.
Thank you for riding along virtually on our bicycle trip from Pittsburgh to DC. Please click on the days to catch up: Day 1, Day 2, Day 3, Day 4, & Day 5.
Tomorrow is another long ride to Williamsport, Maryland where we will be staying at the Candlelight Inn B&B. See you there for Day 7!