Remember the window seat that I recently made? As promised, here is the tutorial Tips for Making a Box Cushion Cover with Piping. I had never made one of these box cushion covers before but it was really rather easy.

Tips & Steps for Making a Box Cushion Cover with Piping
Step 1 – Fabric
Tip #1 Use "unconventional" fabric
The first thing I did was find the fabric. While I was at HomeGoods buying the pillows and throws, I went back to the bathroom accessories aisle and looked through the shower curtains. Shower curtains and tablecloths are two excellent fabric sources. I found a shower curtain that I liked and luckily there were two of them.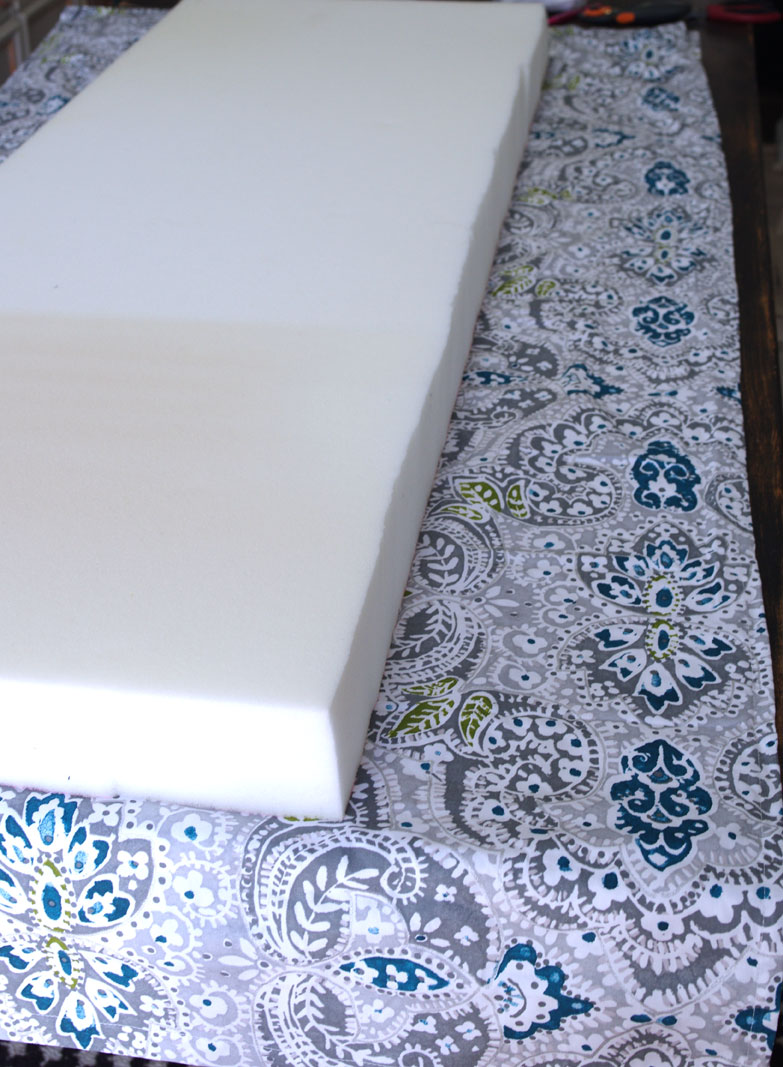 The first thing I did was to open up the shower curtain and place the cushion over it to be sure it was big enough. It certainly was. At first I thought I could get away with one shower curtain but in the end, I couldn't.
(By the way, the actual cushion itself is cut from 3″ foam that I ordered from Home Depot. After shopping around, I found it was the cheapest place to get it and it can be shipped to your local Home Depot for free!) The foam was super easy to cut with this electric knife.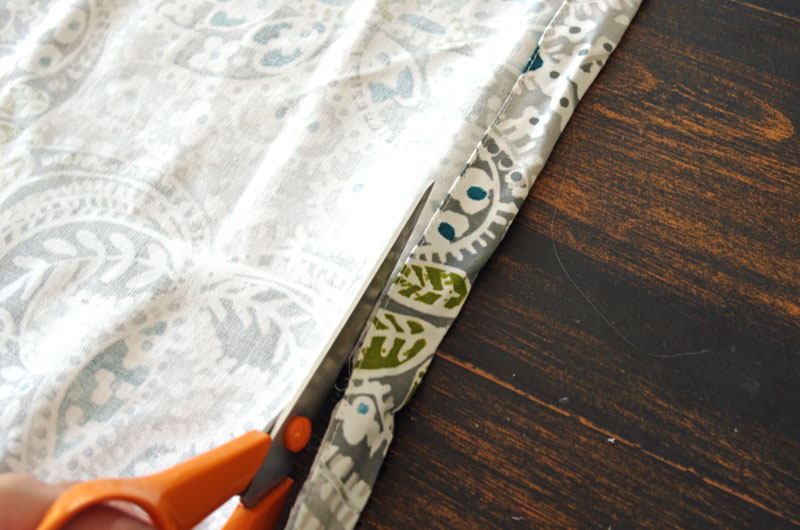 But there was plenty of fabric so I could just trim away the hemmed edges instead of opening up the hems. This was a huge time saver.
The next step was to make the piping. (While I did have fabric left over, there wasn't enough to make the piping. Instead I bought solid gray in a heavy cotton that matched the background in the shower curtain.)
Step 2 – Piping
Tip #2 Make piping the "easy" way
I found this wonderful piping tutorial from Addicted 2 Decorating. I followed that tutorial exactly so I'll just post a photo of my piping.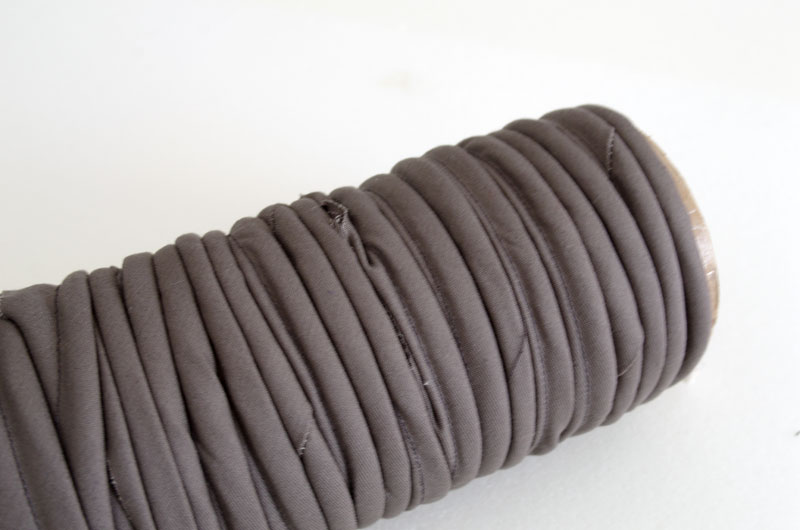 I was so pleased with this tutorial and how nice my bias cut piping turned out!
Step 3 – Cut fabric
You will need three pieces for each cushion cover:
top
edge
bottom
Tip #3 Cut fabric 1″ larger than cushion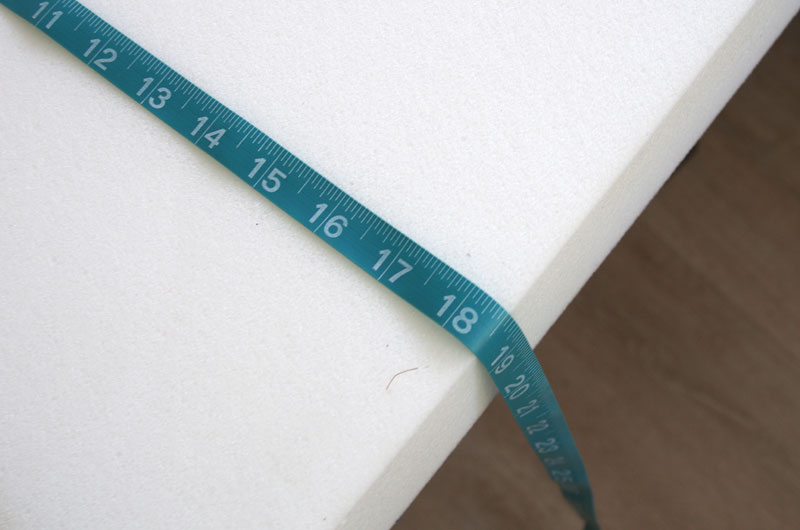 My cushions were 18-1/2″ wide by 55″ long. I cut my top and bottom pieces at 19-1/2″ wide x 56″ long. This extra inch allows for 1/2″ seam allowances.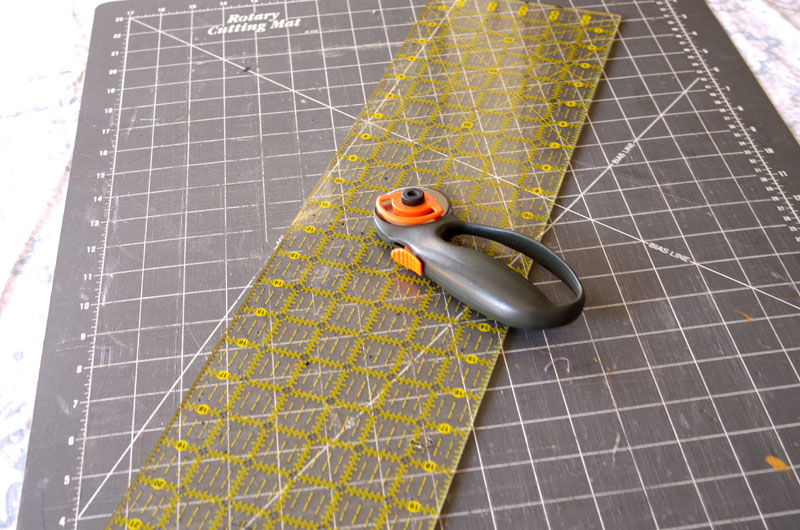 Any time I can, I cut fabric using a rotary cutter, cutting mat, and acrylic cutting ruler. Me, my left-handedness, and scissors do not make a good combination for cutting a straight edge ?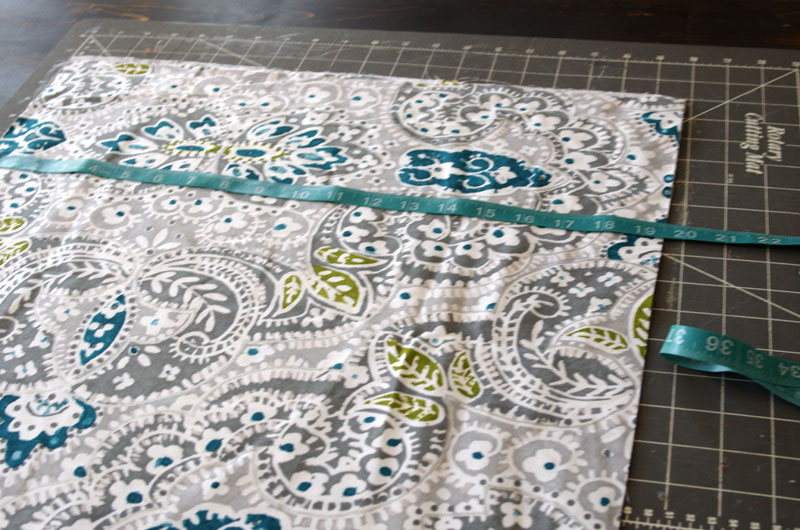 Next I measured the depth of the cushion and added an inch. This is how wide I cut the edge pieces. I sewed enough of these pieces together to form one long piece, equal to the perimeter of my cushion plus one inch for the seam allowance.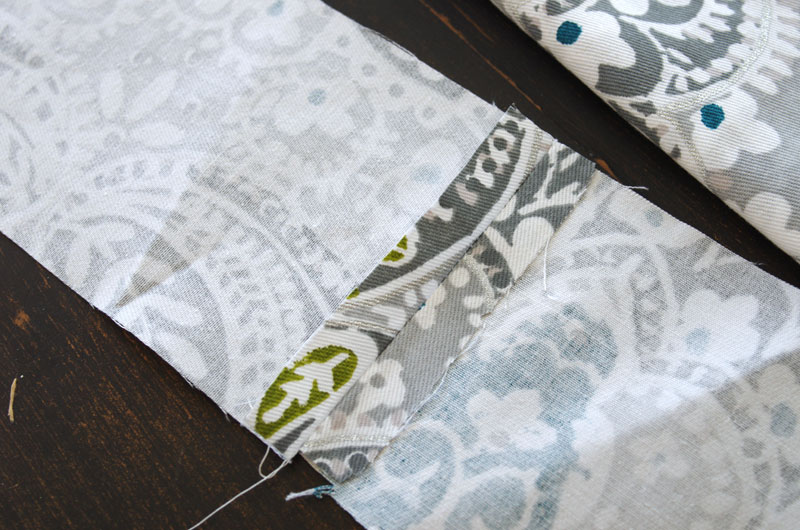 Step 4 – Make a sandwich & stitch
No, not that kind of sandwich ?.
With right sides together, I pinned the top piece to the edge piece with the piping sandwiched in between.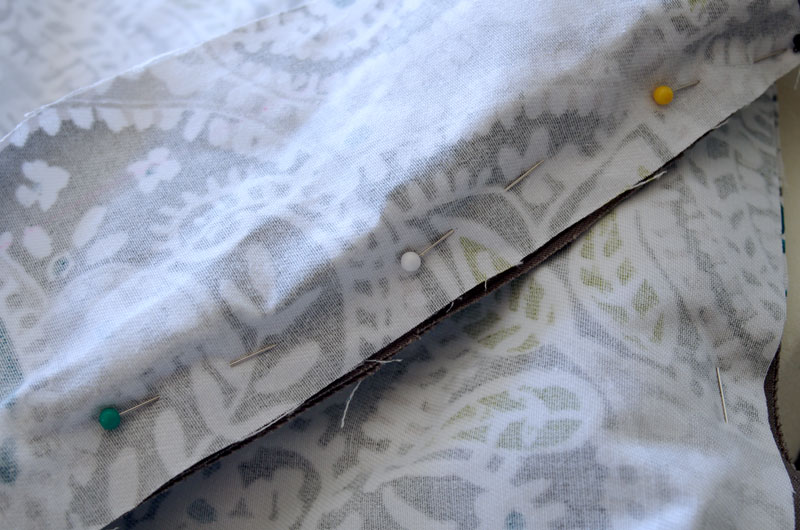 I stitched together using 1/2″ seam allowance the whole way around, rounding at the corners.
When I was finished, I turned the fabric and saw this: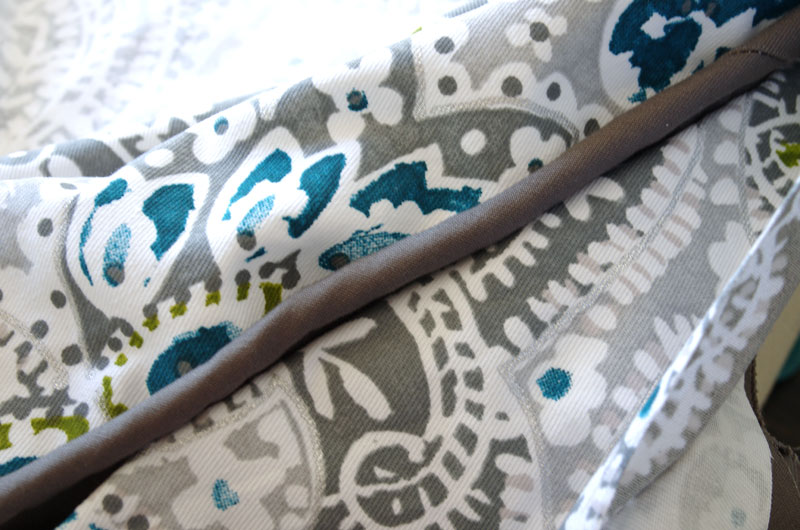 Yay! It worked!
Now I had to sew on the bottom. That meant it was time to make another fabric sandwich and stitch again. But this time, I left a rather large opening on one of the long sides for ease of turning and inserting the cushion.
Since I opted NOT to install a zipper this time (maybe another time), I had to insert my cushion and then hand sew the cover closed.
Which leads me to the last tip:
Tip #4 Wrap cushion with plastic wrap
I'm serious!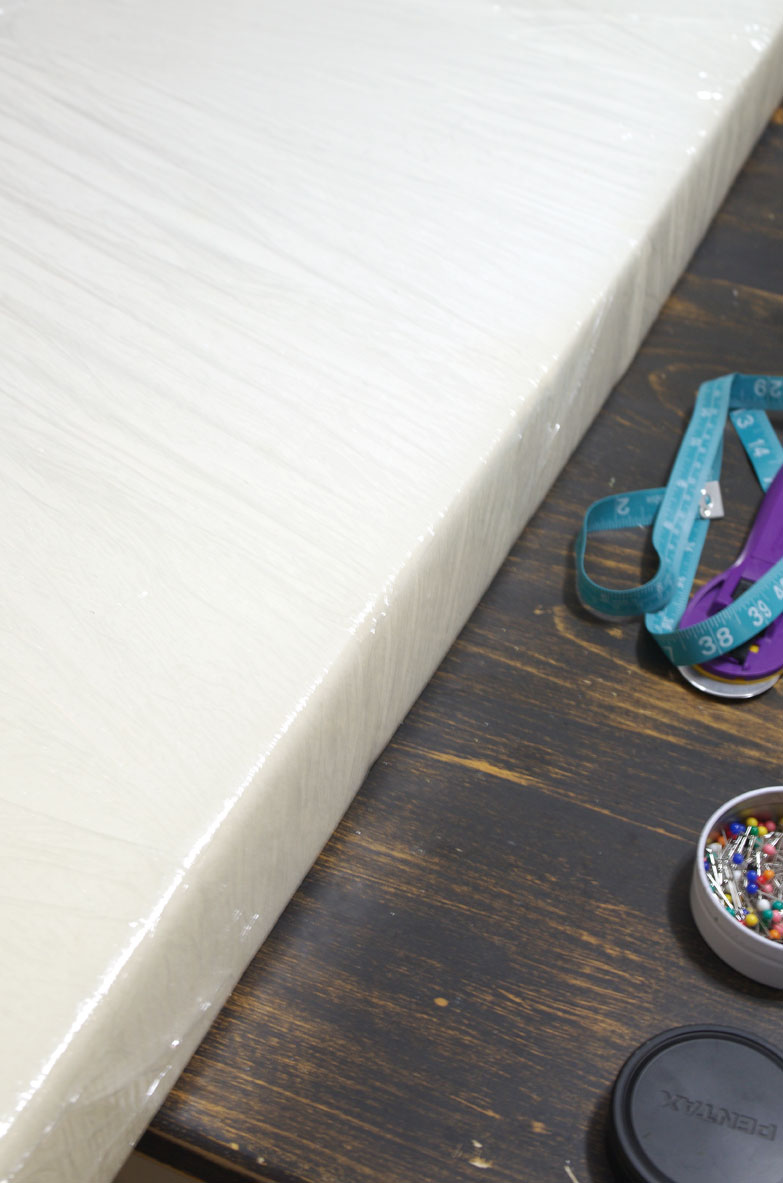 It's pretty near impossible to get the cover on the cushion without it. Go ahead. Try. See? What a difference.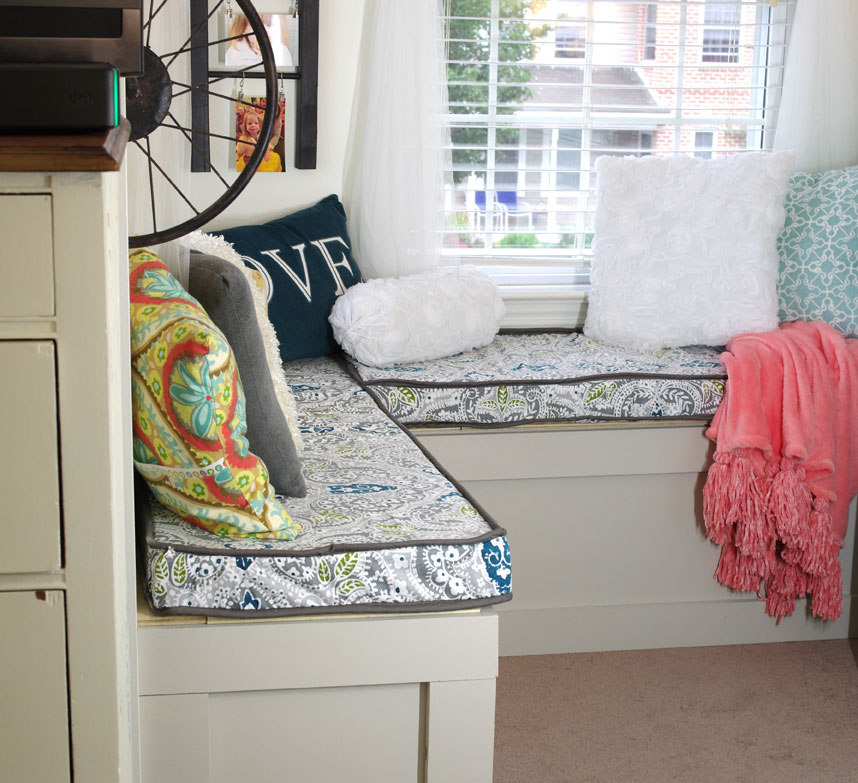 I am pleased with how these cushion covers turned out. I really like that I didn't spend a ton of money on expensive fabric for them. Now I won't feel guilty when I tire of this fabric and want to change them out. I'm already thinking ahead to Christmas decorating!