Have you asked yourself this question? Should you paint yourself or hire someone?
I have certainly painted my share of rooms over the year. In fact I never paid someone to paint a room for me.
Until now.
We are a week into the One Room Challenge® already and it's time for the Week Two update. (As mentioned last week, I started this challenge in April but had to drop out due to medical reasons. Now I'm back to finish this room!)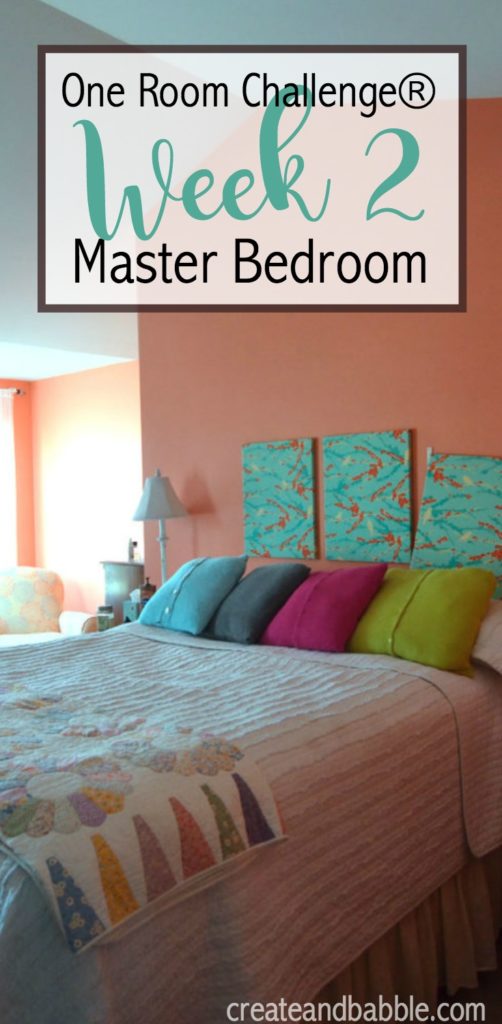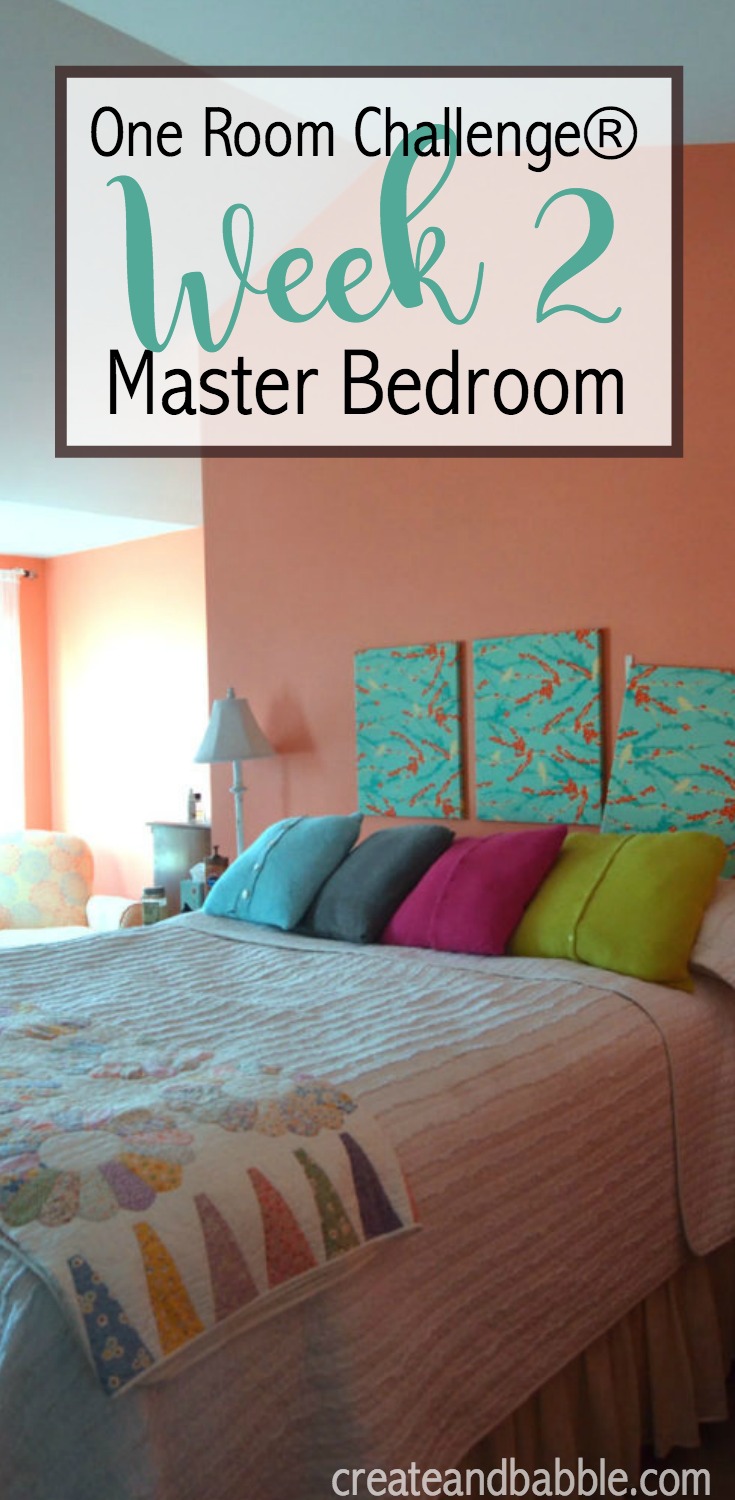 Once again, a huge thank you to
Linda from Call It Home for hosting the One Room Challenge®
.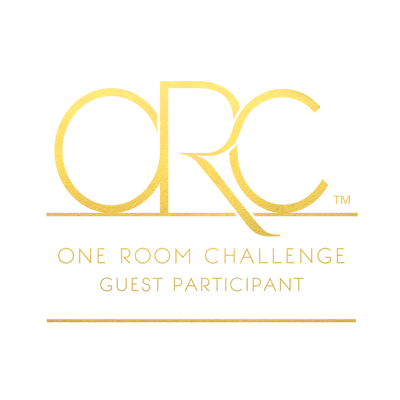 By now you're probably familiar with my orange bedroom. If not, let me remind you.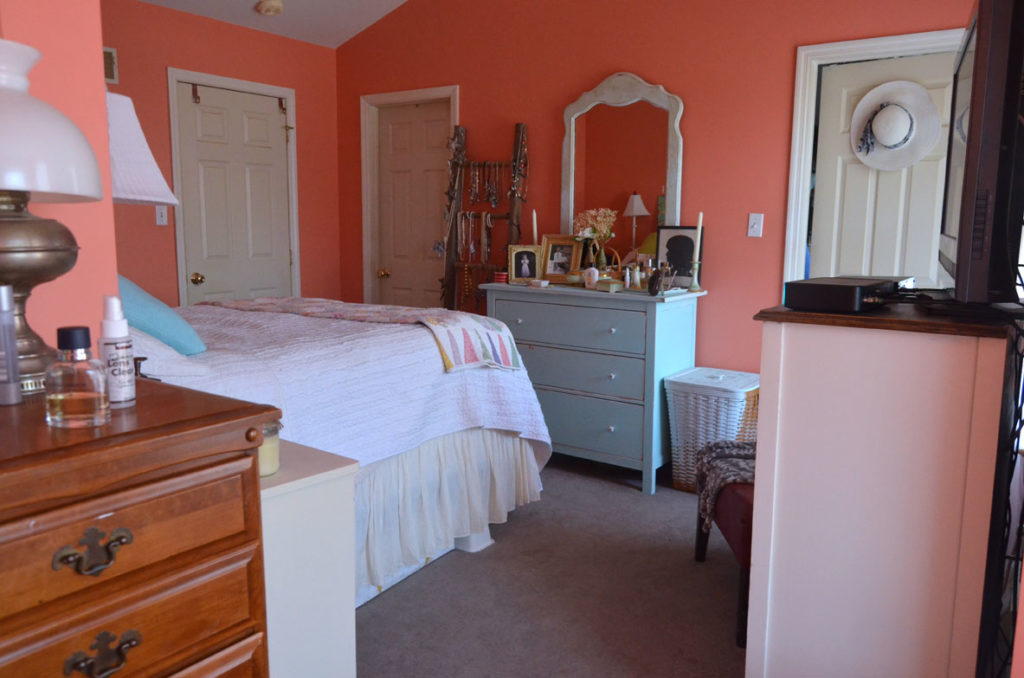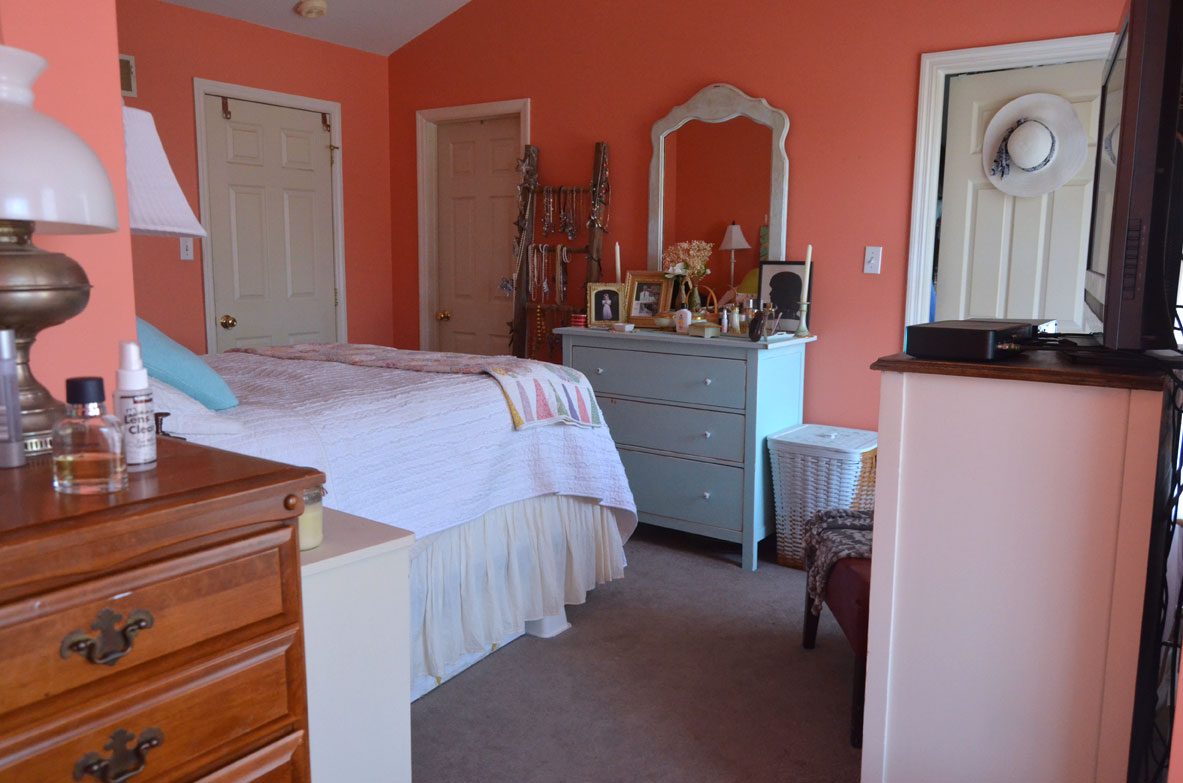 I know what you may be thinking: how in the world did she live with this color since 2008????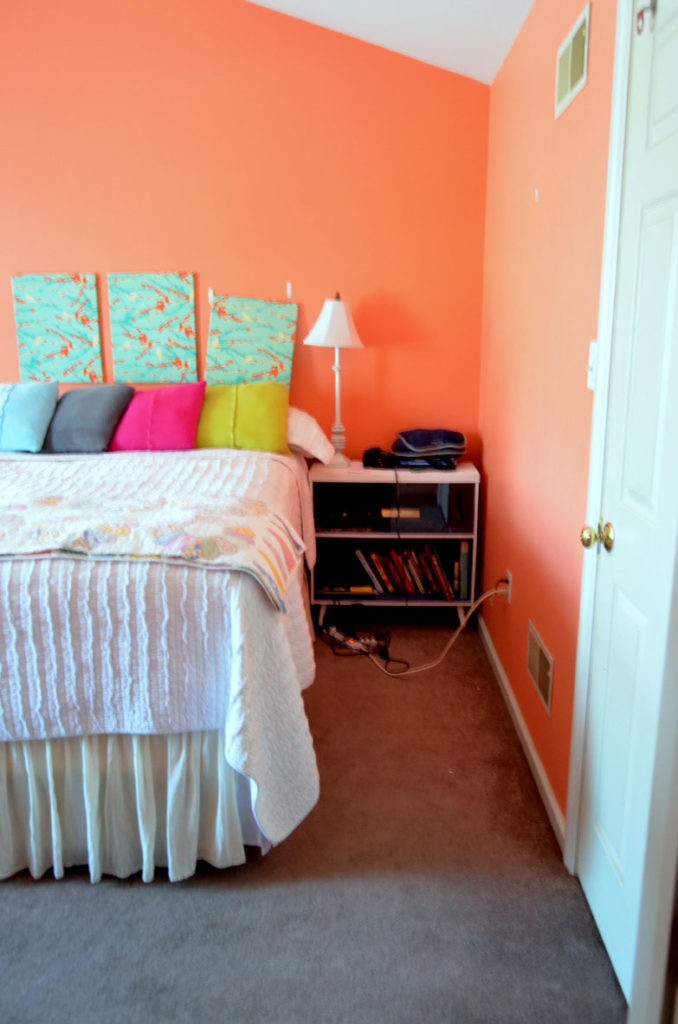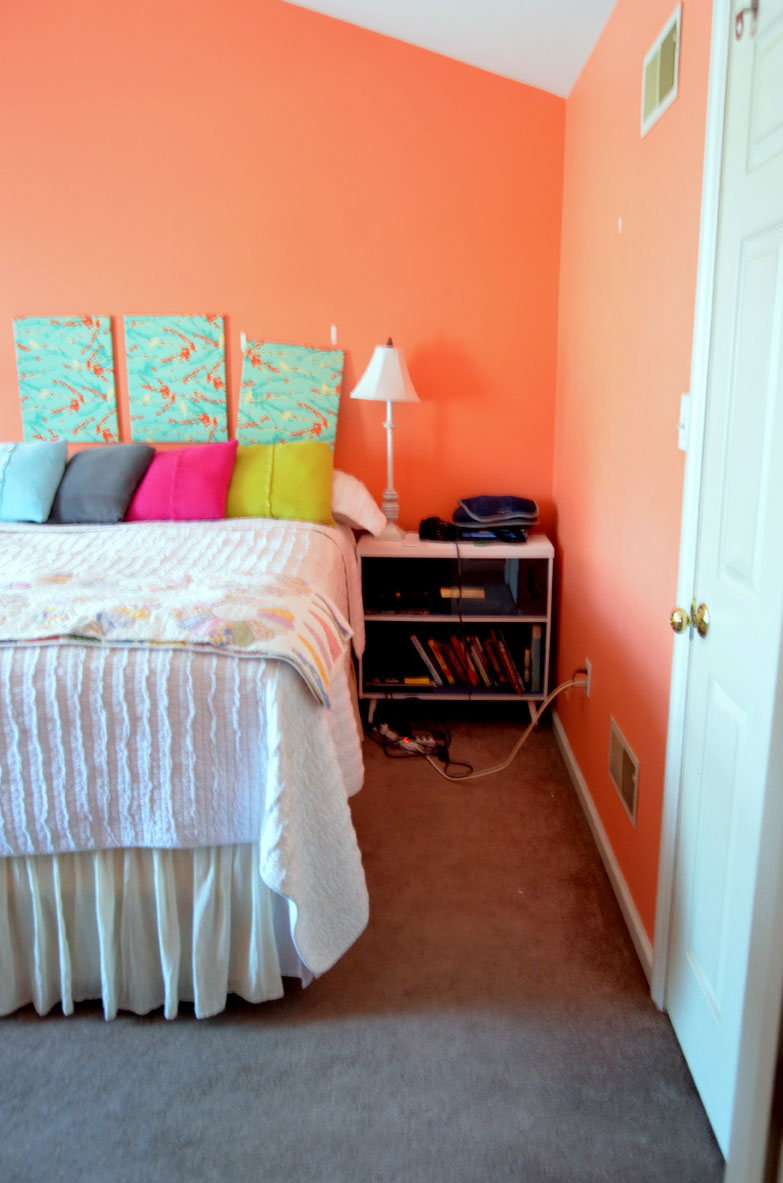 Good question! I just did.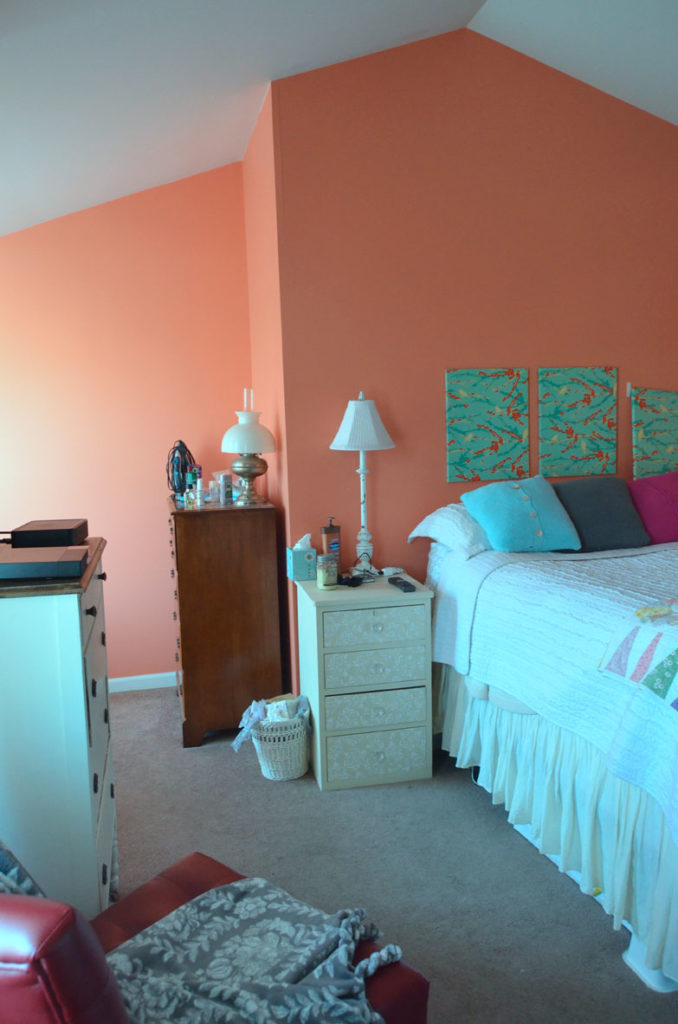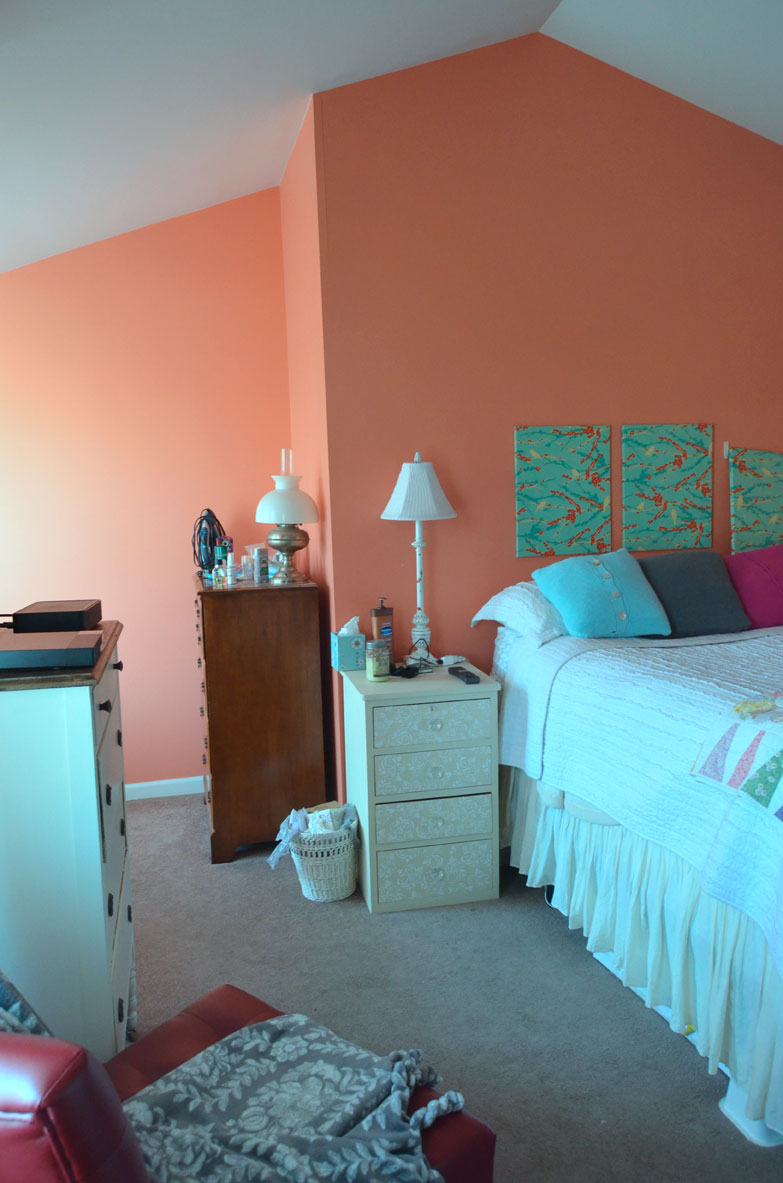 I think I just became "immune" to it.
So task numero uno was getting the room painted. And who was going to paint it? Me??? I think not. Did you see how tall that wall is above??? There's no way I can paint that. I don't even own a ladder tall enough for that job. Hubby? No way. He's busy with working 10 – 12 hours days.
So I asked around and found out about Thumbtack. Have you heard of it? It's like a Craig's Lists for hiring someone to do just about anything.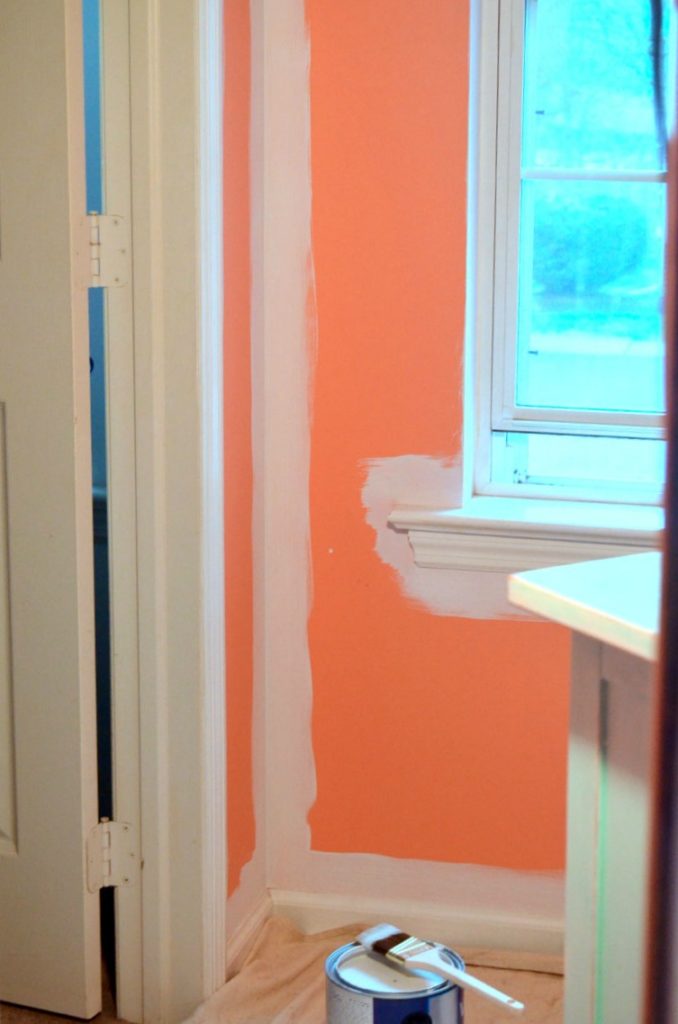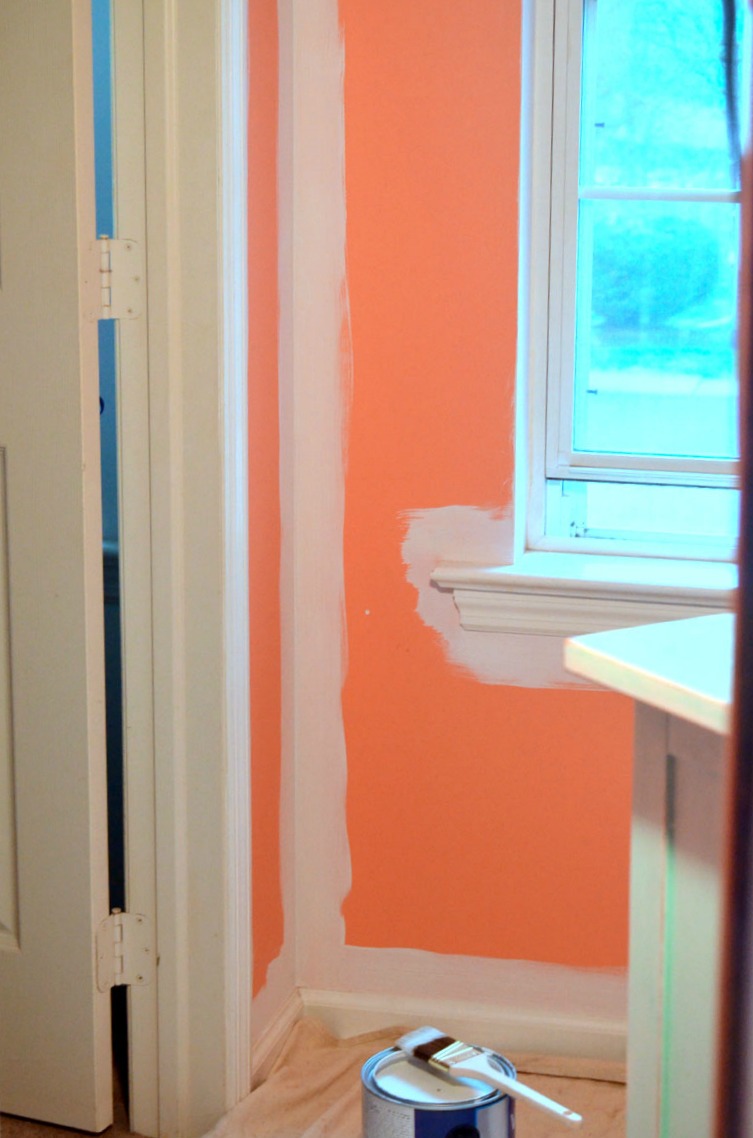 So that's how I found Derek. Derek agreed to paint the walls for me (which included one coat of primer and two coats of paint) for $200! The ceiling is still in good shape and didn't need painted and I'll paint the window trim, doors, and door trim myself to save $$$.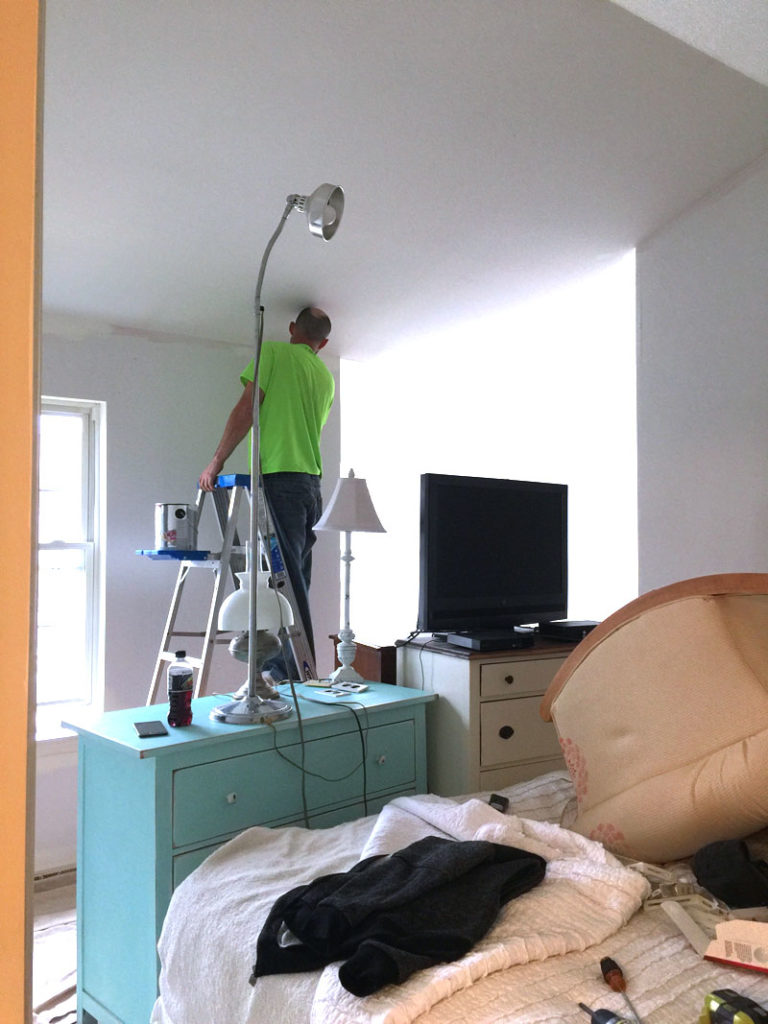 Derek was wonderful. I couldn't believe how fast he got three coats of paint on these walls in less than 8 hours! It would have taken me weeks!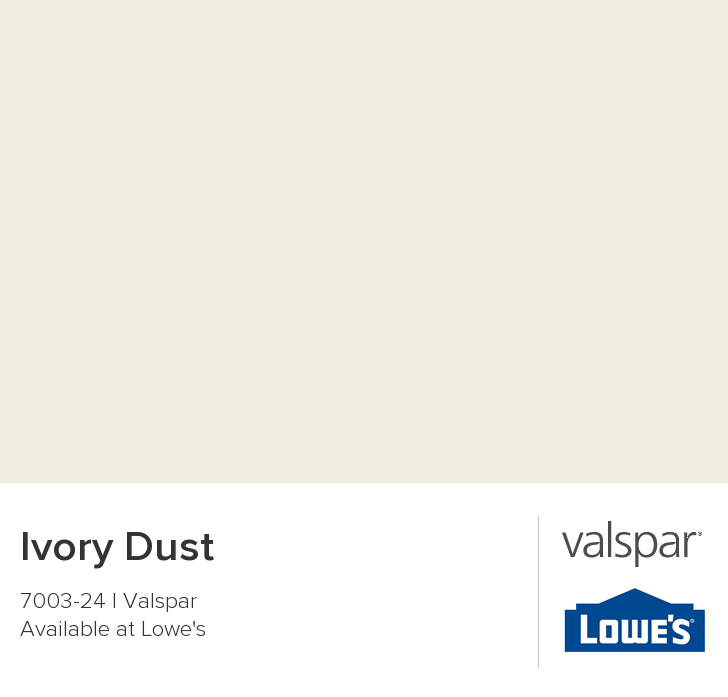 I chose to use a color called Ivory Dust by Valspar and I love it. It's a soft, pretty off-white that's perfect for a bedroom. After all of those years of living with orange I wanted a soft, soothing color.
When Derek was done painting, I just couldn't get over how much bigger the room looked! Ahhh, the magic of paint!
AND MY BEDROOM IS NO LONGER ORANGE!!!!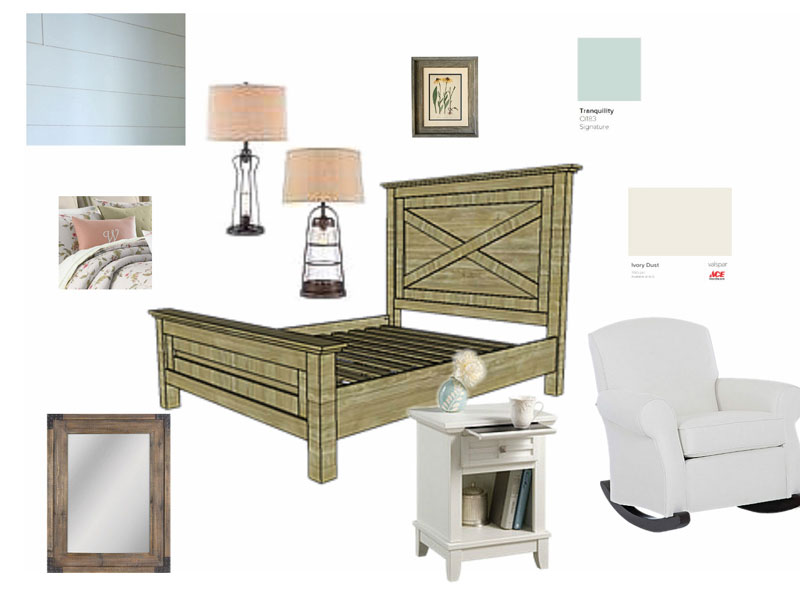 So what's next for this room makeover? The furniture.
The Bed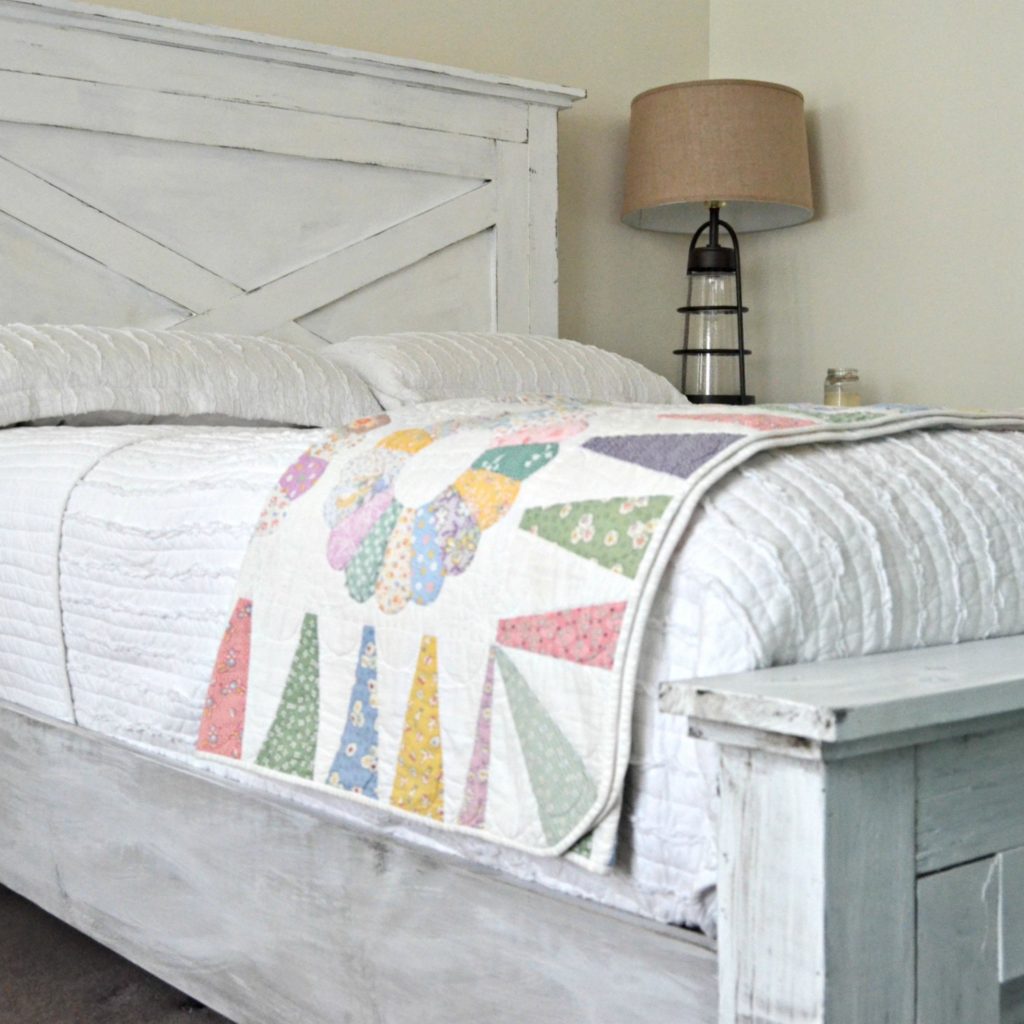 Here is the bed. It's a beautiful farmhouse bed that I designed and built. You can see the full instructions and get the free plans over on RYOBI Nation.
The Chair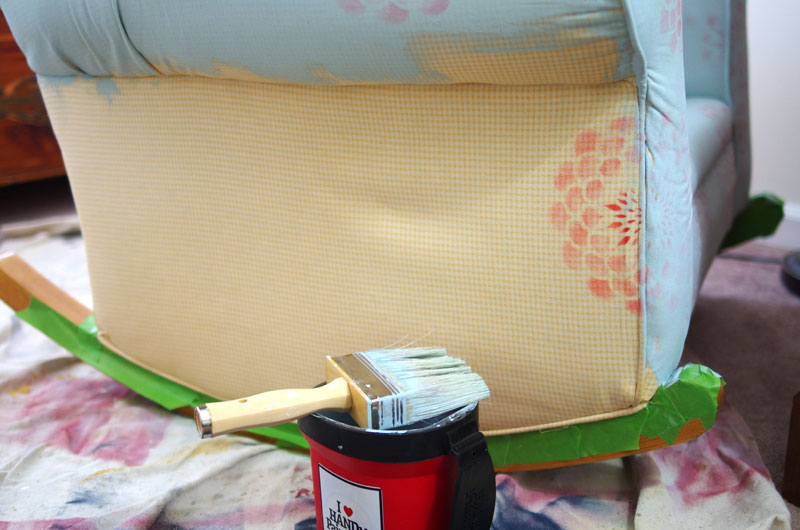 The upholstered rocking chair got rid of it's orange too!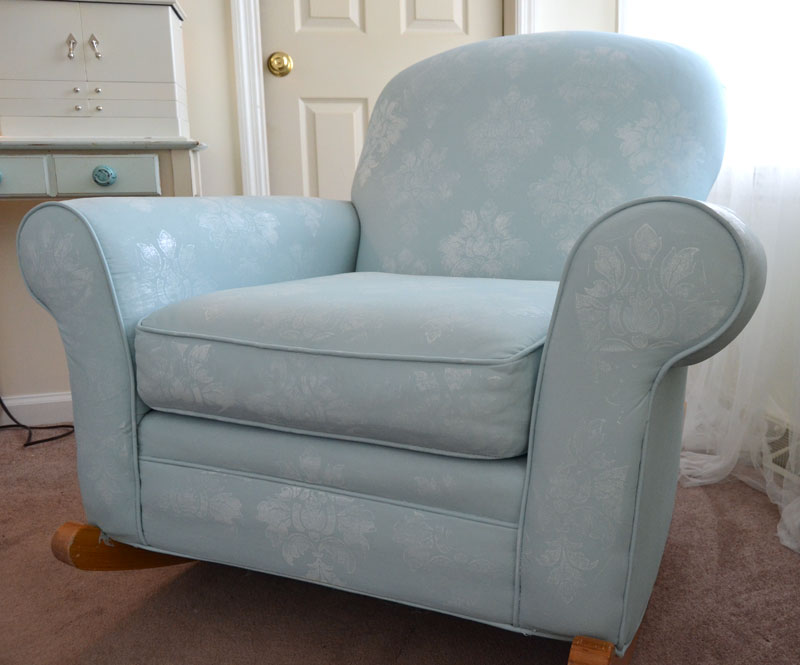 Much better, dontcha think? Yup, I painted it. Have you tried that yet? It's my first attempt at painting upholstered furniture. You can read about how I did it, my tips, and how I feel about it here.
Week Two Progress
THE PLAN (in no particular order):
Get rid of the orange!
Build two side tables to coordinate with bed
Find two farmhouse style table lamps and a coordinating floor lamp
Paint the upholstered rocking chair
New bedding
Build a framed mirror
Install a faux ship-lap wall behind bed
Make pretty wall art
New curtains
Make "L" shaped window seats and create a reading nook in the "bump out"
Get rid of a chest of drawers
THE BUDGET:
The goals is to keep this makeover cost under $1,000. So far I have spent $200 Derek (painter) and $212 on the wood for the bed. (Imagine what a solid wood bed with headboard, footboard, and side rails would cost!!! – you could probably add a zero onto the $212!!!)
Disclosure: I was provided with the paint for today's post by Valspar. Thank you Brian! All words are my own. As always, I only recommend products that I use and love.
SPONSORS:
I am proud to be partnering with the following brands:
Lamps Plus / RYOBI Nation / Silk Plants Direct / Valspar / Amy Howard At Home