I've been in the middle of a DIY kitchen makeover for the past 10 days, but took some time out today to make this burlap and tulle wreath.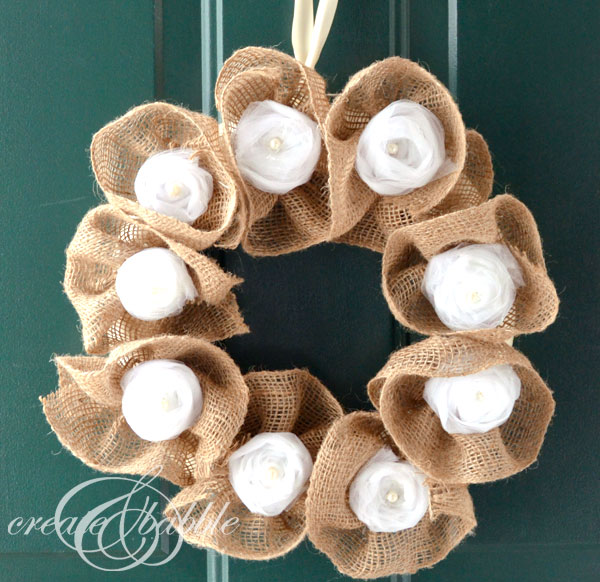 I have had this roll of burlap ribbon sitting on my desk for the last several weeks, taunting me. I got it in the last Pick Your Plum grab box. For weeks, I kept staring at that burlap wondering "what can I make with you?". I tried wrapping it around a wreath form, but I wanted something different and more dimensional. Then finally an idea came to me last night, or I should say this morning at 2:00 am. No, it wasn't keeping me up. I've been working second shift (3:30 pm to midnight) and was painting kitchen cabinets. I hope to show them to you soon. Back to the wreath.  I made these burlap  flowers and I'm really pleased with how they turned out. I'll show you how I made them.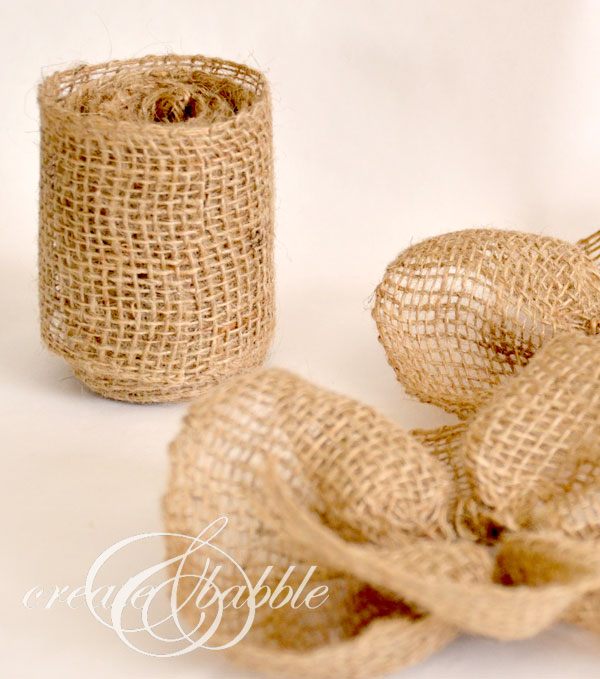 Burlap Flowers
Materials:
burlap ribbon

scissors
Cut a length of burlap ribbon to about 18″. Pull out and cut off two vertical burlap threads from each end. This will leave the ends fringy.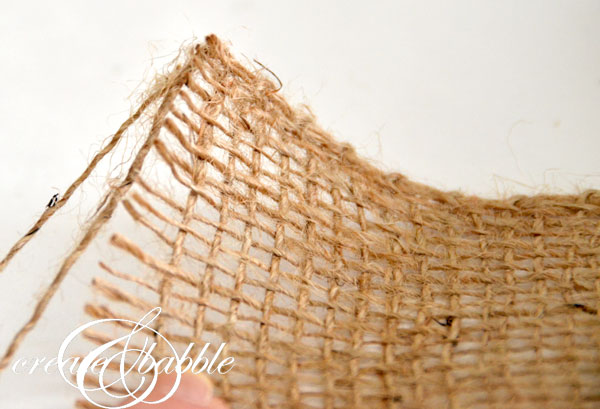 Now grab the third horizontal burlap string from the top and start gathering the ribbon along this thread. Gather until you reach the middle of the length of ribon. Do the same on the other end. It will look like the second photo below: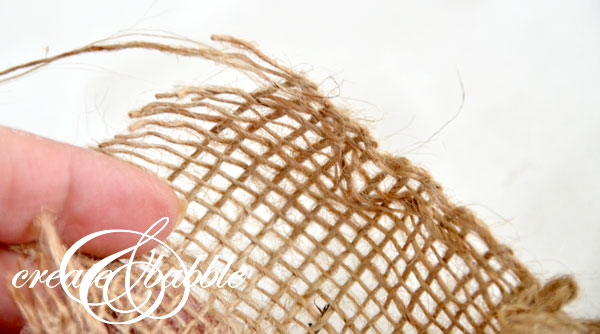 Tie the two ends together and cut off the excess strings.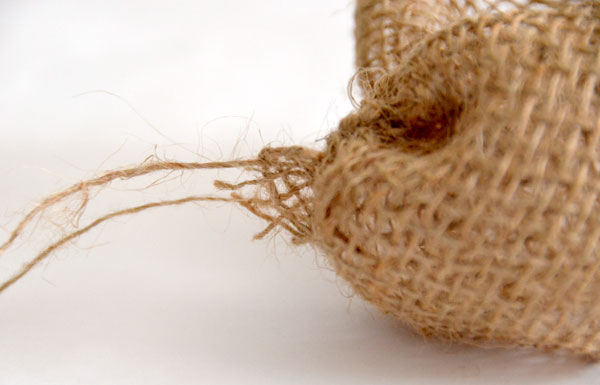 Now you have  burlap flowers. Fast and easy, right?
Now onto the wreath:
I pinned the burlap flowers onto my foam wreath form – the one I used for Valentine's Day. Since I used pearl head pins to make my wreaths, it was easy to remove the paper rosettes and attach the burlap ones. The form was already covered in ivory ribbon which works great with this project and saved time since I didn't have to cover the form.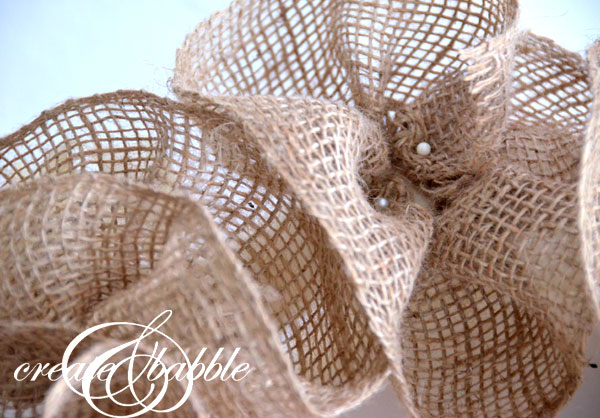 Next I made some rolled rosettes from leftover wedding tulle. I tried making the tulle rosettes the same I do for any other fabric: twist, roll, glue – you know the one. Well, that doesn't work so great with tulle. Unless you don't mind burning off the top layer of skin of your fingers. So here's what I came up with and it works great!
Rolled Tulle Rosettes on a Skewer
Materials:
bamboo skewers
glue gun
tulle (My tulle is the 9″ wide on spool kind from AC Moore)
pearls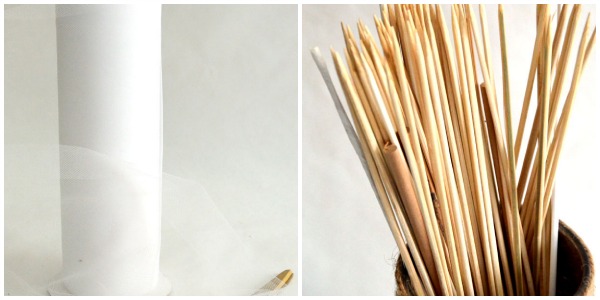 Instructions:
Cut or break off a 2-3″ section of the pointy end of the skewer
Tie one end of the tulle to your now mini skewer – make sure it's tight. (I didn't measure and cut off a length of tulle because I didn't know how much I'd need)
Start wrapping the bunched up tulle around and around the center knot, twisting along the way and adding tiny amounts of hot glue to secure.
Once your rosette is the desired size, cut the tulle and glue down the end.
Since the rosette is secured to a mini skewer, all you have to do is push that pointy end into the foam wreath! I hot-glued a pearl to the tip of the skewer that was showing.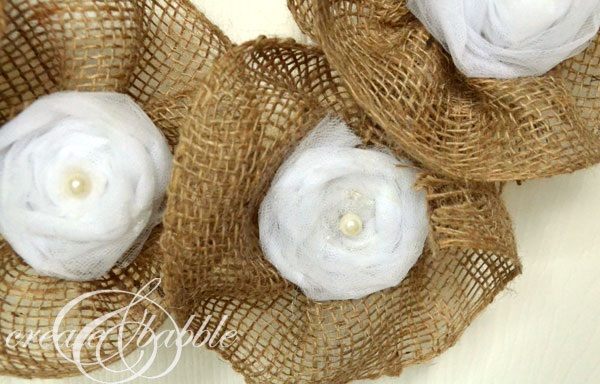 Finished and on the door.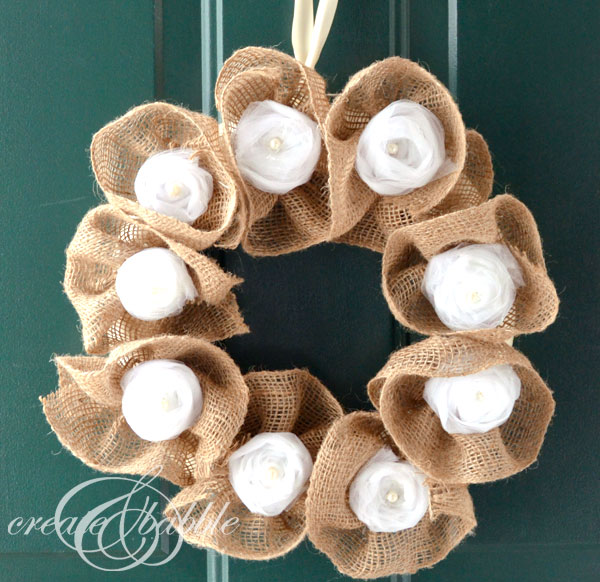 To me, it's a transitional wreath. Since it's neutral, I can add more embellishments to match whatever season or holiday I want. For now, I think I'll leave it as is. I really like the combination of burlap and tulle. How about you? Would you add color or bling? Or leave it as is?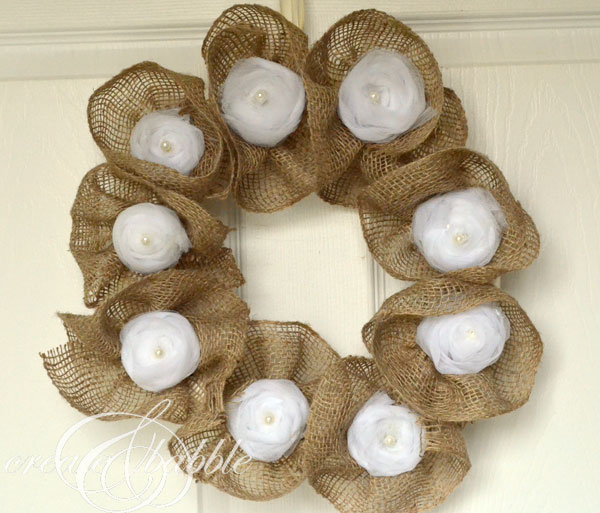 Linking up here: