Today, I am continuing the Wedding DIY series with the Cookie Table. Now unless you're from the Pittsburgh, Pennsylvania area, you're probably wondering: "What is a cookie table and what does it have to do with Wedding DIYs?" Since I grew up in Western Pennsylvania, all the weddings that I attended had a cookie table. I thought every wedding reception everywhere had a cookie table. So imagine my shock and dismay when I moved to Central Pennsylvania, went to my first wedding here, and found that there was not a cookie in sight! What?!?! No cookies? What kind of wedding is this? Well, my friends, cookie tables are a Pittsburgh tradition. This Wikipedia article explains the origin and tradition of the cookie table far better than I can.
Let's get right to a photo of the cookie table from my daughter's wedding: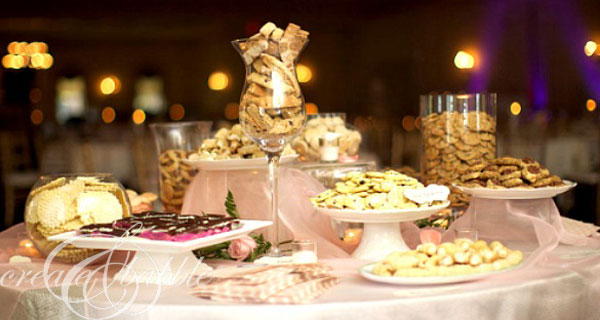 Lots and lots of cookies. Probably close to 200 dozen cookies. I started counting as I was baking, cooling, and freezing, but somewhere along the way, I lost count. I can tell you that at the end of the baking process, my freezer was filled with nothing but cookies. Seriously, nothing.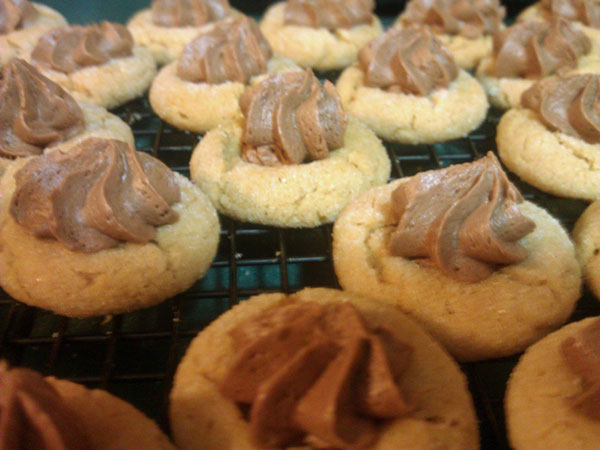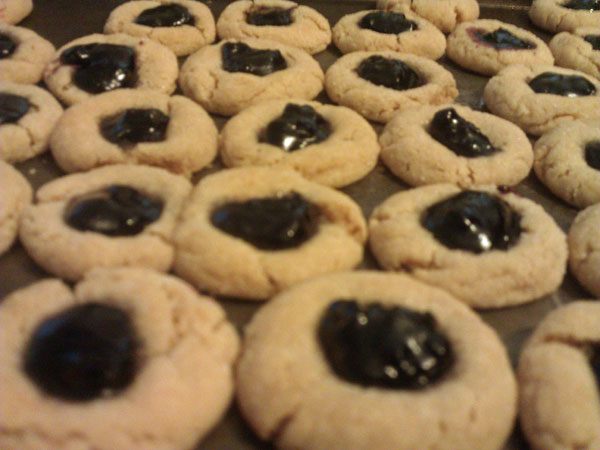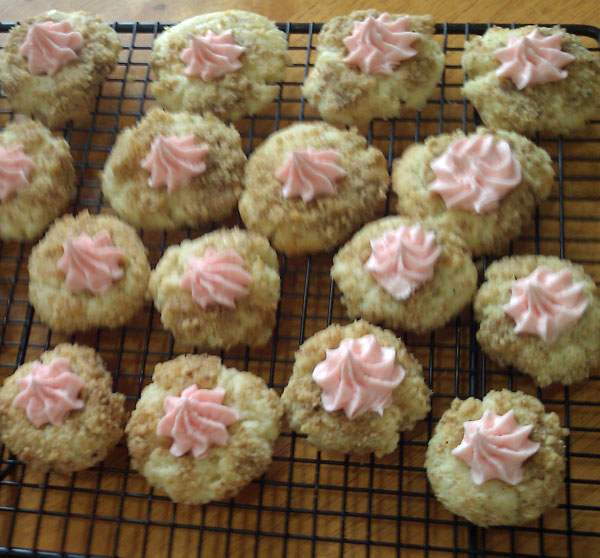 Cookies, as far as the eye can see. And these were just the thumbprints.
Candy buffets are very popular for wedding receptions. (Hmmm, I wonder if someone from Pittsburgh got tired of baking cookies and came up with the candy buffet idea? ; )) During the wedding planning process, my daughter (Cory, the bride), had a fleeting thought of maybe having a candy buffet. I did a little research on this idea. There are lots of places to get pretty, color-to-match-your-wedding-colors candy! Very, very expensive. Especially if you have a good-size guest list. But they are very pretty. Take a look at this one: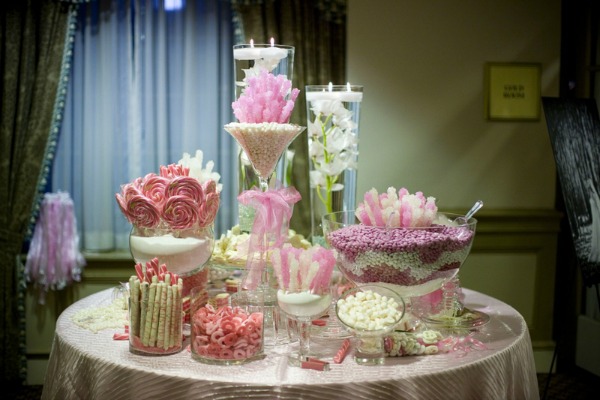 While she was deciding between a candy buffet and a cookie table, I began the hunt for serving bowls and trays. I got all of them from either TJ Maxx or Home Goods. Initially, I thought she was leaning towards the candy, so I got glass containers that were appropriate for candy. In the end, I was able to figure out how to use them all for cookies. You'll see what I mean in the photo below: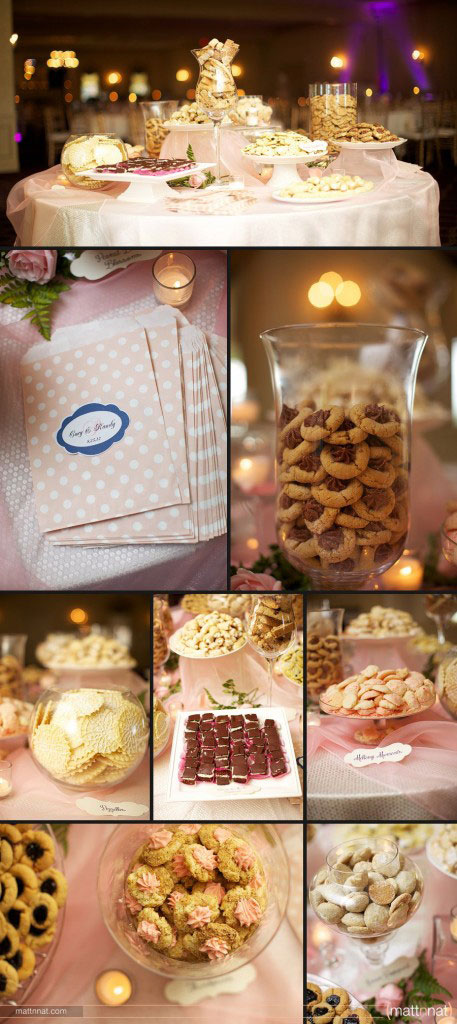 Traditionally, cookie tables are set up on a long, buffet table with all of the cookies artistically arranged on flat trays. We are in non-cookie table territory around here, (the reception site had no idea what a cookie table was before we showed up!), but the large round table worked out perfectly to display our various cake trays, crystal bowls, and vases of cookies!
If you're thinking about creating a cookie table for an upcoming wedding or any other special event, here are a few tips:
Most importantly, make sure the venue that is holding your event will allow you to bring in cookies! One site we visited would not allow it. If you happen to live in the western part of Pennsylvania – no problem, they expect it!

Plan (and bake!) ahead. To calculate how many cookies I needed to bake, I multiplied the number of guests times ten. This should be the minimum number of cookies to have. People love cookies! Make more than you think you'll need. We provided pretty, decorated bags at the table for guests to take cookies home. And they did!
Gather your recipes a few weeks before you start baking. Stick to your tried-and-true favorites. I think we had around ten different cookies. It's easier to make dozens and dozens of the same recipe than it is to make several different recipes (at least in my opinion).
This is not the time to try new recipes.
Use food coloring in any icings to match the wedding colors.
Have lots of freezer bags on hand and shop for sales on freezer containers.
Freeze the cookies on a tray first before putting in bags or containers.
Ask relatives and friends for help!
Be warned: you will not bake any cookies for the following Christmas (I know this to be a fact!)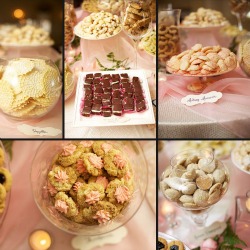 Have you ever been to a wedding with a cookie table? I wonder if the tradition is expanding outside of the Pittsburgh area.
Linking here:
_