I'm back up at my daughter's house helping to finish the powder room. Remember the new powder room that's in the laundry room that used to be the kitchen? Yeah, it's confusing I know ; ) The room is still not done, but it's getting close. Especially since my daughter and I installed the DIY wood plank walls (on the cheap). On the cheap? Yes! We planked the walls of this small room for well under $100.
The theme for this month's Power Tool Challenge is Home Decor and wood plank walls are certainly a popular home decor trend right now!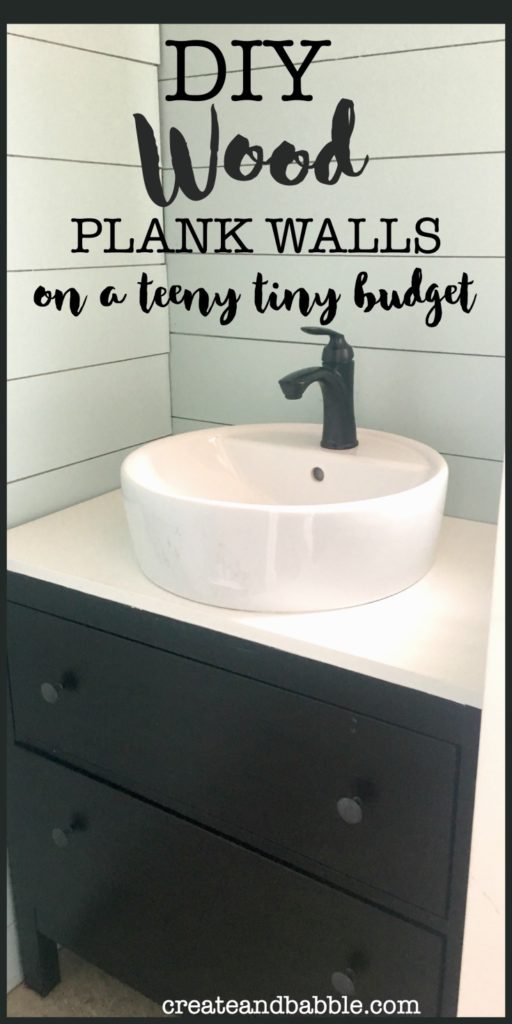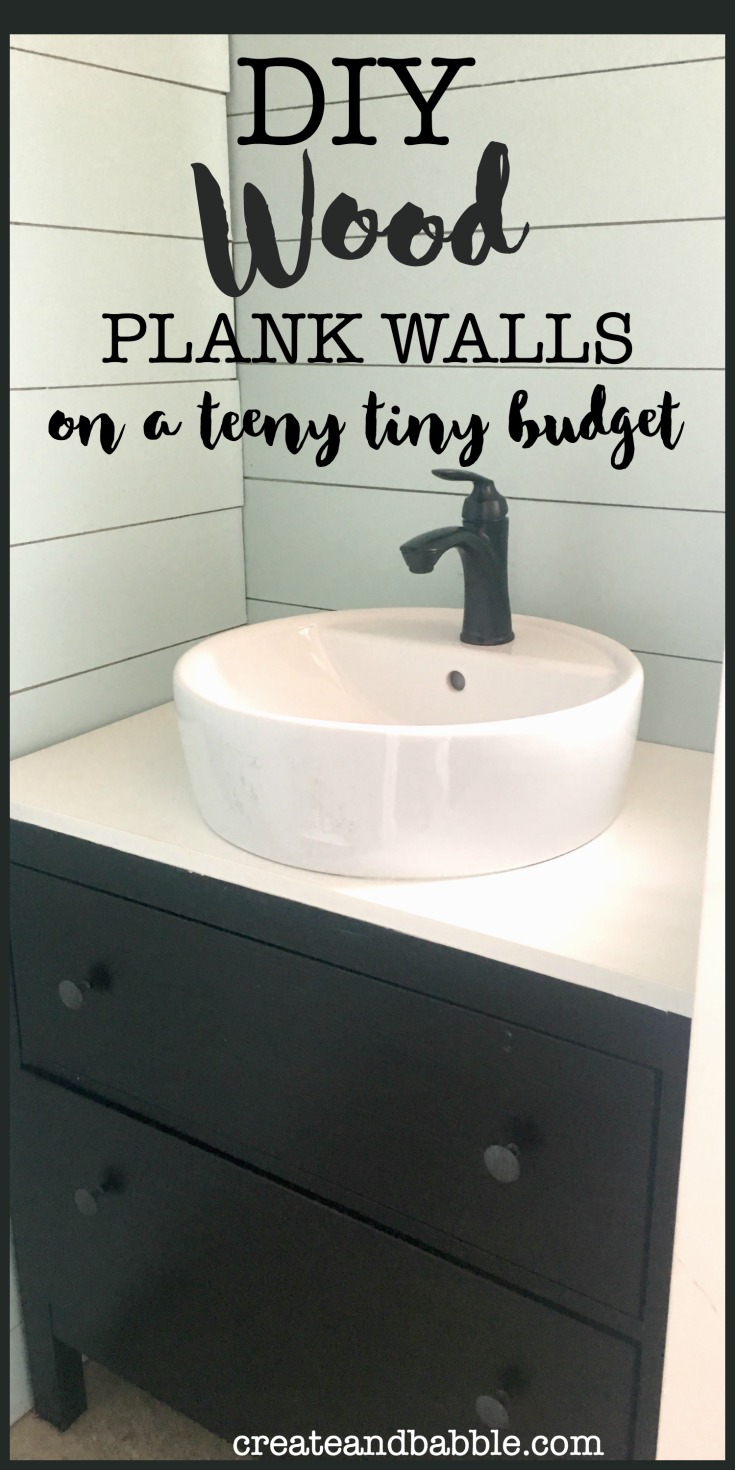 Today's post is part of the monthly Power Tool Challenge. We're all pretty excited about this month's edition of Challenge because it involves you – our wonderful readers.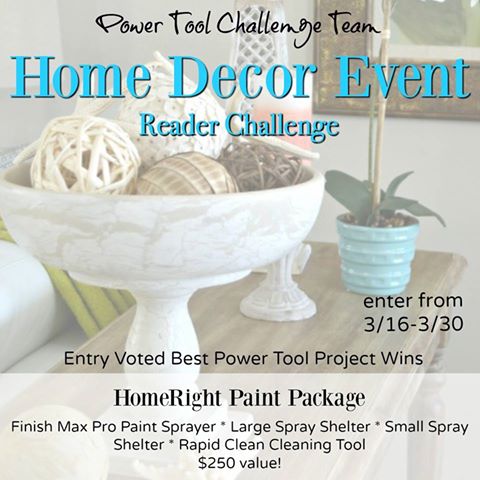 Be sure to read to the bottom to see all of the details of entering the Reader Home Decor Event!
So how did we plank the walls on a tiny budget? By using inexpensive plywood underlayment. It's less than $12 for a 4′ x 8′ sheet. We had Home Depot cut the wood into 6″ planks to not only save us time but to make it easier to transport home. Plus the idea of dragging the table saw out in the cold weather did not sound appealing at all. (We gave Home Depot a few days notice and they had the wood planks cut and ready to pick up.)
It seems everyone loves the look of painted wood plank walls! As I said, it's one of the hottest trends in home decor right now. Did someone say "Fixer Upper", Joanna Gaines or hashtag shiplap??? Another reason to love wood plank walls: We are not drywall finishers. (And don't want to be ; )
This is such an easy and inexpensive way to finish walls and they look fabulous!
Here's the step-by-step tutorial explaining how we did it. I've included links for the tools and supplies that we used for your convenience. These are affiliate links – if you make a purchase using these links I will earn a small commission at no additional cost to you. Thank you!
Materials:
Tools:
Step One – Mark placement of studs
This was easy for us since we were installing the planks over unfinished drywall and could easily see the seams and screws. Otherwise, use a stud finder and make "X" marks at the stud locations from top to bottom.
Step Two – Cut and sand wood planks
The plywood is fairly smooth so just the cut edges may need sanded just a bit. We had to cut all of our planks to fit in this small space so we used a circular saw. A sliding miter saw would have worked too (and probably better and faster) but I was at my daughter's house without my beloved miter saw. So the circular saw had to do.
Step Three – Attach planks to the wall
Starting at the top, place a plank on the wall at the ceiling. Make sure the plank is level. (This is a 2-person job for sure!) Attach wood with brad nailer. We chose to have space in between each plank so we used plastic spacers but coins would also work.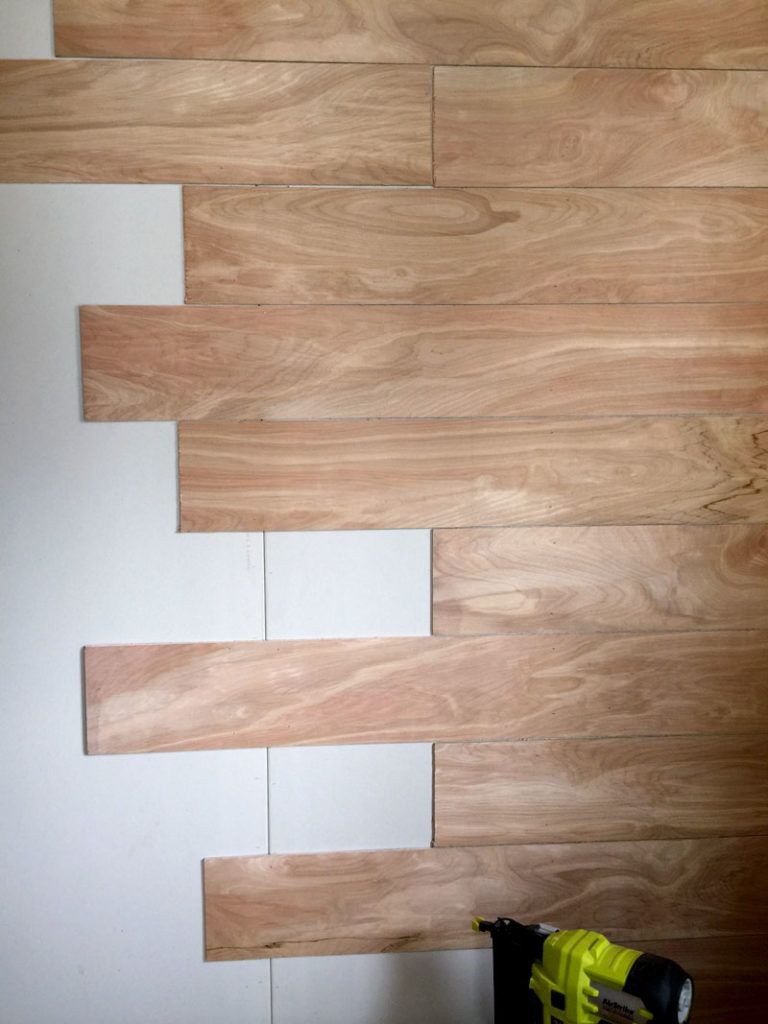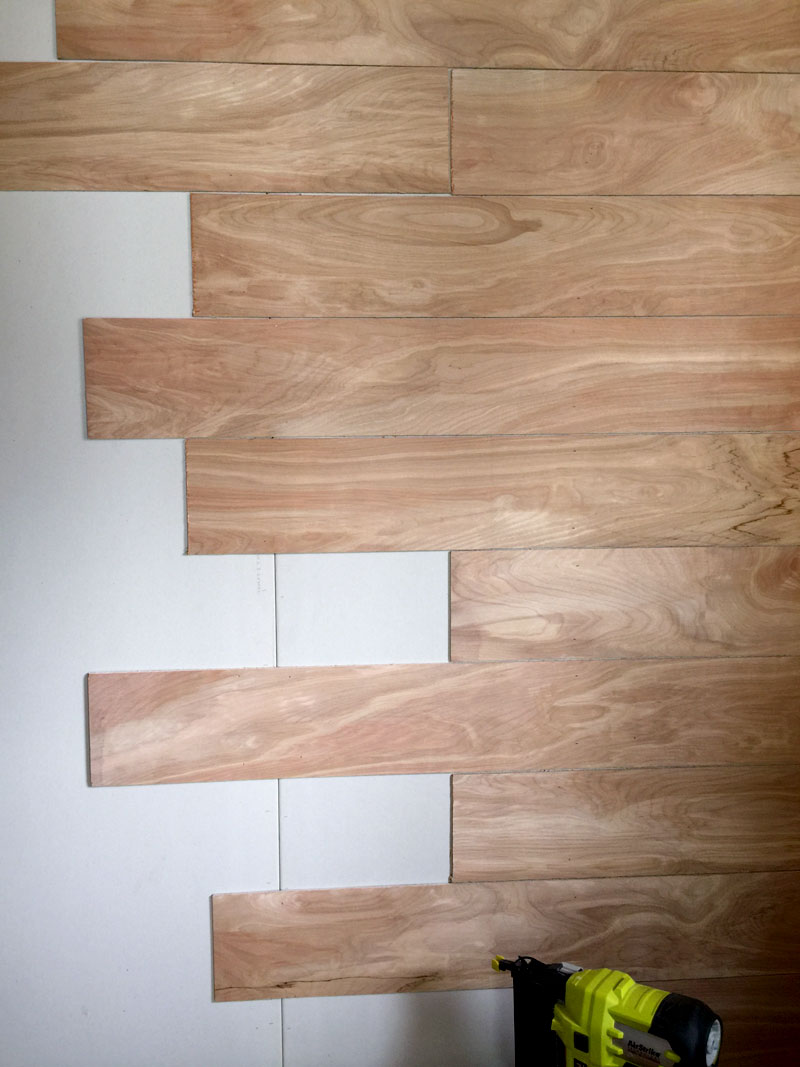 As I said, we had to cut all of our planks since this is a small room. We started on the longest wall and staggered the planks so that joints would not stack on top of each other.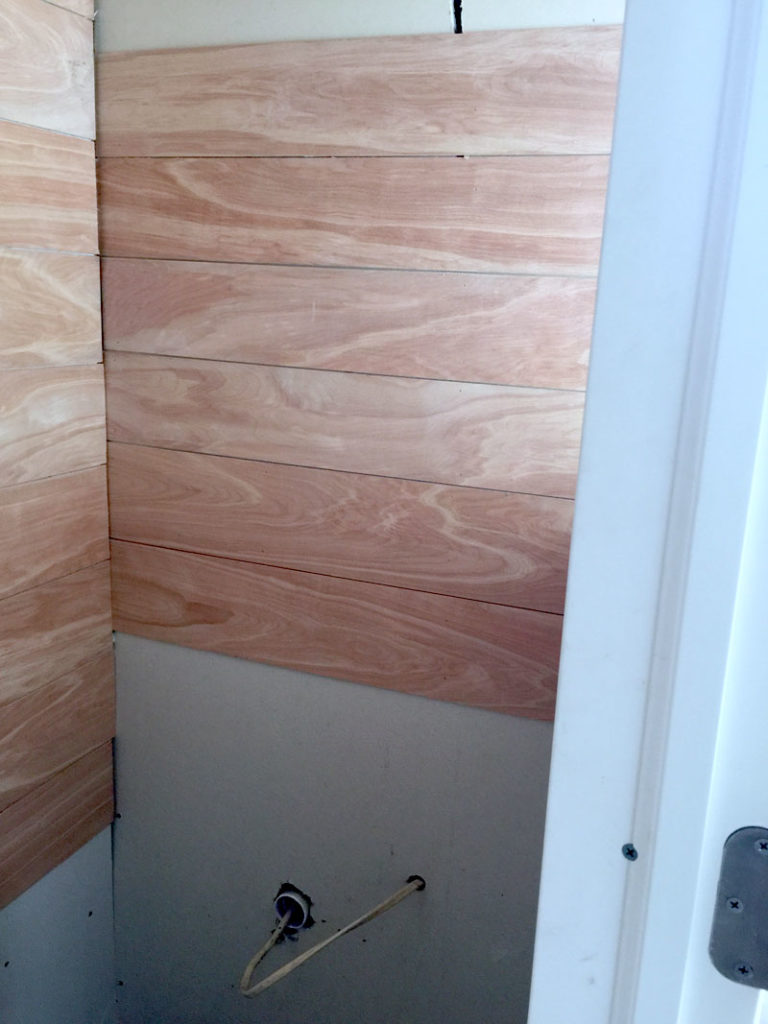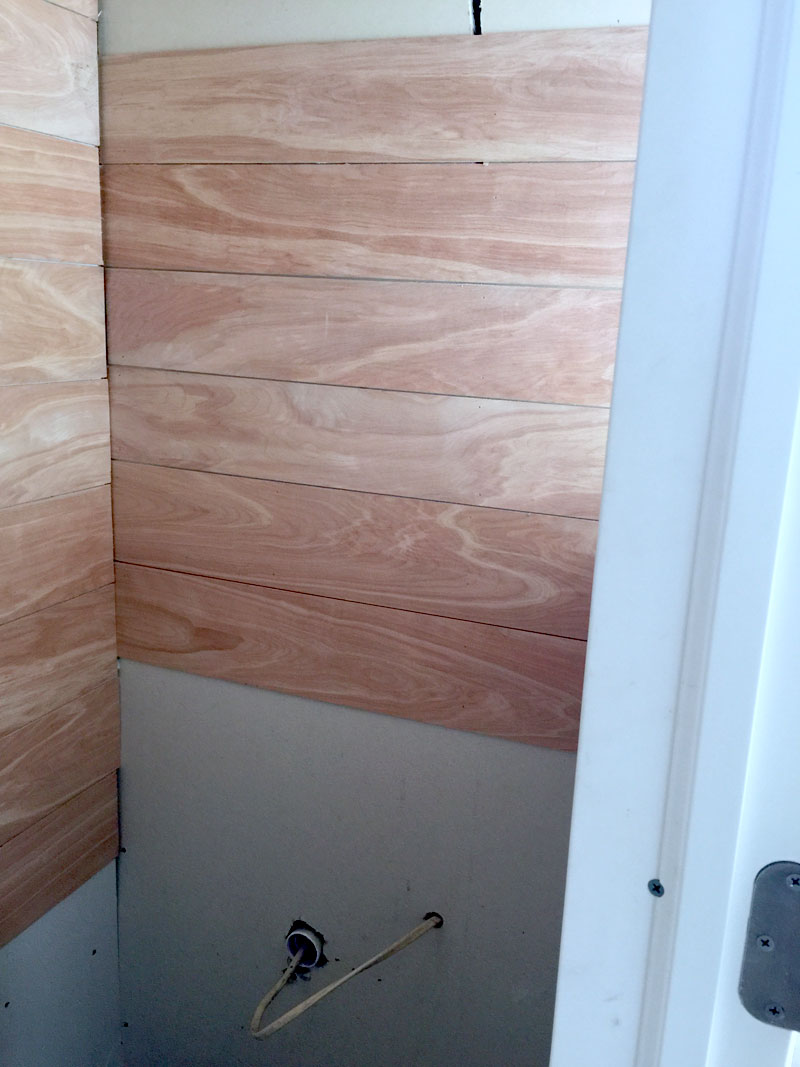 On the other "short" walls, we decided not to cut and stagger the planks. Since these walls are so small we thought it would look to "chopped up". We love how that looks! But we did mess up.
When the planks were cut there was one narrow piece left over from each sheet. We should have separated that narrower plank from the rest and not used it or used it at the bottom. We accidentally used it and it caused the seams to not match up at the corners. This might bother a lot of people – like me. But my daughter does not worry about such things and said "let it go". So we let it go.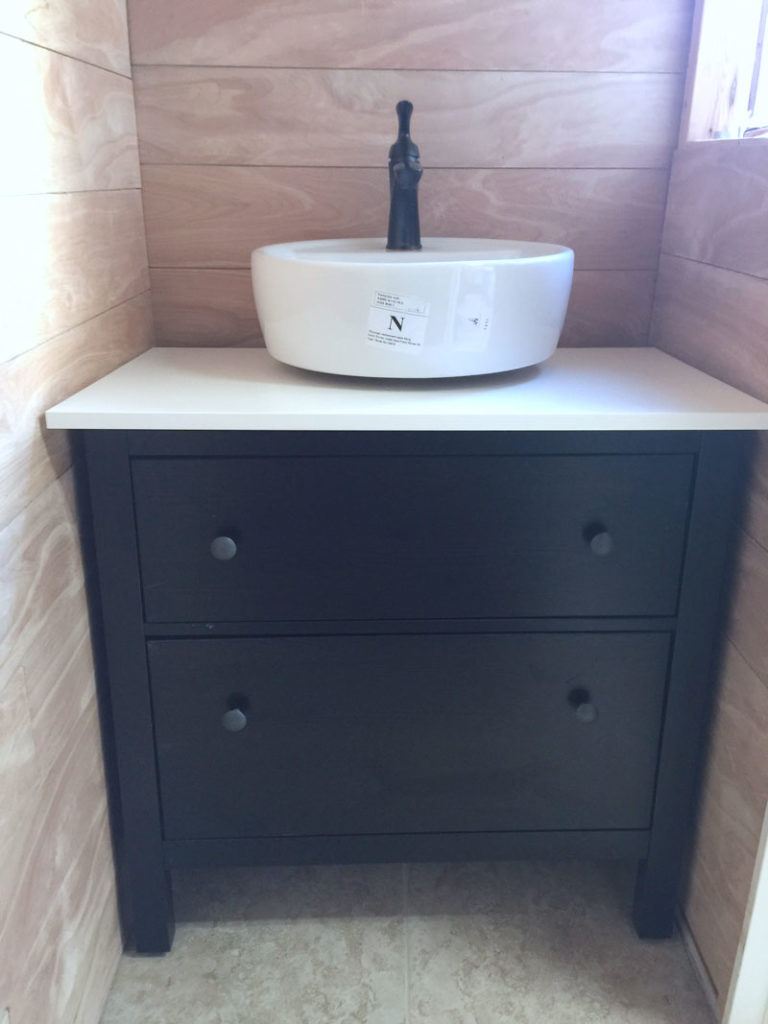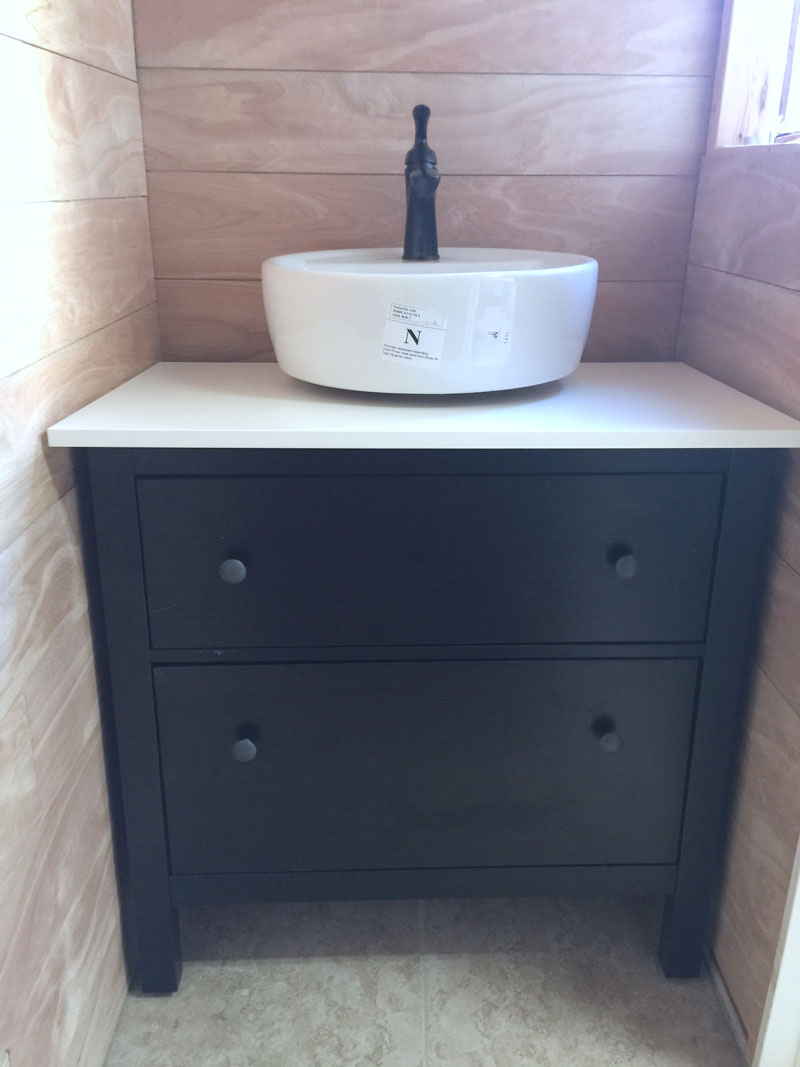 We were both getting impatient and wanted to see how the new vanity and sink would look in this new room. Mostly we wanted to make sure it fit! And it did. With no room to spare. It reminds me of my powder room makeover, but at least we didn't have to perform carpentry surgery on this vanity ; )
Okay, back to work on the walls . . .
Step Four – Fill holes, sand, and paint!
At first we said we weren't going to fill the holes – just paint over them and enjoy the shabbiness of them. Uh. No. We quickly nixed that idea and went about filling the holes with wood putty and then sanding them smooth.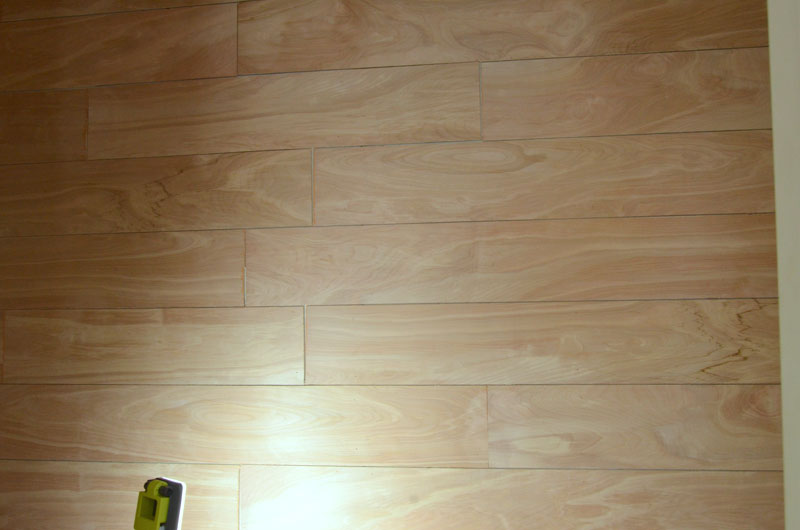 This step went by very quickly especially since we were working together.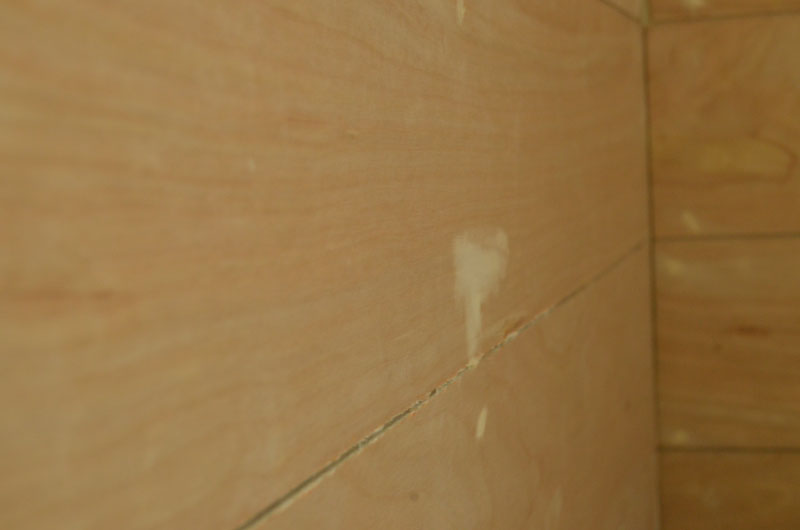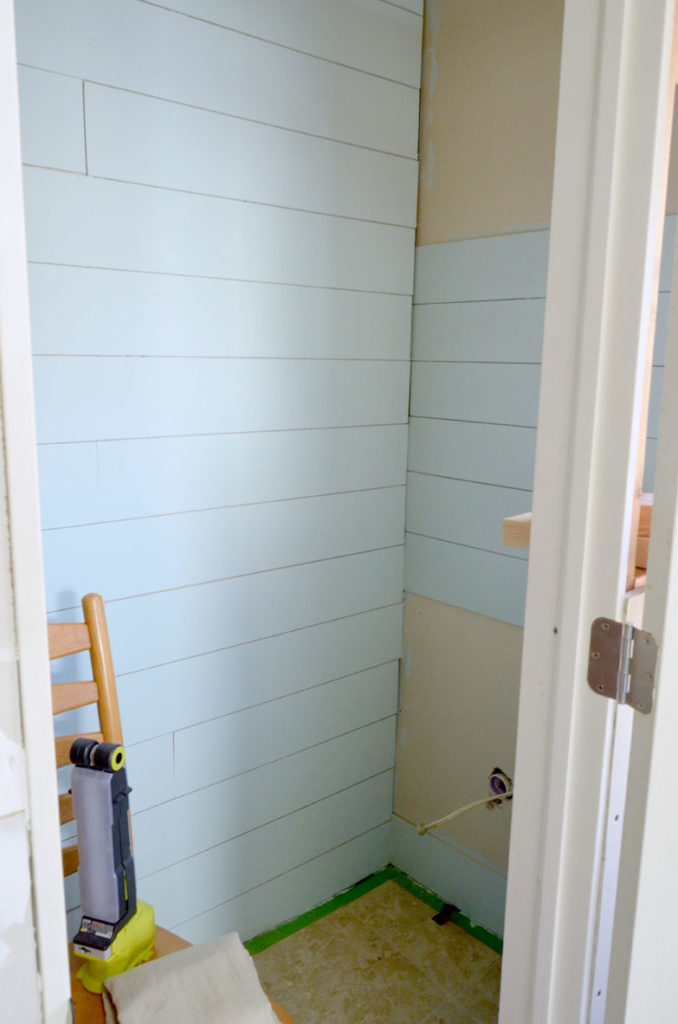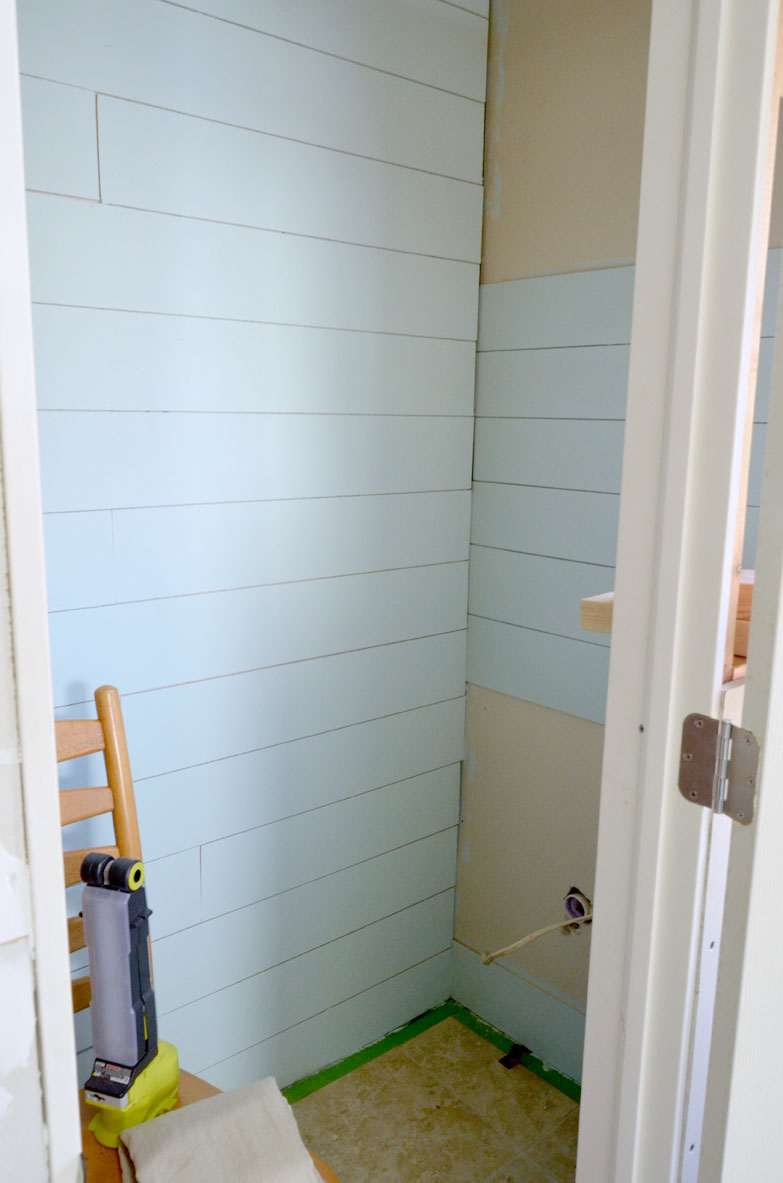 We couldn't wait to how the walls would look painted. We love how they look!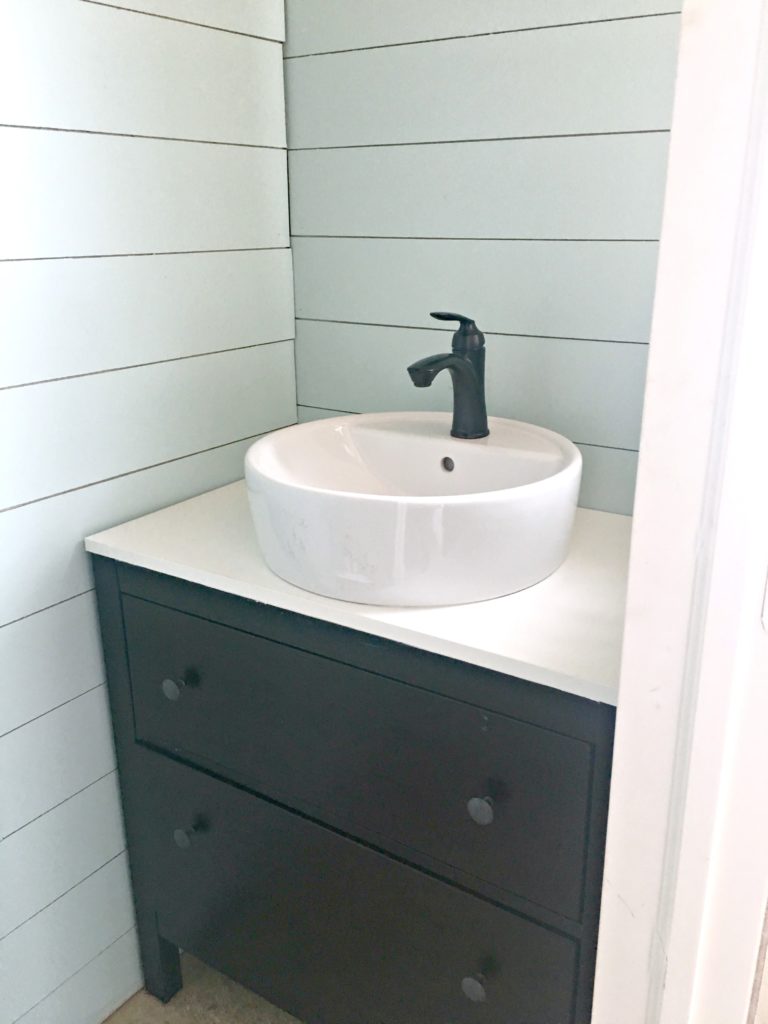 What do you think?
We still need to add trim at the corners, ceiling, and baseboard. We were going to do it this week but Mother Nature ruined those plans.
Please take a look at the Home Decor Projects that my Power Tool Challenge friends have made: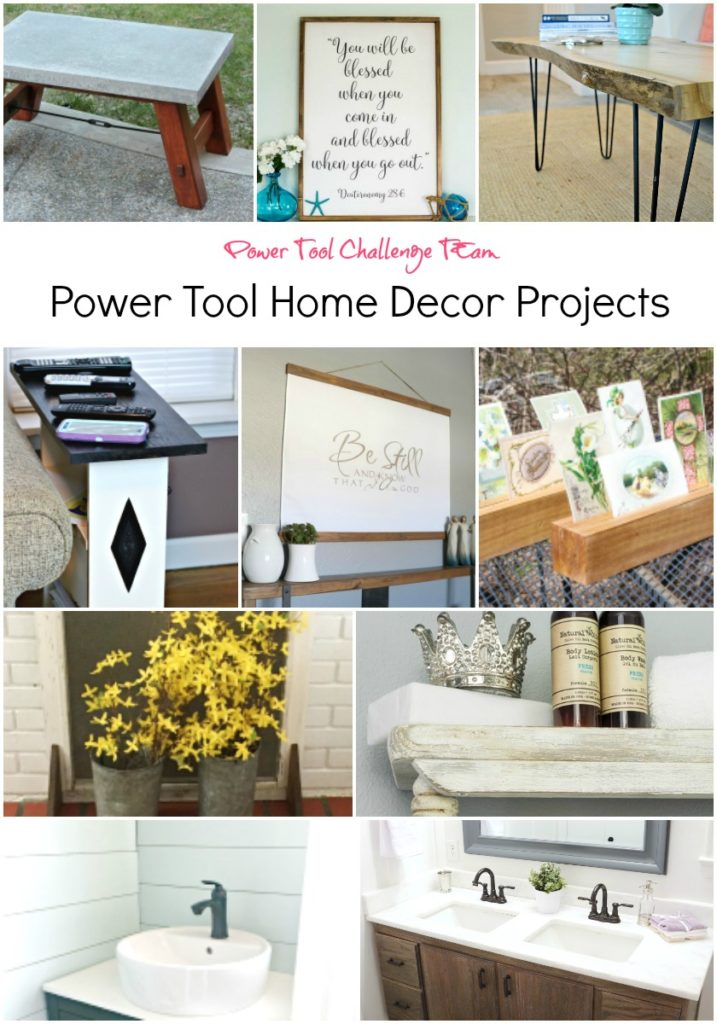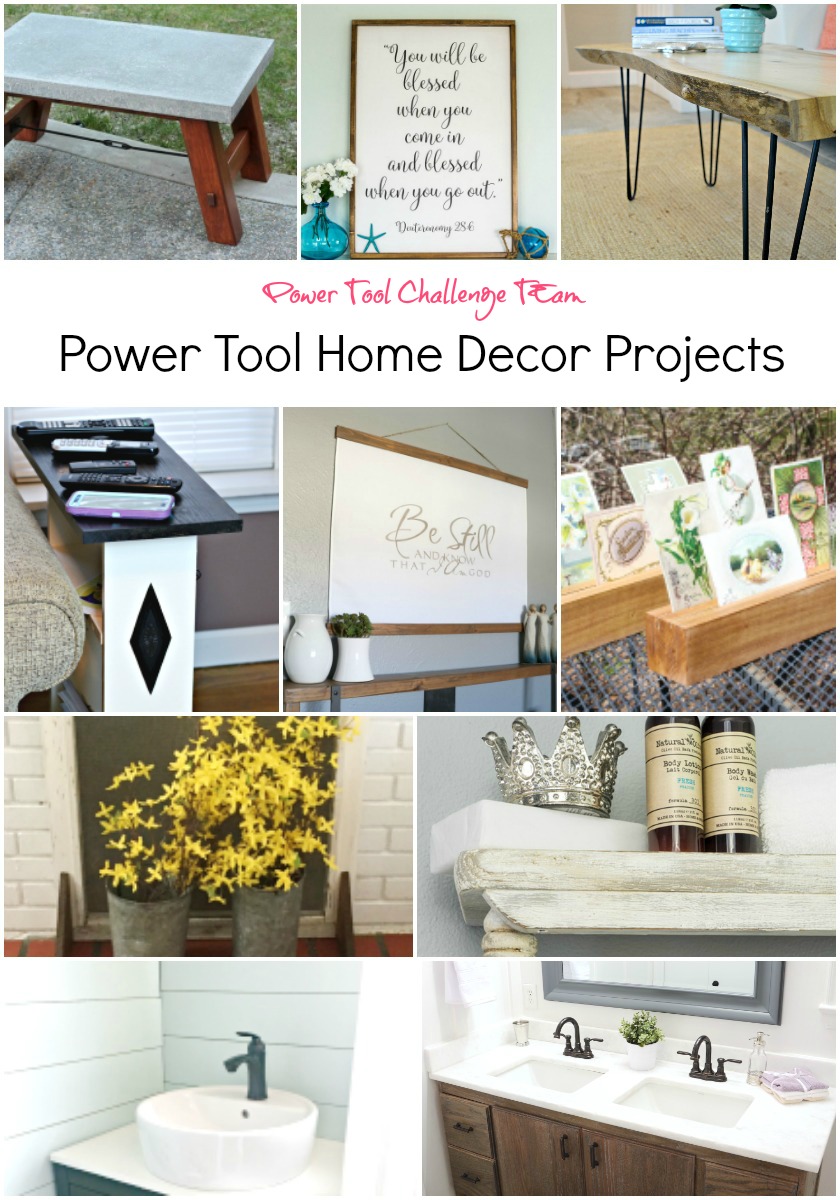 The Kim Six Fix – Pottery Barn Inspired Concrete Top Coffee Table
Domestically Speaking – Large DIY Wall Sign
H2OBungalow – DIY Live Edge Coffee Table With Hairpin Legs
My Repurposed Life – Sofa Side Table
My Love 2 Create – Fabric and Wood Wall Hanging
Virginia Sweet Pea – Card Display Holder
The DIY Bungalow – Repurposed Fire Screen
Designed Decor – Upcycled Wall Shelf
Create and Babble – DIY Wood Plank Walls
Thrift Diving – DIY Bath Vanity
Now we would love to see your projects.
The details:
The project can be made from anything as at least 1 power tool was used to build it.
The Home Decor Power Tool Project Challenge is open for entries from 3/16 through 3/30 via a link up.
Submit an old or new project as long as it's a home decor item.
Anyone can enter, the more the merrier
?
Each participant can enter up to 3 projects.
Winners must be 18 or older and live in the US.
The Power Tool Challenge Team and HomeRight will vote on the best project and one winner will be selected. The winner will receive a HomeRight DIY Paint Package which includes a Finish Max Pro Paint Sprayer, Large Paint Shelter and Small Paint Shelter and a Rapid Clean cleaning tool for the Finish Max.
Void where prohibited.