Remember when I told you about the 30-day Room Challenge? It turned out to be 38 days, but who's counting? My powder room makeover is done. Well, ALMOST done. There are a few finishing touches that I need to do but for the most part it is done!

And I have to say it was more of a complete remodel than a makeover.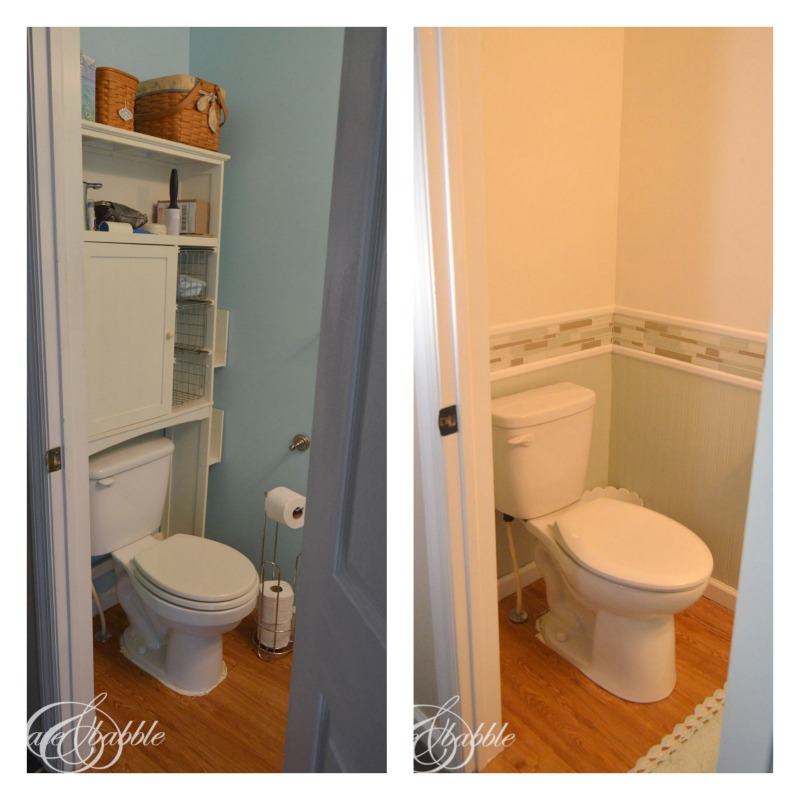 Since I love before and after photos, I'm betting you do, too.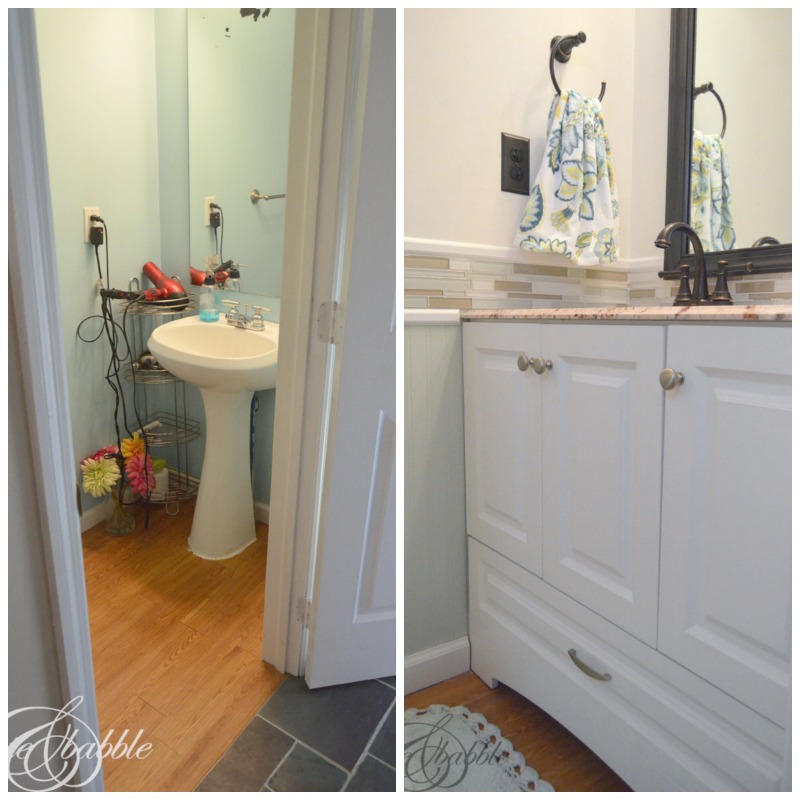 This was a huge project for me even though it's the smallest room in the house.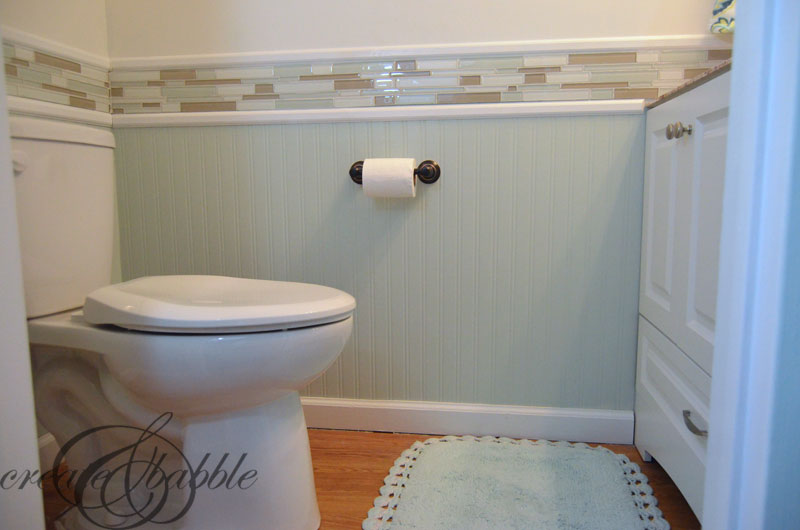 My original plan was to install beadboard planks to the lower part of the walls. I bought the planks, cut them and painted them. But then the plan had to change. Since the vanity is as wide as the room, the doors on the vanity would not be able to open with the planks attached to the wall. No bueno.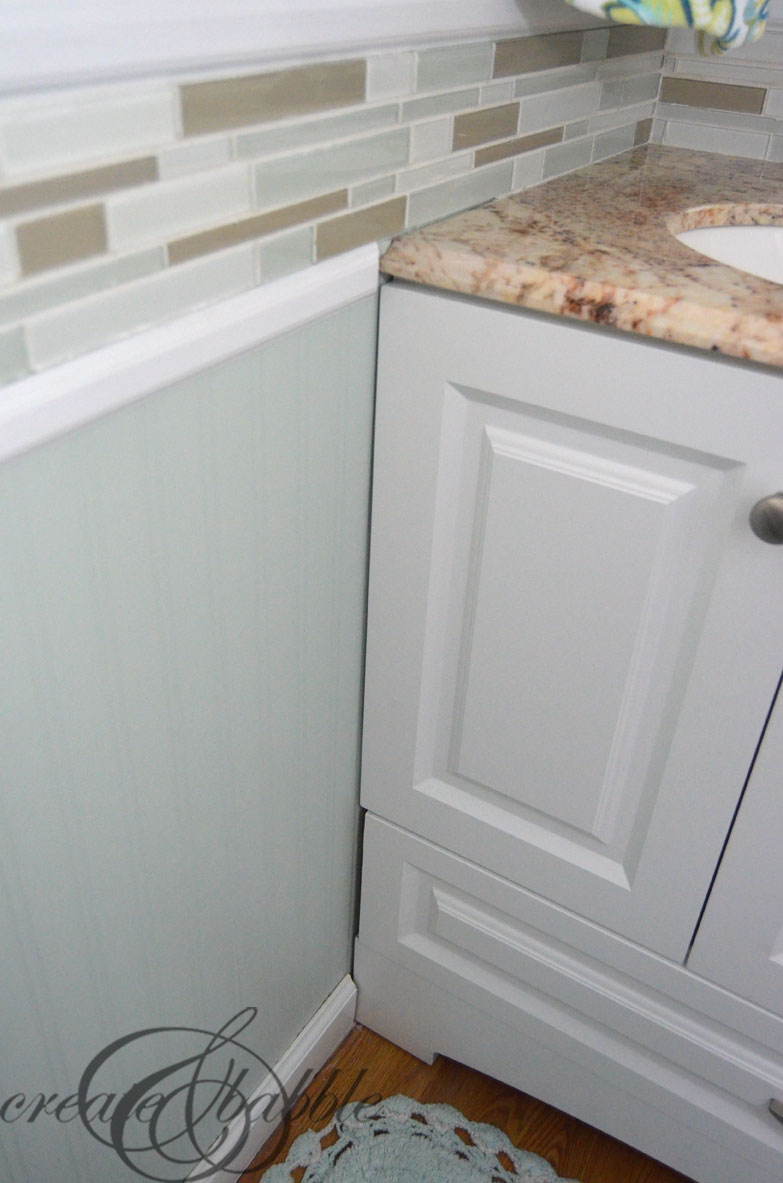 Enter Plan B. paintable wallpaper! Lesson learned: always have a Plan B (and maybe a C and D, too ; )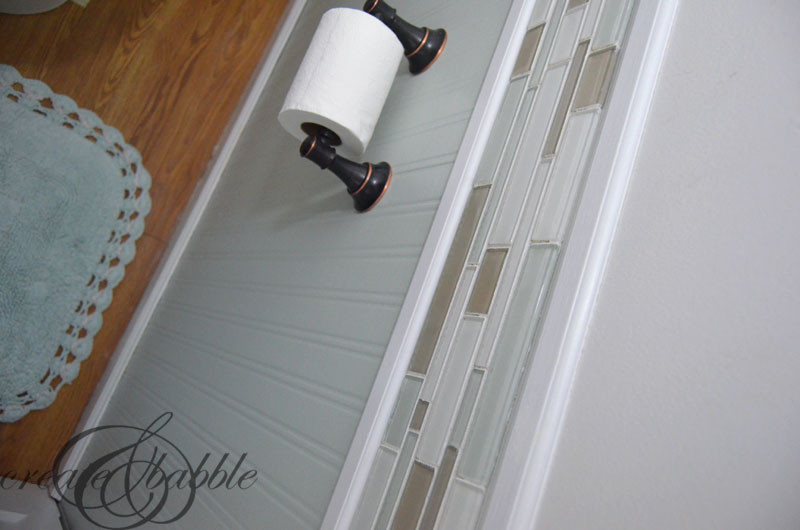 There were a lot of "firsts" for me in this remodel. Like installing glass tile . . .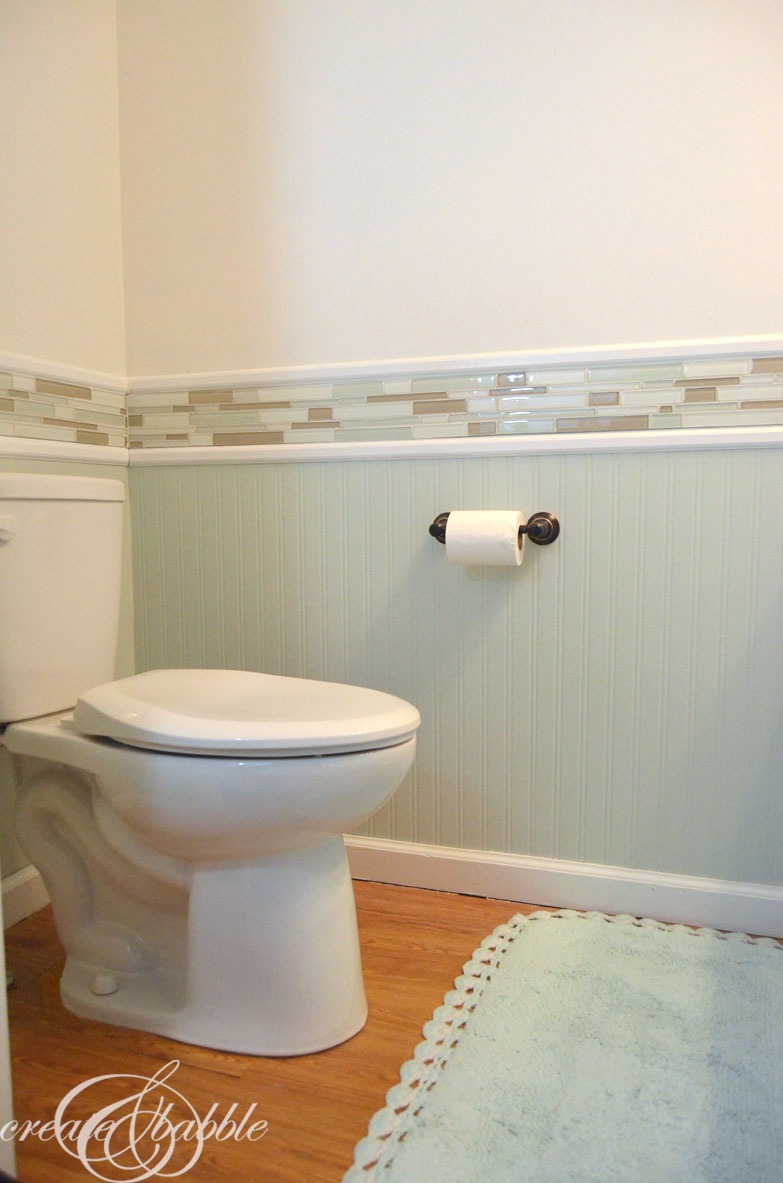 . . .  installing a new toilet (that was way easier than I thought it would be) and removing and replacing a baseboard . . .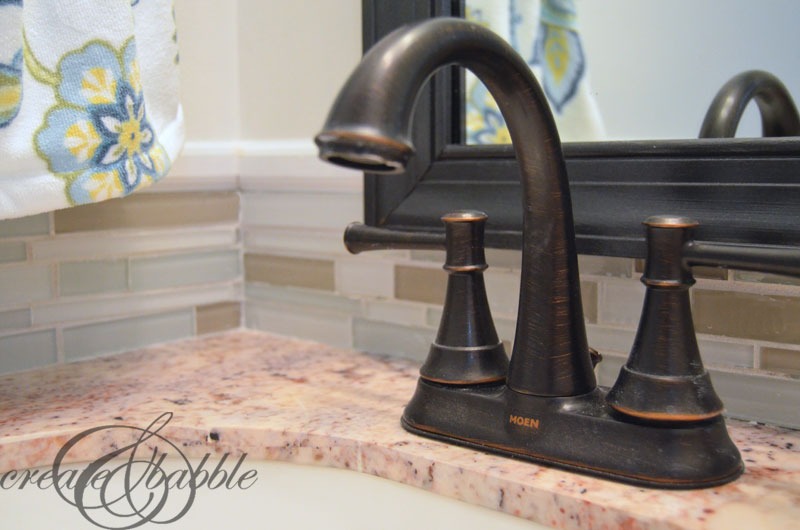 . . . . installing a faucet,  framing a mirror . . .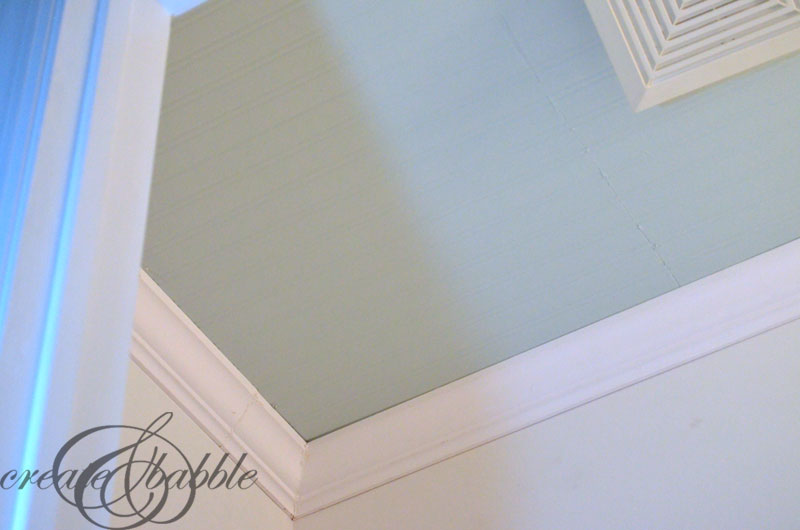 . . .  wallpapering a ceiling (yep, there's wallpaper on my ceiling) and the BIG TROUBLE MAKER: crown molding!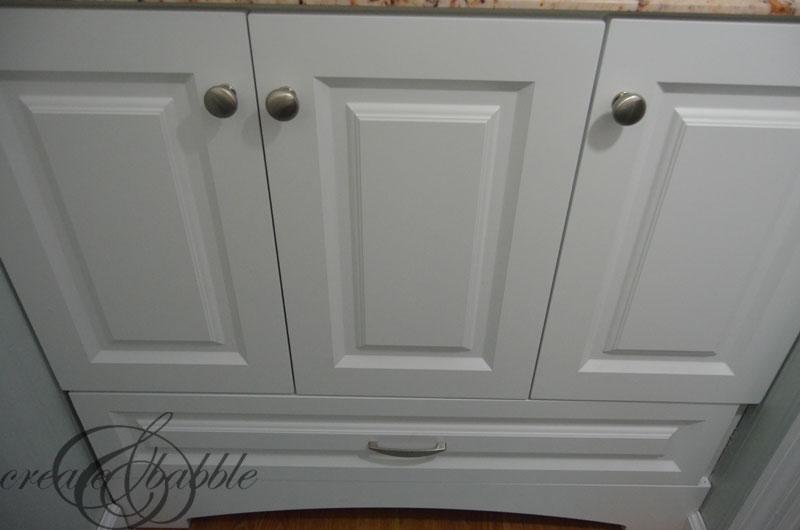 I love having a big vanity in here. I know most small powder room have pedestal sinks, but I despised that sink! There was no room for anything. I don't get the logic behind pedestal sinks. To me it makes more sense to have as big of a vanity as possible. After all, it's a bathroom. Why do I need the extra, unusable space that a pedestal sink provides? It's not like I'm entertaining guests in there. It's a one-person-at-a-time room.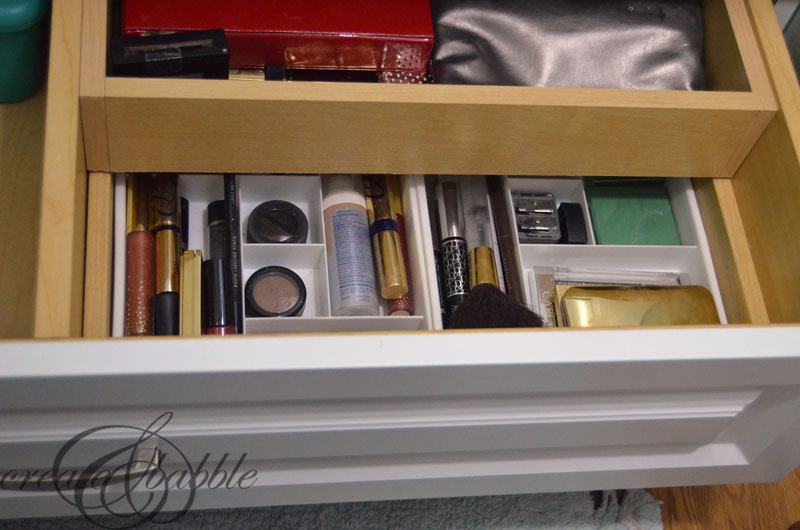 Since there is only one other bathroom in my house, I use this powder room to do my hair and makeup every morning. That way Dan has use of the main bathroom upstairs quicker than if he had to wait for me. This vanity (from Home Depot) has a huge bottom drawer that has a pull-out tray for makeup storage. I love it!
Every time I come into this room I think, I did this. I certainly learned a lot from this remodel and made plenty of mistakes, too. But you can't learn if you don't try, right?
I'll be posting how-to's, resources, tools used and costs in future posts. I'll also tell you when I had to call in help. A big THANK YOU to Serena at Thrift Diving for hosting the 30-Day Room Makeover Challenge!
Oh, and one last thing, do you remember the workbench that I made? Well it's in a contest over at Ryobi Nation and I really need your votes! The prize is $1000 of power tools! And I would love to win, but I need your help. Please register as a member (if you're not a a member already) at Ryobi Nation – it's fast, easy and free. Then click here to vote once a day until the contest ends on September 30. THANK YOU!!! (update: contest is over and I won 2nd place!)
I linked this project at: Remodelaholic