I may earn money or products from the companies mentioned in this post at no additional cost to you. As always I only recommend products and services that I use and love.
This post is brought to you by Pfister. The story and words are my own.
Do you call them powder rooms or half bathrooms? I grew up with the term "powder room". I wonder where that term came from? Anyway, you probably didn't know I was working on a new powder room. I haven't talked about it yet but I've been pretty busy the last few weeks and working on this new powder room is one of the reasons why.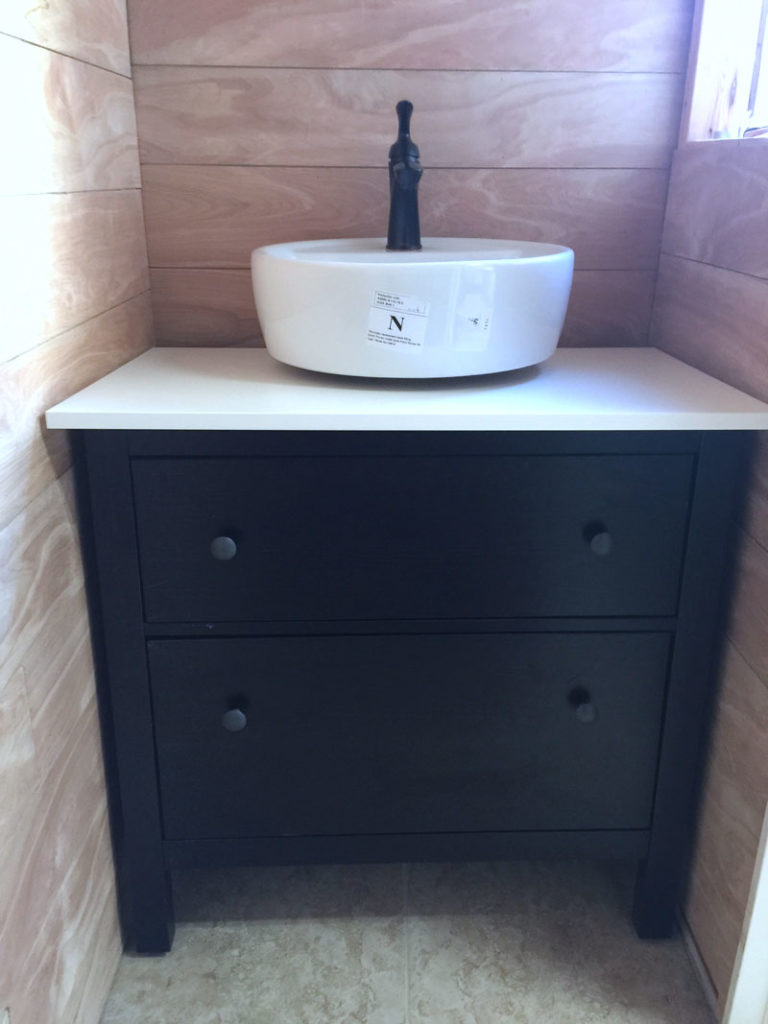 Nope, it's not a new powder room in my house. It's in my daughter's house. (Here's my powder room makeover in case you missed it)
If you're a regular around here, you know that from time to time I help out with small home improvement projects at my daughter's house.
Like the front porch makeover, filling the grooves in the paneled walls, and my two favorites: the nursery and the staircase.
Back to the new powder room. It's located in the very back of the home. If you're familiar with row homes, then you probably know that a lot of row homes are laid out pretty much the same. One room behind the next.
In my daughter's house, you walk into the living room first. Next is the kid's playroom (which I think was originally a sitting room? Who knows!)
Behind that is now the kitchen but used to be a dining room that had a powder room in the corner! That made no sense. Someone somewhere along the line added that lovely feature to a dining room??? That is long gone.
The last room used to be the kitchen but is now the laundry room that houses the new powder room. Yes the smallest room on the first floor used to be the kitchen! Go figure.
My son-in-law did most of this work. Even teaching himself how to install drywall. I was no help with that. But I volunteered to help with the powder room.
So when Pfister asked if I wanted to review one of their Avalon Single Control Bath Faucet, I jumped at the chance. You see, my daughter had picked out a sink and vanity from Ikea, but she hadn't bought the faucet yet.
Look how it good it looks in her sink: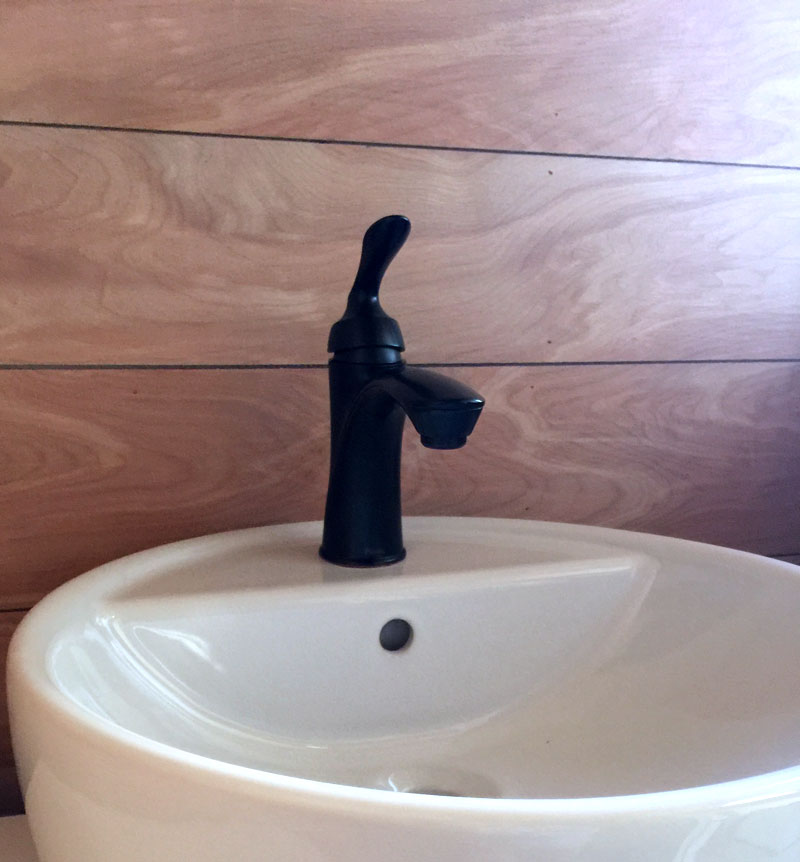 In the photo above, it's not installed yet. As you can see the walls aren't done yet but we were anxious to see how everything would fit and look so we dragged the vanity into the powder room (we had to make sure it fit!) and then we rested the sink on top and popped on the new Pfister Avalon Single Control Bath Faucet. Is that perfect for this sink or what!!!
We couldn't wait to get the room done enough – to the point where the vanity, sink, and faucet could be put in permanently.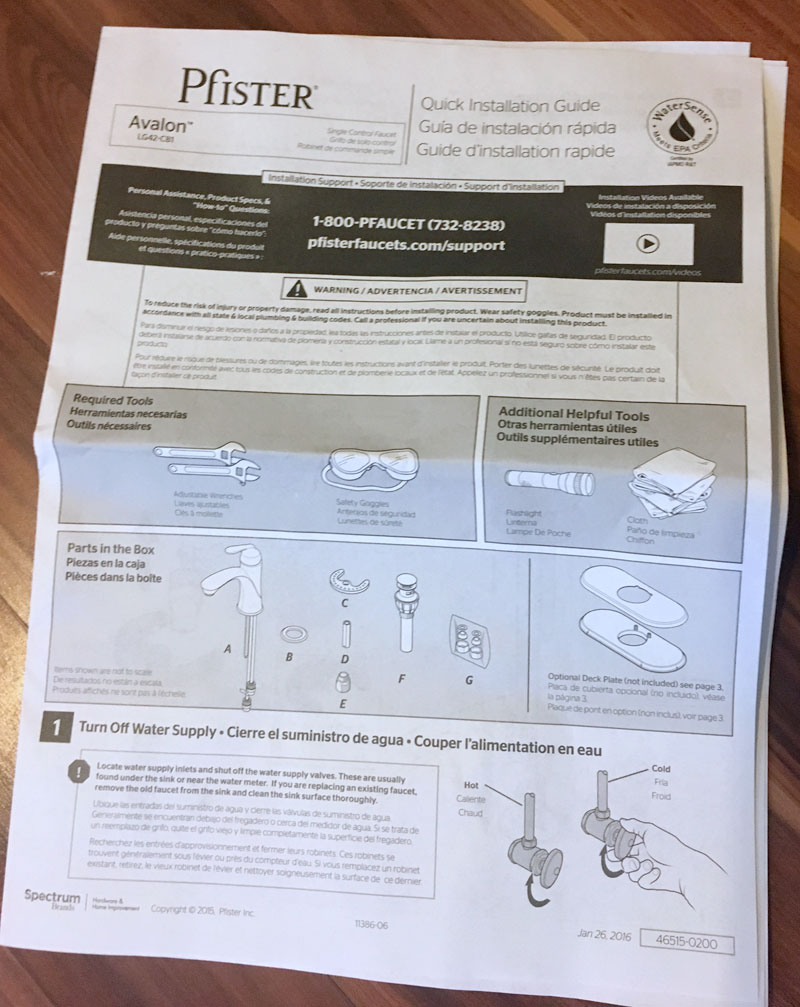 Then the SIL got to work reading the instructions to install the new faucet.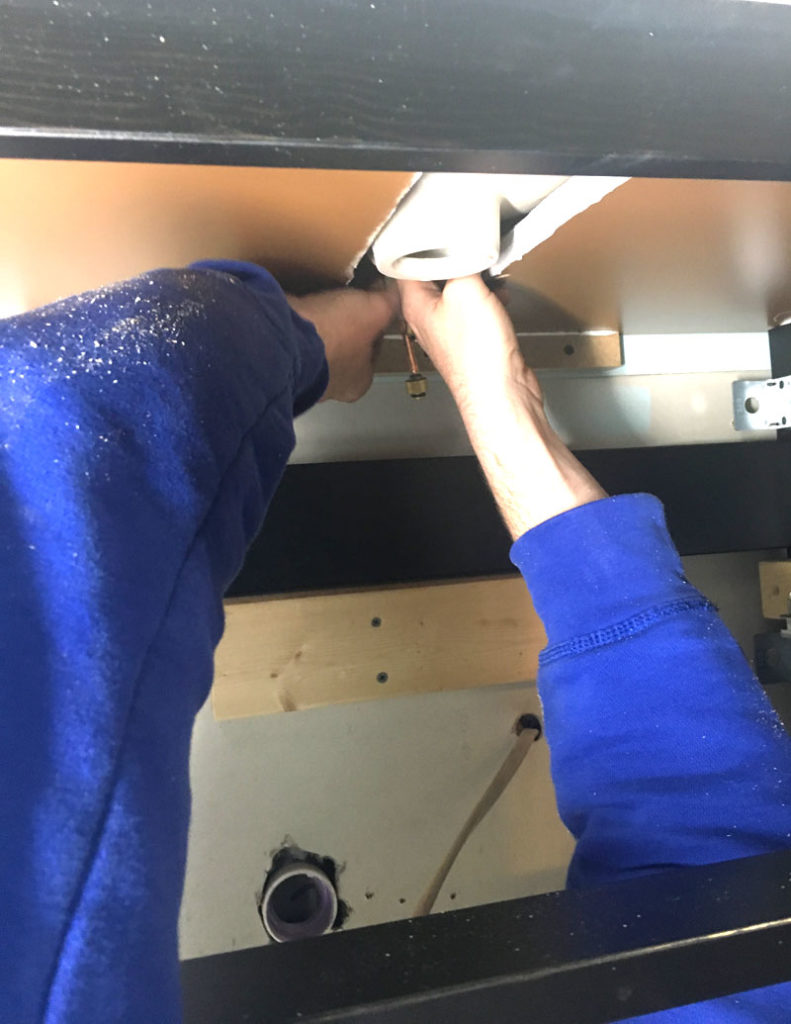 He must have done it right, 'cause it works! And it looks beautiful! What do you think?
I can't wait to show you the rest of this room – as soon as it finished! I'll even have a tutorial on how we created the faux shiplap-type plank walls on tight budget!