Wood signs are very popular. You see them for sale everywhere. But here's the thing. They are so easy to make yourself. Today I want to show you how to make a simple box frame wood sign. And the best part about this box frame wood sign is that you can use both sides of it. Read on to find out how to make a double-sided framed wood signs.
I have written a few tutorials on framed wall art like How to Make Simple Wood Frames, How to Make Farmhouse Style frames with pallet wood, Fall Wall Art, and even how to make a Wooden Quilt Block, but never a double-sided framed wood sign.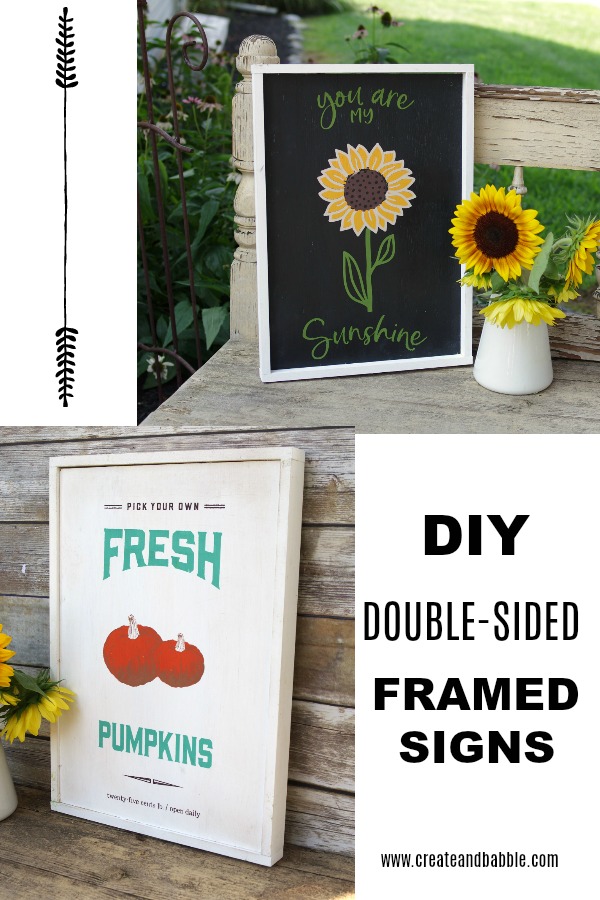 I love how this double-sided sign turned out. I used Chalk Couture products to decorate both sides of the sign. If you would like to learn more about Chalk Couture and see how to use it, please watch the following video:
If you would like to learn even more about Chalk Couture, please comment below or send an email to me: jeanie@createandbabble.com. If you're ready to start using Chalk Couture, go right to my online store to place an order.
I used the Chalk Couture transfer called You Are My Sunshine on one side and the Fresh Pumpkins Transfer on the other side. I'll be able to transition from end of Summer decor to Fall decor just by turning over the sign! I like that kind of decorating! Don't you wish you could do that with everything?!?!
You can watch the Facebook videos of how I painted the signs here and here.
Okay, let's get started.
How to make Double-Sided Framed Wood Signs
Supplies
You will need:
1/4″  or 1/2″ plywood
1/2″ x 2″ x 48″ poplar boards
wood glue
pin nailer or brad nailer
wood filler
paint
stain
Tools
framing square
table saw or circular saw with a guide
miter saw
corner band clamp
Steps
Step One
Using a table saw or circular saw, cut the plywood to the desired size of your sign (plus 1″ if using 1/4″ plywood). I like to use up my plywood leftovers, but if I don't have any scraps big enough, I buy the 1/4″ and 1/2″ 2′ x 4′ sheets from Home Depot and cut them down. The most important thing to remember in this step is to make sure that the cuts are absolutely straight. Use a framing square to be sure your boards are "square".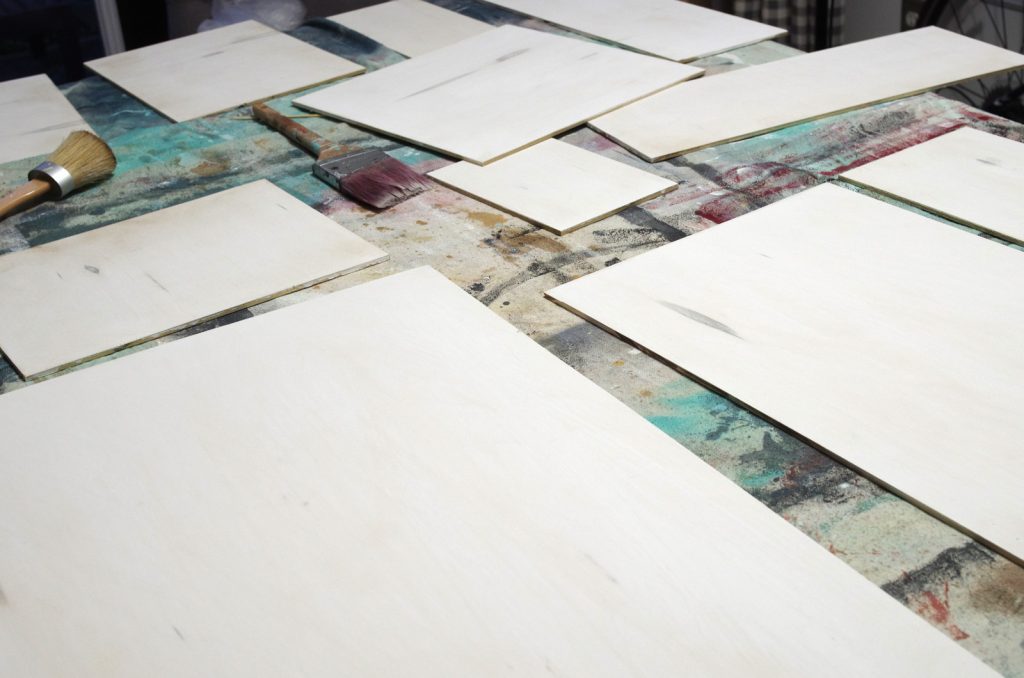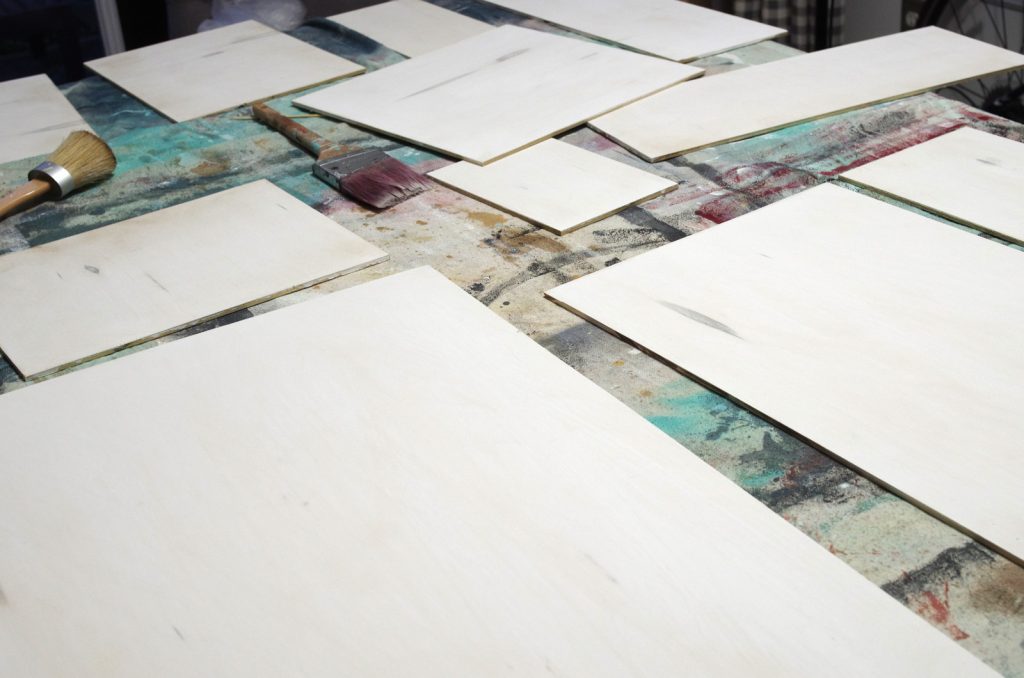 Once the boards are cut to size, paint or stain them as desired. One side of the boards in the image above was painted with watered down white chalky style paint for a white-washed effect. I apply two coats and sand in between coats, then I use antiquing wax to achieve a distressed, worn appearance. I painted the other side with chalkboard paint. Also, two coats of paint, sanding, and wax.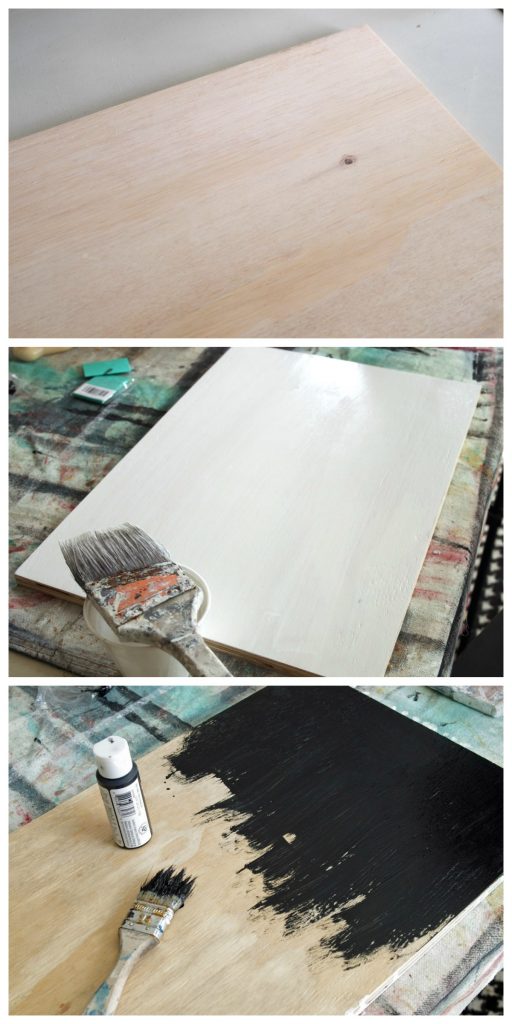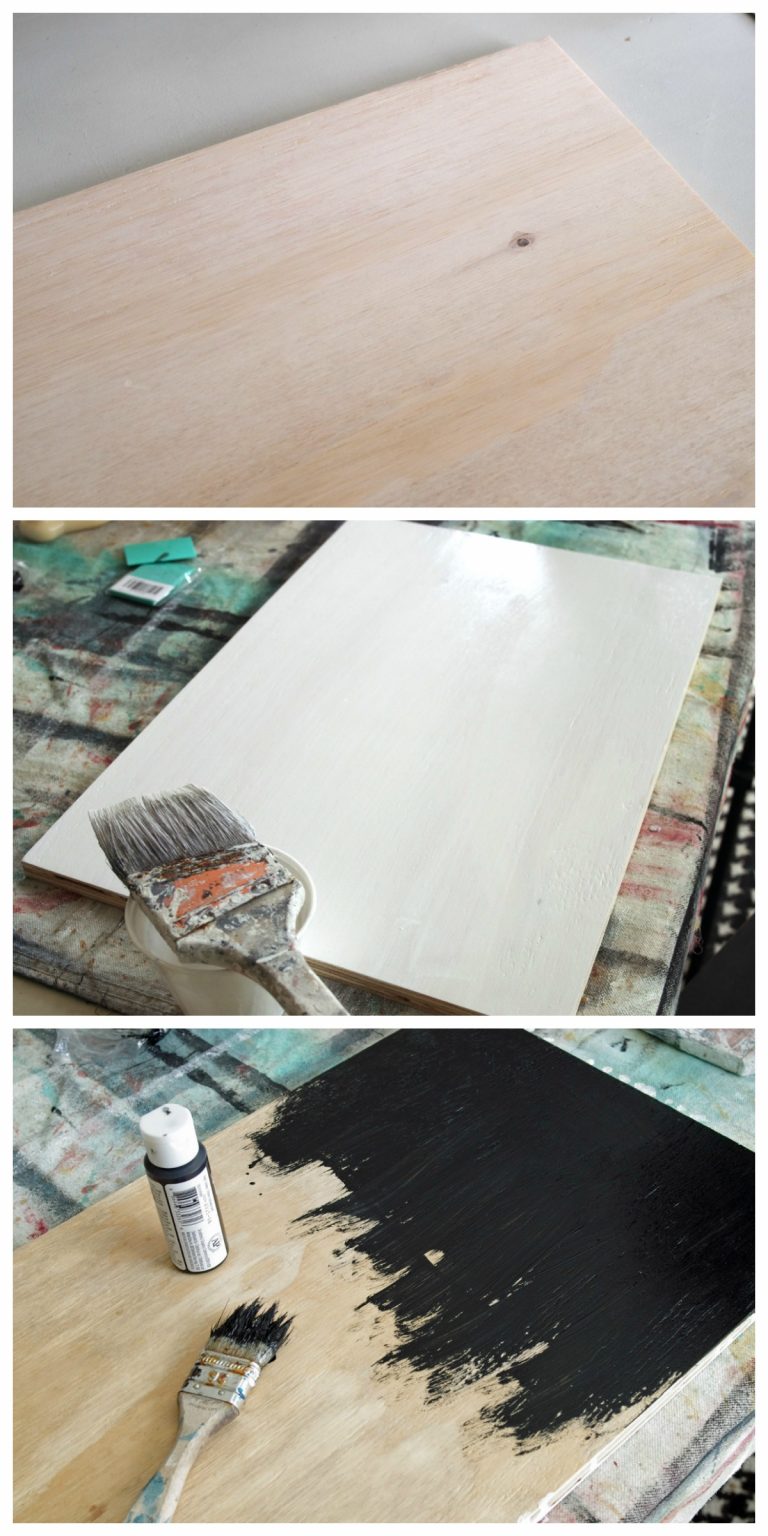 Step Two
Cut frame pieces from the poplar boards. You could use 1″ x 2″s for the frame pieces, but I prefer the thinner 1/2″ thick boards even though they cost a little more. Cut two at the same dimensions as the sides of your board. Cut two more at the dimension of the width of your board plus the thickness of the two side frame pieces. Sand, paint or stain as desired.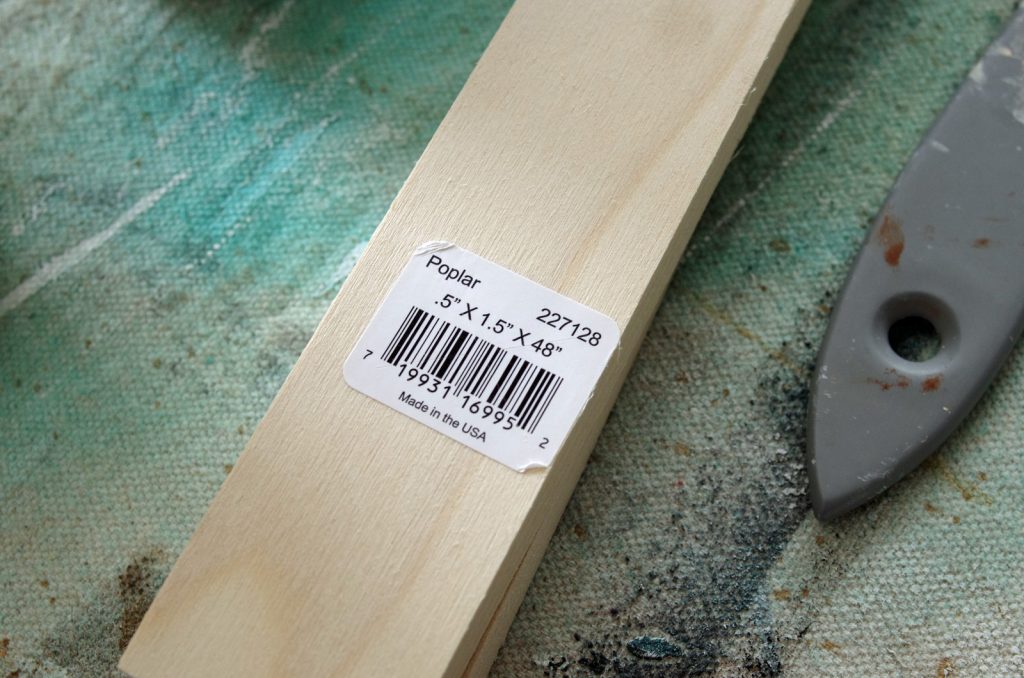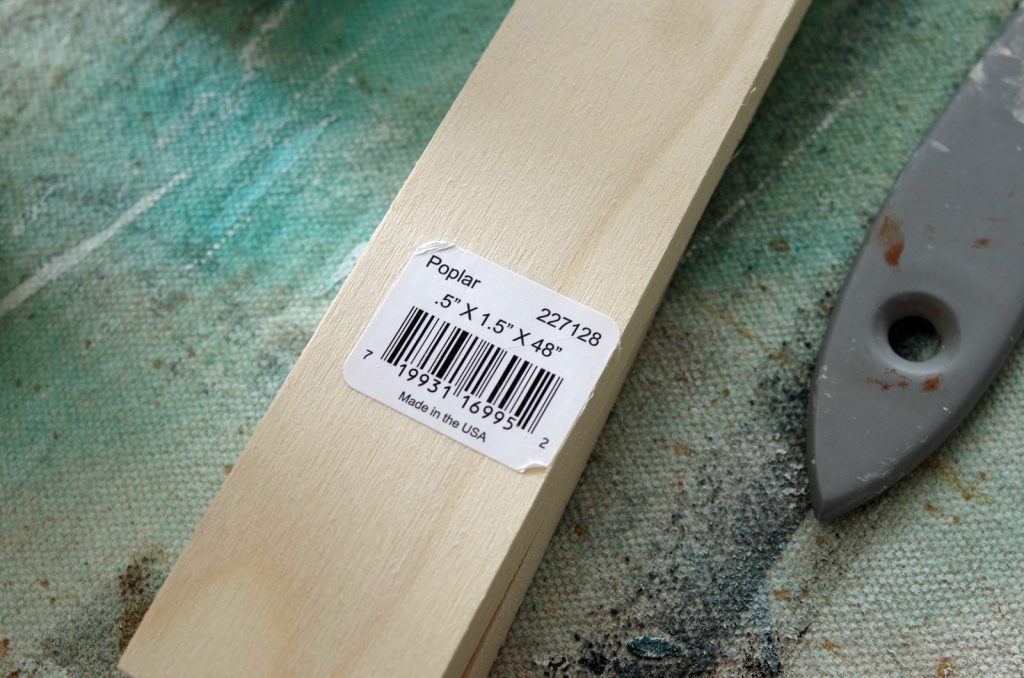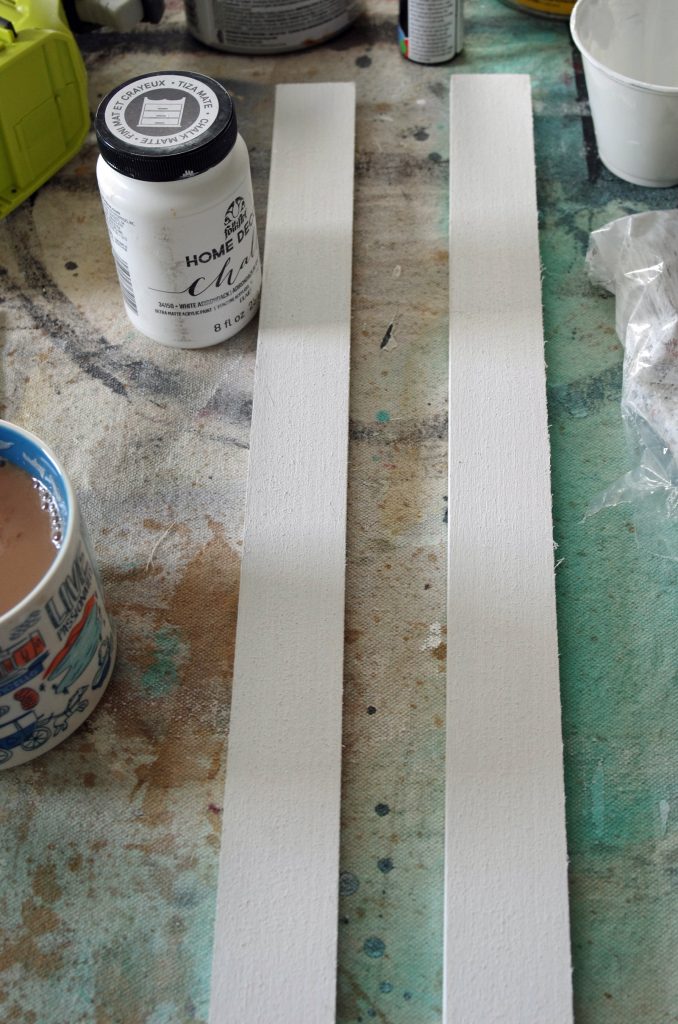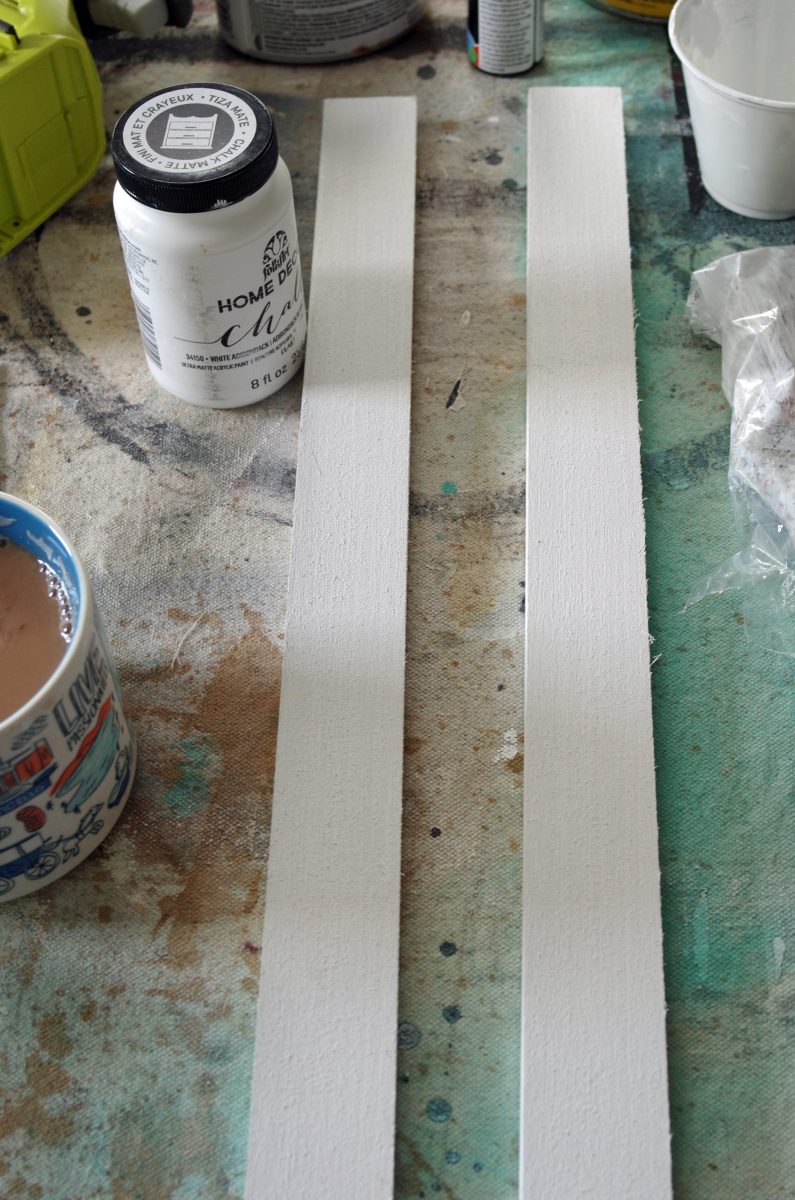 Step Three
Attach the two side frame pieces.
If you are using 1/2″ or thicker plywood, lay the board face side up on some scrap pieces of 1/4″ plywood. This raises the board just a little, allowing there to be a "lip" of frame on the back. Attach the frame to the edges of the plywood base with wood glue.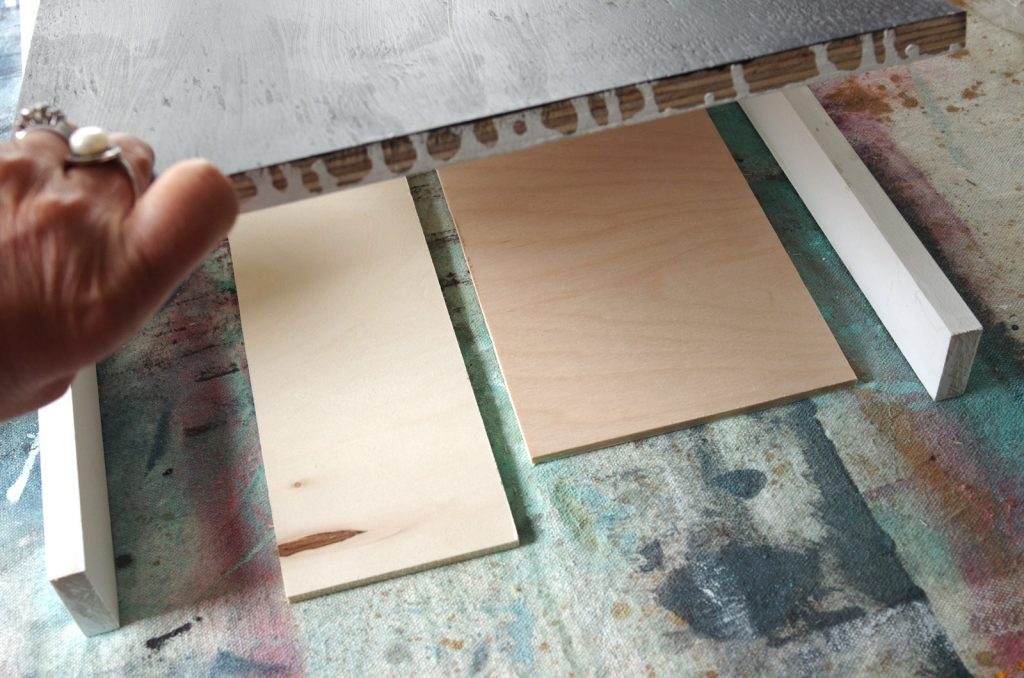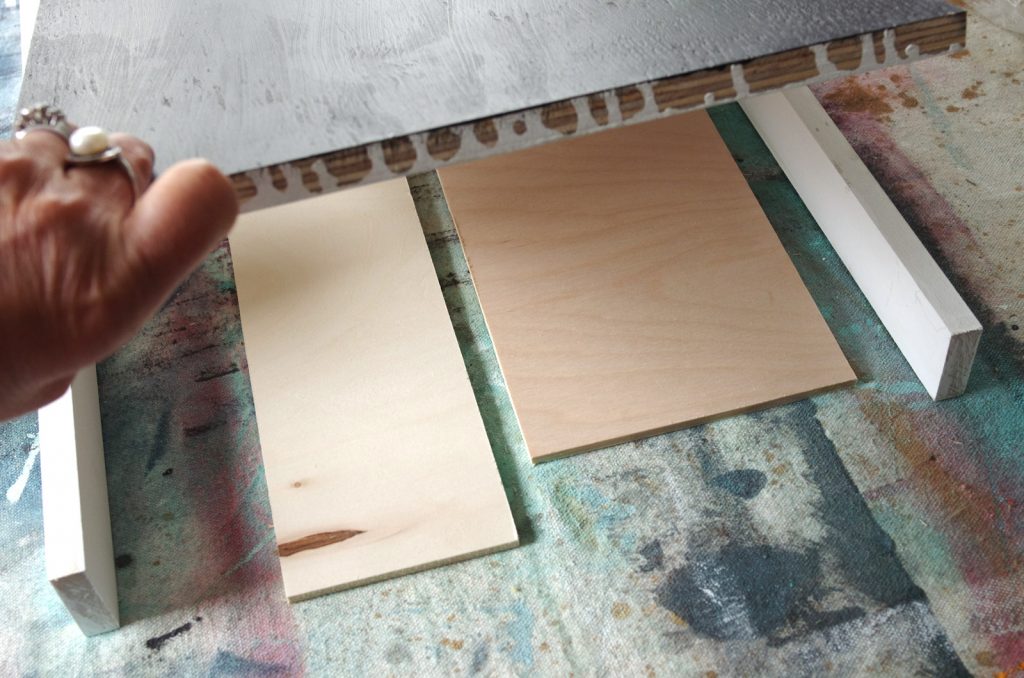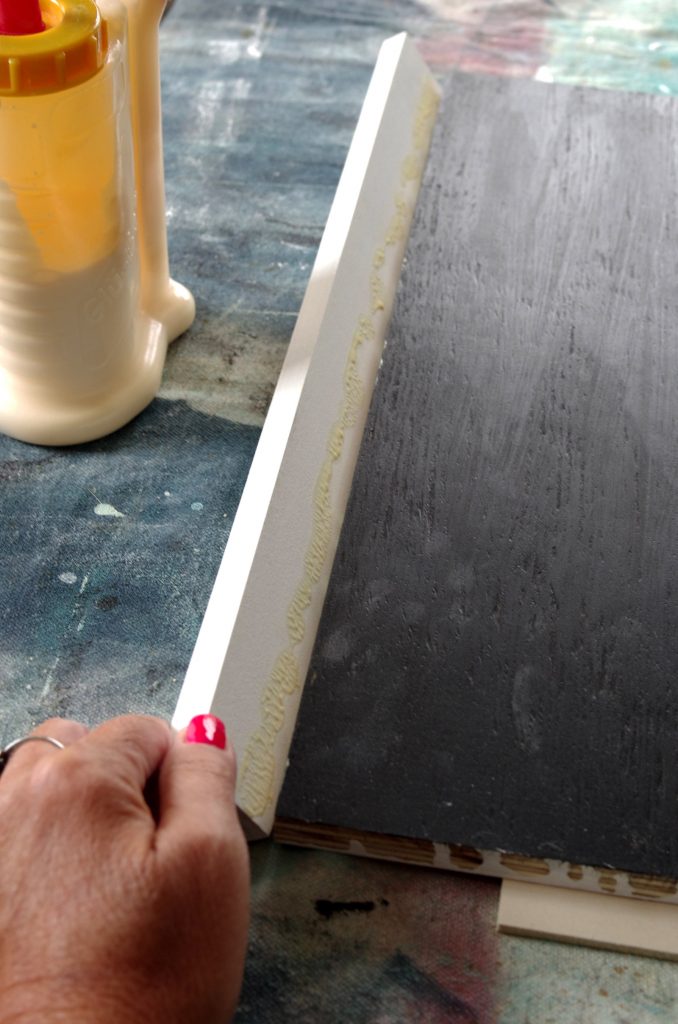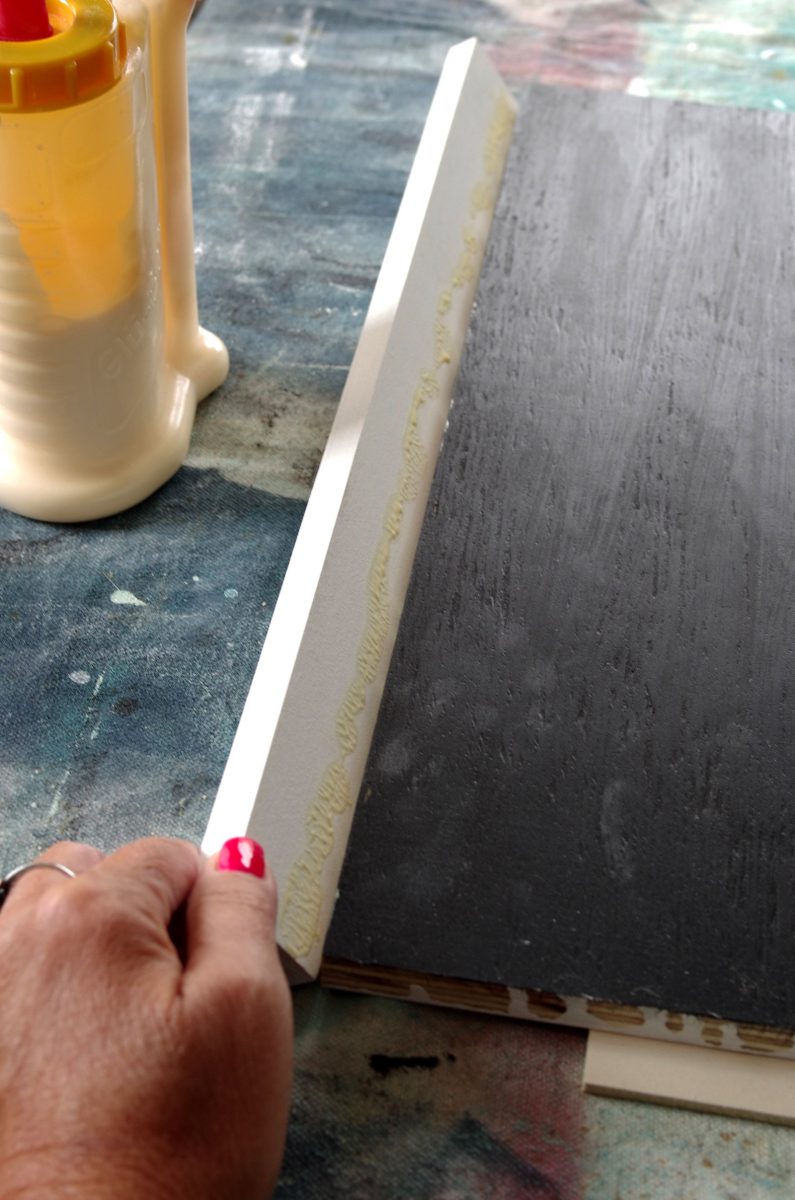 Once the frame pieces are attached with wood glue, use a pin nailer or a brad nailer to secure.
If you are using 1/4″ plywood for the base of the sign, you will want to make a box frame. You do this by attaching the frame pieces to the top of the base instead of the edges.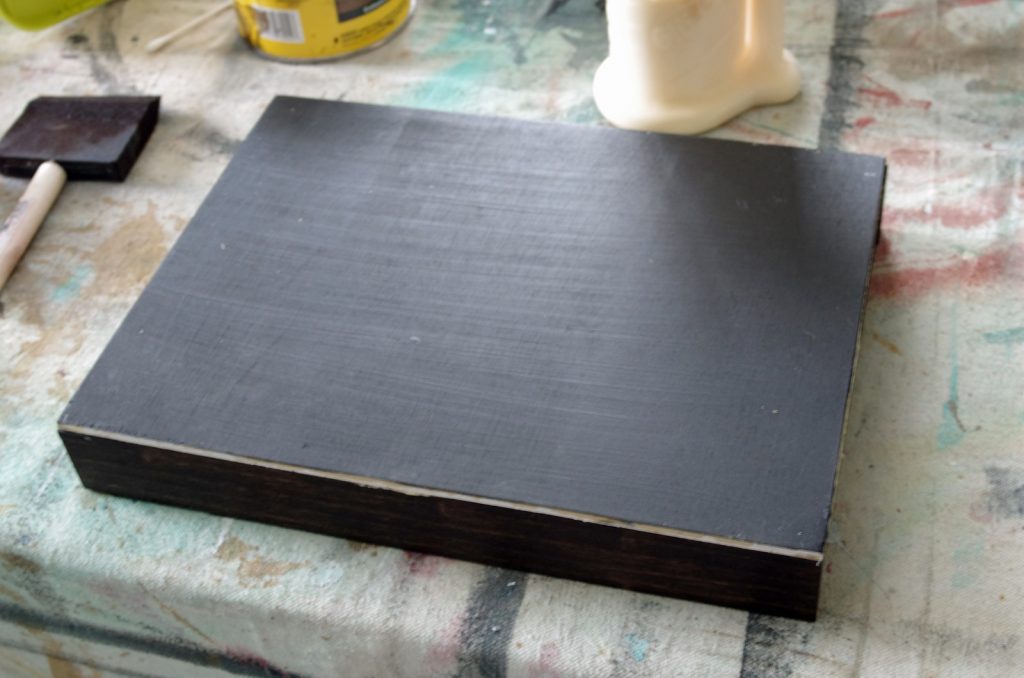 You make this box frame by building the frame to the exact dimensions of the base, securing the butt ends with brad nails. Glue the base onto the frame as shown above.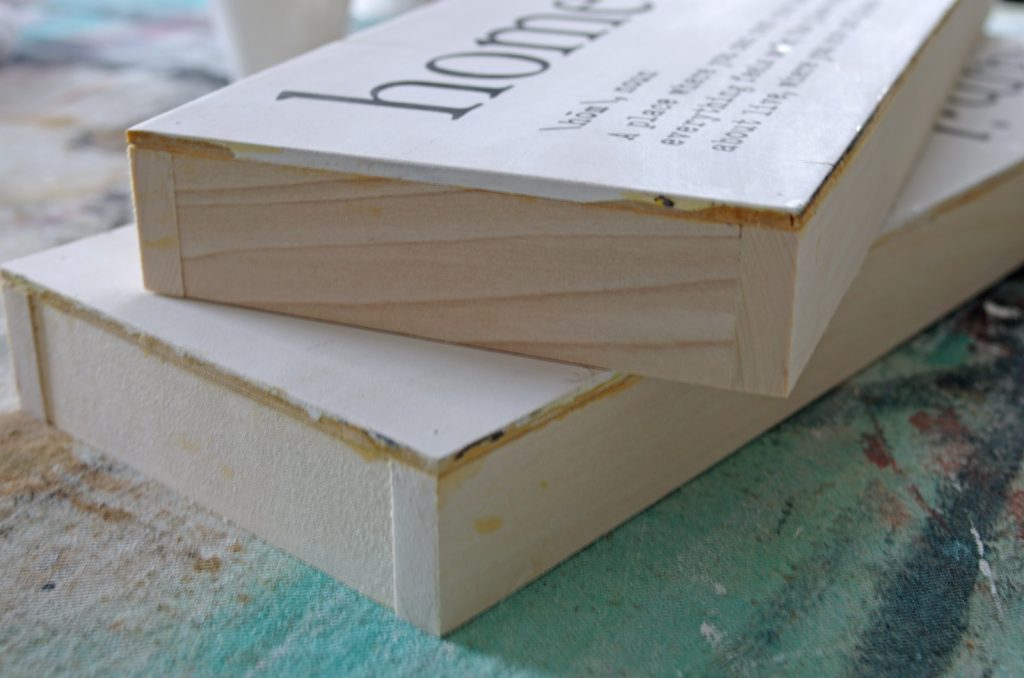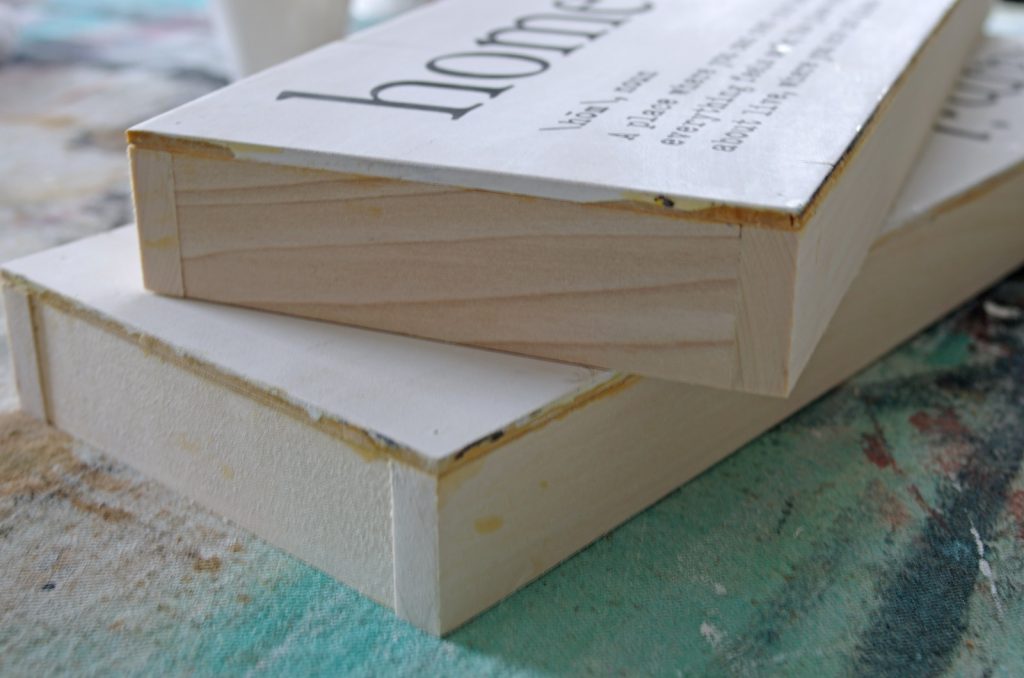 The image above shows a closeup of the glued edges. Once the glue is dry, I will sand the edges as smooth as possible and then apply a thin coat of wood filler and allow that to dry and then sand and paint and paint again.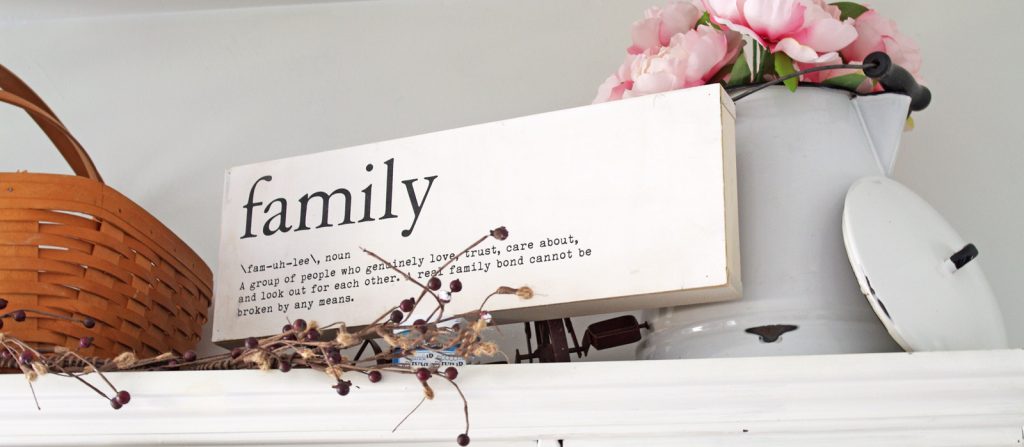 The back side of these box frame signs can also be used.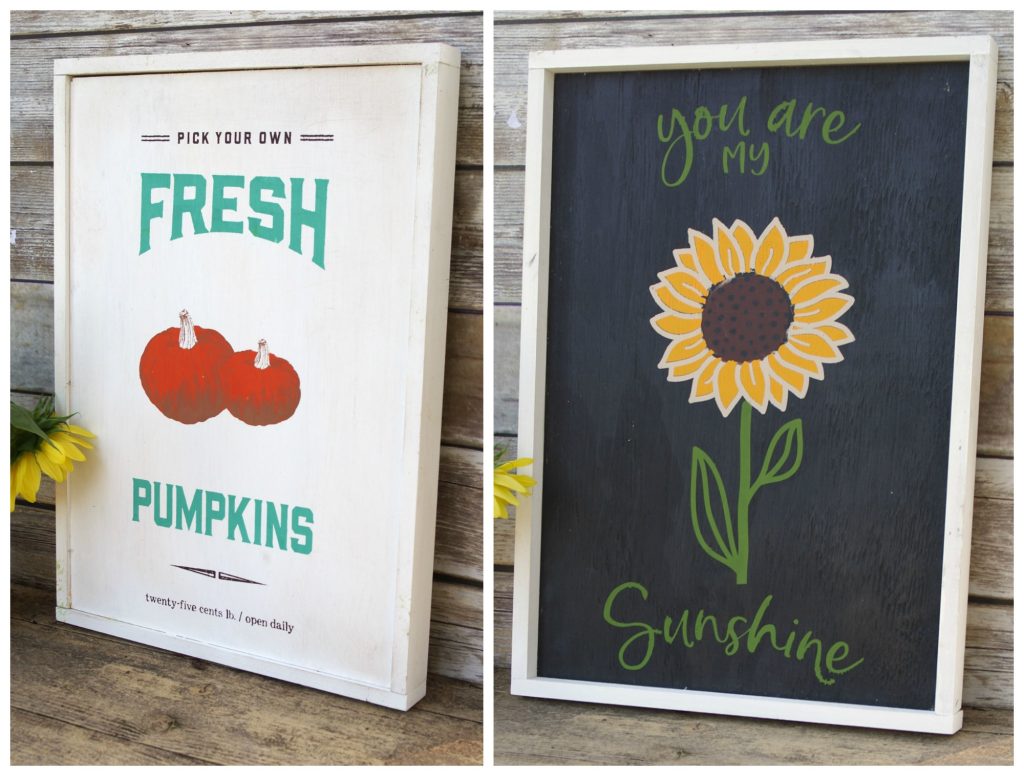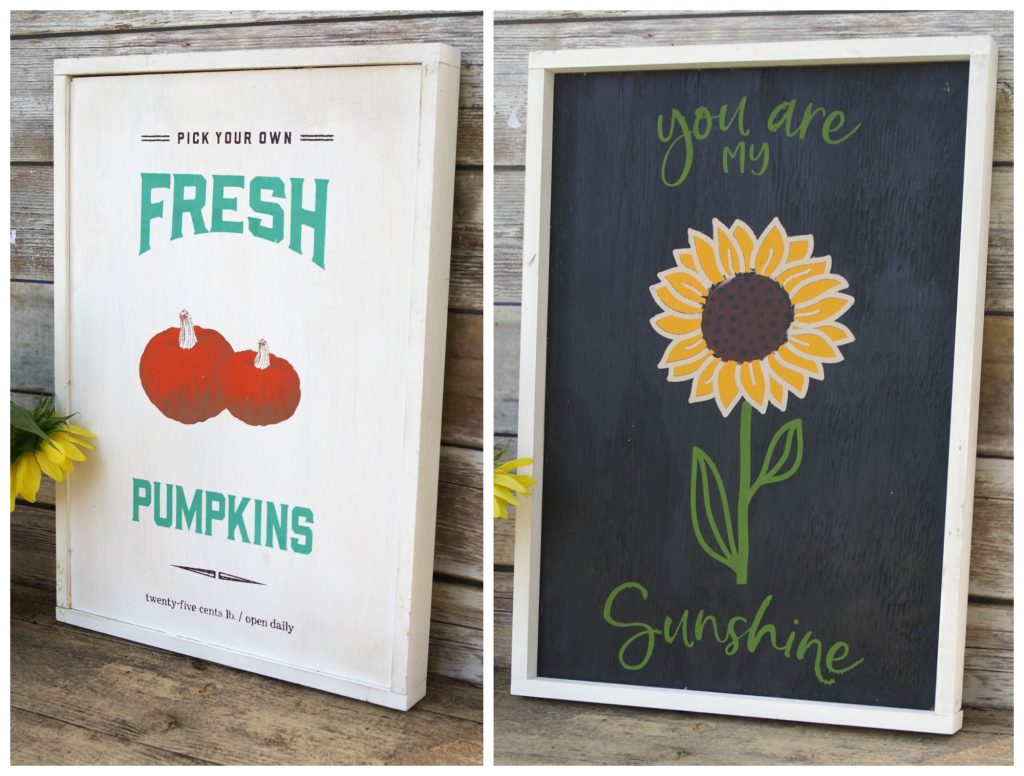 I just love these transfers – the detail on the pumpkins is amazing!!!
Shop for Chalk Couture products here. If you are interested in seeing more Chalk Couture products, please join me on my Chalk Couture Facebook page. I show a lot of live videos and projects on that page. I'd love to see you there! I'm telling you, it's the best thing since sliced bread and has taken the DIY home decor world by storm!!!!
Click here if you're asking yourself What is Chalk Couture??? and watch these videos.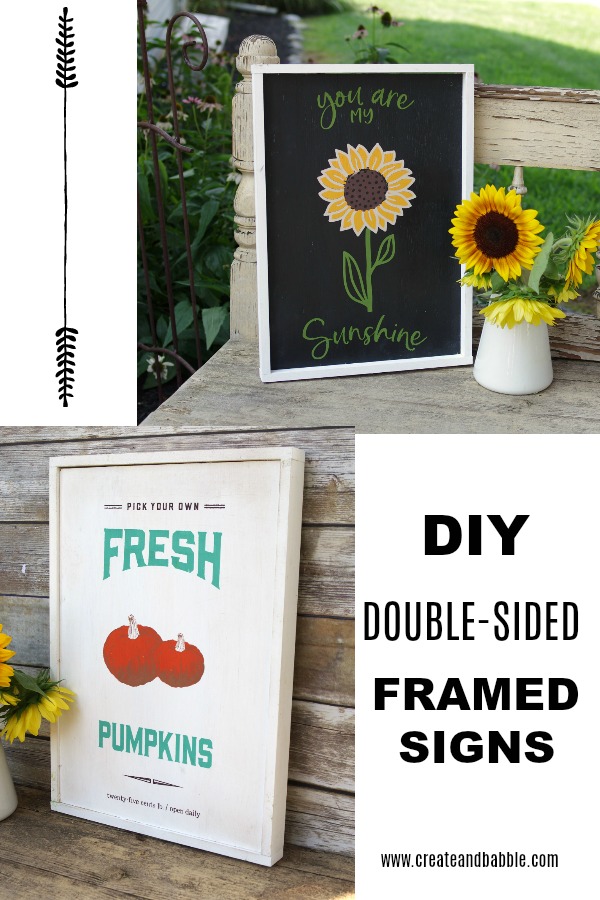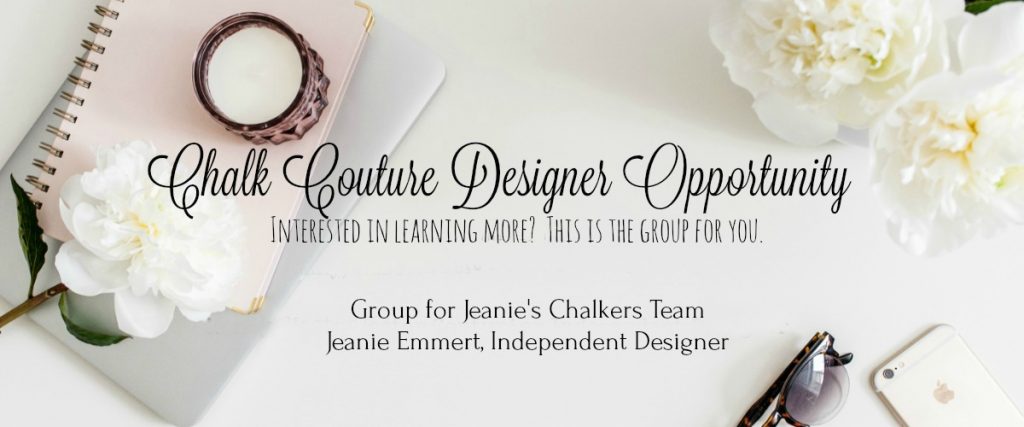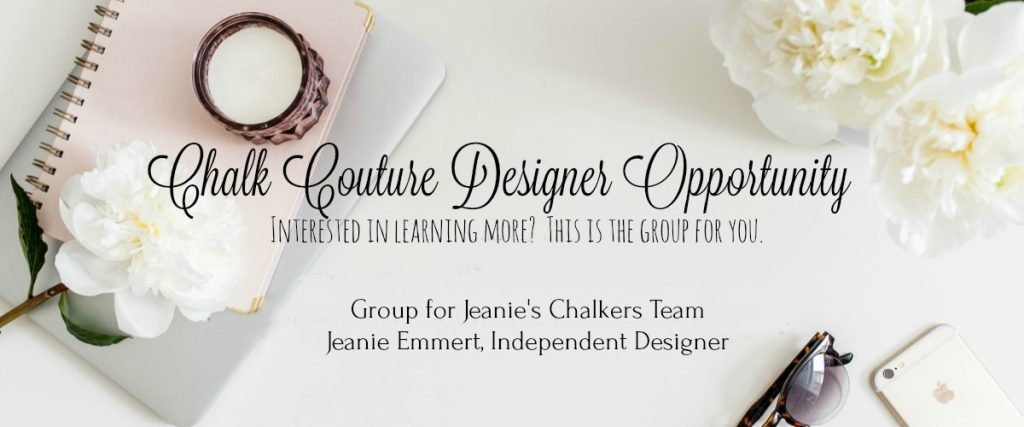 Now check out these other creative wood signs that you can make: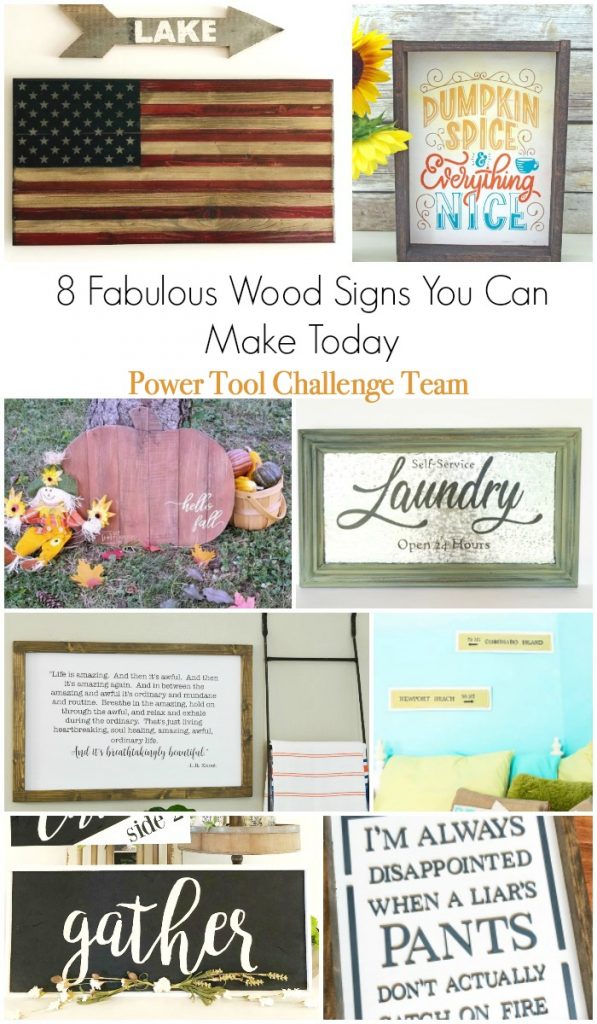 Virginia Sweet Pea – How to Make a Pallet Wood Arrow Sign
My Repurposed Life – Hello Fall Rustic Pumpkin Sign
Designed Decor – Framed Laundry Room Sign 
H2OBungalow – Large Modern Wall Decor Sign Tutorial 
Domestically Speaking – Beach Signs
Refresh Restyle – How to Make a Two Sided Sign
The DIY Village – DIY Raised Wood Lettered Sign