Here's a cute way to protect hands and furniture while enjoying a hot bowl of soup, stew, chili, or oatmeal!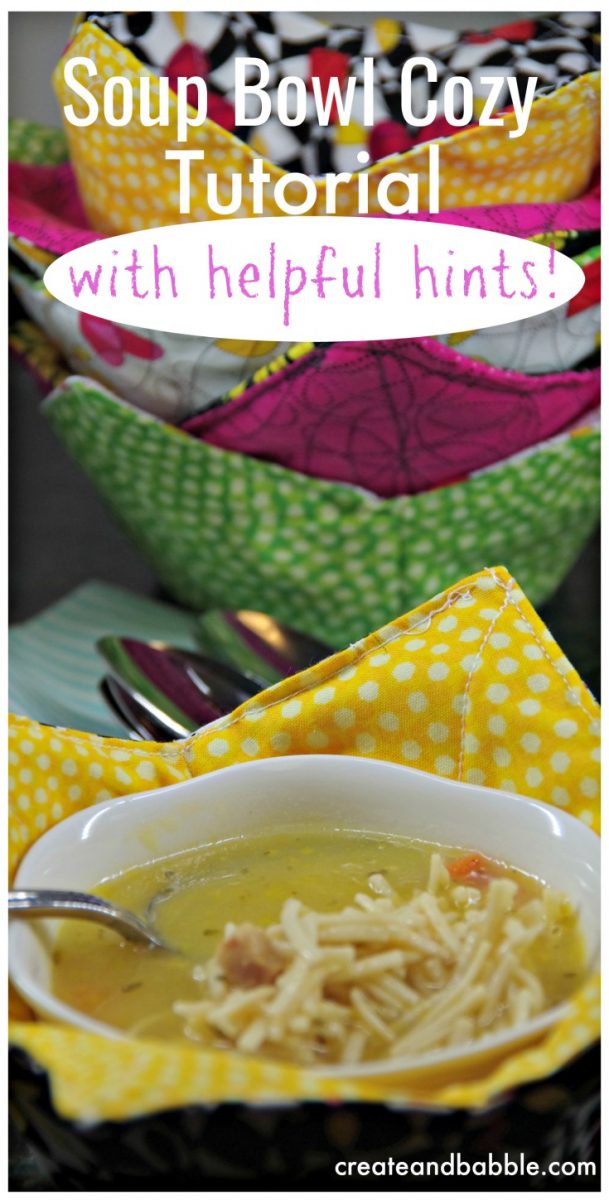 These soup bowl cozies are fast and easy to make and make wonderful gifts. I made two of them in less than 45 minutes.
After making quite a few of these I've come up with a list of helpful tips to save you time, money and aggravation! You'll find it at the end of the instructions.
How to Make Microwaveable Bowl Pot Holders
Materials:
Note: use only 100% cotton fabric, thread, and batting so that they are microwave safe!
Instructions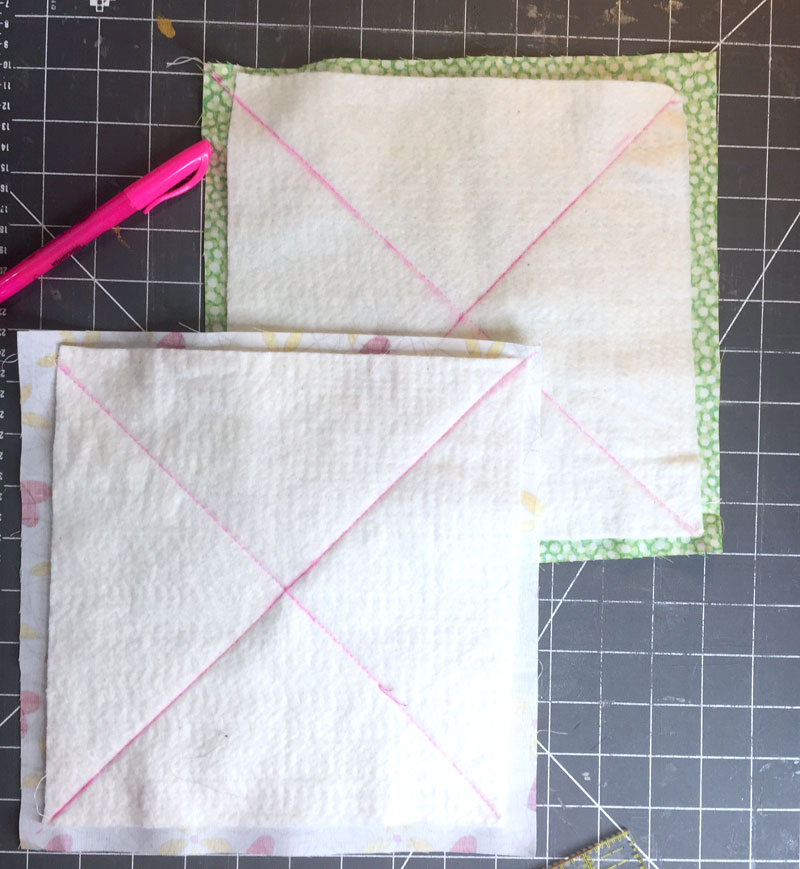 Step One: Center a batting square on a fabric square. Draw a line from corner to corner with marking pen
. Stitch along lines.

Step Two: Fold one fabric/batting square in half with batting side out. Mark a dot 1-1/2″ from the fold along the top edge and 2-1/2″ from the top along the fold. Draw a line to connect these dots. Stitch along the line. Trim seam allowance.

Step Three: Fold the square in the opposite direction. Mark the same as Step 2. Draw line, stitch, and trim seam allowance.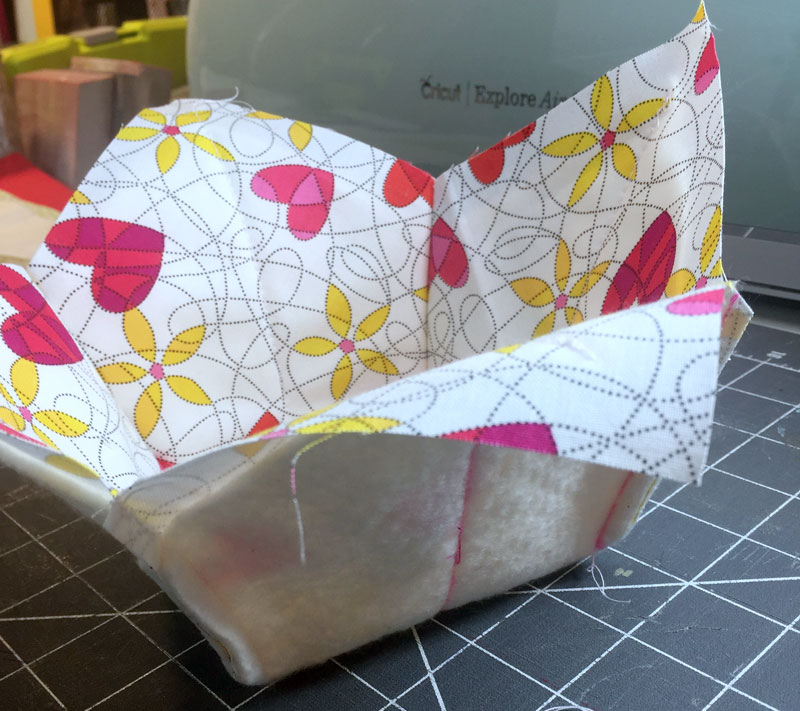 Step Four: Open the square. It will sit like a bowl! Halfway there!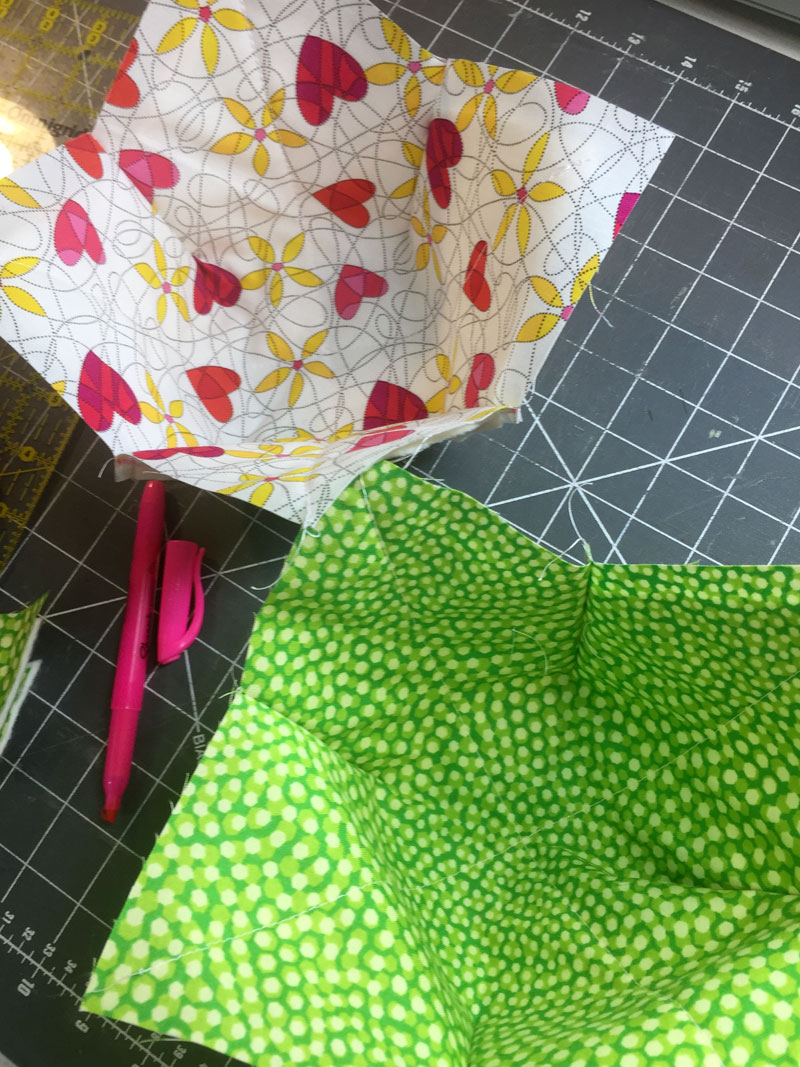 Step Five: Repeat Steps 2-4 for second fabric/batting square. You now have the outside and the outside ready to sew together to make the soup bowl cozy. (I love that these are reversible!)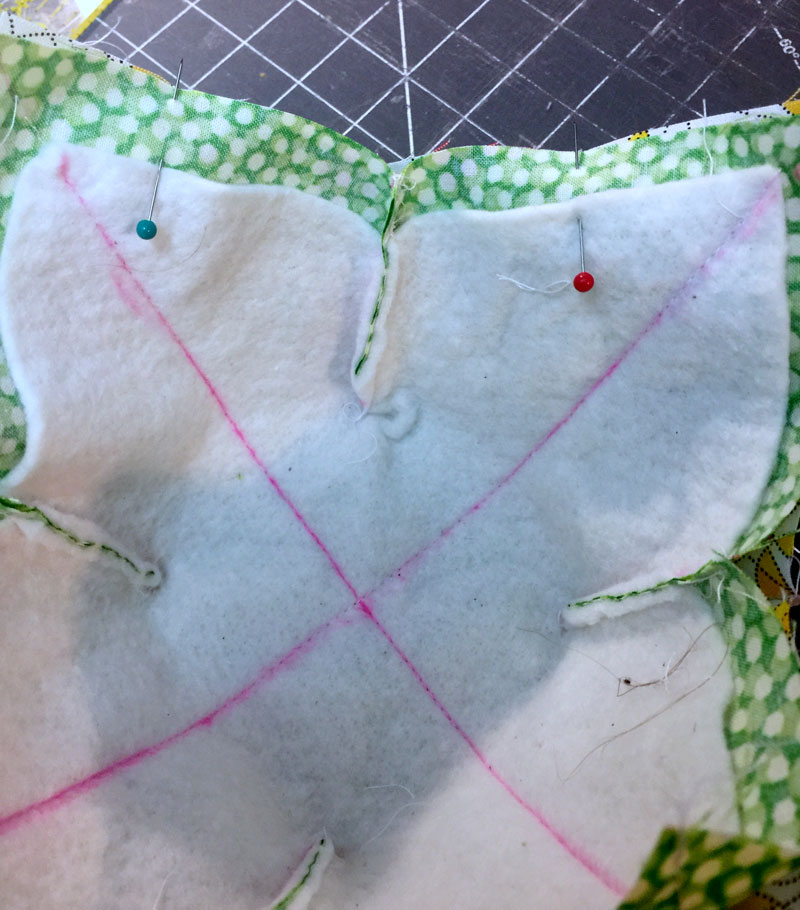 Step Six: Turn one bowl inside out and pin the two bowl pieces together (right sides together). Sew around the edges of the layered bowl shapes with a 1/4″ seam allowance. Leave a 3″ – 4″ opening between pins for turning.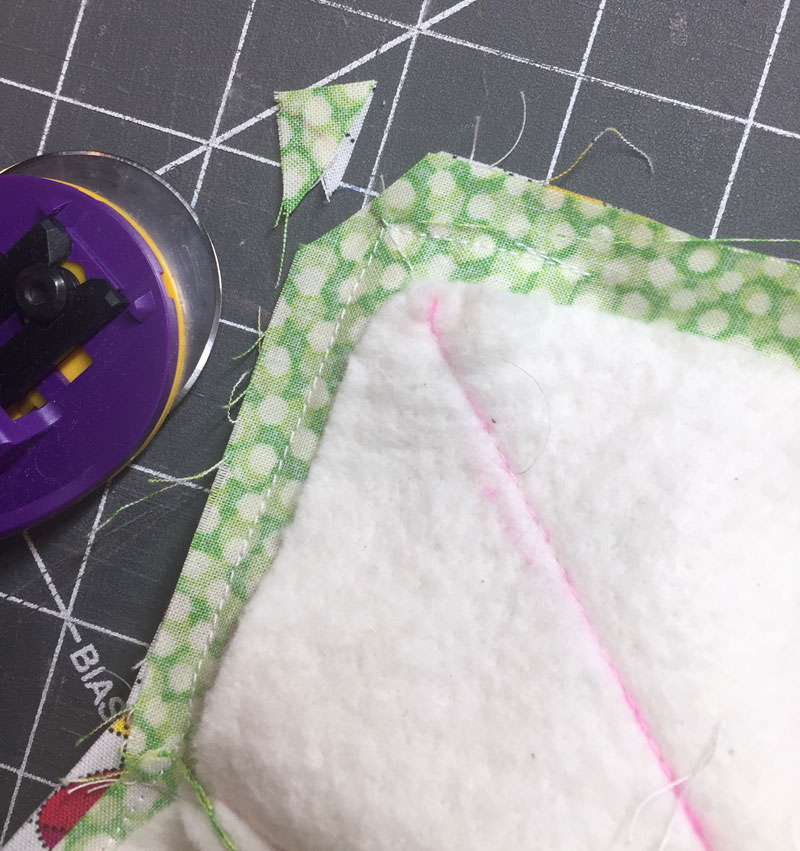 Step Six: Trim seam allowance to reduce bulk. Also trim seam allowance at points as shown above.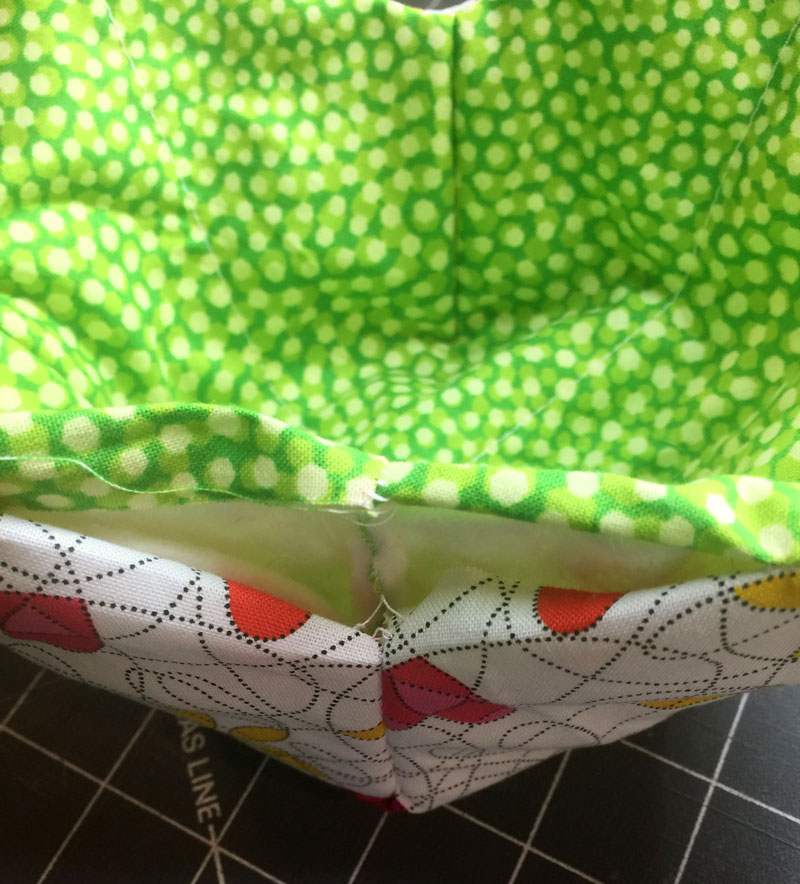 Step Seven: Turn right side out through the opening. Push out the points.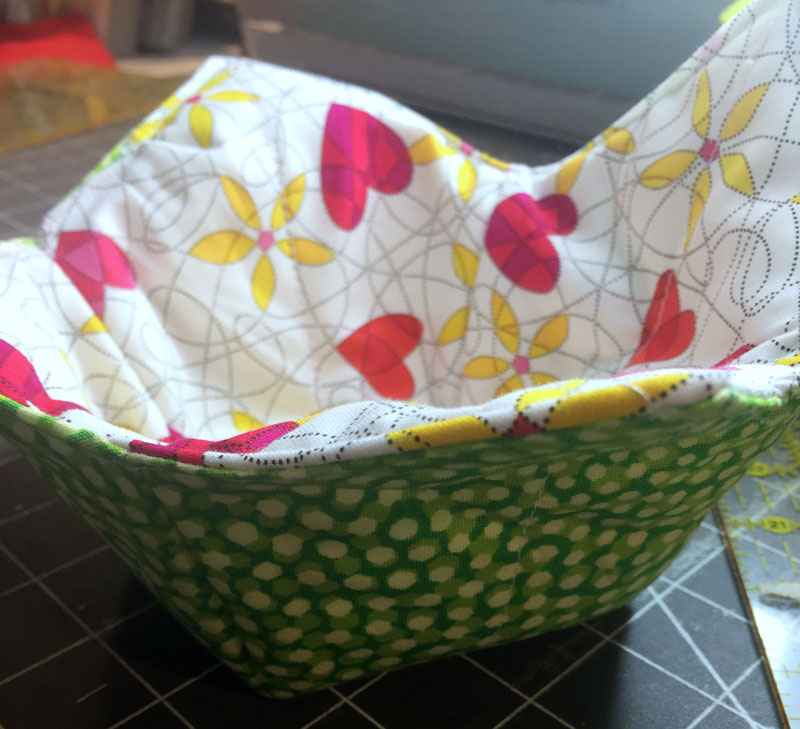 Step Eight: Top stitch 1/4″ from the edge of the bowl, turning in the edges of the opening.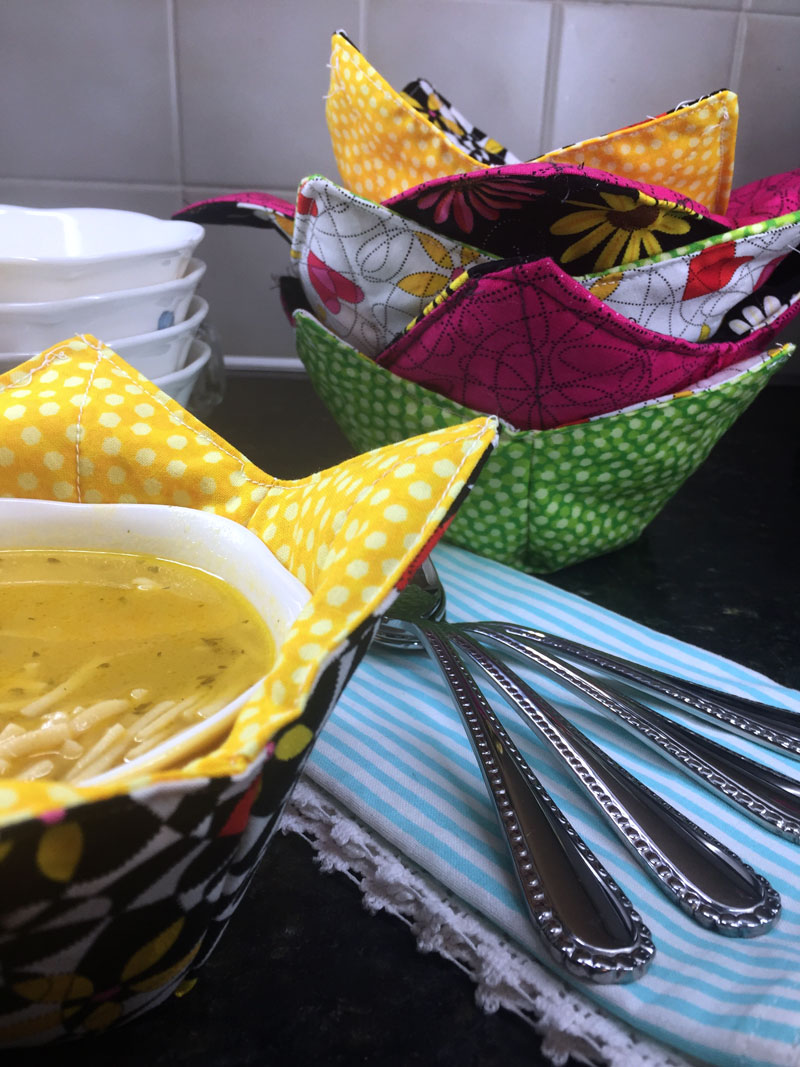 I made a total of six of these soup bowl pot holders in one afternoon. I plan to make a bunch more for Christmas gifts. These would be perfect for co-workers who heat up their bowls in the microwave at work!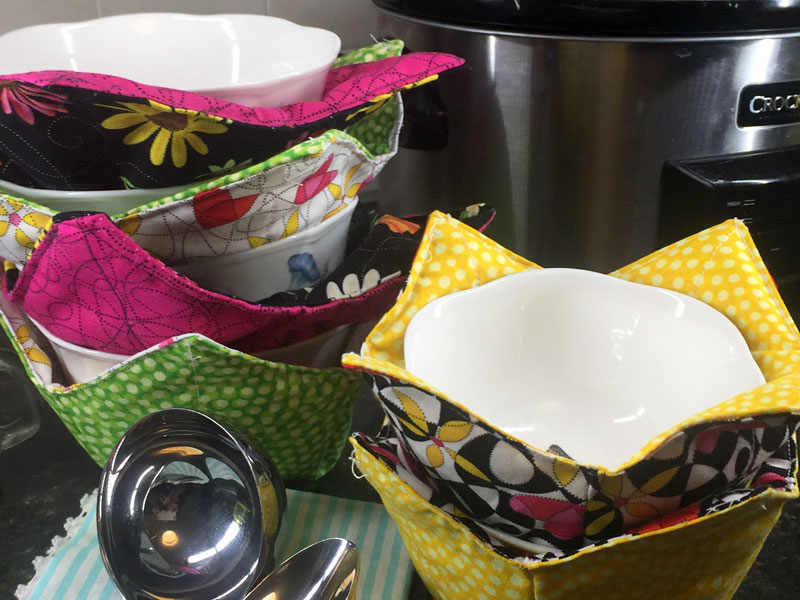 By the way, you can make these bigger or smaller. I made two smaller ones using 9″ squares of fabric and 8″ squares of batting for the small bowls that you see in front in the photo above.
Here's that list of helpful tips that will hopefully save you from making some less-than-gift-worthy bowls like I did when I first started making them.
Use fat quarters. You can get two bowls out of two coordinating fat quarters.
Use the lowest loft batting you can find to save bulk.
Follow my instructions and cut the batting one inch smaller than the fabric square. If you don't, the edge is too bulky to topstitch neatly.
Measure the darts precisely.
Press your fabric and batting
Trim all of the threads before photographing for the blog giving as gifts. ?
Now it's time to see all of the other handmade gifts. Oh, and be sure to enter the contest at the bottom to win some fabulous prizes from our sponsors!