I may earn money or products from the companies mentioned in this post at no additional cost to you. As always I only recommend products and services that I use and love.
Transforming furniture with chalk paint is a hot trend these days. It's easy to see why: no sanding, stripping or priming needed. Those are good reasons for me to want to give it a try.  I'm a pretty impatient-want-to-get-it-done-now kinda girl  I researched the various homemade "recipes" and decided to make mine using baking soda. I mixed a small amount of water into the baking soda until it was dissolved and added it to my sample size paint.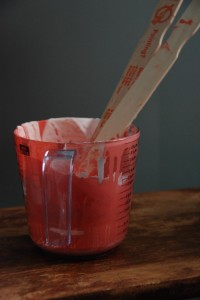 This is the piece that I painted. This sewing cabinet has seen years of use and abuse, so I was sure I couldn't hurt it. And bonus! – the knobs appeared to glass hidden under years of dirt! Love glass knobs.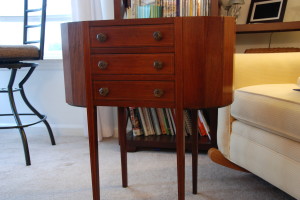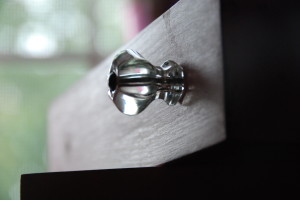 As per the many articles read, I applied three coats of paint, sanding between coats and finished off with applying paste furniture wax and buffing.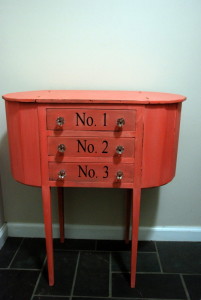 I'm pretty happy with it. I placed it in the hallway at the bottom of steps. I think adding a mirror or a framed picture above it on the wall will make this area complete.