The cocktail series continues this week and if you're a Halloween lover, then this one's for you! We are all sharing our favorite Halloween Cocktail and mine is a cute one! (Don't worry, I'm sure there will be some scary cocktails shared by friends at the bottom of this post. Be sure to read all the way to the end to see them.) I'm going to show you how to make a Candy Corn Martini. Easy, easy, easy. Did you see the other Fall Cocktails in this series? In case you missed them, I made Chumchata Chai, Apple Cinnamon Martini, and Blueberry Moscow Mules.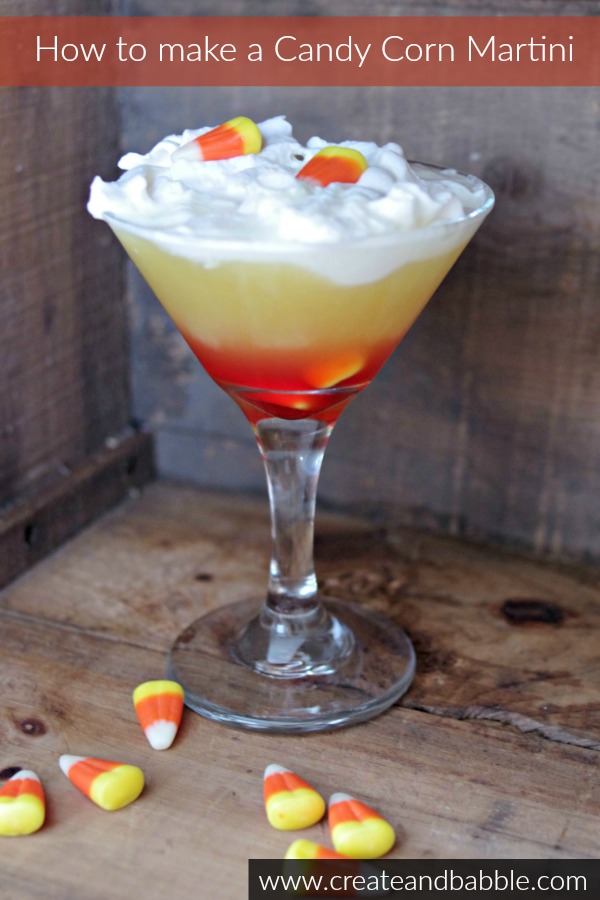 How to make a candy corn martini
Do you like candy corn? I must admit, I like the look of candy corn better than the taste. It's a little too sweet for me. But candy corn sure does look pretty in a candy jar! That's what drew me to making this martini. I loved the look of it! Plus I've never met a cocktail with grenadine and pineapple juice in it that I didn't like!
Ingredients to make a candy corn martini
sour mix
vodka (I used a whipped cream flavor)
Grenadine
pineapple juice
whipped cream (for topping)
Steps to make a candy corn martini
Combine vodka, sour mix and pineapple juice in a shaker with ice and shake
Pour mixture into a martini glass
Slowly pour Grenadine into the glass; it will settle at the bottom
Top with whipped cream and garnish with candy corn if desired
Enjoy!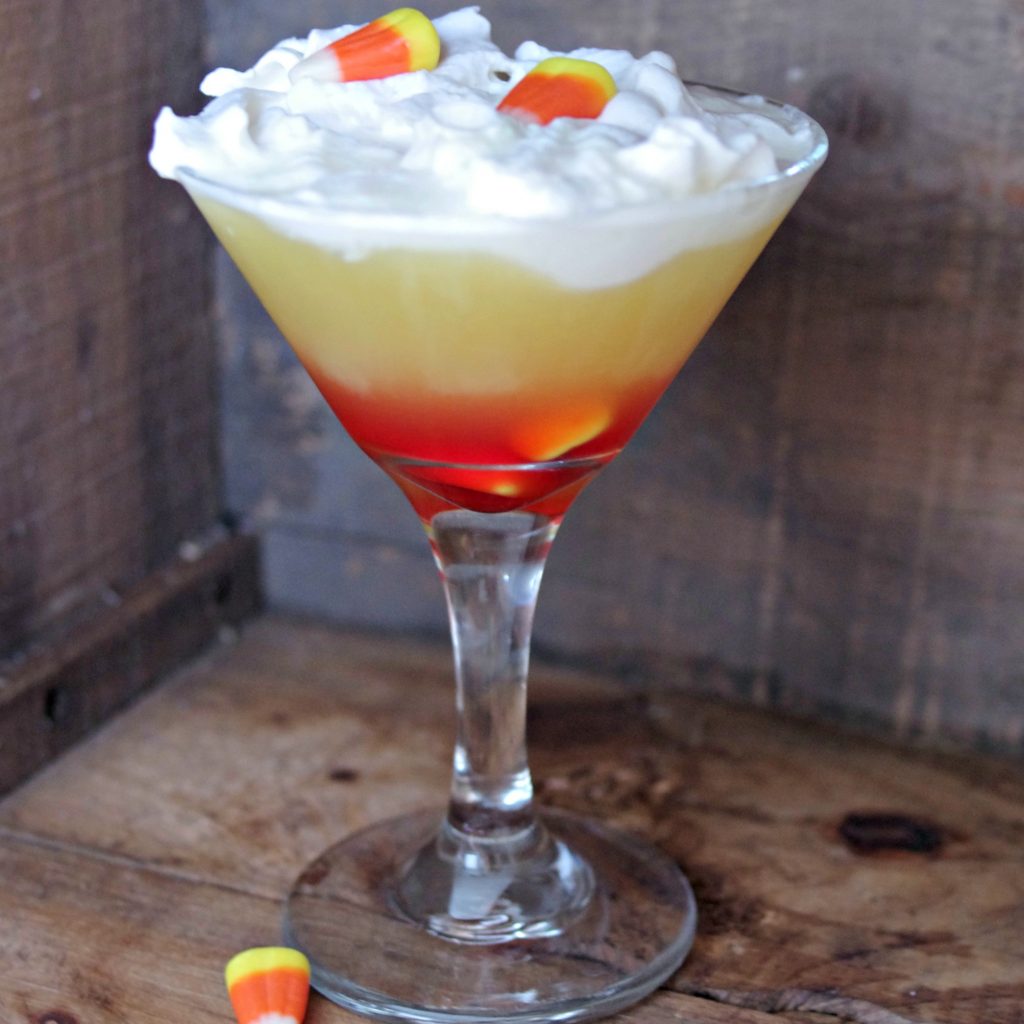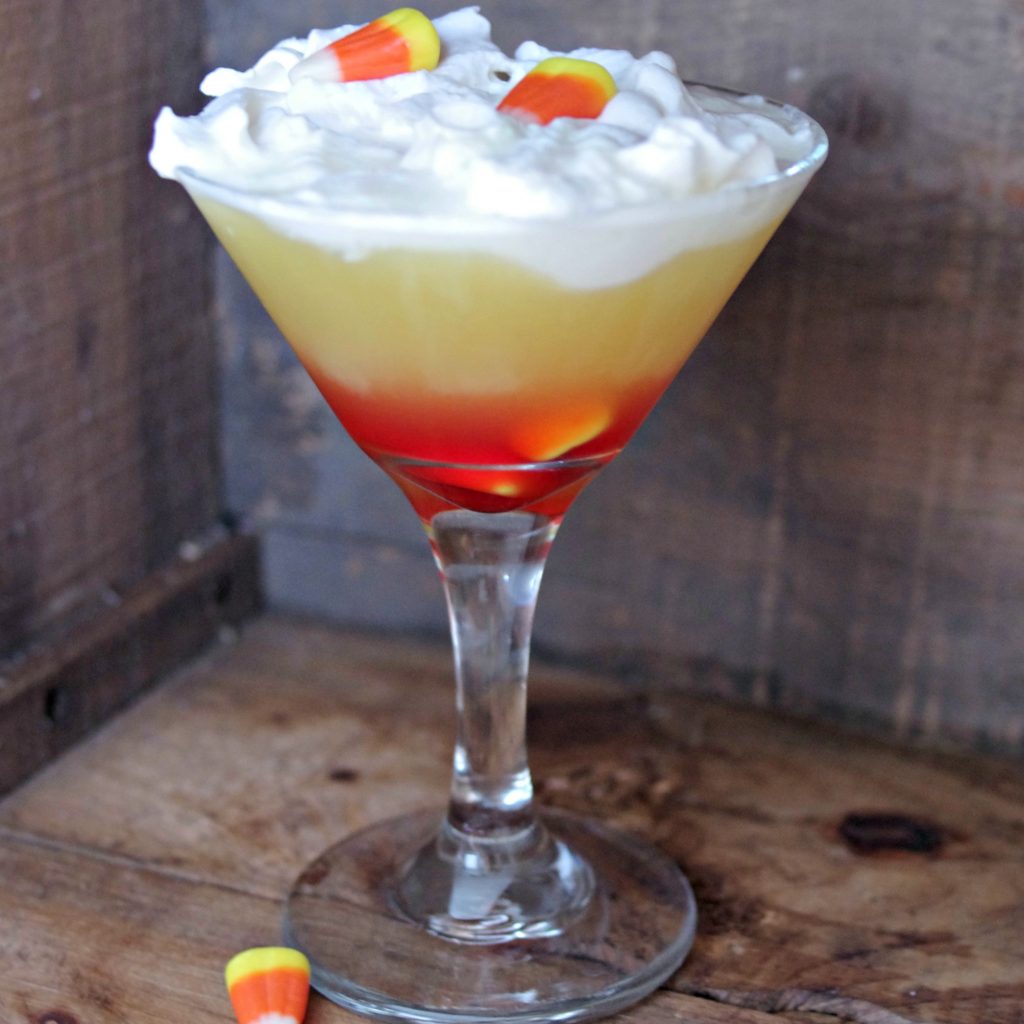 Now let's see the cocktails that my friends have made:


Black Widow Martini from Nourish and Nestle • Vampire Bite Halloween Cocktail from Happy Go Lucky • Bloody Martini from Weekend Craft • Midnight Black Cherry Vanilla Cocktail from The Lucky Pear • Green Witches Brew from Creative Ramblings • Poison Apple Margarita Cocktail from Michelle James Designs •  Candy Corn Jello Shots from Daily DIY Life • Day of the Dead Cocktail from Upright and Caffeinated • Poisoned Apple Martini from Our Crafty Mom